39 Best WordPress Themes for Download
Blogging has been the single fastest growing area of content on the web, with everyone from businesses to individuals, non-profits and governments adopting the concept of blogging to reach new audiences. By far the most popular blogging management system is WordPress because of its ease of use, extensive functionality, and large amount of themes to choose from.
WordPress' themes are what make it so powerful. With the click of a button, users can change the entire visual appearance of their site, while keeping the underlying content intact. This allows a high degree of customization and personalization for each user. Not all WordPress themes are made equal, however, and there are many theme companies working to provide the best and most functional themes. One of those companies is MyThemeShop, which provides high quality, responsive WordPress themes that are built with HTML5 and CSS3. Because of this, their themes work on any device and any browser, which is crucial in today's internet landscape where more and more users are using mobile devices. In this post, I've selected some of MyThemeShop's best WordPress themes for users to download.
NewsMag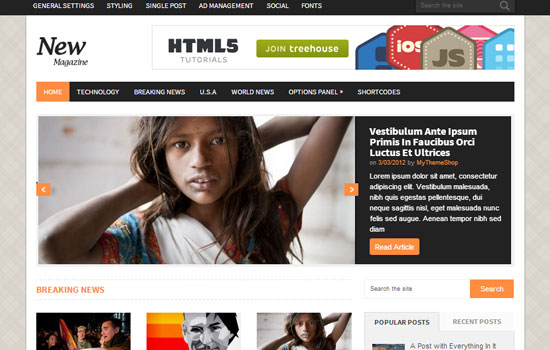 NewsMag is a beautiful WordPress magazine that brings MyThemeShop's trademark responsive features, along with a multiple column layout to display lots of content. It also includes a fancy slider, lightbox and other useful features.
SoftPress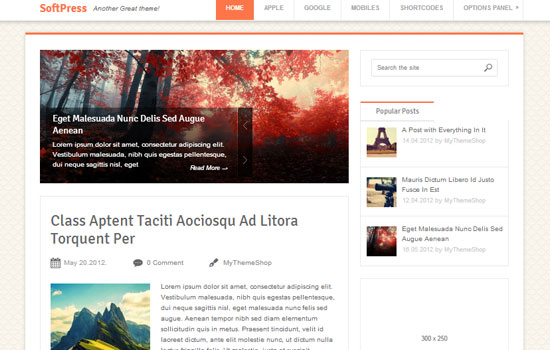 SoftPress is a wide, single-column layout WordPress theme with a pretty little slider that allows you to display posts in style.
Portal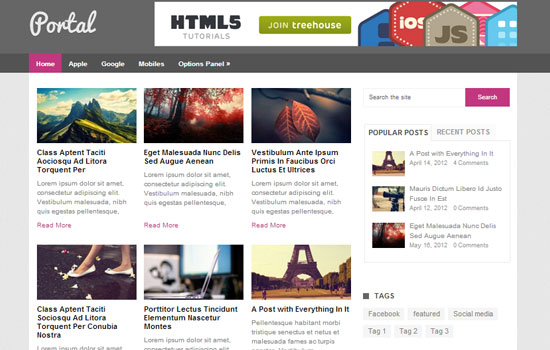 Portal is a simple and clean magazine WordPress theme with light, bright colors and a responsive layout. It's free to download, and it has a responsive design and full optimizations to go with it.
Awake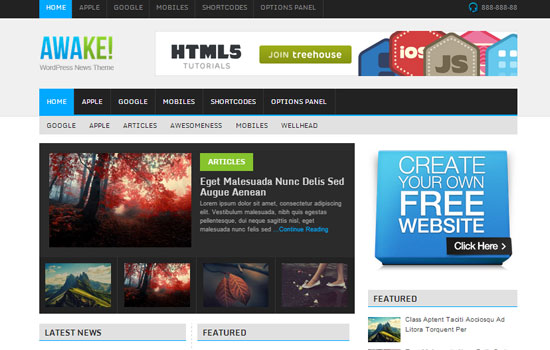 Awake takes the Windows Metro style and applies it to WordPress. With a touch of color, an ultra-sleek design and a dual column display, Awake also brings SEO and other optimizations along with the trademark options panel from MyThemeShop.
Vogue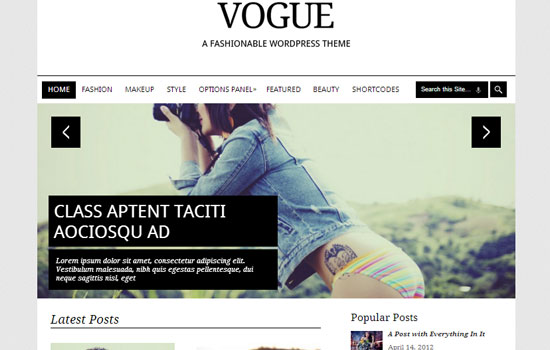 Vogue is a minimalist, sleek design that brings a fashionable feel to WordPress. With its elegant, clean design and responsiveness, Vogue is fully customizable and a great choice for all bloggers.
Woodie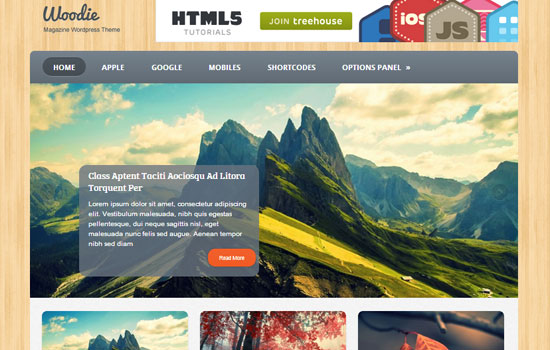 Woodie is a 3 column WordPress theme designed to be flexible and suit any purpose. With styling inspired by Apple and a customizable textured background, Woodie will help you reach new heights.
Great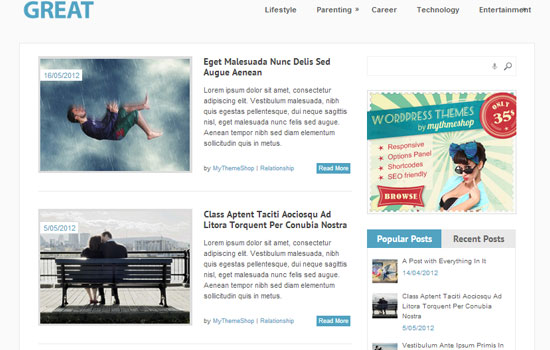 Great is a minimalist and clean WordPress magazine theme. Fully responsive, including an options panel for controlling all features, and all of MyThemeShop's best features, Great will help you stand out from the crowd.
FashionBlog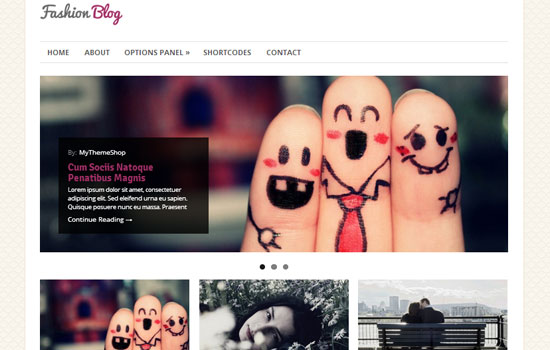 FashionBlog is a fashionable WordPress theme that is jam-packed with MyThemeShop's advanced features. FashionBlog has a clean, beautiful design and is perfect for people looking to build an attractive website.
Swift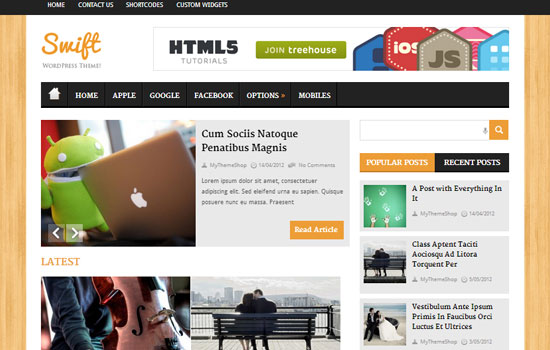 Swift is a lightning-fast responsive WordPress theme. With a dual column layout, Swift shows off your posts and brings your content to life, and it's fully optimized and controllable via a custom options panel.
Monopoly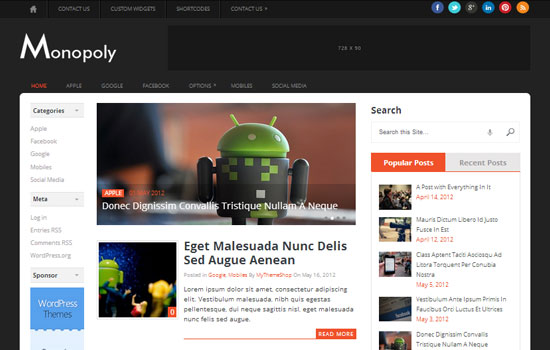 Monopoly is a dark WordPress theme that features a dual-sidebar so you can load it up with powerful widgets. It's responsive and perfect for sites that have lots of content such as blogs and news portals.
GreenChili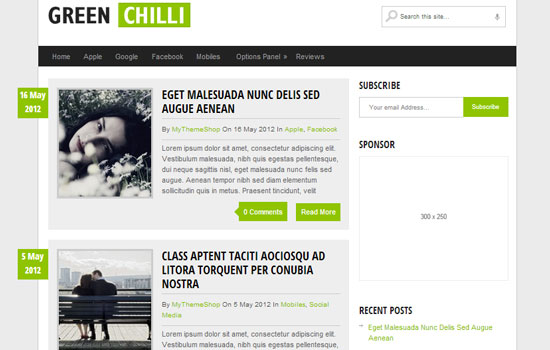 GreenChili is a bright, colorful blog-style WordPress theme that takes traditional WordPress styling to the next level and loads it with powerful features that will help you dominate the web.
Adorable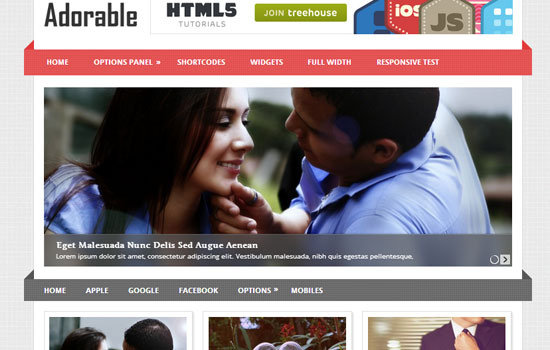 If you're looking for a flexible, grid-layout theme, Adorable is perfect for you. It has a multiple column display, full responsiveness and an eye-pleasing structured layout.
Instinct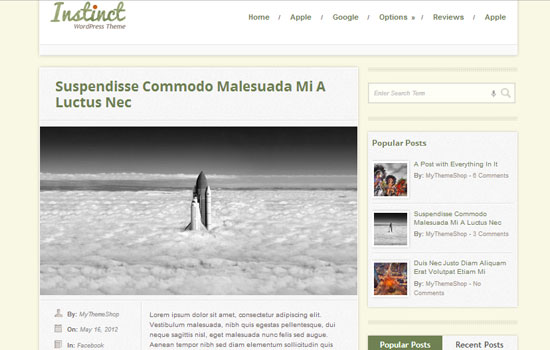 Show off the best of your content with Instinct. Instinct is a blogger's best friend, as it is a powerful WordPress theme that accents your content while also bringing powerful functionality such as a slider with thumbnails, full responsive layout and more.
Gridbox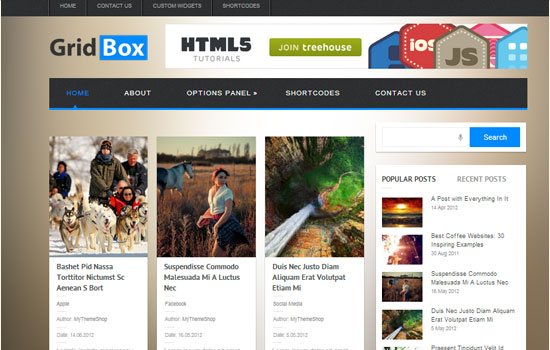 Gridbox is a grid layout WordPress magazine theme that features a 3 column layout. It's got a sleek background and a splash of color that is fully customizable, and with powerful features and fancy effects, it's a great choice for bloggers who want a fully functional theme out of the box.
Diary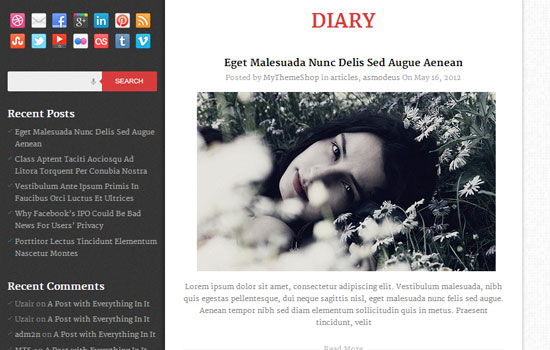 Diary is a pixel-perfect WordPress theme that is 100% free. It's easy to update and has a left-aligned layout and a large post display so you can show off all of your content. You'll love writing in this diary.
Glamour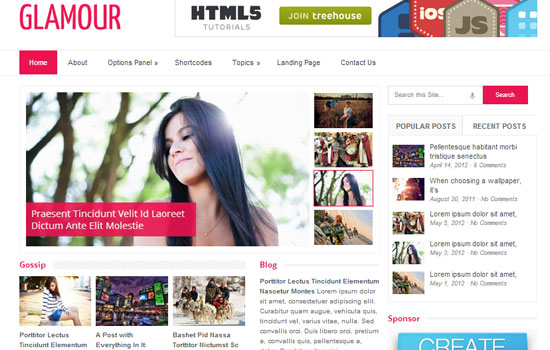 Elevate your blog by adding some minimalist design with a touch of color. Glamour comes with a multiple column homepage, a clean design, and full optimizations and customizability.
Pixelmag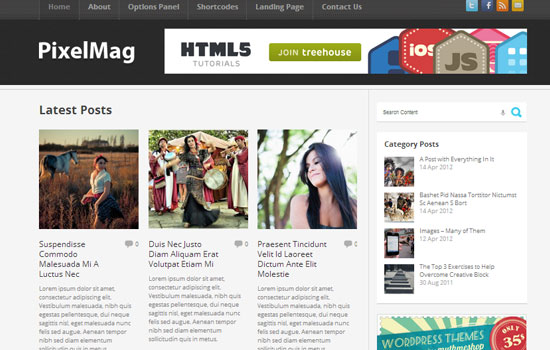 Pixelmag is a responsive WordPress magazine theme that features 3 columns on the homepage so your readers can find more content. It's optimized to give you an advantage in today's competitive web environment.
DotMag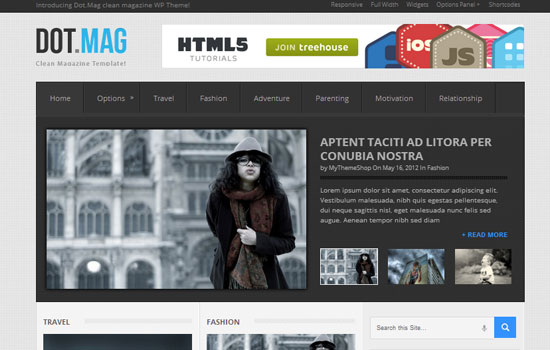 DotMag is a flexible WordPress theme suited for any purpose thanks to its options panel that allows you to customize anything about the theme. It features a beatiful slider, a dual column layout and an eye-catching design.
JustBlue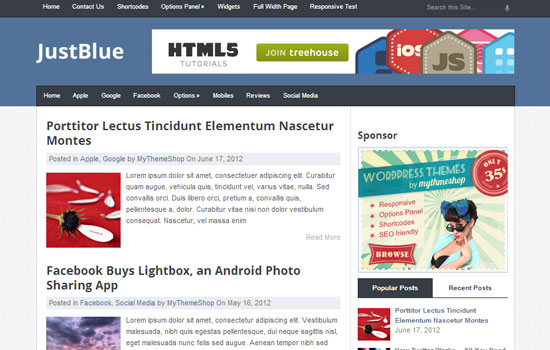 Another free theme from MyThemeShop, JustBlue is a standard blog-style responsive WordPress theme that, despite being free, includes all of MyThemeShops best features and optimizations such as responsiveness and custom widgets.
Fortune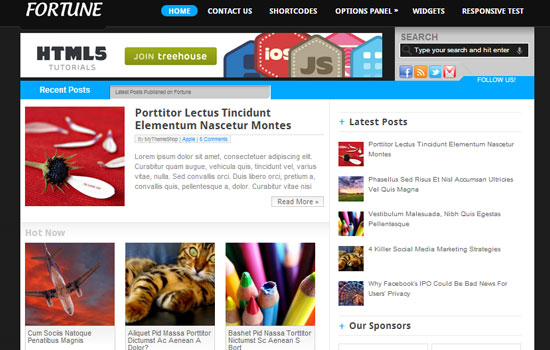 Fortune is a WordPress theme designed to improve your fortunes on the web. Multipurpose by nature, Fortune is perfectly suited for any blogger, and it's optimized for Adsense so you'll see massive increases in earnings, readership and success.
Report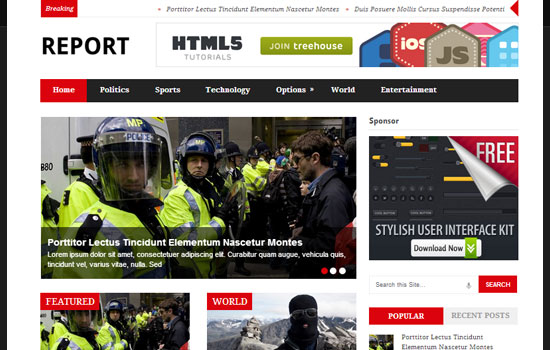 Report is a trendy little WordPress theme that has a news layout featuring dual columns, crisp colors, and a fluid responsive display. Including all the usual features and optimizations, Report works out of the box and will help you grow on the web.
Nominal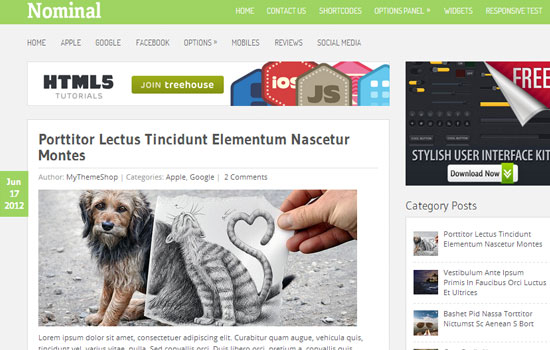 Nominal is a grayscale WordPress theme that is fully responsive, crisply designed and built with blogs in mind. Thanks to SEO and speed optimization, you'll get more visitors and rise faster to the top of the web.
Bloggie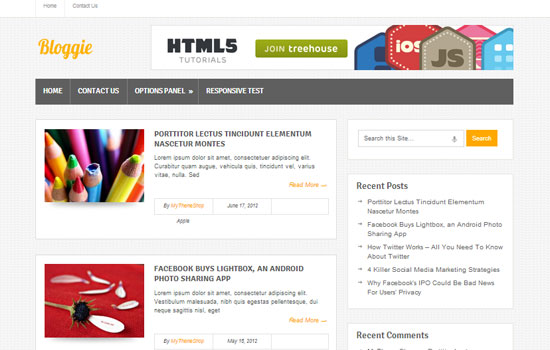 Bloggie is another free WordPress theme from MyThemeShop that takes the standard blog structure to the next level. Bloggie is built to get more readers and turn each one into mulitple pageviews thanks to optimizations and the related posts widget.
Trendy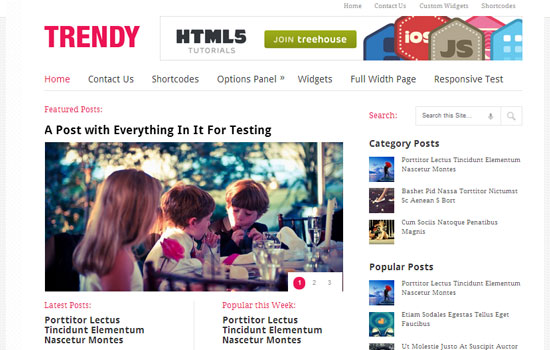 Trendy is a clean magazine theme built for WordPress and it's designed to use custom widgets and the fancy slider to get more pageviews for bloggers. It's fully responsive and includes all of MyThemeShop's latest features.
Boxline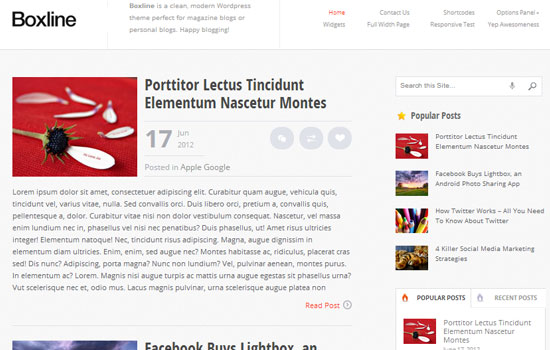 Boxline is a unique, modern and elegant WordPress theme that uses a magazine style layout and a combination of soft grays and clean textures to help make your site stand out.
Urban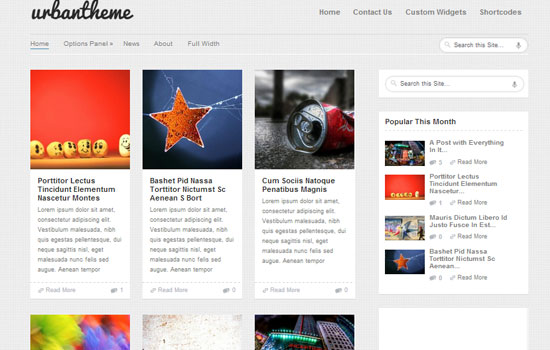 Urban is a grid-structure magazine theme for WordPress bloggers with lots of content to show off. Thanks to the related posts widget and ad optimizations, you'll generate more pageviews and earn more money.
Groovy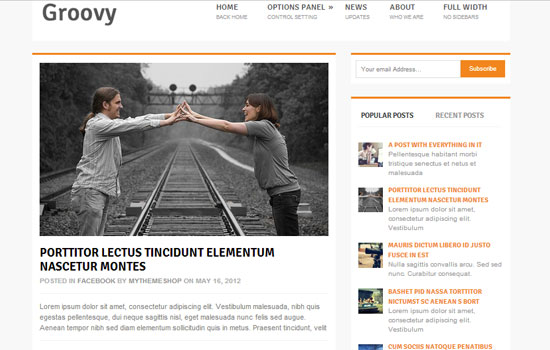 Groovy is a hand-crafted and hand-coded WordPress theme that is lightning fast and is perfect for bloggers who want a clean magazine theme that will maximize ad revenues, pageviews and will create the best possible user experience at the same time.
Textured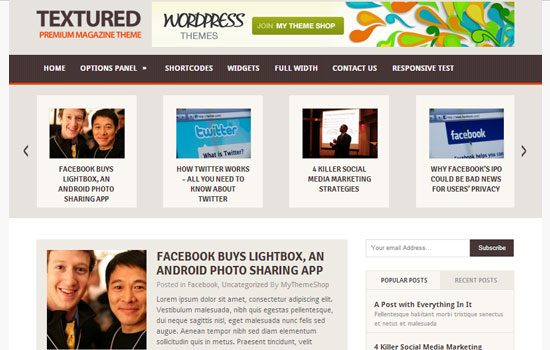 If you like textures, you'll love Textured by MyThemeShop. A multipurpose WordPress theme, Textured uses subtle textures that accent and enhance your blog, and it's fully customizable to suit any of your blogging requirements.
Metro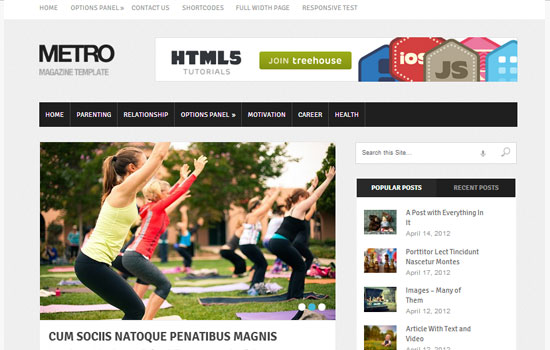 Metro is a Windows Metro inspired WordPress theme that brings an ultramodern, elegant feeling to WordPress. Using the latest design trends, Metro will elevate your site in every way ranging from design to SEO and advertising earnings.
Minimalist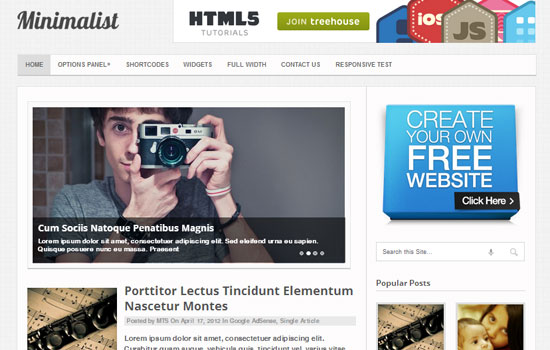 Minimalist is, as the name implies, a clean and minimalist WordPress theme for uesrs who just want to show off their content with out distractions. Thanks to the responsive, fluid grid layout, Minimalist showcases your content in the front and center of your site.
Accentbox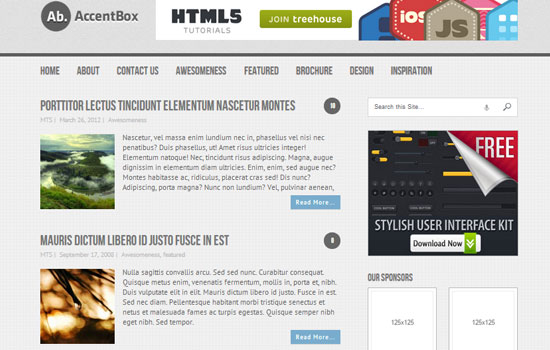 AccentBox is a free theme that looks like a premium theme in every way. Including all the MyThemeShop optimizations and features, AccentBox is incredibly powerful and 100% free.
Top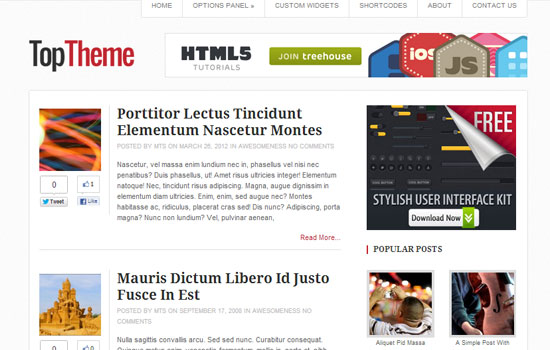 Top is a WordPress theme that is designed to help you reach the top and dominate the competition. With all our powerful features and widgets, plus HTML5 and CSS3 resposnive code, your blog will look perfect on any screen and rise to to the top of the search engines.
Splash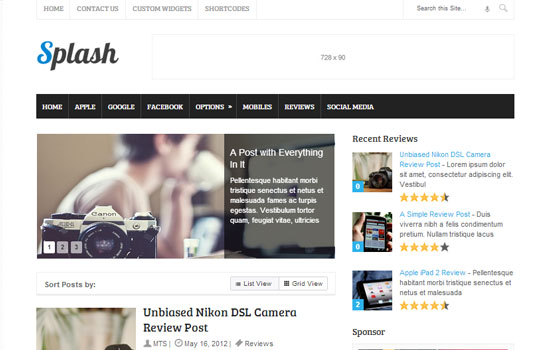 Splash is a review and rating WordPress theme that has built-in review features so you don't have to bother with extra plugins. It's perfect for affiliates, businesses and people who review products or services.
Simple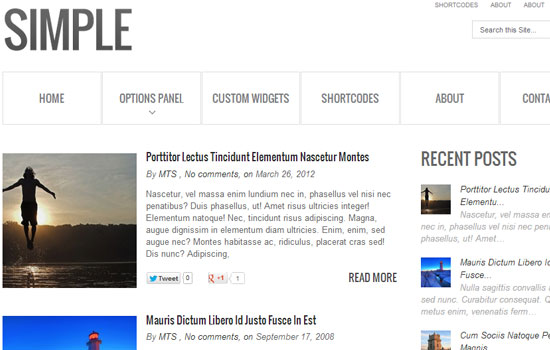 Simple is a nice and simple WordPress theme that brings a classy look without giving up functionality. If you want to offer a clean, straightforward experience for your readers, Simple is the theme for you.
Launcher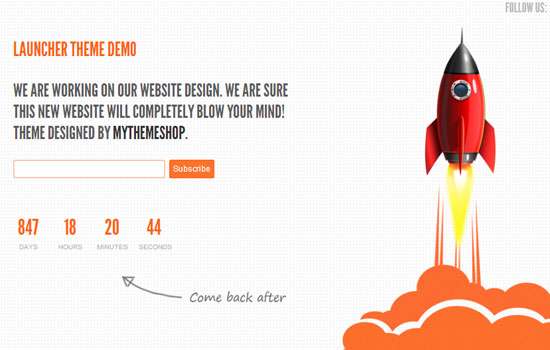 Launcher is a rare WordPress landing page theme that lets you inform the world of your arrival and ETA to launch date.
Sensational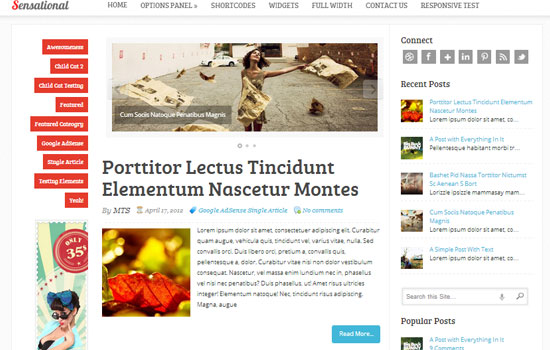 Sensational will take any website and make it look absolutely stunning by showcasing your content within a pixel-perfect design and fully customizable color scheme.
TruePixel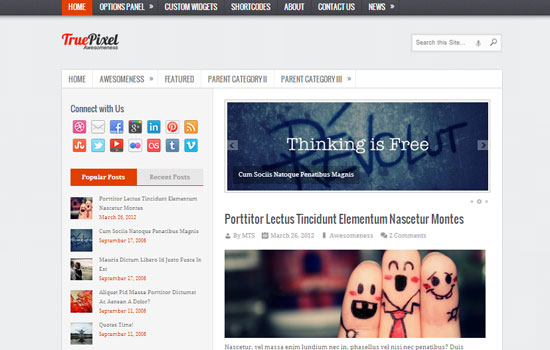 TruePixel is a widget-ready, clean WordPress theme that is optimized for speed, usability and much more. With unlimited colors to choose from, you can give TruePixel a personal touch, and you can control all the options from a central command options panel.
Minimalia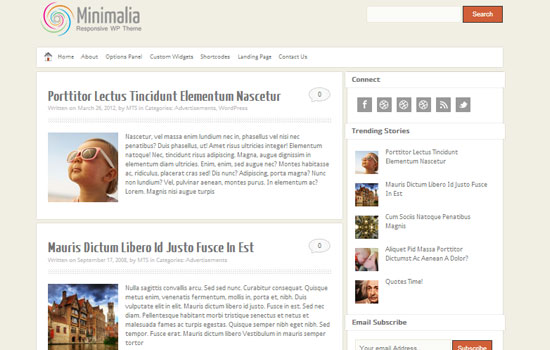 Minimalia is a minimal WordPress theme that proves that less is more. By putting the focus on your content, you'll keep your readers engaged and build a loyal audience. It's widget ready and all the features are controlled from the options panel, and it's fully responsive and future-proof.