15 stylish social media business cards designs
You will find 15 cool social media business cards designs in this article. Social media has been part of business marketing ever since Facebook became the most powerful social network platform on the planet. Coupled with other specialized social networks such as LinkedIn, DeviantArt etc and you get a whole new way of communicating with potential clients. Business card designs have to keep up with the times and reflect social media into its design concept. If you are stuck without any inspiration, here are 15 social media business card examples that are very cool and trendy.
#1 Close social media business card by by Eddie Lobanovskiy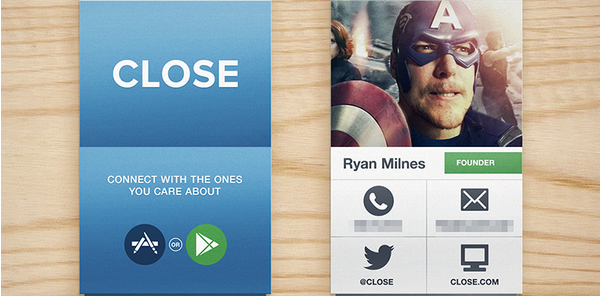 A concept that uses the profile screen that is usually seen on a mobile app. The front features a 'timeline' look while the back has the standard profile image with different social media accounts below it. Very nicely designed!
#2: Video blogger business card by Mihai Serbal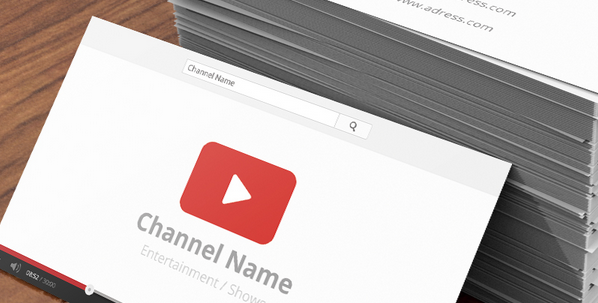 For folks with video channels, this social media card design lets your potential customers know where they can watch your video. This is a great way to market your services, especially if you have high quality videos waiting for anyone who is willing to watch them.
#3: Facebook style social media business card by Calwin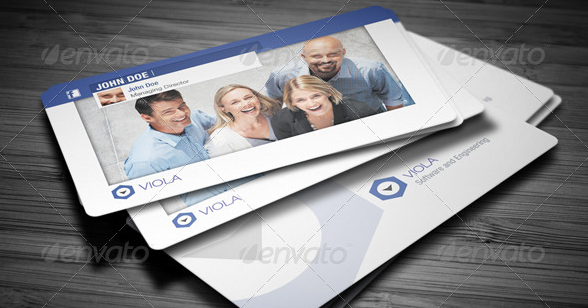 If you have a nice Facebook cover for your business, you can consider using the design for your business card as what the above design concept has shown.
#4: Social Business Card with QR Codes by Jason Barone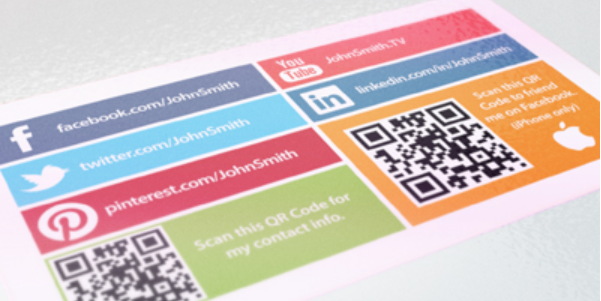 Incorporating QR codes into a social media business card allows the user to immediately access your social media account via scanning the QR codes. The colors on the card also make it very vibrant and trendy.
#5: Tweet style business card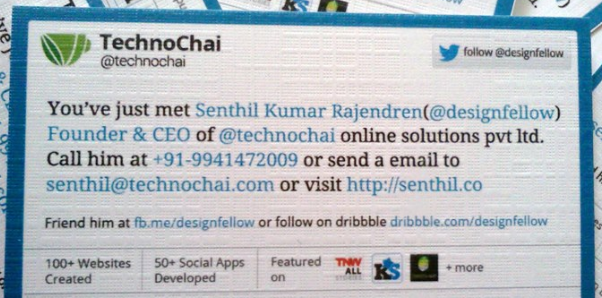 A very clever use of Twitter's tweet format to put on the back of your business card. This is a great conversation starter and is likely to raise a lot of laughter.
#6: Social media handles business card by NSElvis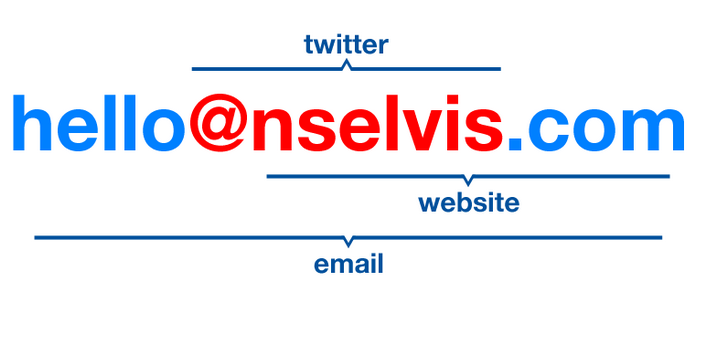 The designer uses a clever way to showcase all his social media contacts without making it look boring. I am sure lots of folks will be impressed by the concept of this business card design.
#7: iPhone app style business card design by Frederic Tourrou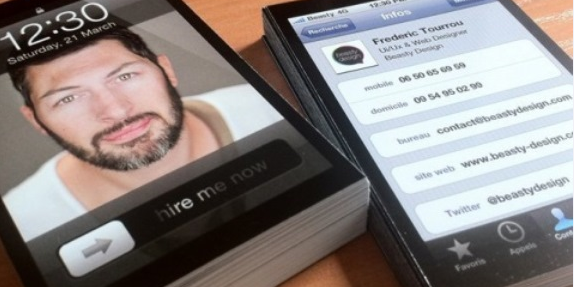 The app interface is actually a perfect design for a business card due to is similar dimension.  Frederic Tourrou took full advantage of this by making a business card look exactly like an iPhone app interface.
#8: Gorgeous social media business card design by Predator0113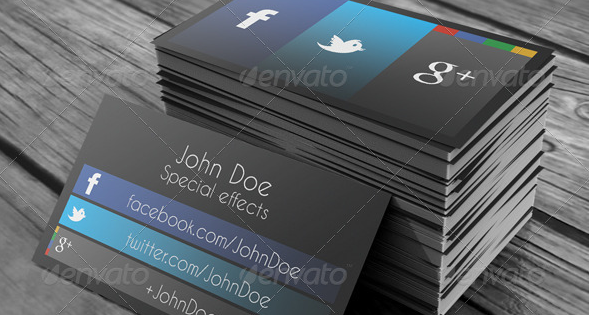 Using social media logos as designs for the business card, this sleek concept looks elegant and absolutely gorgeous. The back cover performs the practical function of letting potential clients know how to reach you through the different social media channels.
#9:  Cool social media card design by malinemati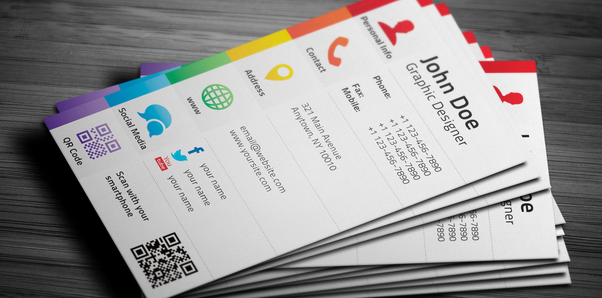 Using cool icons and a neat layout, this social media card design lets your potential client see all your contacts clearly. The colors add a lot of vibrancy to the design.
#10: Basic social media business card design by Erik bij de Vaate | WKMF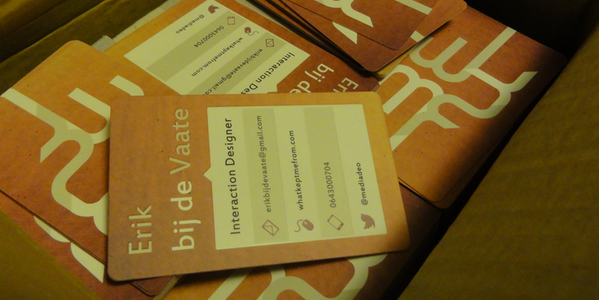 If you want something basic, this design gets the job done and can be applied to any industry.  It basically lay outs your social media account in an easy to read list format that everyone can relate to.
#11: Facebook timeline business card design by kimiwa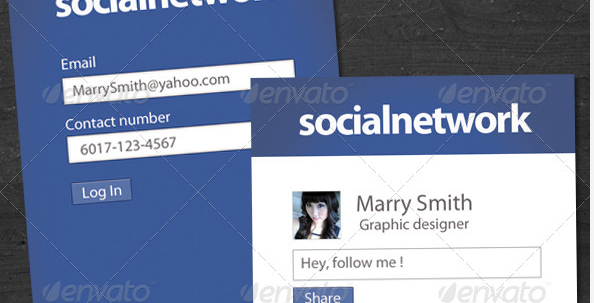 Very clever use of the facebook login page as the front and the timeline style as the back. It creates a familiar feeling when looking at the card and a nice method to get you noticed.
#12:  Black and white social media business card by Adis Cengic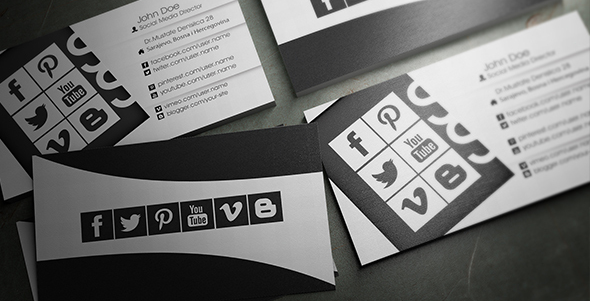 I liked this design for its stylish use of black and white colors. It looks sophisticated and is different from the usual vibrant designs that have been covered above.
#13: Twitter with QR code design by Antonio García Aprea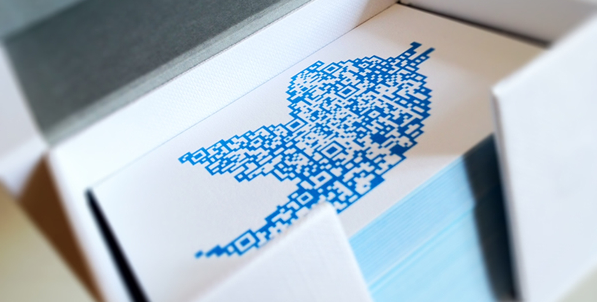 Incorporating QR codes in the shape of the famous Twitter bird is a great idea. It combines social media with QR technology, wrapped in a stylish design.
#14: Metro style social media business card design by tngraphic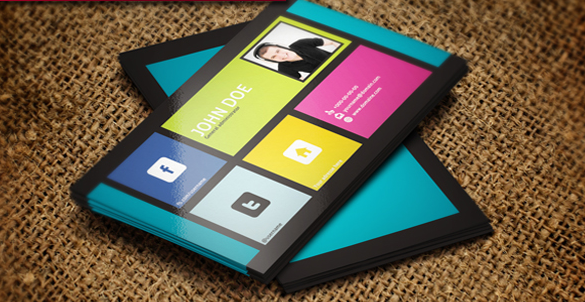 Using metro style layout to present your social media accounts is a brilliant concept and leverages on the current trend of such flat UI design.   The vibrant metro colors make the card stand out from the rest and is a perfect match if your website also used a metro UI design.
#15:  Stylish social media business card by Freshpiration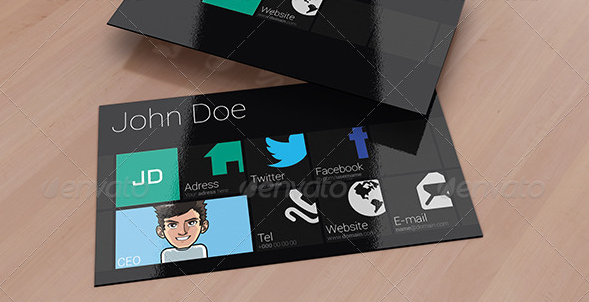 The stylish social media icons on a black glossy background makes for a very stylish design. Also inspired by the metro style interface, the layout is squarish which suits the business card rather well.