35 Awesome WordPress Website Templates
One of the easier ways to express yourself on the internet is having a website dedicated to what you or your community has to say. The best part about that is there are no rules and you are the boss. When it comes to making websites, wordpress is something that takes the lead in every person's mind. While wordpress already makes things easier, having an array of wordpress themes and templates on the internet is an added plus. Of course, one does have to search for the perfect one.
Building a website requires a lot of knowledge but things are becoming really easy. You don't need to be a professional website developer in order to play with the templates that we have in store for you if you read this list. Saving you the trouble of lurking online, we came up with a list of 35 awesome wordpress website templates that you can try. Enjoy the read and let us know what you think.
35. TRUEPIXEL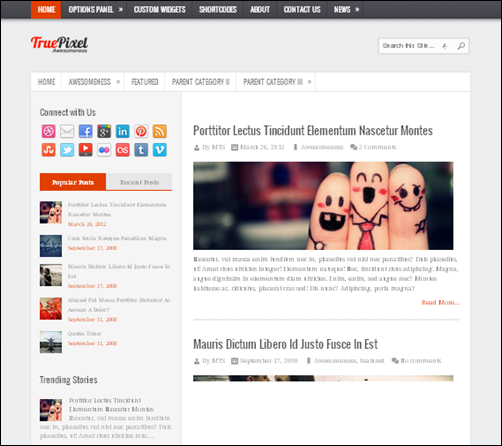 This is a responsive WordPress theme. It is available on MyThemeShop. You have loads of widgets ready to put on your website and it is elegant and quite stylish too. The layout is pretty simple and it appeals to the eye. More so, it does not compromise your content space. It is highly customized for speed and it comes with many color options.
34. TRIM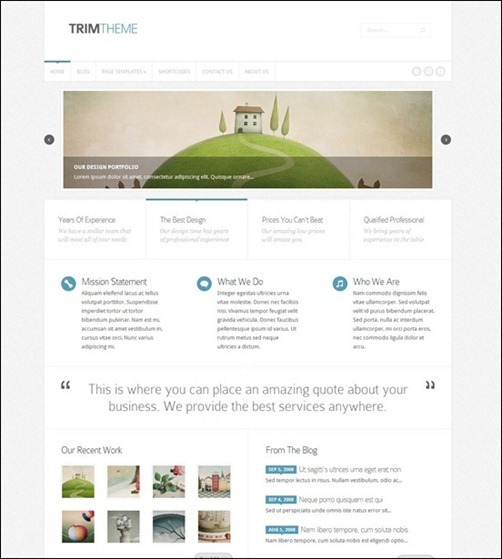 This particular theme is quite fast, professional and really simple too. The colors for this theme are quite refreshing and crisp. It offers many great features as well and can be used for various different types of websites. The theme is fully responsive so that's another plus.
33. SUPER AGENCY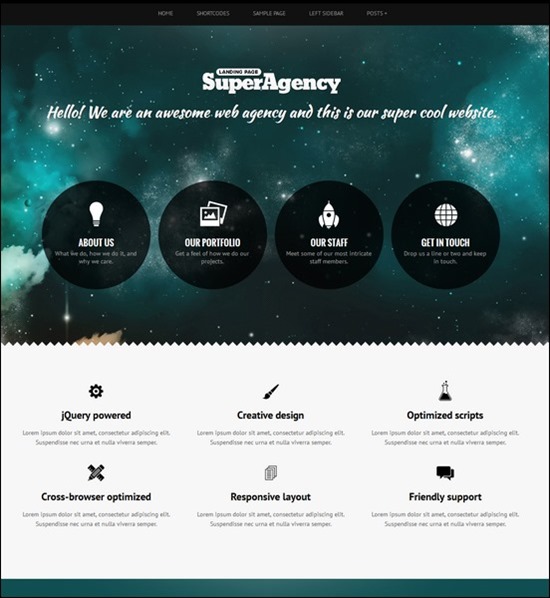 You don't have to be an expert in order to install and start customizing and using this theme. This theme is responsive, easy to understand, simple, clean and the interface is just amazing. You have many different customization options available and there are nine different skins to this one.
32. SPLASH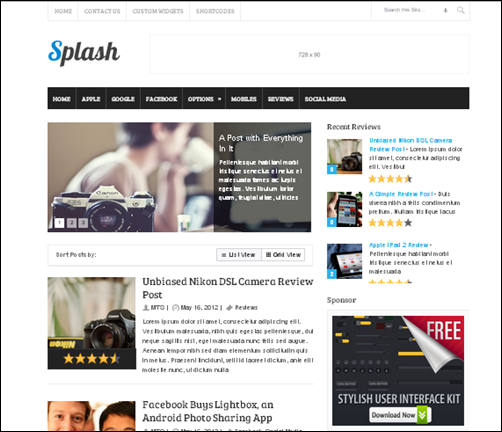 If you are blogger, you might want to take a look into this particular theme. With this theme, you can review and rate different products or services that you choose and all of that is done using the review feature that is built into this theme. It is quite classy and the grid is fluid which means browser or screen size is not an issue.
31. SLICK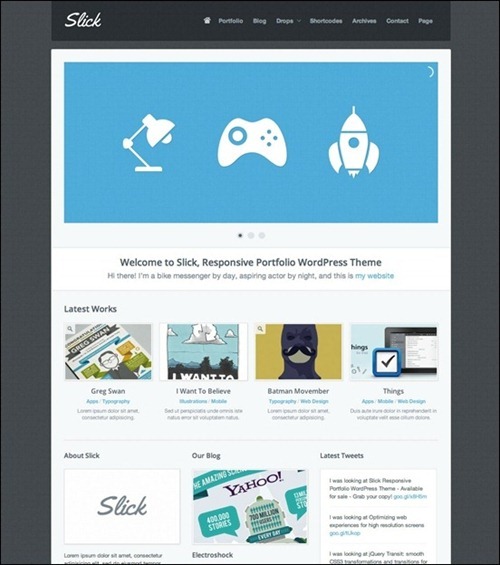 This is a portfolio theme for WordPress and it is fully responsive. This one is created for creative professionals, agencies and web designers and the likes. You have a very fluid layout to play with. You have many widgets to choose from and play with and the options panels makes customization a whole lot easier too.
30. SIMPLEPRESS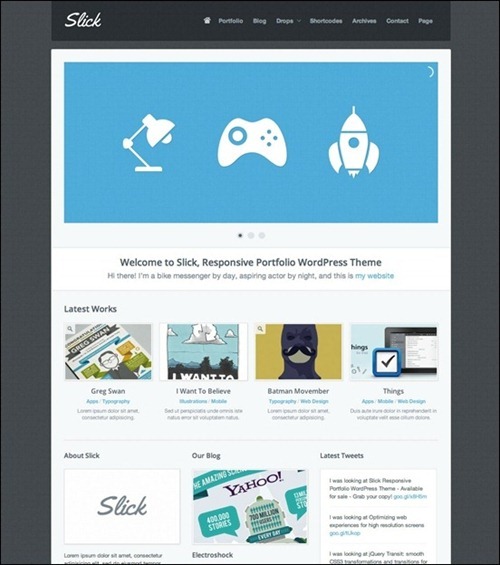 If you are looking to give your website a clean look that seems incredibly professional then you might want to go for this one. It is a business-oriented theme but it is much simpler. You have fully functional blog and gallery sections too you can see how very nicely it fits various different types of businesses.
29. SIMPLEKEY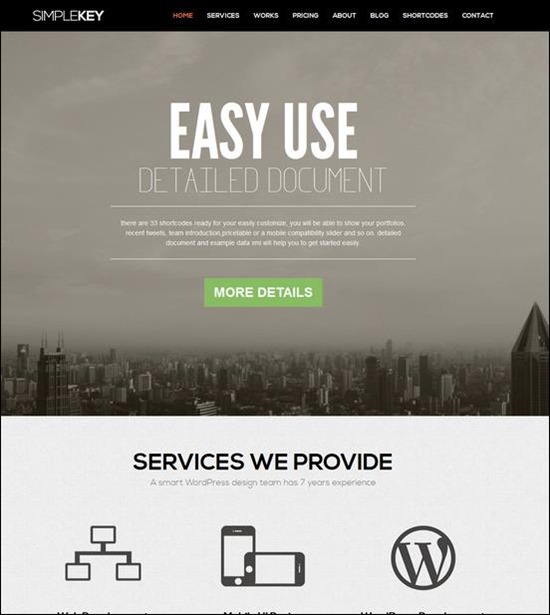 This is a multi-purpose WordPress theme. It has a welcome page and it is basically a portfolio based web theme. They have a very smooth scrolling effect which you can check out of course by clicking on the demo above the picture.
28. SHEPARD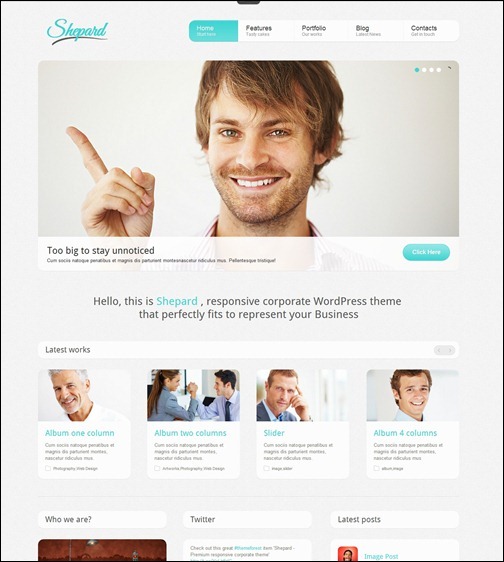 You have many different customization options with this particular one. You have an admin panel, a slider manager a form builder and various other things to play around with. The theme itself is neat looking and quite refreshing too. It offers convenient functionality and the speed is appropriate as well.
27. SENCILLO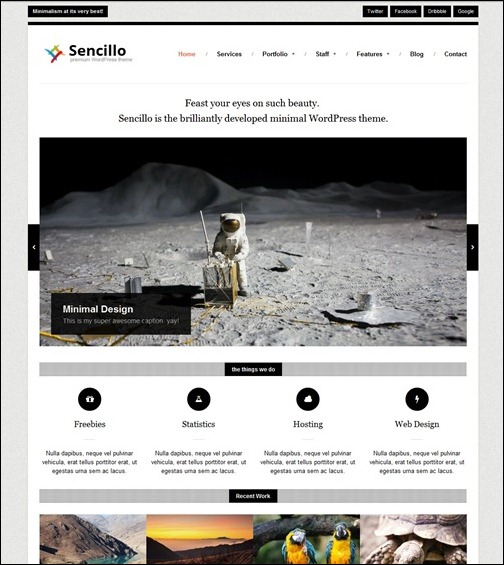 This theme is created for corporate and portfolio websites. They have implemented a very clean design which is perfect for putting your work on show. There are many advanced options for you to play with as well. For example, you can change your logo, background, fonts, elements and a lot more. There are seven different post-types available built into the theme already.
26. REACTIVE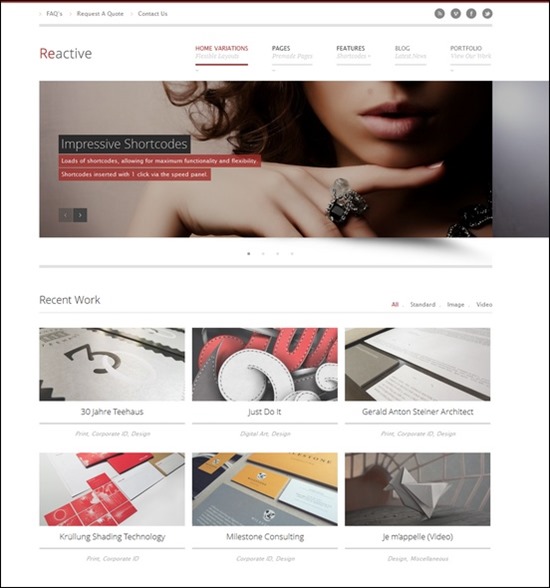 One of the most awesome things about responsive themes is that they adjust to any screen size you open them on and it saves you the trouble of a whole lot of coding and all. This is a single-column, highly professional website template which is perfect for corporate and business portfolios.
25. PROFESSIONAL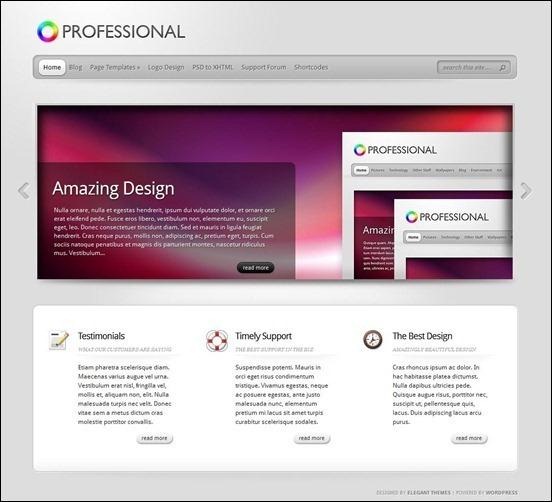 Many templates offer features that you don't really require. This particular one is very neat and clean template with a very sleek design. They layout is simple to understand for new visitors and they should be able to find their way around the website fairly easily. This happens to be one of the more awesome themes available online.
24. PASSION RELOADED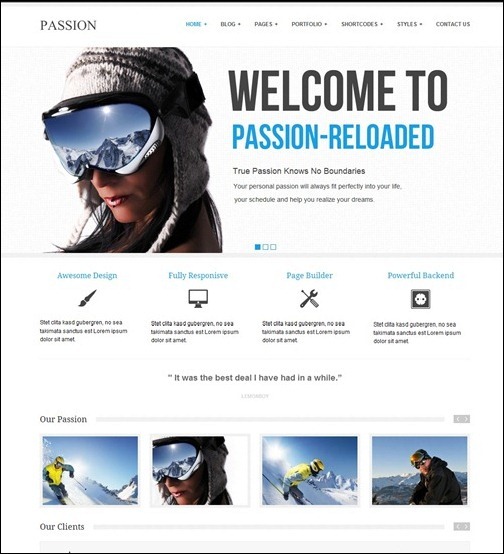 This is a business theme with a responsive layout. You have a page builder featured in the admin panel which should grant you greater control over your website. The theme itself looks very simple, neat and quite sleek as well.
23. OFFICE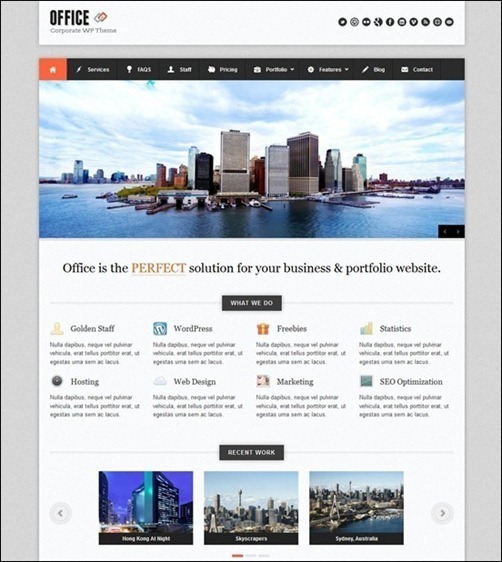 If you have corporate business, you might want to opt for this theme. It features a very professional design and offers seven different types of posts. You can drag and drop homepage modules, you have navigations icons, three different menu regions. You can set the layout to be responsive if you so wish. In my opinion, I think you should do it.
22. NOVA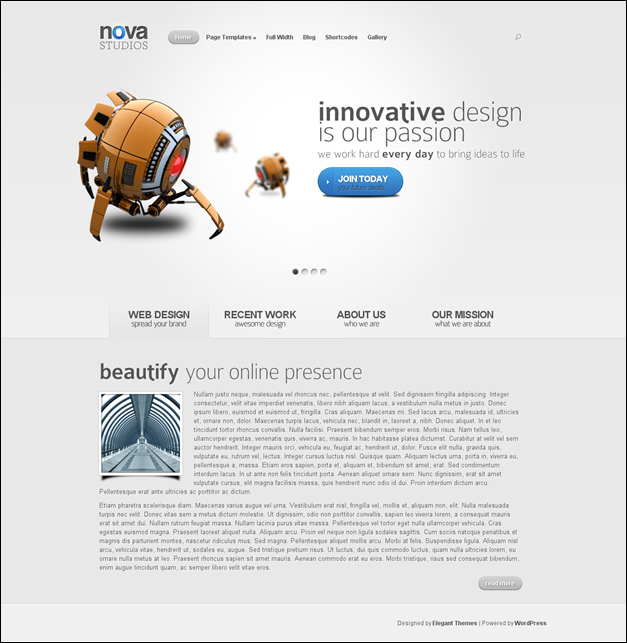 This particular theme has a very sharp design. The homepage should allow you to organize your content into two different areas. The slider is really awesome too. The site offers really smooth transitions from one picture to the other when you are using the default gallery as well.
21. NOMINAL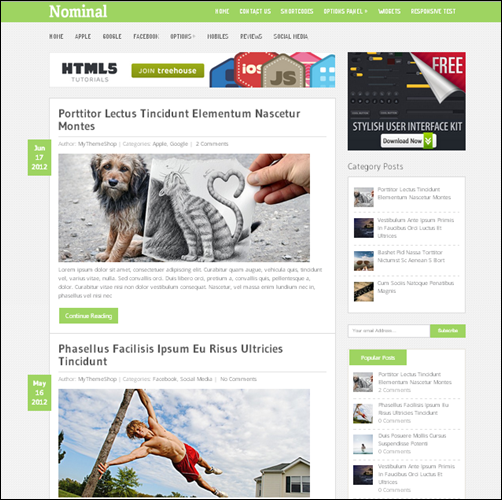 This is grayscale WordPress theme. We are sure you understand what grayscale is. The design of this theme is responsive with the usual features of a regular template. You have many custom shortcodes available and you have various different widgets to play with. The template is also optimized for SEO and speed.
20. MURAL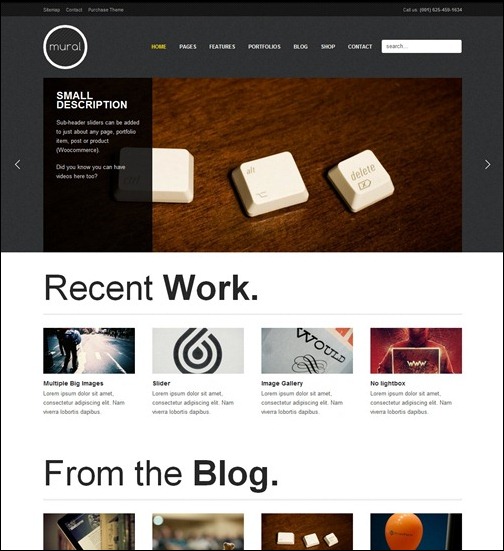 This is one powerful template and it makes website-building experience fairly easy too. You can customize pretty much everything in the website with a few clicks. You can change colors, backgrounds, fonts and image sizes etc. You can even create your own personal skins and upload your unique fonts and it's all very easy.
19. MINIMALIST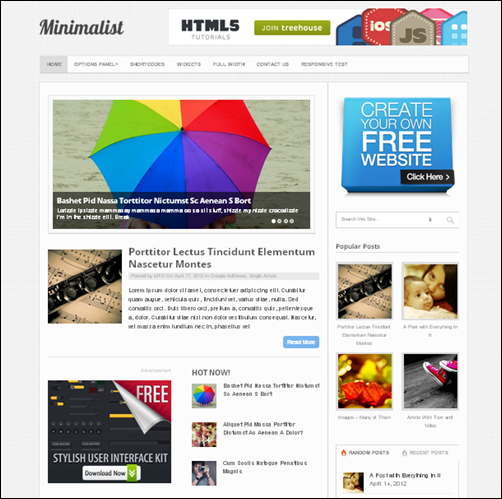 This one, as the name says, is a minimalistic design. If you want your content to really stand out you should go for this theme. There are subtle accents in the design that should accentuate your own content without creating distractive experience for users who visit. The grid is fluid and the design is responsive as well.
18. MINGLE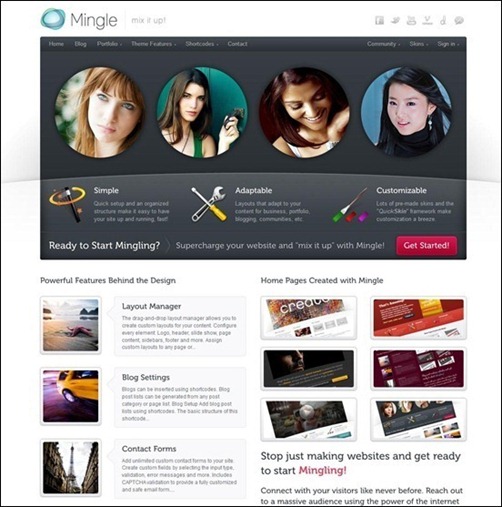 This WordPress theme is BuddyPress ready. BuddyPress is a social network plugin for WordPress that allows your website to become a fully functional communication portal. You can interact with groups and friends. You can even have forums and private messages and moreover, you can update statuses too.
17. MENTOR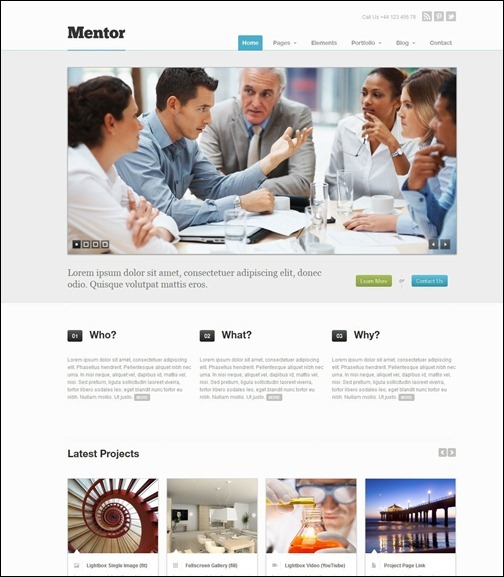 This template is perfect for any kind of business or corporate use. It is built upon the twitter bootstrap framework and you have loads of custom features to play with. You have unlimited widget areas, 13 custom widgets and three different skins to choose from. The theme is fully responsive.
16. INTENT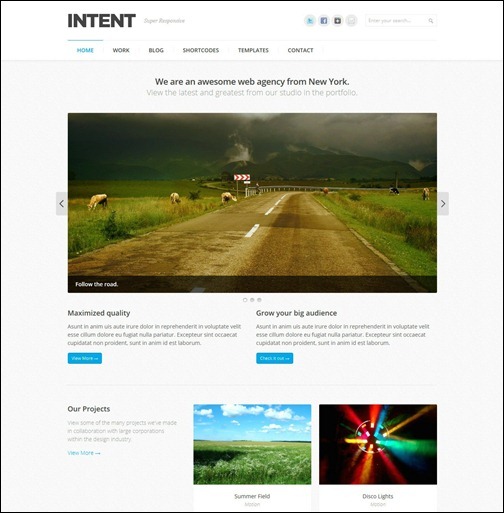 You can use this template for your business or corporate portfolios or you can have a tumblog rolling or even create a magazine out of it. There are many different ways to style your front-page, blog page and portfolio page. You have four sliders, four blog sections, four work sections and a separate content section. Do whatever you want.
15. IKAROS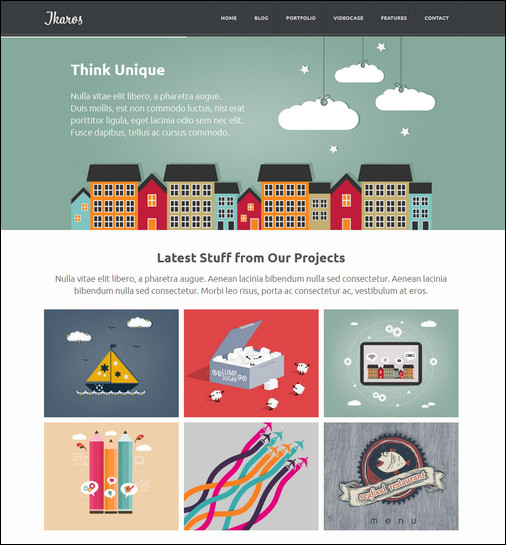 You have many different awesome features that you can play with with this template. The animations and transitions in this one are absolutely brilliant and smooth. You have a lot customization options and theme options. Besides the theme looks gorgeous.
14. HIGHRISE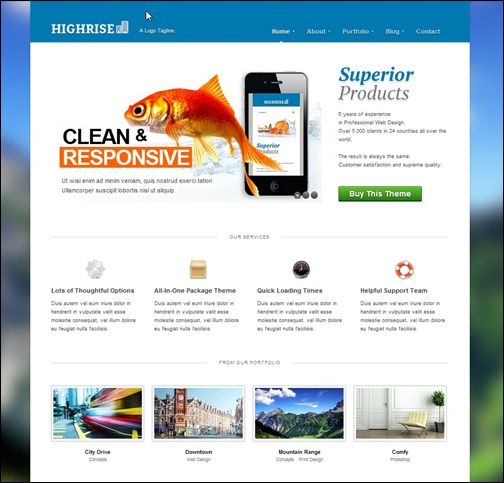 This is a modern looking theme which is also easy on the eyes. The template is responsive which is a plus as you must already know. The overall design feels very comfortable on cellphones and other small to medium screens you open this on. The design looks refreshing and the colors are nice too.
13. GLAMOUR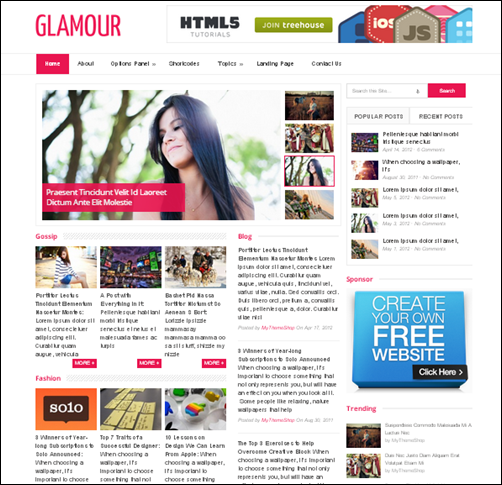 You can count this particular template amongst the minimalist designs but it has its color and swag. You have multiple columns to post content in. the design is clean and as you can already tell you can use this website as a magazine or a something like that. The speed is fantastic and it has that elegance to it and I am sure you would agree.
12. FLEXIBLE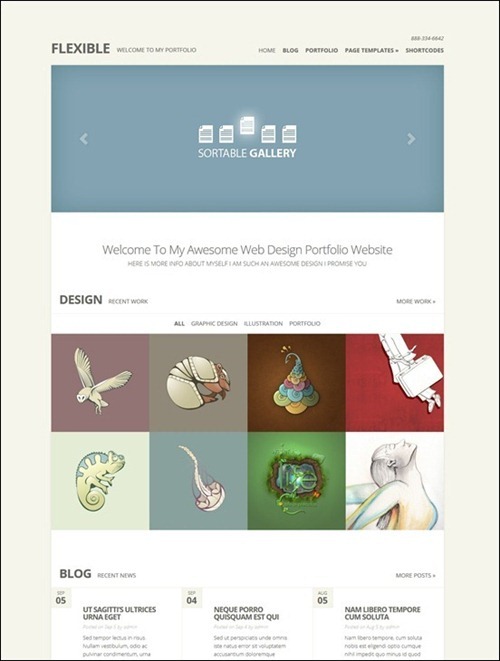 This is a fairly simple and minimalist design with some extremely fantastic features on board. The designing is really simple but it looks modern. The gallery is awesome. In fact, it is one of the more awesome galleries that I have seen in a WordPress template.
11. EVOLUTION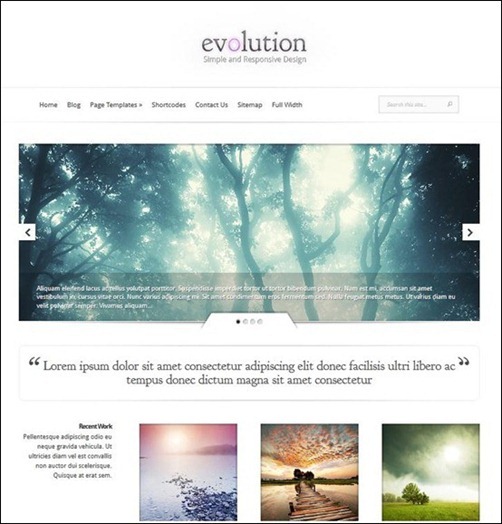 This is a fully responsive template. There are four different layouts to this template which should be able to improve the experience on differing screen sizes. Your users will not need to zoom in and out of the website just to get to see what's written and everything. Click on demo to see what I'm talking about.
10. DEEP FOCUS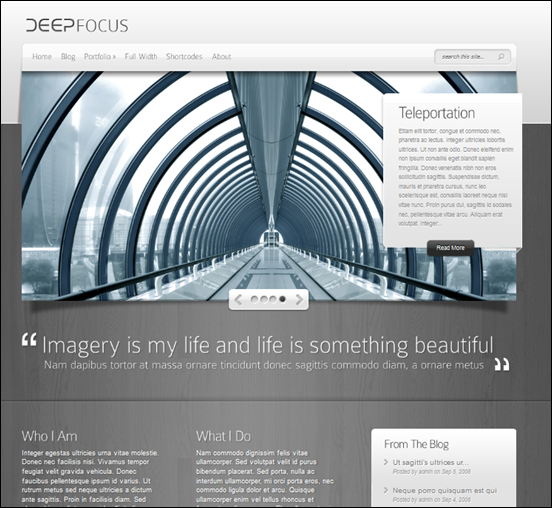 If you are looking to have a photo gallery online while still having qualities of a blog then look no further. You have a nice blog page and homepage which is a fantastic solution for artists and photographers looking to put their work online. The theme itself looks gorgeous and really elegant too.
9. CSTAR DESIGN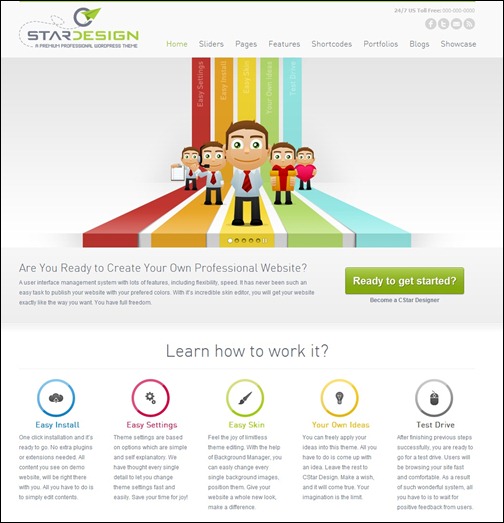 This particular theme offers flexibility and a lot of features onboard. You can publish your website in whatever color you see fit. You have an amazing skin editor which gives you tons of customization options. So whether you run a furniture shop, rent-a-car business, restaurant or anything, this theme is for you.
8. CORALINE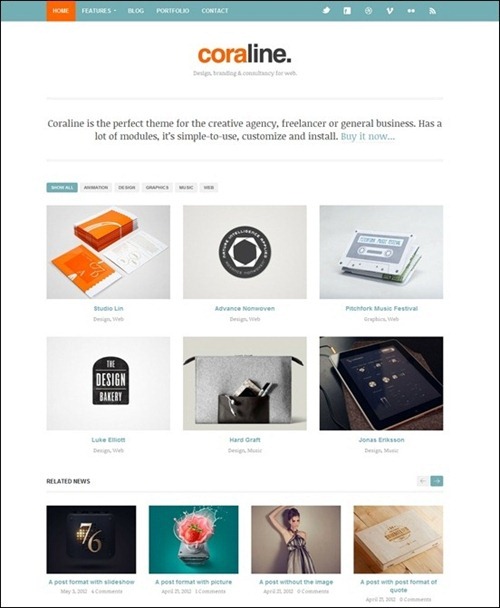 This is a fantastic WordPress theme. If you are a creative agency, a small business or a freelancer, give this one a spin. It is easy to use and install with many different features. It offers a range of customization options as well.
7. COMPANY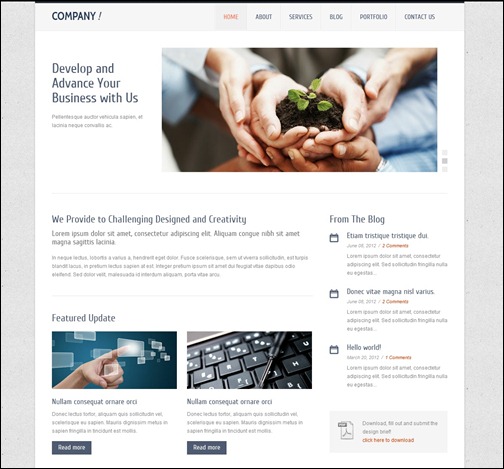 This is a neat, clean, and responsive WordPress theme template for business, company or corporate websites. It doesn't matter if you are into those things as long you have a portfolio because this template also works for that.
6. CHOICES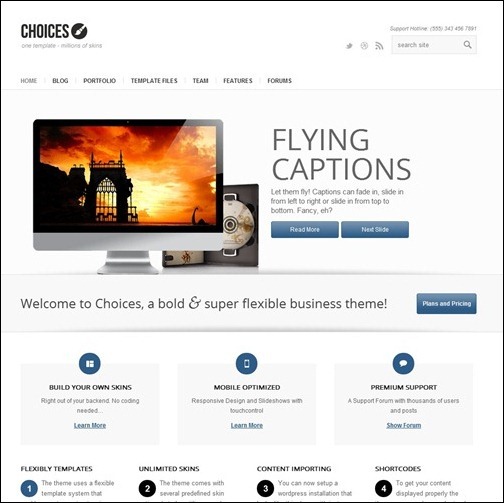 If you are running or planning to run a business website, consider this particular theme. It is fully responsive as are many others in this particular list and it is fairly neat as well. It is built on top of Avia framework and supports WPML Multi-language plugin.
5. CHAMELEON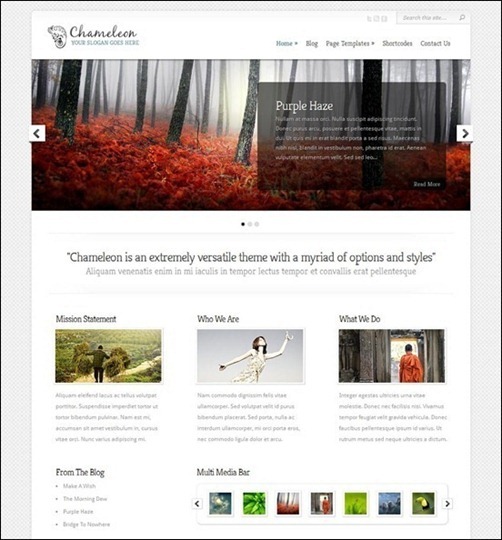 You guys are aware of what chameleons can do right? Well, this site is called chameleon for a reason. The patterns and colors you can pour onto this website are practically endless. It is simple and really professional with tons of customization options for you to play with so give it a shot.
4. BLOCKED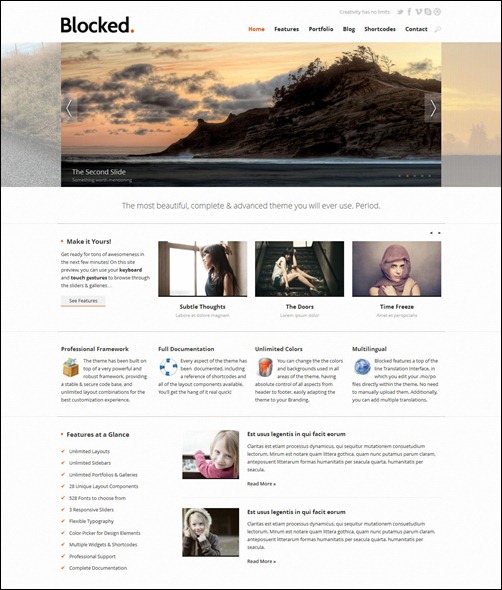 This is responsive template. It gives a lot of attention to details. It features a lot of the goodies including a layout which is practically the most useful tool when you talk of website building. Each component of the layout has several configuration options and you can add as many components as you wish.
3. AREA53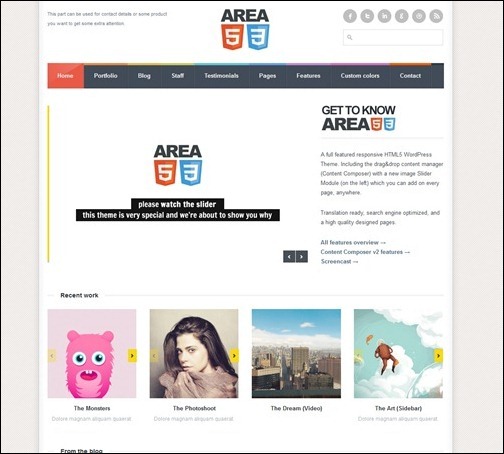 This website template is built upon HTML5. It has a really cool slider. You have a content composer using which you can create highly professional pages in a matter of minutes.
2. Avada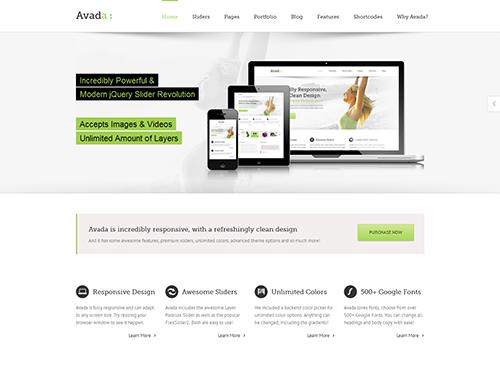 Avada is so clean, super flexible and has a fully responsive design!
1. ANGULAR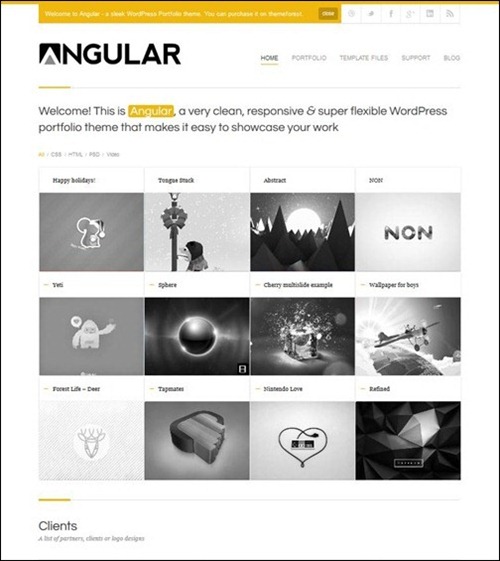 Last but not the least, we have angular. This is a fully responsive WordPress theme. If you want to put your work online in a very neat looking portfolio, consider this website template. It is built on top of the Avia framework and it supports bbPress forum plugin.