4 Ways for Small Businesses to Thrive Post-Covid
The last couple of years have been the very definition of "unprecedented times," but now we're moving on to the post-Covid world. Life is still uncertain for business owners – after all, there are worrying signs of an impending recession, and the supply chain hasn't returned to anything like "normal" – but if you've survived the pandemic, it's time to switch gears.
One of the many major changes that took place as a result of the pandemic was the shift to digital, and it's showing no signs of going away. Like everyone else, your customers probably spend more time on social media, make more online purchases, and have become more familiar with digital experiences than they used to.
If you haven't already created or updated your digital strategy for post-Covid, there's no time to lose. Moving forward, digitally savvy small businesses will be the ones that win their markets.
Here are some suggestions for how small business leaders can take their digital strategies a step further.
1. Get Fresh Input from Your Customers
We hope you're not tired of hearing the advice, "Listen to your customers," because it's foundational to all of your business decisions. This is especially relevant if you haven't checked in with your customers much since the pandemic began.
The last couple of years have seen massive changes in consumer behavior: moving from offline to online or BOPIS (buy online, pickup in store) purchases; a preference for companies that match consumer values around social justice, sustainability, and mental healthcare; and the shattering of consumer loyalty that has customers shopping around more than ever before.
Many small business owners are still trying to figure out what their customers are looking for now and wondering which direction to pivot. The first vital step is to get a lead on customer needs in the post-Covid world, so our most important piece of advice is to get fresh input from them. Here are three ways to connect with your audience and deepen your understanding of what they're most concerned about in our newly digital, disjointed, and demanding society.
Conduct Surveys
Distribute questions and collect answers from your customers using software tools such as SurveyMonkey or Google Forms.
Some popular ways to distribute a survey include:
Emailing your customers with an embedded survey
Providing a survey option whenever customers complete a transaction on your website
Creating a website pop-up with a survey opportunity
Using a URL link to a survey, which you can place just about anywhere, such as a blog post
Adding a suggestion box to your website that allows your visitors to give you tips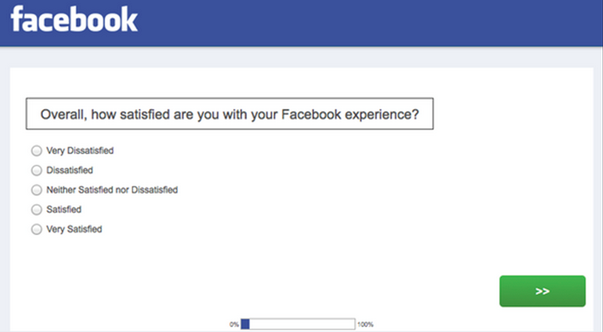 As you can imagine, there's a right and wrong way to go about surveys. Over the years, industry leaders have established some best practices when distributing digital surveys. Keep these tips in mind as you gather information from your customers:
Define a clear goal for your survey, such as wanting to identify the key reasons why your customers buy or don't buy your products
Consider offering an incentive, such as a gift card or voucher for your services
Keep your surveys short
Ask a mix of close-ended and open-ended questions
Closed-ended questions can be answered with a single word, usually "yes" or "no." People can answer them quickly, and responses are easy to gather and plot on a graph. Open-ended questions invite customers to share more about what they're thinking, but people are more likely to skip them because they require more time and thought.
Below are some examples of open-ended vs. close-ended questions: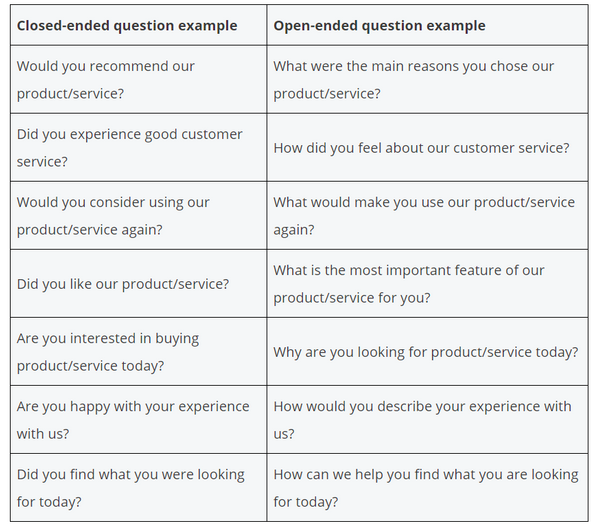 Source
Gather Insights with Social Listening
Social listening involves tracking what your target audience says about your brand and the issues that matter to your business on social media. Though less direct than surveying, this approach gives you valuable insights into your customers' thoughts.
It all begins with becoming active on social media. It's challenging to gauge your audience unless you post regularly, follow local accounts, and reply to questions.
Here are some ways to get the most out of social listening:
Respond to every mention of your company that comes up in your notifications. Not only will this give you clear ideas on how your customers perceive your brand, but it also invites further discussion.
Identify relevant groups and hashtags. Even though your target audience may not be talking about your business specifically, they still may be active on similar, relevant threads.
Study the competition. Look at accounts that are similar to your business and see how customers are reacting to them.
Use live polls. Most social media platforms like Twitter, give you the option to poll your audience. So take everything you learned about surveying your audience and apply it to social media polls.
For example, Samsung India ran this poll on Twitter to ask which color smartphone customers preferred: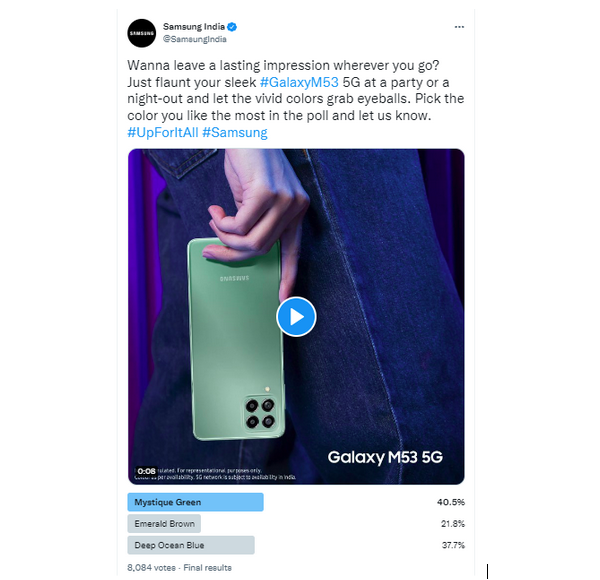 What makes social listening so powerful is that it gives you a current pulse on how your customers feel and think.
Conduct Post-Support Interviews
Sometimes the best way to understand your audience is to talk to them, literally. As you probably already know, one of the significant advantages that small businesses have over enterprises is that they can be significantly more personal with their customers. If you have such a relationship with your target audience, consider interviewing one-on-one, via video call.
Begin by identifying your strongest advocates, such as your loyal return customers and those who recommend your products and leave online reviews. Then, identify the customers who were dissatisfied or not 100% happy with your product or services.
Often, the best opportunities for interviews can be found in your support ticket archives. If you're using one of the top help desk tools, you should be able to track which customers are the most chatty, disgruntled, or delighted by your company. Talking to both types of customers will give you a well-rounded perspective on what your customers think and how they perceive your brand, products and services.
These kinds of conversations are rich, and unlike the other methods listed here, they allow you to pivot a conversation on the fly, to unlock gold from your customers. For example, if an interviewee mentions they have a problem navigating your website, ask them more specific questions. Or if they express an issue with your product, dive deeper and ask for recommendations on making it better.
It's imperative to get in-depth, accurate insights on your customers' experience with your company. Equipped with this valuable information, you can make informed decisions about your digital strategy to make the most of your time and money moving forward.
2. Upgrade Your Site's User Experience
Google continually changes its algorithm to provide users with the best experiences, and one of its ranking factors is user experience. The search engine focuses on pleasing searchers – your customers – because users care about their experience on your website.
In other words, it's not just the information, or lack thereof, on your business site that is important. It's also your visitor's experience on your website and how they interact with the information.
Based on Google's latest emphases, here are your top concerns.
Make It Mobile-friendly
Mobile usage is growing, and there are no signs of it stopping. If you want to provide a solid experience for your customers via their devices of choice, make your website mobile-friendly. Not sure if your website measures up? Head over to Google's Mobile-Friendly Test and enter your URL.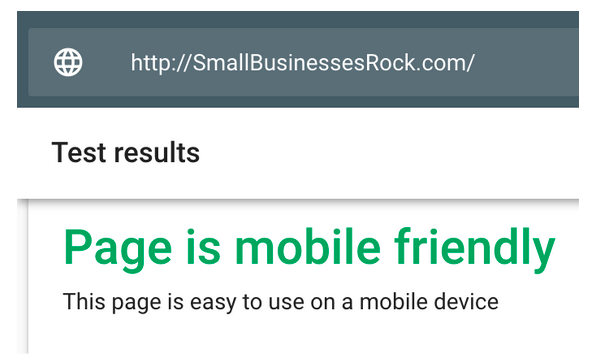 Google suggests using responsive design to make your website user-friendly on any device. With responsive design, your website layout and content changes depending on what device is being used.
Next, make your content easy to consume on any device. Use larger fonts, shorter paragraphs, line breaks between paragraphs, and add contrast between the background and the text.
Boost Site Speed
It's no secret that slow-loading websites are a huge turnoff to visitors. The longer it takes for your site to load, the more people will leave. If you want to know how fast or slow your site loads, head over to PageSpeed Insights, another Google tool, and enter your web address.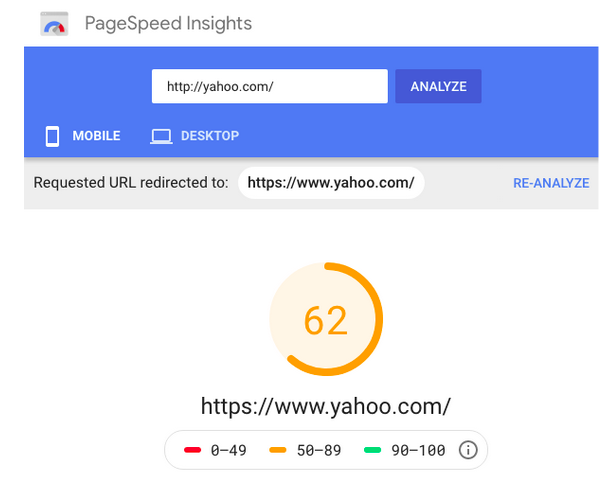 There are a handful of measures you can take to boost your website speed, such as using fewer and smaller images. Large images can slow down your site speed, so either use them sparingly, reduce the resolution, or compress your images with a tool like PicResize.
One of the easiest ways to improve your site speed is to upgrade your hosting plan. If your site speed drags, and it's within your budget, consider upgrading to premium hosting.
Switch to HTTPS
HTTPS adds an extra level of security to your website, and it is a big deal to Google. Not only does Google favor the entire web switching to HTTPS, but the search engine also rewards sites that use it. So not only is it good for your customers' security, but it's also useful for SEO.
The easiest way to check if your website runs on HTTPS is to look at the beginning of your web address. If you need to switch to HTTPS, the easiest way is to buy an SSL Certificate through your web hosting provider. Afterward, look through your URLs on your website to ensure they go to HTTPS pages.
We know it's a bit tedious, but your customers and Google will thank you. And the good news is that you only have to do it one time.
Watch Out for Layout Shift
Google warns users about excessive Cumulative Layout Shift (CLS), a fancy word that talks about how pieces of your website move as the pages load. It's that awful experience you have when you click on something, and suddenly, it moves away, causing you to click on something else. A good CLS score is below 0.1, while a score above 0.25 is poor.
Wondering how your site measures up? Head back to PageSpeed Insights, enter your URL, and scroll down. There you'll find a detailed report of your site's performance, including your CLS score.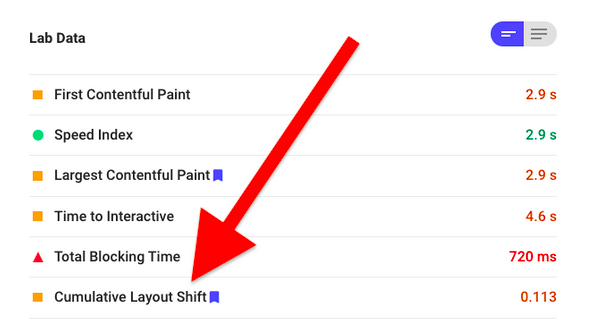 Here are web.dev's top three suggestions for optimizing your CLS score:
Include size attributions for your images, ensuring the browser will reserve the correct amount of space while it loads.
Don't insert content over existing content (i.e., a pop-up ad).
Avoid animations that trigger layout changes.
Our advice? Use visuals sparingly and visit your website every so often to see if it's an enjoyable experience.
3. Sell Packaged Services
Selling takes time, energy, and sometimes money. Unfortunately, small businesses have a limited supply of all three. Well, there's a straightforward strategy you can implement to land more sales in less time — packaging your services. In other words, take multiple services or products and combine them into one sale.
It's certainly not a new sales strategy, but it's simple and effective. If you think back on your purchases, you've probably seen other companies doing it. For example, software companies often offer tiered pricing, and each option has a collection of features included.
Do something similar with your own services. For example, if you sell music lessons, bundle guitar lessons with singing lessons, because maybe your customers want to do both anyway. The result is that you've essentially sold two products in one sale.
Growth Tools (previously Videofruit) recently published a case study that claimed tiered pricing is responsible for 25% of the company's revenue over the prior 18 months. They didn't create a new product or run a new ad campaign. All they did was present their services and pricing so that more of their website visitors made a purchase.
Selling packaged services solves several problems for small businesses at the same time. It improves cash flow since customers pay upfront for several items, and then the client redeems these services over time in the following weeks. It boosts revenue since it upsells customers who already enjoy your services and are ready to pay for more. And it saves you time, because you have to make fewer sales to meet your financial goals.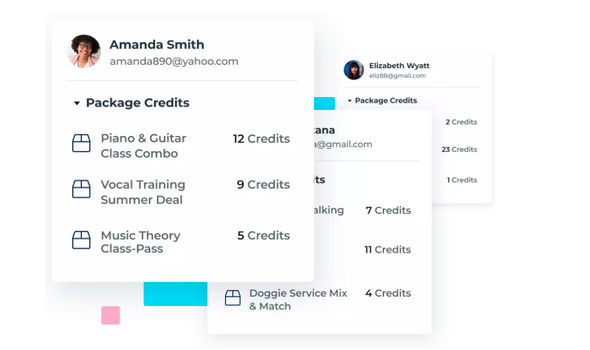 Source
Small businesses can accomplish this using vcita's Packages capabilities, which provide a platform for small businesses to bundle services, schedule sessions, and track redeemed appointments. Not only does it solidify customer relationships and build loyalty, but it also gives your company fresh injections of much-needed capital since clients buy multiple services at one time.
4. Start Gathering User Reviews
According to Power Reviews research, 99.9% of consumers look at reviews before they make a purchase and 98% consider reviews an essential resource, which is as near as dammit to "everybody." In fact, nowadays people expect to see dozens or even hundreds of reviews before they buy from a business, and conversion rates rise exponentially the more reviews you can display.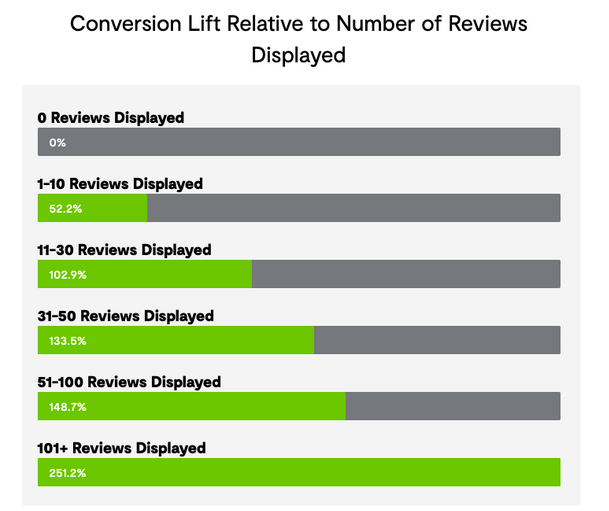 Of course, you probably don't need statistics to understand the importance of user reviews, since you've likely done the same. Before you buy something on Amazon, don't you usually glance at the reviews first? Has a positive or negative review ever affected your purchase decision? Well, your target audience is doing the same thing with your products and services.
Since more of your prospects are learning about your business online, user reviews will be even more critical moving forward. Here's how you can start collecting user reviews.
Identify the Best Moment to Ask for a Review
Let's get the obvious out of the way — the only way you're going to get good reviews consistently is by asking for them. Of course, it helps if you ask at just the right time in your customer's buyer journey. So your first step is choosing the ideal moments to request a review.
Here are some of the best times to ask for one:
Immediately after a customer reorders your products or services
After a happy customer tags you in a social media post
Whenever your customer refer others to your business since it's a good sign they love speaking well of your company
After experiencing success with your products or services
You may have to use trial and error to find the best times to ask your customers for reviews, but the key here is to make it part of your processes. This way, you naturally accumulate reviews with every purchase over time.
Identify Effective Methods for Asking for Reviews
How do you ask happy customers for reviews? If you need some suggestions to get those creative juices flowing, here are some ways to do it:
Include a review option after checkout, such as adding a link to a review page
Request reviews in your email marketing campaigns; include a review request in your purchase confirmation email
Train your sales and support reps to ask happy customers for a review after every successful service interaction
Send a personalized email a few days after the purchase asking for a testimonial (note that the lag time should depend on when your customer receives your product; if it takes one week to receive your product, wait about 10 days before sending the email)
It may take time to find the right timing and method to gather user reviews. But once you find a system that works for your business, it can run on autopilot and work for you in the background.
Conclusion
Digital is here to stay, so the only way to understand your clients, gain their trust, and meet their needs is to join them online. Small businesses that listen to consumers, improve their digital service offering and user experience, and ramp up their review game will be the ones to thrive and reach new milestones in the post-Covid reality.