20 Top Desktop Blogger Editors To Manage Your Blog Easily
Blogging is a thing that is getting very common on internet now-a-days. Bloggers do not just write articles. They have to do a lot of things to manage and promote their blogs. These activities range from commenting to finding useful design and software tools that allows more time for the business of writing and keeping readers happy. But at the same time, finding perfect tool for a task is difficult and time consuming. So, I have searched internet for best free blogging tools and services for bloggers and summed them up in this post.
1) Windows Live Writer :
Windows Live Writer will be useful for some writers looking for a faster, easier way to post to blogs. Though there are many other existing applications but the main complaint is that they don't allow WYSIWYG editing. But Windows Live Writer allows such kind of editing where you see on screen exactly how the blog post will look. In addition to that it also supports native videos with a simple 'insert video' function and is now XHTML compliance.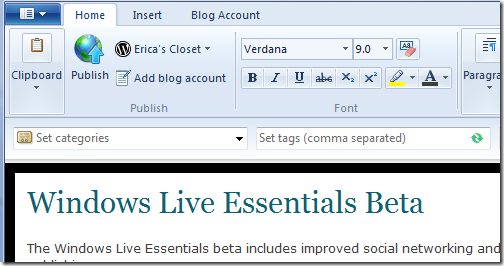 2) BlogDesk:
Blogging should be simple, but it gets complicated and time-consuming if especially if you have more than one blog to manage. You can, however, save some time by using an external blog editor. BlogDesk is free software that allows you to do basic image editing before publishing them easily add tags to your entries, and a number of other great features.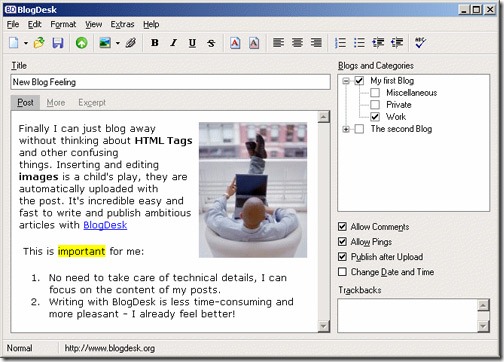 3) Post2Blog :
It is blog editor software, like Windows Live Writer but this one is special as it comes with lots of other features like from a very rich WYSIWYG editor to IE and Firefox extensions, even a Microsoft Word extension as well, to a build in live spell checker. It also allows you to insert tags into your posts and your photos will automatically be uploaded into your blog.
4) BlogJet :
BlogJet is a weblog client for Windows that allows you to manage your blog without opening a browser. It is the most advanced Windows blog editor and manager which is designed for those who are more concerned with the editing and maintenance of their blog, rather than doing clumsy work with lots of code.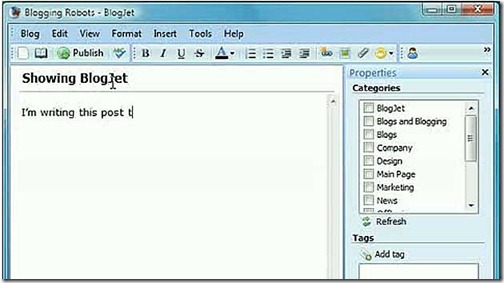 5) W.bloggar :
W.bloggar is a software that runs over Windows and allows you to edit your posts without being connected to the Internet, saving locally one or more texts to be posted in the future. It targets to be an edge between the user and his blog(s). It is considered to be a Post and Template editor, with several features and resources that the browser based blog editors cannot offer.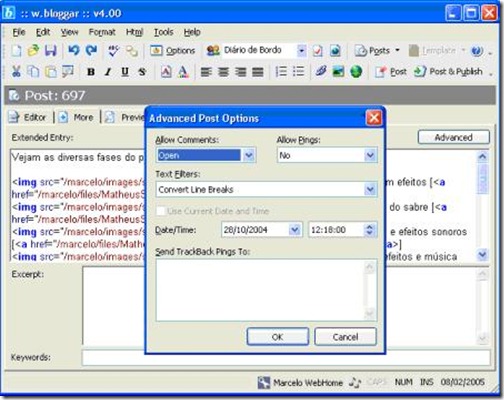 6) Zoundry Raven :
It is an exciting, open source, and flexible WYSIWYG blog editor that allows you to edit blogs on a wide range of platforms. It is easy to use as a word processor, in addition to that simple tools to add links, tags, photos, music and video files are also added. With this powerful indexer, you can browse all of your previous posts across all of your blogs by tags, links, or images.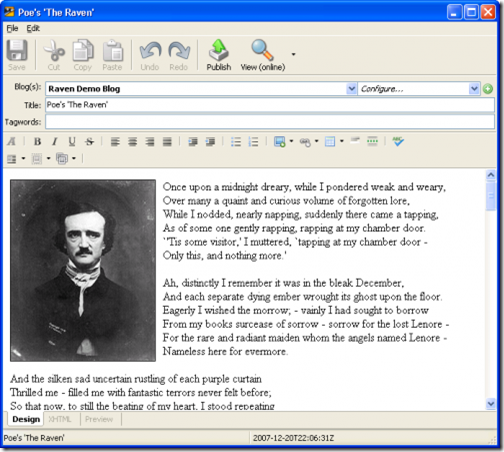 7) WBEditor :
WB Editor is the desktop blogging tool. The re-engineered user interface brings more blogging fun. WB Editor plugins bring more power to your blogging life style. Some of its features are Image upload with thumbnail creation.Track back ping auto discovery, converting HTML to XHTML and many more.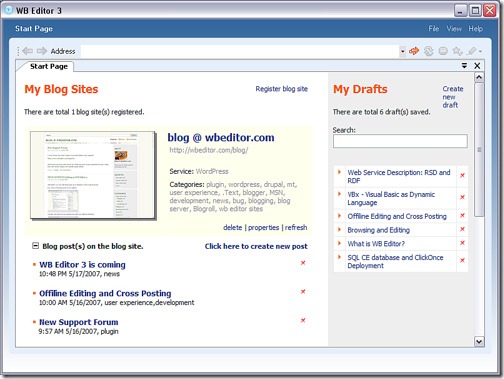 8) NewzCrawler :
NewzCrawler is a web news reader and browser which provides access to news content from different sources by rapidly retrieving news from various web sources in background and displays them in comfortable customizable views. It is the only solution available that combines RSS, Atom, Newsgroups and Web pages in one application.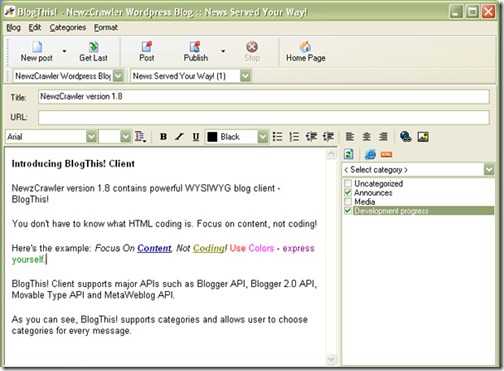 9) RocketPost:
RocketPost has been a great tool. It's powerful and simple to use with an interface that is easy to understand. And it is the first productivity app for blogging, designed for serious bloggers and business users. It s the only blog editor with both WYSIWYG editing, full local editing and full blog import.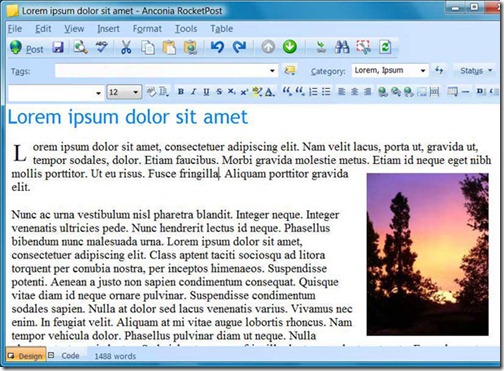 10) GNOME Blog Entry Poster :
GNOME blog is a desktop blogging application which is very easy and quick to use to help you writing your great blog posts. GNOME Blog has many features like it is a simple to use interface, panel popup allows entries that can be written gradually over the course of a day, spell checking, and drag and drop support for images.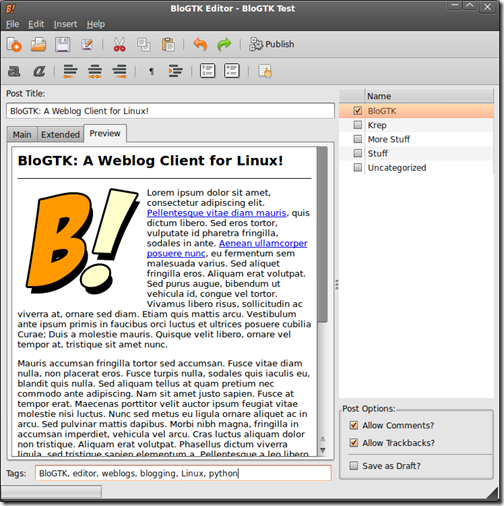 11) QTM:
QTM, as the name implies, is based on the Qt graphical user interface toolkit. QTM is a blogging client which is presently capable of composing, formatting and submitting blog entries to a weblog. t is compatible with WordPress, Movable Type, and Drupal etc.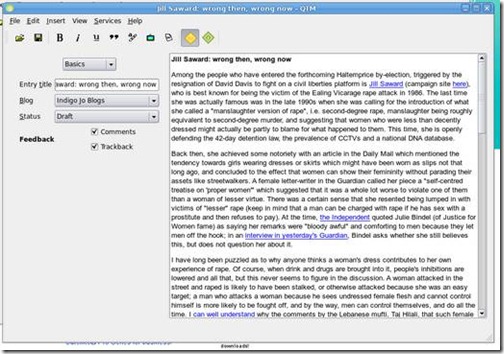 12) Drivel Journal Editor :
Drivel is known as weblogs or simply 'blogs' which retains a simple and elegant design while providing many powerful features, like Support for LiveJournal, Blogger Integrated spellchecking, Journal system extensions, including LiveJournal security groups and MovableType categories.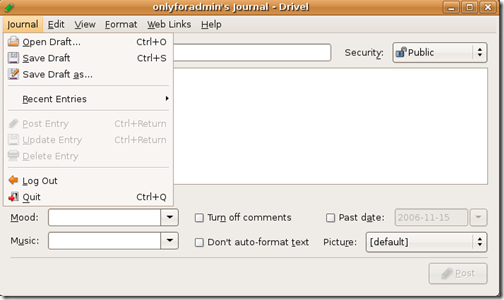 13) BloGTK Blog Editor:
BloGtk is a blog editor that serves several formatting options for you to style your post. You will find a mix of HTML and plain text in the text editing area. It supports Blogger, Movable Type, WordPress and any other blog platforms that support atom publishing protocols.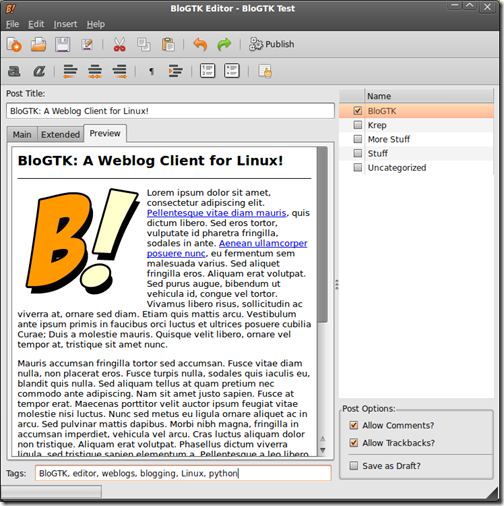 14) Flock:
Flock is a free web browser that aggregates social networks, social media, webmail and related tools within the browser interface. With these tools you can keep your friends and media with you while you browse. Flock's built-in blog editor and photo uploader deliver a whole browsing experience that is unparalleled by conventional browsers.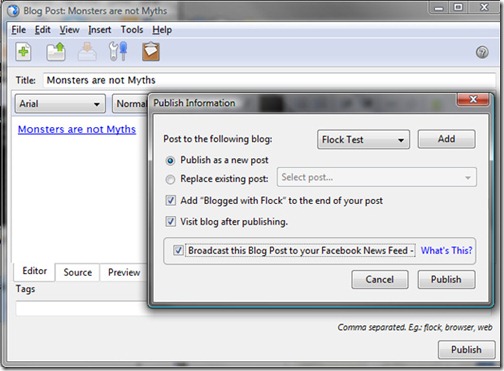 15) MarsEdit:
It is a weblog editor that makes weblog writing as simple as writing email. You get a rich editing interface for working with text but what makes MarsEdit really useful is its easy uploading tools, two-way synching, AppleScript support, and even photo management software.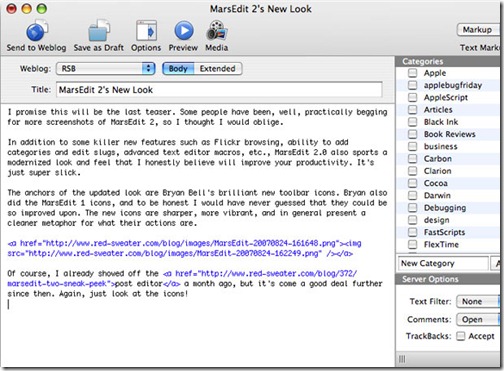 16) Ecto:
Ecto is a tool which is designed to make blogging much easier and yet give the users as much power as possible to manage their weblogs. It is a feature-rich desktop blogging editor for Blogger,Drupal wordpress and many more.You can write and manage entries for your weblog and also can compose entries offline.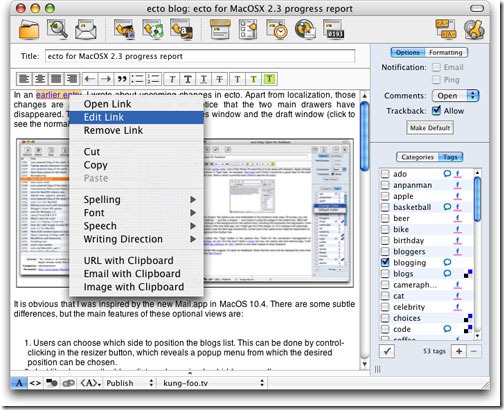 17) Qumana:
Qumana is an excellent offline tool for editing blogs. It allows you to post content to several major blog hosts directly from your desktop. The primary feature addition is the ability to easily, add pay-per-click ads directly into blog posts.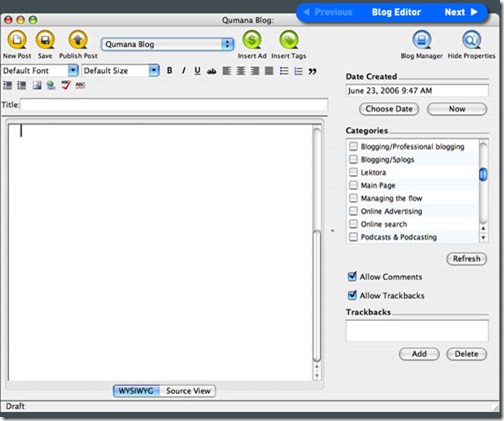 18) Bleezer:
Bleezer is a strong freeware blogging client application that works with all of the major blogging services. Its other features are like it can add tags for any tag service, custom markup creation, Spell check etc.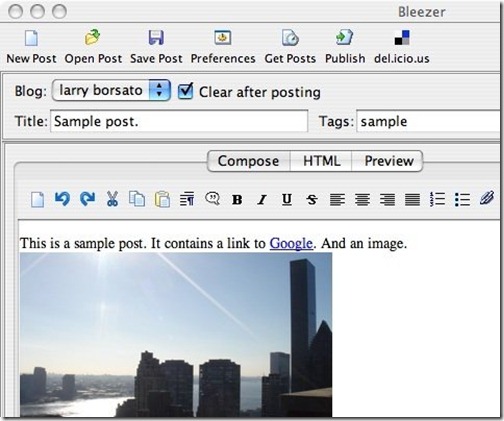 19)Thingamablog:
Thingamablog is a cross-platform, standalone blogging application that makes authoring and publishing your weblogs almost effortless. It allows you to easily publish your own weblog without the need for any HTML knowledge. It publishes the blog directly to the FTP server or network location that you specify.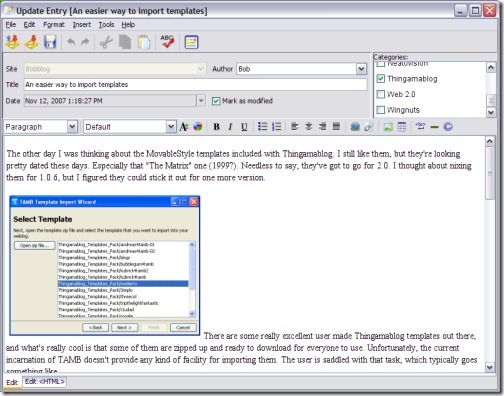 20) Blogo:
Blogo is a weblog editor designed for speed and ease of use. Blogo works with your Twitter account, and can even update your status whenever you post a new article. It can easily publish images, videos, slideshows etc. It has an intuitive interface. It is simple enough for a new blogger to quickly get started, but powerful enough to serve the needs of serious bloggers.