WPNewsman Giveaway – Free tool to collect and manage email subscribers
Do you know that when you used third party email software, you don't really have total control over your email subscribers? If you want full control, it is best that you collect and manage your email lists through your own server. That is where email wordpress plugins come in handy.  Today,  WPNewsman has kindly sponsored a giveaway whereby they will be offering 5 Pro versions of their wordpress email plugin for FREE. This is a great chance to start taking control of your email list without paying for a professional software to help you do the job.
Why choose WPNewsman?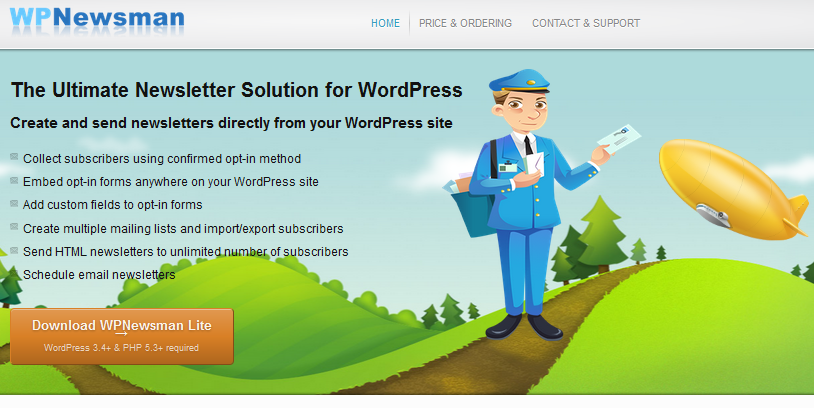 #1:  Total control over your email subscribers
With WPNewsman, you now can directly import your email contacts into your hosting account and then export them out into a file that you control. If you used third party software, all the data will rest primary in their servers and not yours. Since email list is an important marketing asset, it is always better to have full control over the list.
#2:  Free service for small volume users
The best part about WPNewsman is that it is totally free if you have a small email list of under 2000 contacts. This makes it perfect for those starting up. The free version also a great way for you to start collecting and managing your own email list without any overheads. Once your list goes over 2000, you can always upgrade to their pro version. If you want a pro version right now, take part in this giveaway 🙂
#3: Super easy set up
Some wordpress plugins have good options but are difficult to set up. Not so for WPNewsman. It has been configured to collect emails, names as well as to confirm their emails. All these have been done without you lifting your finger. Best of all, there are templates that mimic the best practices from high conversion landing pages such as the use of the double opt in process.  All these is to make it super easy for a beginner to set up his email list.
#4: Tonnes of customization options
WPNewsman allows you to customize virtually every aspect of your email list management. From email newsletter design to the signup widget, you can change the colors, settings and functionality to suit your current website.  Best of all, it already comes with a suite of templates to make starting up really fast and easy.
Prize Details
5 Lucky winners will a WPNewsman professional license worth $99 each for one year. It will include all the features mentioned here + allowances for a much longer email list.
How to join the Giveaway
Leave a comment on this post to tell us know how WPNewman could be helpful for you.
Note : Contest Ends 7 days from the published date.