Viewbix – Make Videos Larger Than Life
Nowadays, in order to promote a small businesses or website, people create videos and upload them on YouTube to get instant attention. However, simply creating videos is no longer enough. Your videos need to catch viewer's attention instantly. I was also looking for to enhance a promotional video I was working by adding calls to action when I came across Viewbix. Before I go any further about Viewbix, I can say one thing for sure that Viewbix is bound to make your videos grand and take your video's marketing to the next level.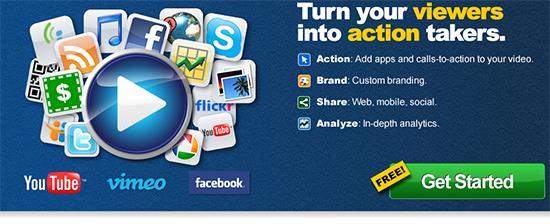 YouTube users will love this application because it allows you to have a custom YouTube player. Viewbix allows you to embed over 2 dozen apps directly into the video, making your video interactive. The Viewbix apps include an eBay store, MailChimp mailing list signup, Skype, twitter feed, Flickr album, SlideShare, music download, Youtube channel, and a coupon download. All the things mentioned can be added to your video to make it more interesting. Viewbix also supports videos via Vimeo Pro, Facebook and any other third party. All Viewbix videos can be embedded and users can share these videos through web, smart phones and of course social networks.
This custom player offered by Viewbix allows you to create a player that looks exactly the way you want it to. You can select a color of the frame and call to action button as well as add your logo to the top or bottom of the video player.
As a marketer, you may have heard that Clickable video is the latest marketing trend and a great way to increase engagement in video. Now, thanks to Viewbix, you can allow your users to interact with your marketing videos. You can have embedded hotspots for particular items in your video. For instance, if you have an e-commerce website, your marketing video can provide users' with clickable links within your video, which redirects user to purchase page. Interactive videos are a great way to engage your visitors for a longer period. Your users' will have various links to click on from your video and this will make them stay longer.
You also get to have an analytic chart in your Viewbix's dashboard. Apart from all this, Viewbix also ropes custom branding and you can include customized logos, call-to-action text and a lot more. According to a research, due to these interactive apps, 23% of Viewbix viewers connect with minimum of one application inside the player.
The following video will help you in learning a lot more about ViewBix.
You will get hooked to Viewbix right after using its features to enhance your video. All video marketers should take advantage of this application. You and your viewers will love how your videos. So, what are you waiting for? Go ahead and start making your videos interactive.