20 Monetize Ad Networks For Your Mobile App
Over the years advertising has gotten much convenient and target audience has become quite approachable however, the fact remains that mobile advertising remains a difficult job. In fact, some people call it a nightmare. I have no option but to agree with these people because mobile advertising is not getting any easier; thanks to low revenue and of course the click-through rates are damaging the developers and of course the companies dealing with mobile apps.
Having said all of this, the positive thing is that people come up with the solutions for such problems and same is the case with mobile advertising. The good thing is that a lot of noteworthy advertising networks are mounting and they do offer a diversified monetization models so that developers can get the most out of the revenue for developing a mobile app. I believe it's high time that we learn about these rising advertising networks and look beyond the only famous advertising network i.e., AdMob. I am sure that every developer who has worked hard on developing an app deserves a good advertising network, which is exactly why we have compiled a list of some of the best advertising networks to monetize mobile applications.
These applications have flexible monetization features and a lot more in order to increase your revenue as a developer. Let's see what these advertising networks have to offer you and later on, you can pick the best one for you.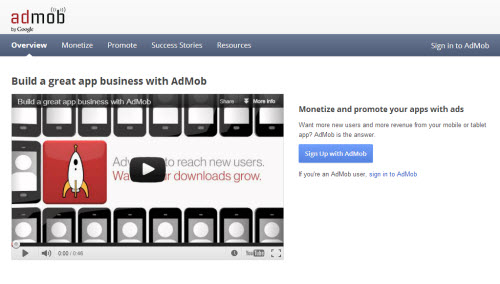 As mentioned above, this is the most known advertising network for mobile application because it belongs to none other than Google. This should be your first reason to consider this advertising network. Apart from having a great brand name associated, the best thing about AdMob is its integration system i.e., Software Development Kit. This kit provides you a way to connect to smartphones, iOS and of course Android phones.
Thanks to the coding style of Google, you have variety of options related to ad formats to select from. These options are for both, mobile devices and tablets. Also, integration is not at all a hassle here thanks to a neat documentation provided. The negative aspects of AdMob are said to be low revenue and unreachable support.

Supersonic is the mobile advertising technology platform of choice for the app economy. Developers across the globe use the Supersonic SDK to serve beautiful video and native ads to generate significant revenue. Leveraging Supersonic's advanced user acquisition technology, developers and brands target the right audiences and top the charts, while building sustainable engagement and substantial ROI. The company employs cutting edge machine learning models for Real-Time-Bidding, Supply Auctioning, device level targeting and Lifetime-Value prediction. Supersonic works with fortune 500 brands, as well as the world's largest app developers from its global offices in the US, Europe and Asia. For more information, visit supersonic.com and follow @SupersonicAds.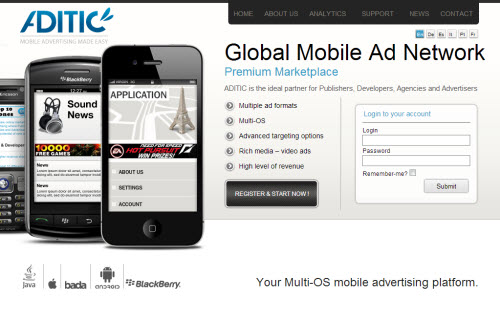 Since Aditic is associated with Sofialys, it has a very strong position in advertising field. They have dedicated more than 6 years in order to develop idiot-proof platform and thanks to their sheer dedication, it now supports almost every Smartphone, iOS and Android with a huge and diversified range of ad formats.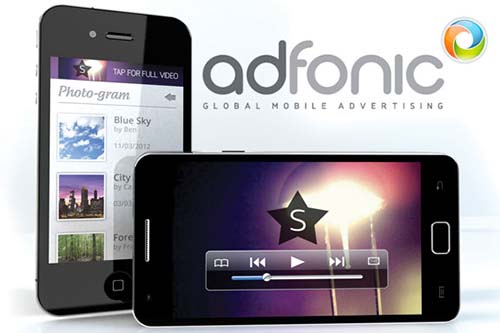 Now, this advertising network not only focuses on the integration but also take care of your ad's performance. It promises to deliver at least 95% average fill rates on Android and iOS. It also makes sure that you get the maximum revenue by supporting Admob mediation. You can even have multiple accounts but of course, that can lead to a lot of technical confusions.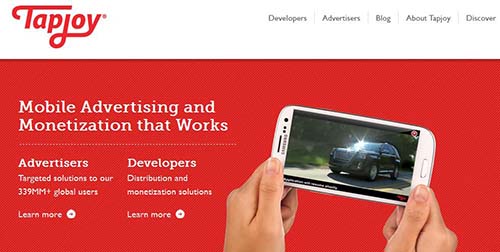 We all know that in-app purchasing has been discussed a lot lately because a lot of gamers have been complaining that they should not be paying for a single game again and again in order to complete it. Tapjoy has come with a perfect solution by offering the players' incentivized download. Gamers can earn currency by download other free games.
Apple is not happy about the situation and this is why they have been banning tapjoy however, Tajoy manages to deal with the situation sensible by launching a web app.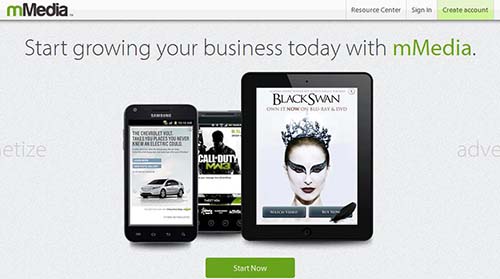 Millennial Media has been the first mobile advertising network to further itself into an IPO and this is exactly why I would like to claim that they are good at doing business. Also, this advertising network has a lot to offer to developers. According to a lot of researches, millennial media is everything that one has been looking for in an advertising network. They offer various advertising options and of course a lot of publishing features. Following are some great features of this advertising network:
–       Creating client campaigns
–       Allowing clients to compete for the inventory available
–       Allocation of traffic via percentage, locality and a lot more.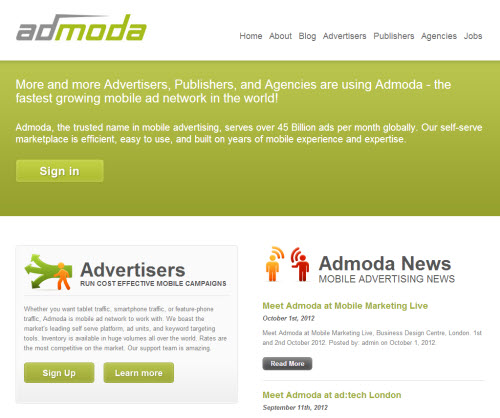 The best thing about Admoda is their support department as they actually help you in resolving your issue despite the fact that integration is pretty simple. Admoda is basically a mobile advertising network that is paying CPC, CPM and Flat Rates to its publisher, and this is why they have been promising developers with fill rates and eCPMs in the industry.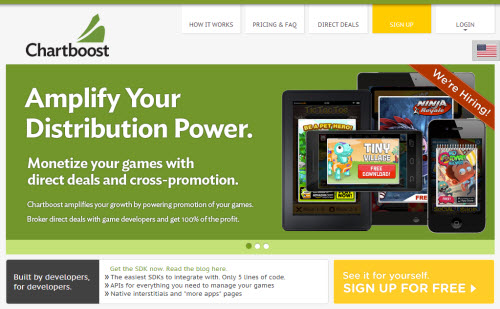 If you are a mobile game developer then chartboost is perfect for you. This advertising network is solely for game advertisements. They offer you various ways to advertise and promote your app and everything is done way too professionally leaving no room for confusion. Another great feature of Chartboost is optimization of your eCPM.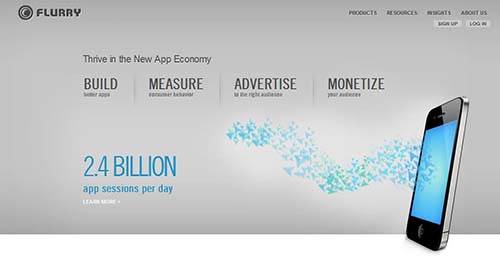 Flurry has undoubtedly the biggest app data set as far as consumer usage is concerned and it is collected via almost 700 billion mobile users. Their sole purpose is to help you in generating as much revenue as they can, for you. They are also very confident about their analytic, which is a positive sign.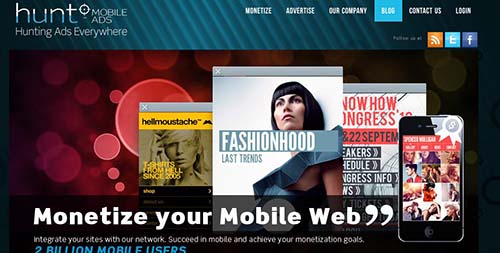 Hunt has more than 2 billion users in their advertising network so you can expect to generate some good revenue here. Apart from this, it offers you with various hunter kits like SDK, reporting tools in order to make sure that you keep a record of the best ads available.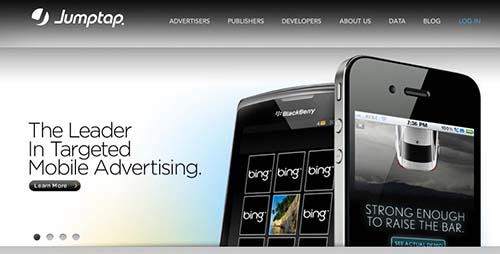 Jumptap is one of the targeted mobile advertising networks and it takes care of your app from the beginning. It helps in optimization of your application's performance and makes sure that you generate maximum revenue. Also, their collaboration with datalogix is a positive sign as it ensures the proper usage of your app's inventory.

Ever heard of the term 'incentivisation'? If yes, you will understand that Kiip is somewhat similar to it. The best thing about Kiip is that you can win some real awards instead of virtual awards. This company has earned a good reputation as is considered equally professional in comparison to other big names.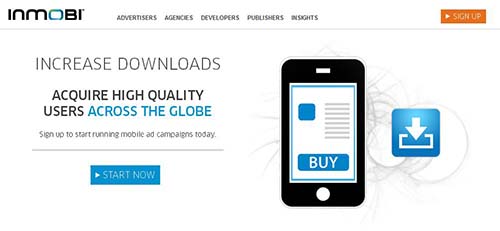 Although inMobi originally is from India however, they have managed to reach to an international level of mobile advertising market. The stats are a prove that this mobile advertising network has manages to promote itself well and they can offer you successful monetization as well.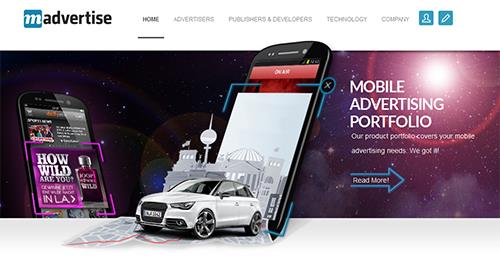 Madvertise basically caters to the eurpoean audience especially germans. It provides special services for advertisers as well as publishers. These services include real time bidding and rich media ad formats.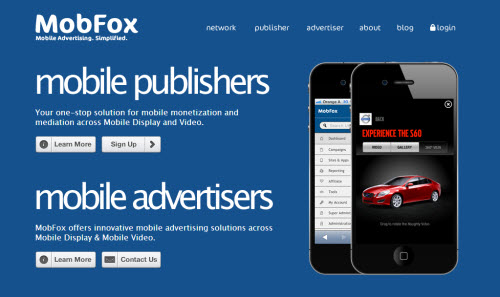 MobFox is being used by more than 10, 000 publishers in order to earn up to 300% more revenue through their mobile applications. The best thing is that you can totally control the ads being displayed in your mobile.

The best thing about MoPub is definitely the format of advertisement. It is truly a rich format since it allows you to explore your creativity. You have various options like HTML5 ads, static images, videos and what not. Apart from providing a rich format, they also make sure that you drive revenue and this is why MoPub marketplace was initiated. This marketplace provides bidders with a platform to quote prices for your ad impressions.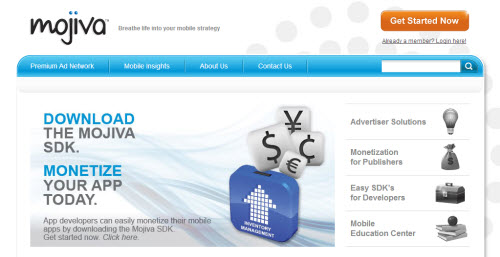 Well, if you are looking for more earning, Mojiva is the right choice. The technology used by Mojiva works greatly when it crawls via publisher mobile apps in order to dig out some relevant keywords. These keywords are then indexed in order to sanction the relevant mobile advertising system. This will obviously result into better earnings. Well, make you register a website since Mojiva do not accepts any free emails such as hotmail or Gmail.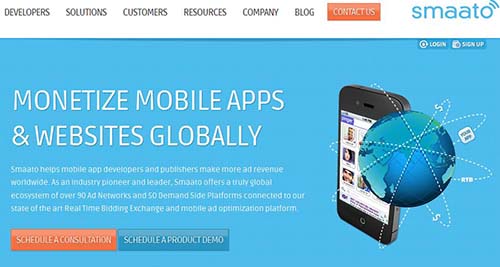 This is one of the most versatile advertising networks because it supports almost every device available in the world. Also, the ad format is rich with so many options to select from. You can actually achieve any type of advertisement.

When it comes to MobPartner you are not easting your time, you are investing it. Since this company is a ROI driven company, it makes sure that it delivers you the deserved revenue of your time spent. The SDK of MobPartner plays a huge role in displaying banner advertisements and text links via CPA campaign.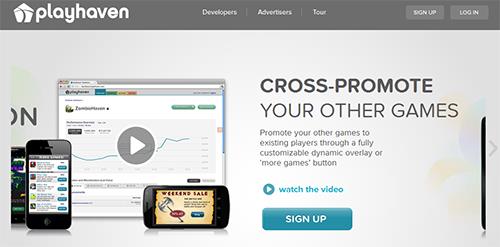 PlayHaven is very flexible and convenient to use. You can monetize your app and along with that you have total control over ad's placement and its frequency. Also, it allows you to cross-promote other games.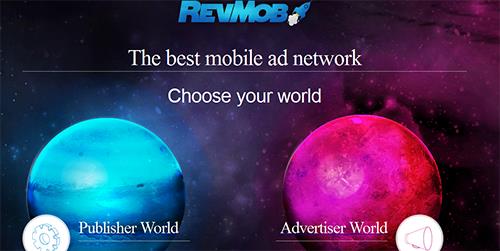 RevMob is definitely one of the growing CPI network and along with that it offers the maximum eCPM for game publishers. Apart from offering different apps, it allows an easy integration by using a simple 2 liner code.
Conclusion:
Above mentioned are only a few but best advertising networks in order to monetize your mobile app. You can select the suitable one for you. There are a lot more advertising networks so if you know any, please share with us more advertising networks.