Pros and cons of cloud hosting vs shared hosting
If you have a great idea for a blog, website or web service, one of the first things you will need to decide before you make it live is what kind of hosting is most suitable. Generally, you have four main options. Free hosting, for example on a free Blogger or WordPress blog, can be a nice option if you simply want to make a regular blog with your ideas, news, recipes or stories on it, but it doesn't look very professional to have a free site on one of these domains so if you are planning on monetising your site or having a site for your existing business, it is better to invest in some paid hosting.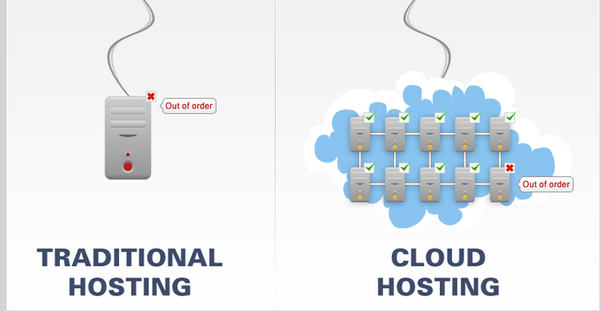 The Different Types of Paid Web Hosting
The most traditional type of hosting people with small scale websites go for is called shared server hosting. This is when your provider owns a server farm with lots of resources, and for a monthly fee leases you space on their servers. You will have a contract that says how much bandwidth you can have, and which other facilities will be available to you. In many cases, you will get additional benefits like website creation wizards, email addresses, and even some credit to advertise your new site free on things like Facebook and AdWords. There are so many companies offering these services that the market is hugely competitive and you can get some very cheap deals, making the cost of shared hosting almost negligible when you are considering start up costs for your new enterprise. In some cases you can also get other things you need, like a domain name, from the same provider. Click here, for example, to see the kinds of hosting deals available to you.
As well as shared hosting, you can get dedicated server hosting, which is a lot more expensive and is usually only a consideration for things like SaaS (software as a service) or business critical websites, or you can get cloud hosting.
The Pros and Cons of Cloud
Cloud hosting is in some ways similar to shared, in that your site is on a shared set of server resources and only uses the facilities it needs at any given time. It is very stable, because there is all kinds of redundancy built into cloud server networks, and your site will not run out of bandwidth or start kicking users off because you have used more than the entitlement in your contract. However, with cloud you pay for what you have used in a month, rather than a flat rate. This is the only real downside – it can be hard to predict how much it will cost if your site scales up very quickly or becomes an overnight success!
In general, a lot of website owners are moving towards cloud over traditional hosting deals, but if you want predictable costs at the start of your venture shared hosting does still have some advantages.