Everything Sells Here at OLX.IN
A globally acclaimed company based in New York City, Argentina and Buenos Aires with strong presence in 96 countries, OLX has launched olx.in in 2006 in India where it has started making its mark through a number of TV ad campaigns proclaiming 'Yahan Sab Kuch Bikta Hai' or 'Everything Sells Here.'

The TV ads campaign that include 'The Bike,' 'Grandpa's Car,' 'Baby Cot,' and 'Old Desktop' had made great impact on the viewers that 'Bech De' has become a favorite tagline. The simplicity and humor of these ads have boosted the company's reputation so much so that it became a household name. Running only 30 seconds, these ads tell you everything you need to know about buying and selling from the site but presented in heart-tugging, entertaining way sans celebrity endorsers.
A free online classified ad, OLX's tagline 'Where Buyers and Sellers Meet' aims to reflect the company's mission to provide a prompt and easy platform not only for the consumers who want to buy their goods, but for those who want to sell as well. It is a popular shopping and selling market that caters to 96 countries worldwide where you can do you business at the comfort of your own home just by clicking your mouse button.
What does olx.in offers? You will have plenty of choices not only in goods and services, but in real estates, classes, jobs, and community events and activities as well; and can even help you find your bride or groom. Available in more than 100 languages, you can use the site as a registered user or even without an account.
It is also a great venue to sell your products and get a good price from them as they provide easily designed, rich, and colorful ads with pictures and videos to attract more buyers. You can also control all your transactions easily using My OLX, access the site from your mobile phone, and display your ads on your social networking profile.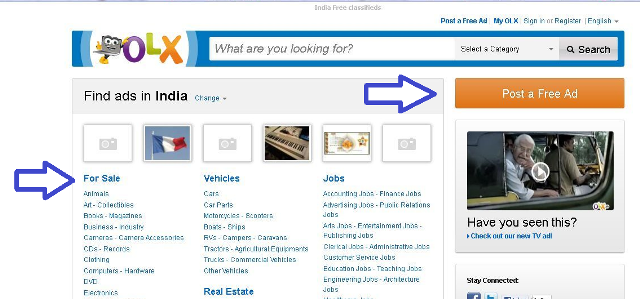 As the buyer, you can benefit from the site's friendly interface. You can easily contact the seller directly through the ad page, browse products according to your location, or find a seller at your nearest locality. You can also embed a page from the site in your own website or share them through social networking sites like Facebook or Twitter.
Watch the new 'Old Love' and 'Old Promise' TV campaigns from YouTube at to know more 'where buyers and sellers meet.'