Create a Website Free using Wix Builder
If you are looking for a free website builder in order to create a website for your personal usage or for your business then Wix has to be your choice. Wix is now among the popular website builders and has managed to not only earn a good reputation but maintain it as well. Initially, Wix builder used to make Flash websites but since Flash is no longer in the trend, Wix has managed to evolve with the passage of time.
Wix is being used widely by millions of users and they target mass market, which includes personal bloggers and start-up based companies. Not only they offer some amazing starter templates, you can even customize these templates.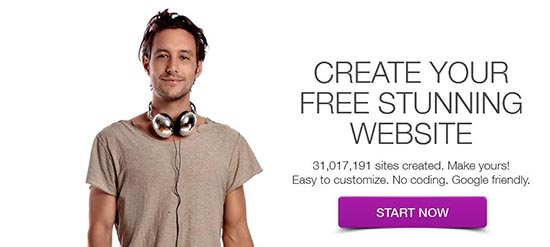 The best thing about wix is that they make sure that the website creation process is hassle free and as simple as it can get. You do not have to read a manual or go through an installation process because they have a wizard that will guide you throughout.
Drag & Drop feature:
A huge advantage of Wix is that it offers an online website editor, which means you do not have to spend countless hours in familiarizing yourself with the complex technicalities of coding a website. The editor works through a drag and drop functionality, which means you can edit the template and customize in whatever way you want. As soon as you make changes, it applies on your website and that too without refreshing the page.
Wix Apps: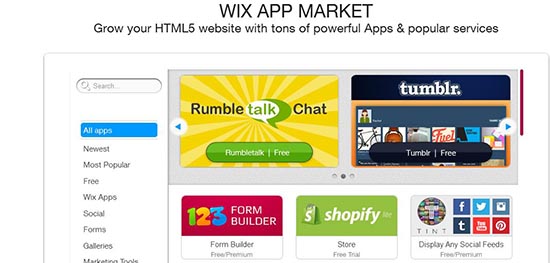 Not only you get essential options in order to customize your website, Wix also offers numerous extending modules called Wix Apps. Most of the apps are absolutely free but you might need to pay for a few. I must say that even if you have to pay for it, it would be totally worth it.
Save and Publish:
Making your website live is not at all an issue with Wix. Once you are done with customizing your website, all you need to do is save it and hit the 'Publish' button. Also, make sure that you check the box next to 'Allow search engines to find my website'.  Your website will be live and a free subdomain will be allotted to you with your name. If you want a customized domain, you will have to go for premium plans offered by Wix. There are numerous paid plans for you to select from.
Wix is a great website builder that offers wide range of templates, drag and drop editor, intuitive interface, easy social media integration and a lot more. Precisely, Wix is all in one solution and a perfect option for anyone who is looking to create a website by all easy means.
WIX Templates Examples