3 Ideas for differentiating your Ecommerce store from the pack
Your ecommerce store is more than just a place to buy goods; it's the customer-facing component of your brand. Thanks to saturation of the online market, it's all too easy for customers these days to write off online shops as a dime a dozen. As an ecommerce entrepreneur, you know falling victim to this generic categorization will only hurt your bottom line.
Here are three ideas for differentiating your ecommerce store from the pack and giving customers a reason to remember your name, tell their friends and shop again soon.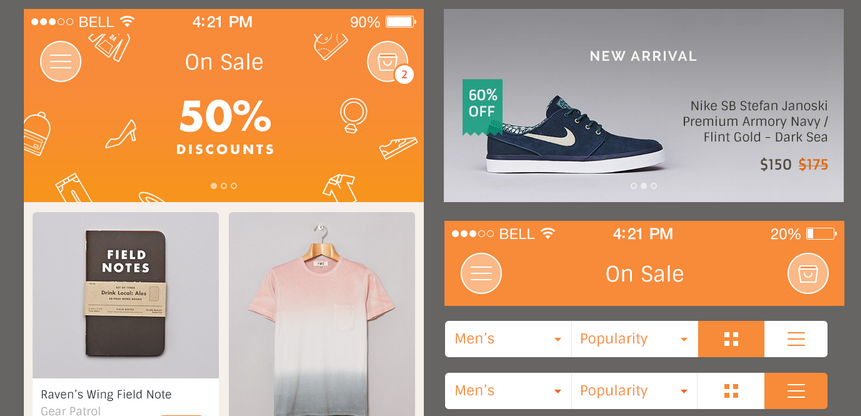 Promote Your Unique Selling Proposition
Believe it or not, your ecommerce store doesn't have to do everything. It's more beneficial to emphasize your Unique Selling Proposition (USP) as a means to set you apart from competitors. It's simply not realistic to try to offer the lowest prices, free shipping anywhere in the world, the largest inventory, the most rewarding loyalty club and the most premium products—all at the same time. Trying to juggle too many balls at once will only lead to dropping customers. Your USP is a succinct way to show shoppers why they should choose your store; it's the thing you do best.
Let's look at a great example from Kissmetrics: the USP of Starbucks. Starbucks is synonymous with premium coffee. They're not trying to compete with convenience store coffee priced under a dollar per cup. They're not trying to compete with local lunch spots who offer quiches, sandwiches and salads. As Kissmetrics writes, "They also don't stand for premium coffee AND gourmet breakfast sandwiches AND the most amazing smoothies AND the best prices. Yes, they've offered those products in different forms for different periods of time, but that's not what they stand for." The USP of Starbucks is premium coffee—end of story.
Take some time to think about what your store does best. Then tell the world, preferably on your homepage and in your promotional messaging. You want shoppers to enter your website, recognize your USP immediately and know exactly what value you can offer them.
Spruce Up Website Appearance
 Maybe your product lineup is great, but your website appearance is a tad underwhelming. Something as simple as a free website template can help you rebrand and claim your niche. Make sure the appearance matches up with what you're selling, and populate the homepage with HD photographs and splashes of copy calculated to hook readers and leave them wanting more. A well-designed site is more hospitable for shoppers. They'll explore and stay awhile, building priceless loyalty in the process.
Convey a DistinctBrand Personality
When you meet someone new, you size them up. That's how humans work. While shoppers can't shake your ecommerce store's hand, they canassess its personality. Part of branding is creating copy that appeals to and engages your target audience. The first step in determining your brand personality is establishing audience personas to help you determine to whom you're talking, how to reach them and what will make themrespond.
Once you know your audience, tailor your messaging to them. If your ecommerce store sells children's clothes, write on-page content, email copy and social media postings reflective of an experienced mom who's "been there, done that." This builds trust with your audience because you will come across like a helpful friend or neighbor, rather than a corporation with something to sell. Does your ecommerce store sell technology?Strike up the hip, young tone of an industry influencer on your website. Upscale pet products? Become the most envied owner at thedog park.
Those are just three ideas for differentiating your ecommerce store from the pack. By knowing your audience, what they want and how to best connect with them, you'll encourage sales and build a loyal customer base with a high lifetime value.