TalkSpot – Make a Free Website in a Few Minutes
The Internet abounds with free and trial software for building websites. The problem is deciding which the best website builder is for your purposes. Some are ideal for business websites, while others are more suited to hobbyists or small business entrepreneurs who just want a web presence.
As I mentioned, there're many to create website online in few minutes. But, it is important to find out best of out it. Talkspot is a simply useful online best website builder designed for people who want to do something serious with their website, and want to stand out from the pack. It is hard to code for everyone either they hire someone professional for developed the website. People spent a lot of money. TalkSpot provides an interface which you can easy to use for create website and you do not required any code. It has 200 pre-built templates and 50 color themes. You can choose according to your requirement. Although, it is not free service but you can make your website as a trail to test the technology of talkspot. You can choose templates from pre-defined categories as Animals, Automotive, Education, Entertainment, Services etc.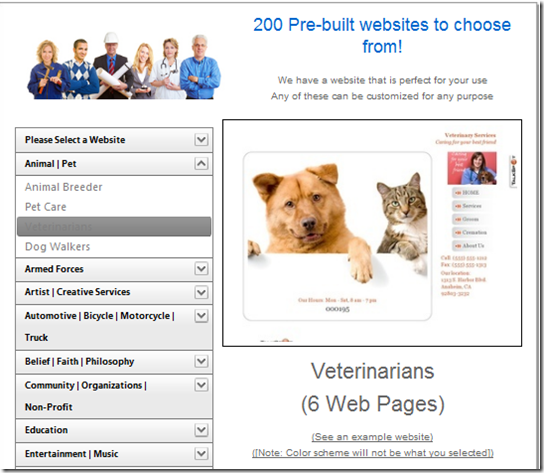 Features of Website Builder (TalkSpot)
Simple, easy to use Website Builder. No coding required
200 pre-built templates to choose from
Drag and Drop Technology
Includes domain, hosting, emails, blog, SEO, newsletters, photo gallerys,
RSS, polls/feedback/comments, calendar, maps, and more!
Live Support for your Queries
Cheap Prices for Create Website
Customized website Templates

Creating website is a difficult task. You need to be very smart. You need to ensure various things like design, color, interface, domain etc you can build a website with a powerful futures using talkspot. They have fully capability of building and hosting a blog. You can swap full website layout, and color scheme, at any time without losing content. Backup is an important thing for any blogger or businessman. You can also store your website without any cost. You do not need any extra software for editing of your photos. They offered an access of over 8 million image gallery and powerful SEO tools. If you want to set up an online store, they have ability of set up things in mantes. You can also edit the html code according to your desire.
Try TalkSpot.com and Make Your Website now!!!