11 best iPad portfolio apps for designers
With mobile usage rising in popularity, it is important that we are able to leverage on this trend to improve our business or to get more clients. One obvious way is to have your portfolio being showcased in tablet format so that potential clients can see what you have done on the devices they are using.  Getting our work into these devices has become easier due to portfolio apps. If you are not aware of what are the different options available to a designer, I have around them a handful of them below for your select.
#1: Portfolio for iPad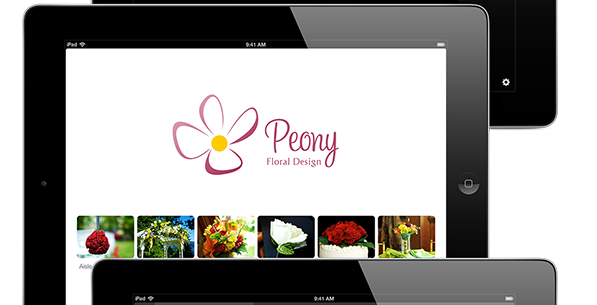 Portfolio for iPad has one of the most complete set of options for designers. It can pull pictures from different sources such as DropBox, ipad etc and allow you to sort them into portfolios. Once sorted, you can let your clients see your work in a convenient and easy to carry manner. It even has an output display whereby the images are be projected online, along with music which creates this a  very powerful presentation app as well.
#2: Portfolio To Go for Flickr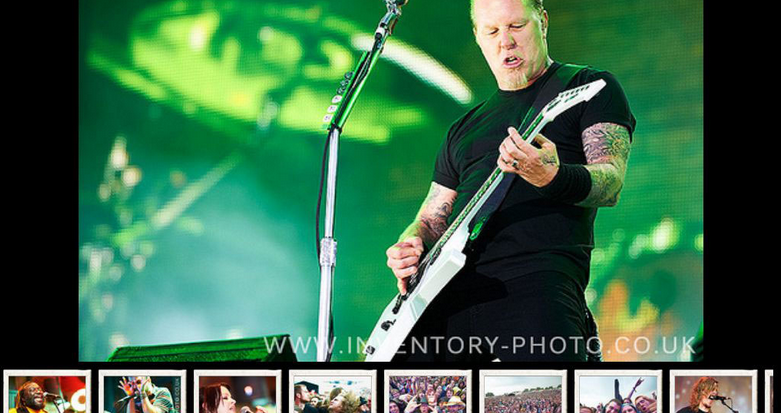 Portfolio to go works best if you have a Flickr account as its main feature is its ability to integrate fully with that service. Specially, what is does is to enable you to downloads the 'photosets' from your Flickr account. From that on, you can free to manipulate these photos such as creating galleries, sharing them etc.   For photographers who often use Flickr, this will be a great mobile addition to showcase your photos.
#3: Flexfolios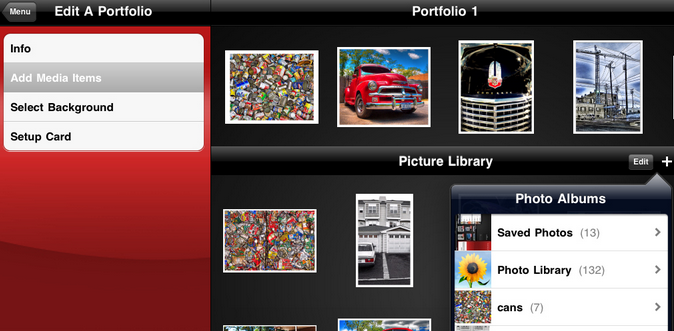 The differentiating element in Flexfolios is its ability to let designers tag the same picture into different portfolio types. This is will be useful when the same picture can be used to showcase different scenarios such as wedding, black and white, etc. The only downside is the heavy branding that Flexfolios has on the app itself which can be distracting for some designers.
#4: FolioBook Photo Portfolio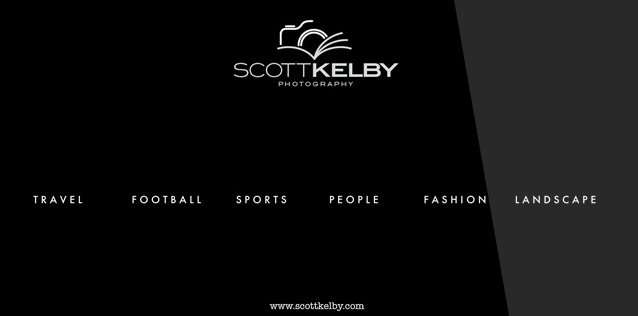 FolioBook is one of the most minimalist portfolio app for designers.  The homepage can be customised with your own image, video and/or music.  In terms of layout, you can have the option of having your photos being displayed in either Protrait or Landscape mode.  For the designed minded folks out there, there are even more customization options that you can thinker with to achieve the look that you want.
#5: Xtrafolio Photo Portfolio Professional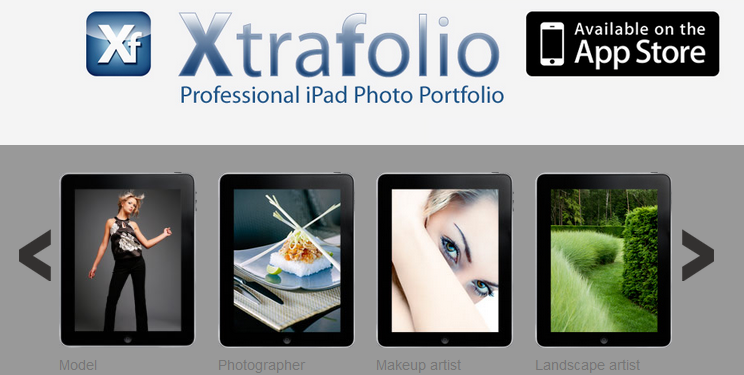 Xtrafolio is not a free app as it costs you around $16.99. However, it does have a lot of cool features to make up for the high price. Specifically, the app has 3 main functions which are: (i) business contacts, (ii) showcase and (iii) branding display i.e. your logo. Within each of these pages, there are other features such as playing music and gesture based navigation.  Best of all, it supports a whole range of file formats and has the ability to even pull in photos from your Dropbox.
#6:  Behance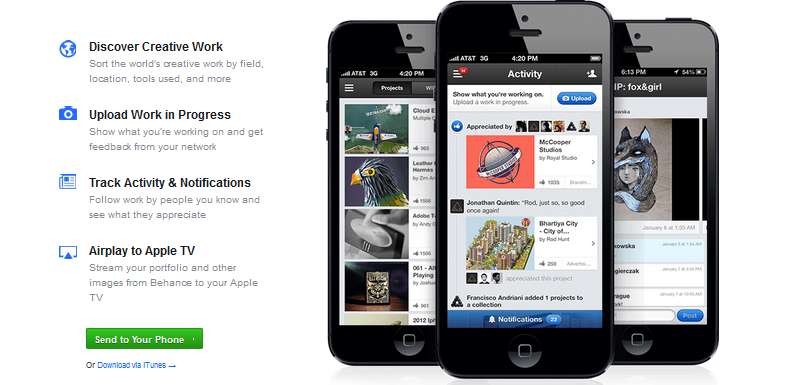 Behance is an amazing app which allows the designers to carry their portfolio in their pocket and allows them to get in touch with a lot of potential business and customers. The app is so spectacular and feature rich that it not only allows the designers to establish their portfolio in a few clicks, but also provide full features of a website in a portable format. Carry this app in your pocket; you never know when and where you may find your potential customer. The only downside that it is currently available on the iPhone only.
#7: Minimal Folio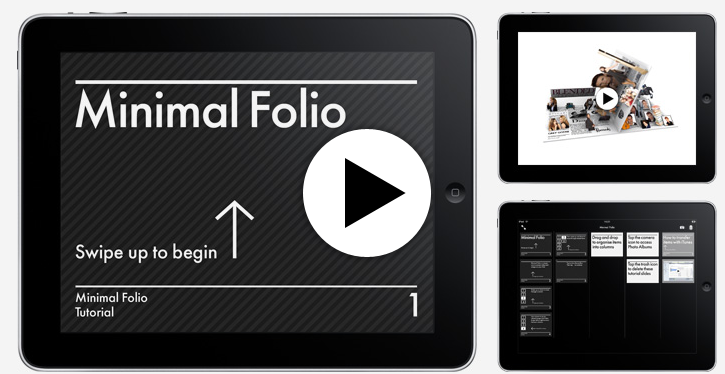 Staying true to its name, Minimal folio is a fundamental app which gets the attention with powerful images and  nothing more. The app may not offer slideshows and music etc, but allows the photographers to fully customize the folio and demonstrate their much adored and proud images in the best way possible. Alhough the app is minimal, it does allow users to synchronize it with Drop box and accept a large number of video and .PDF files. Users also get to manage their multiple folios with this app in place.
#8: Photosmith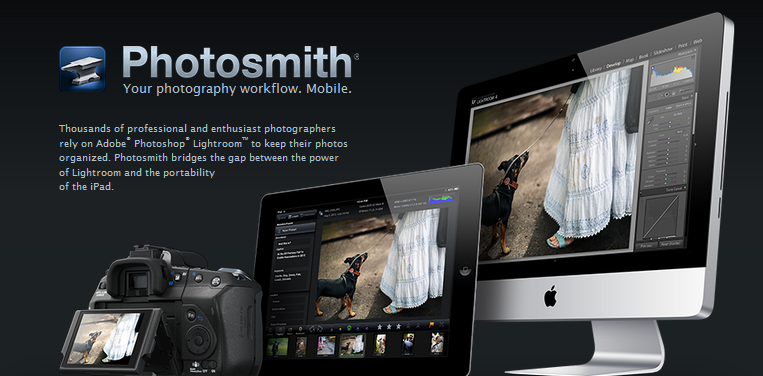 Photosmith takes care of your photography endeavors once you have clicked the pictures. It is a time consuming task to sort, organize and share the pictures, but with Photosmith in place, you can easily do the same while sitting on the porch, or taking the crowded train back home. Besides, you can easily sync the same with your computer wirelessly, with lightroom.
#9: PadFolios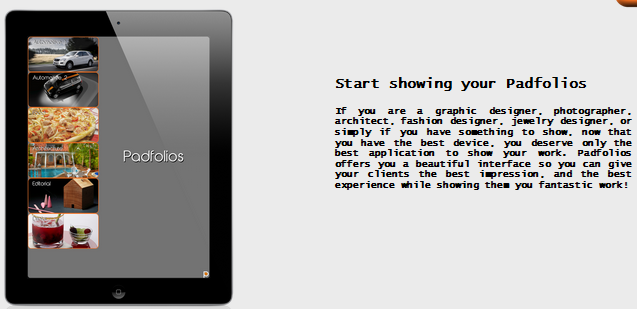 PadFolio is an app often touted to be the perfect way to showcase images. One of the very few portfolio apps for iOS that works well with both iPad and iPhones, it allows the photographers to create as many as 30 different portfolios and contain as many as 400 different images. The moment you create a portfolio, it gets automatically saved in the backend which saves you needless worry. Furthermore, the app also allows the developers to play music from iTunes etc, while others are viewing their photographs. There is also different customization and manipulation options provided in this app.
#10: MediaPad Pro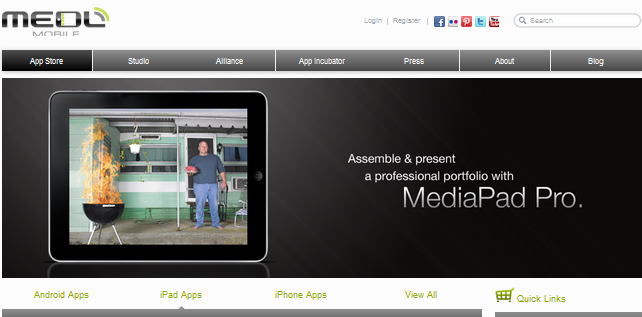 And finally an app that takes into account myriad needs of versatile photographers. Whether you are providing photography, designing, video graphing, directing services this is the app that you are looking for to share your expansive portfolio with. The app extracts the content from the iTunes and then adds business and personal information to promote to the public.  The app also offers various background customization offers to showcase the feats in the best light.
#11: Showoff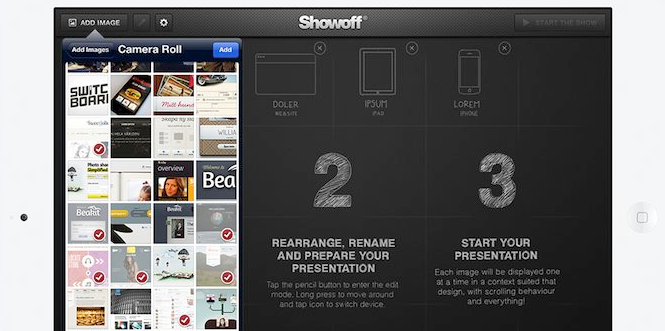 Saving the best for last, this iPad app is a portfolio tool that is also best used as a keynote presentation. Its has a useful feature which auto detects the kind of device and orientation that is best for each photo. You can of course change these settings but I found them to be quite accurate most of the time.  Then when the actual presentation starts, your photo will show automatically within the context of the device so that everything looks beautiful within context.