25 Beautiful Pinterest WordPress Themes
With so many social media networks available, it gets a little tough for internet users' to decide, which one to join and explore. Apart from a few famous ones, Pinterest's member list is increasing rapidly and its success has made a positive impact on the web. To begin with, the most interesting thing about Pinterest is its layout. Also, its pinboard functionality is attracting a lot of attention. You can see plenty of websites copying almost the same template.
Continuing our tradition of bringing interesting things your way, we will be sharing with you some attention-grabbing themes formed by proficient designers. Once you go through the themes, you will realize that all themes are with grid layouts and more or less look like virtual Pinboards. All these themes are free so select the one you like.
These themes are perfect for photographers and artists who are willing to showcase their portfolio in a great way. I am sure creative people can use these themes for to vitrine their work in a wonderful way.
Collection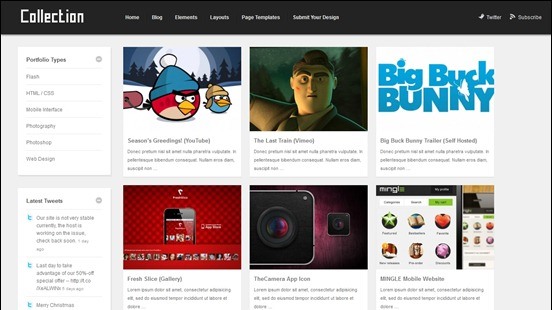 Collection theme is absolutely startling to look at. Added on to this, it comes with some great features for instance, custom posts, various post formats and a lot more.
Gridlocked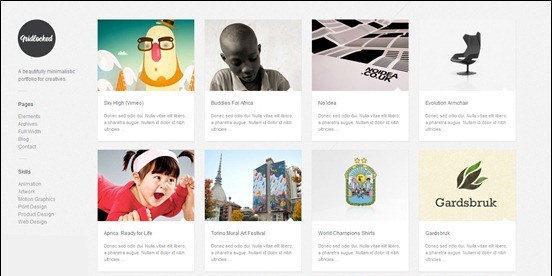 Gridlocked is again a great and versatile theme for creative people. The best feature about gridlocked is that it can be configured easily for work purposes or for your blogging. The design is classic and at the same time contemporary.  The whole grid layout is also perfect for CSS tinkerers.
NewHorizon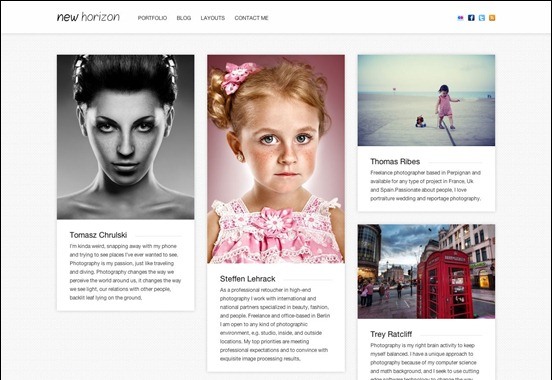 If you have had enough of thumbnail grid layouts, you will totally love this 'New Horizon' theme. This will be perfect you if you are into fashion blogging or anything related to design and fashion industry.
Pinboard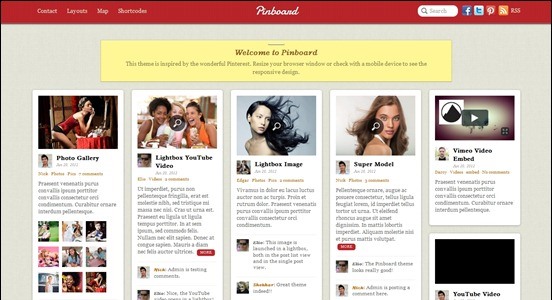 If you have been using Pinterest and you love it, you will love 'Pinboard' theme for sure. What I loved about Pinboard the most was its auto stacking layout and of course it allows you infinite scroll. The more you scroll down, the more pictures will be loaded just like Pinterest and of course Google Images.
Grido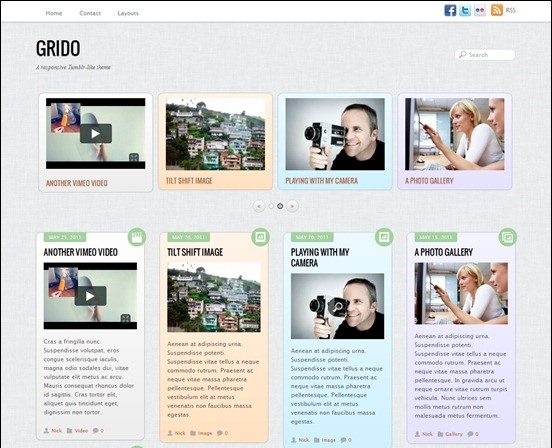 One of my personal favorites is Grido as it allows you to select different backgrounds for different posts. It has 9 backgrounds and the whole look the theme is also very stylish. With this theme, you can select different colors which will put a great impact on the post. The posting and loading of the posts is also automatic.
Paragrams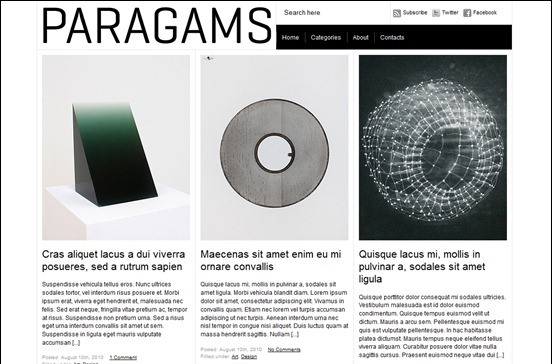 This one is definitely an easy to use WordPress theme. Thanks to the special techniques used in making this theme, it is a lightweight design.
FacePress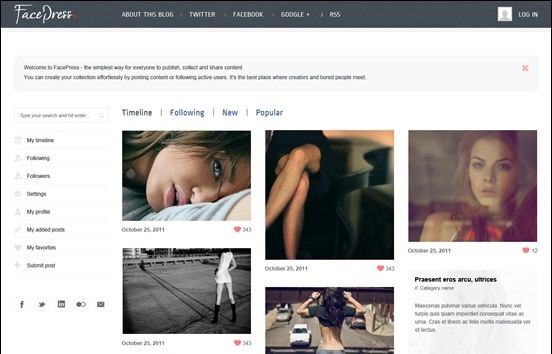 This is more of a community-builder theme that allows you to change skins in order to accommodate your needs.
Gridnik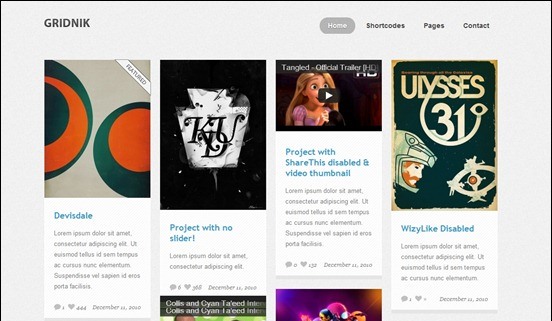 If you love to come across as unique and are always up for trying something  new and different, this theme is for you. This theme is adjustable for large and small monitors. Apart from all this, thanks to Google this theme has 9 slick colors enhanced with 15 font options.
TheStyle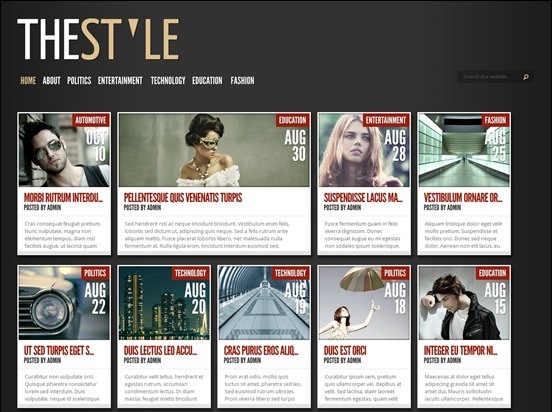 Sharing content was never this stylish. Not only you will be able to make a unique impact with this theme, its jQuery enhanced fluid design will make your posts look beautiful by adjusting with viewer's resolution.
Shaken Grid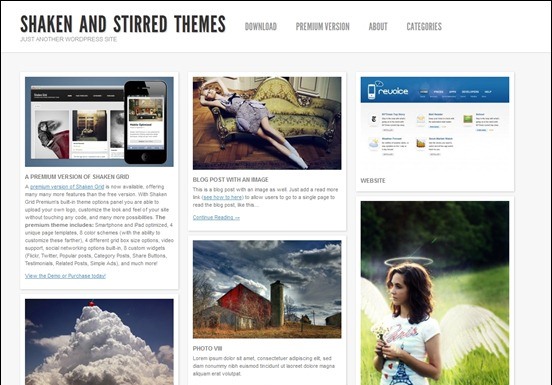 Shaken Grid is a theme that uses jQuery masonry, which helps in a better arrangement of images. The images are displayed vertically instead of horizontally. The result will show no gaps within the images despite the fact that you have posted images with different heights.
Pinfinity
Demo | Download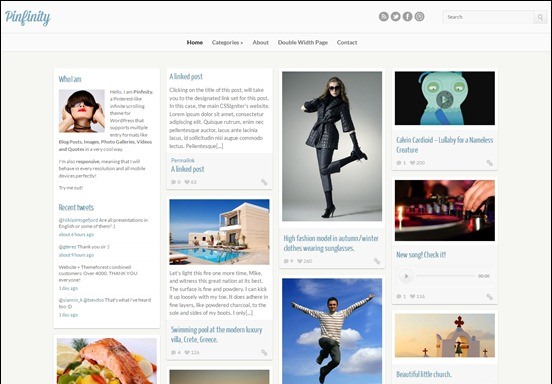 This theme is an easy way to share interesting things you have found online.
ecoStrips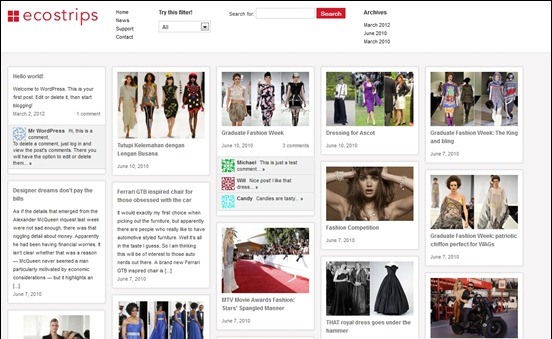 This theme is perfect for youngsters due to its funky styles. Also, the wall adjusts automatically to the screen size of the viewer. It also has a great plugin named 'Dynamic Filter' which will help the user in filtering your posts immediately.
Pinterest Plus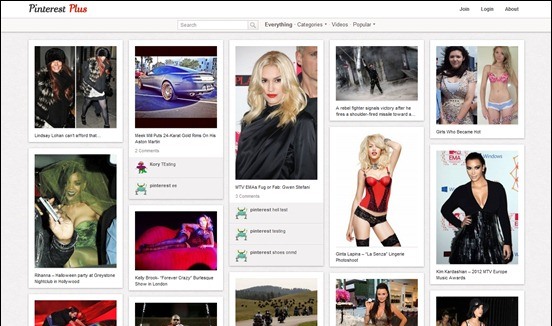 This theme is an exact design of Pinterest itself. You can add unlimited images to Pinboard.
WP Grid Theme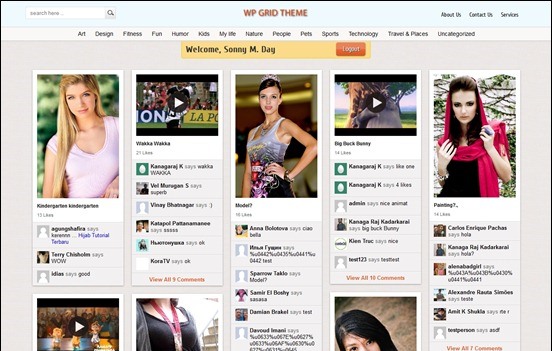 Well, this is a premium theme and will allow you to exhibit blogs in the famous grid layout. This template is very stylish and elegant and will impress your visitors for sure.
Helious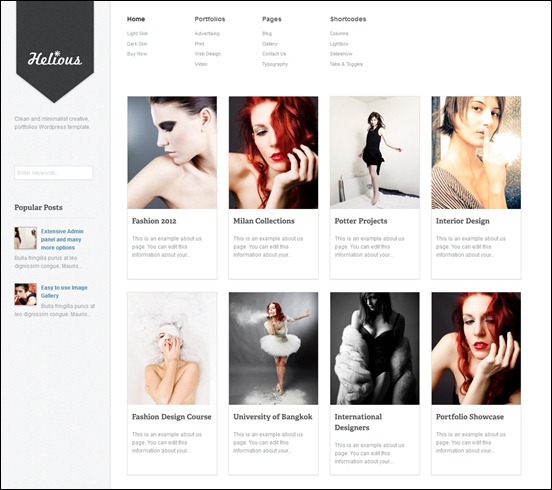 A perfect theme for your portfolio and other creative purposes. It has all the up-to-date- features of WordPress.
Liquid Magazine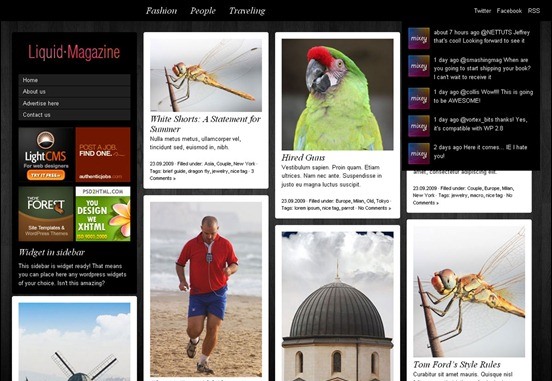 Its fluid grid layout makes the theme literally unique. If you have a blog that relates to creative posts, this theme is perfect for you. You can also add a special style by adding thumbnails of different sizes.
Brick + Mason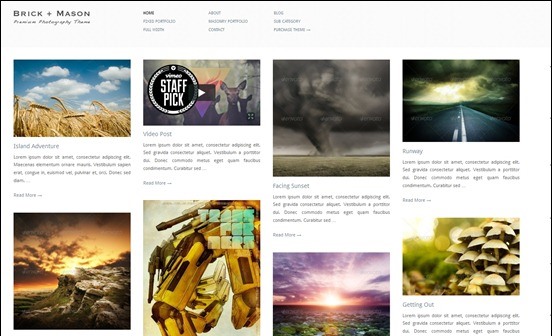 For a photographer, this is most definitely an ideal theme. It allows infinite scrolling and also thanks to the jQuery masonry plugin which will help the theme in adjusting to all browsers.
Gridler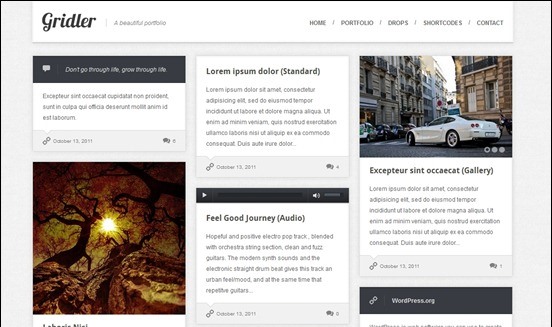 Again, a grid-based portfolio theme. It supports a variety of formats for posting your stuff.
Reflex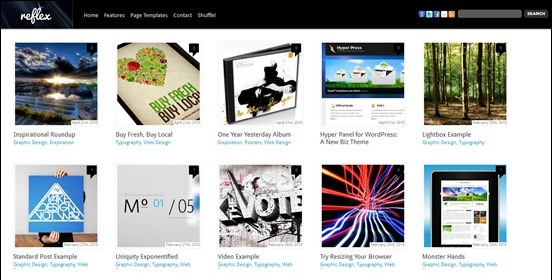 Without any exaggeration, this theme has a great design combined with good coding and again a great user experience. This has to be the easiest theme to use.
Grid Portfolio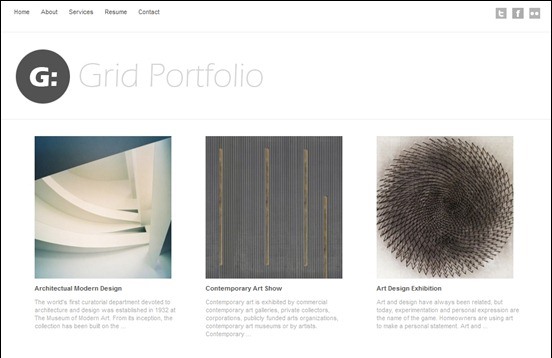 A clean and neat theme with a grid layout. If you want to showcase your portfolio, this has to be a perfect theme.
Imbalance 2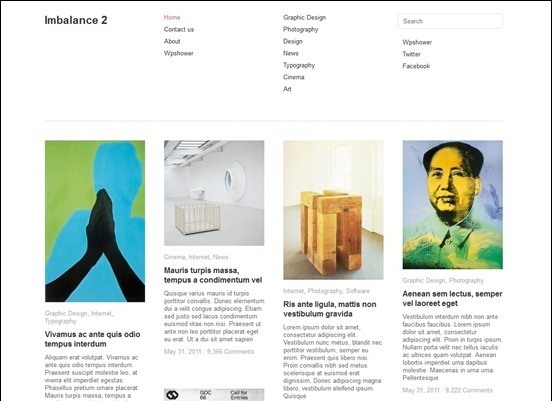 With this theme, you can showcase your WordPress based website as blog, e-magazine or a portfolio. The design is quite modern and has flexible features.
Suburbia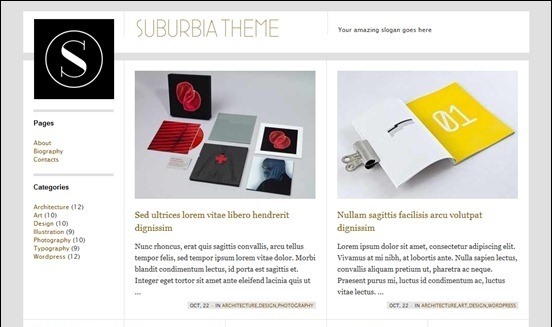 This theme is perfect for magazines. The layout is not only clean but is flexible with a modern touch. Apart from magazines, you can use it for your blog as well.
Peak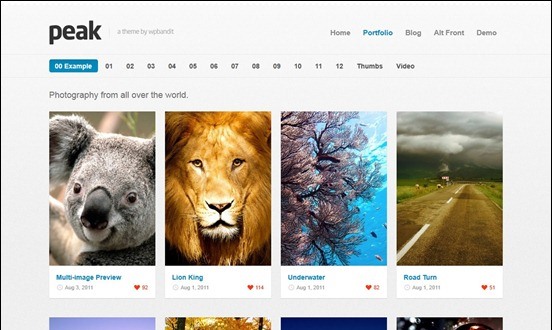 This is one of the most powerful WordPress portfolio themes. If you want to flaunt your creativity, this has to be one of the best platforms to do so.
Pinpress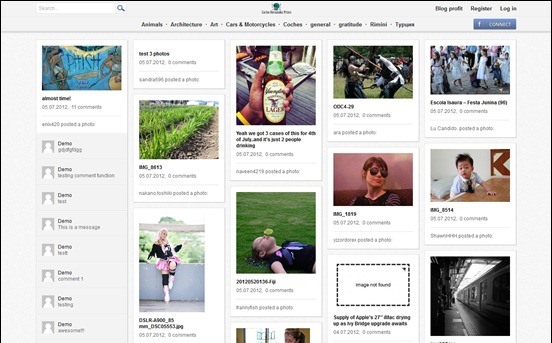 His is a premium theme with meticulous design of Pinterest. You can add multi-columns and also unlimited images.
Pinsomo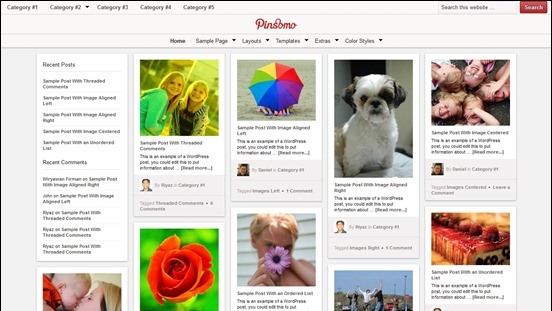 This has to be by far the best WordPress theme because it supports responsive designing and infinite scrolling. Also, it allows Facebook social integration as well. Apart from this, you will find a lot of interesting features on exploring.