PSD to HTML Services by CodeMyConcept
PSD to HTML / CSS coding is an important part of a website development process, but sometimes all you want is to focus on graphic details. If programming doesn't come easy to you, it's good to have a fast and reliable service to convert your design into any sort of valid web code.
One of the most professional PSD to HTML conversion companies is CodeMyConcept. Their in-house trained professionals can handle all types of conversion requirements: W3C compliant XHTML/CSS markup, integration with CMS software or PSD to Email newsletter services.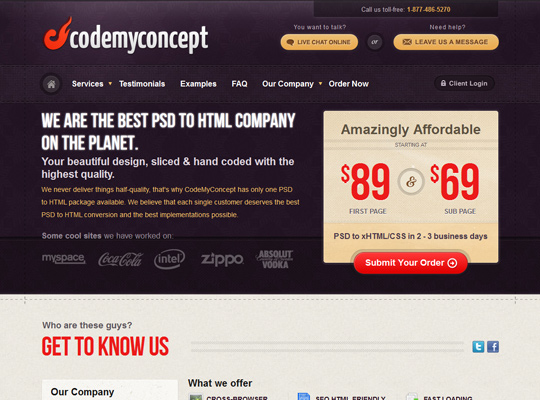 CodeMyConcept has worked on projects for Coca-Cola, Levi's, Zippo and SmashingHub! So what is working with them like?
Ordering
The ordering process is very simple.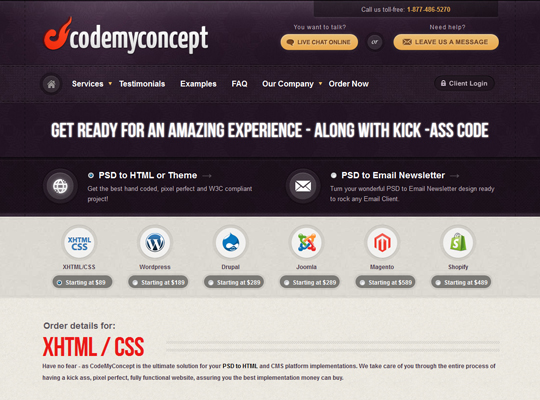 Select if you need your PSD converted into HTML/CSS, WordPress, Drupal, Magento, Joomla or Shopify. There is also a PSD to email newsletter conversion package, that  provides maximum possible compatibility with different email clients such as MS Outlook 2003+, Outlook Express, Apple Mail, Mozilla Thunderbird, Opera M2, AOL Webmail, Gmail and Hotmail, as well as MailChimp and Campaign Monitor. Other optional additions include plenty of Layout, Compatibility, JQuery and Advanced Markup options.
Selected the delivery time-line. Their turnaround time for PSD to XHTML/CSS is 2-3 business days, but rush delivery is available as well! The first page can be coded as fast as one business day!
Select the number of pages and attach the designs. They prefer PSD files, but they also accept any other type of design format like Fireworks, .PNG and .AI.
The Process
In a couple of hours after submitting the order, you receive an email with a request to clarify some project details. After your project specs have been checked out and payment has been received, they are ready to get started on your project.
Their HTML/CSS gurus do their job and thoroughly cross-browser test your project.
Then their detail oriented QA  team check every tiny detail of your project to make sure it is exactly what you wanted.
Your project manager posts your HTML/CSS project. Once you approve their work, they will send the files over to you.
After you approve their HTML/CSS, they will send it over to the required implementations department, depending on which CMS you chose.
Then all your hand-coded and carefully tested files is are zipped and sent  to you.
The Results
CodeMyConcept's coding is SEO friendly, loads fast and supports all the most popular and latest browsers.
If you need a fast and inexpensive quality conversion service, CodeMyConcept is definitely worth considering.