10 Best Online Resources To Convert PSD To XHTML/CSS
Every web designer wants to find an easier way of designing a web template. For making a good web template you need to do some pre-analysis and rough work. One of the best way of creating a good web template is its PSD form developed into Photoshop. So it is obvious that you would want to convert your PSD files consisting of your web Template into an HTML compatible format. But this is can be a very irksome and time consuming task for any beginner web designer. But fortunately, many online tools are present out there whcih can make this task a lot easier and quick for you.
Today we have a list of 10 Best Online Resources To Convert files from PSD to HTML. All these tools are really popular and efficient. You can solve your problems using these services. Please note that all these service providers have their own pricing and working criteria, so make sure to read the overall terms and conditions before choosing any one of the services. Check the list out and pick the one that suits your needs the best!
If you Like this Article, You Might be interested on Photoshop Web Layout Tutorials and Free HTML5 and CSS3 Templates.
10 Best Online Resources To Convert PSD to XHTML/CSS
This is a great website where all design files, including PSD, PNG, JPG, GIF or any other format, are hand coded into error free quality HTML/CSS markup. All these codes are compatible with W3C and boast clean code structures and compatibility with all popular browsers.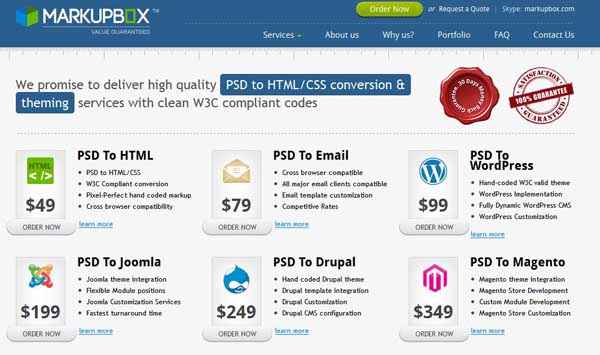 This one is one of the most popular and most reliable PSD to HTML service provider company in India. It has been around on the global market since 2009 and can convert PSD to HTML / XHTML / CSS and CMS implementation.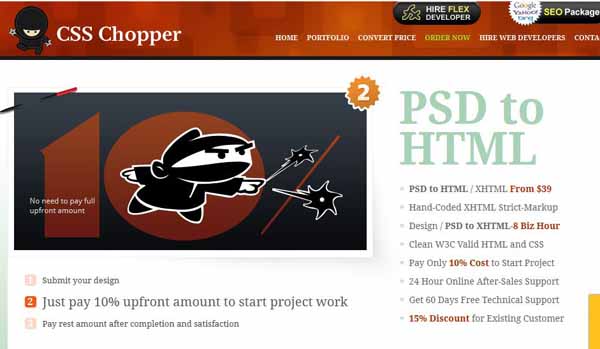 P2H.com / PSD2HTML.com is a great website that offers quick, high quality conversion of graphic Web design into HTML. It also has extensions, and skins / themes / templates for various engines too.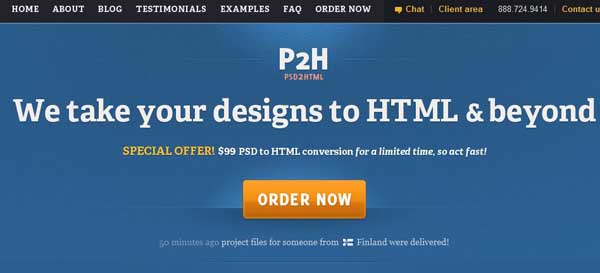 XHTML Chop allows PSD to XHTML conversions for individual designers, as well as for web design companies that wish to outsource their PSD to XHTML conversions.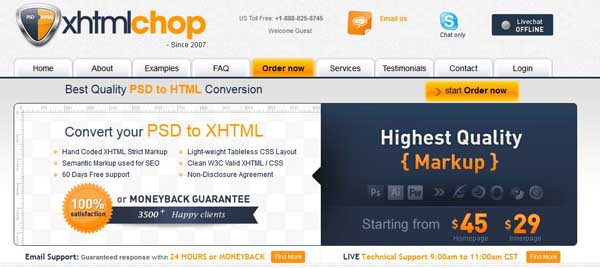 This conversion services has been around since 2007. It provides hand coded pixel-precise PSD conversion to W3C Valid CSS / HTML; CSS / XHTML implementation into skins, themes, CMS and shopping carts etc. They can also "Re-slice" of existing websites (they can bring your working websites or old code up-to-date producing it from scratch).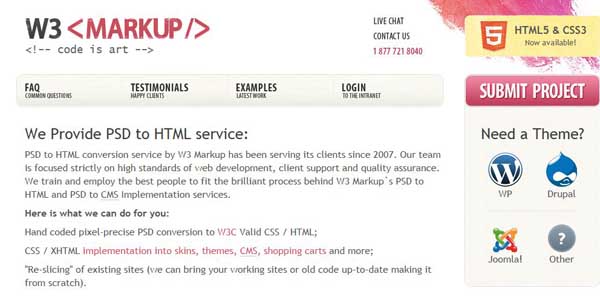 XHTML Junction accepts design in any format including PSD, AI, PNG, JPEG, etc and then it converts it to XHTML/CSS markup. They deliver it within 8 hours. Their code is W3C Validated, cross browser compatible and Search engine friendly!

PSD2HTML Converter's services can be used unlimitedly on the price of 9.99$ for 1 day subscription, then you can do as many PSD to HTML conversions as you want (simply purchase it from the Online Profile after registration).

This one is a handy tool in which all you have to do is to simply upload your PSD or other designs and then choose your markup options and/or JavaScript effects. You can then easily integrate your designs into popular CMS's, Shopping Carts and Blogs.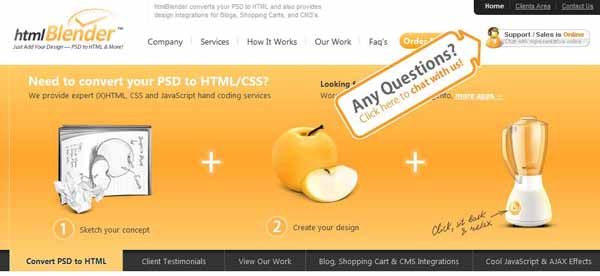 It provides quick and great quality conversion for PSD to HTML/XHTML/CSS markup. It converts designs of all formats into XHTML/CSS templates for websites.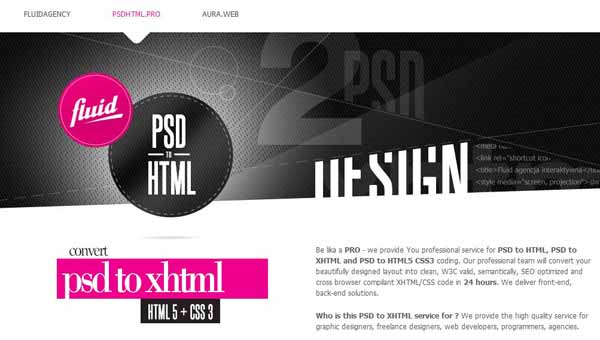 HTML Firm allows converting photoshop designs to great quality cross browser compatible, W3C valid and SEO semantic HTML/CSS markup. They have been in business for more than 7 years. They deliver the best to their customers within the set turnaround time and at unrivaled quality.