21 Effective Alternatives to WordPress for Bloggers
Blogging has emerged as one of the most accepted means for freelance earning. If you are having a fairly visited blog with a nice reach of page views a day and some daily subscribers, then it can led to help you in earning a decent amount of income. And yes of course, it simply means no fear of any boss or senior. You are your own boss.
Bloggers must be known to number of free and paid resources which would help them in enhancing their blog's functionality or visits or something else related to it. One of those resources is a CMS (Content Management System) which offers a blogger to manage its blog posts without knowing any kind of web programming.
WordPress is one of the most widely accepted freely available CMS for blogging means. According to an average, more than 17% of blogs are made using wordpress. But there are many other blogging platforms which can serve bloggers. You can use them in place of wordpress. All of them have their own specifications, pros and cons.  Let us move through the list.
21 Effective Alternatives to WordPress for Bloggers
Blogger is a blog-publishing service by Google that allows private or multi-user blogs with time-stamped entries. It was created by Pyra Labs, which was bought by Google in 2003. Generally, the blogs are hosted by Google at a subdomain of blogspot.com. Up until May 1, 2010 Blogger allowed users to publish blogs on other hosts, via FTP. All such blogs had (or still have) to be moved to Google's own servers, with domains other than blogspot.com allowed via Custom URLs.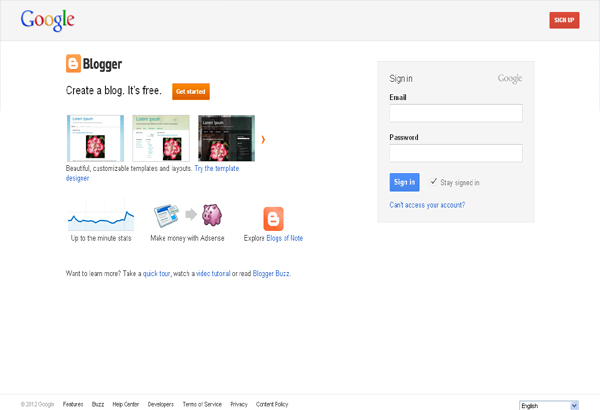 Symphony is rooted in the very same principles that you adhere to in your own work. Openness. Standards compliance. Flexibility. Symphony doesn't just help you get the job done, it helps you get the job done right.
CMSMadeSimple is a flexible, unobtrusive and help you to make a great site. It should provide you with tools to help the layman keep track of content, while letting more experienced webmasters handle look and feel. It should also provide tools to make repetitive things less repetitive. Like, for example, News entries.
WebsiteBaker helps you to create the website you want: A free, easy and secure, flexible and extensible open source content management system (CMS). Create new templates within minutes – powered by (X)HTML, CSS and jQuery. With WebsiteBaker it's quite natural your site is W3C-valid, SEO-friendly and accessible – there are no limitations at all.
Umbraco is one of the most deployed Web Content Management Systems on the Microsoft stack. It's in the top five most popular server applications and among the ten most popular open source tools in general. It's a beautiful combination of a fantastic, friendly and dedicated community and a commercial backing in form of the commercial entity behind the project, the Umbraco HQ.

GetSimple is an XML based lite Content Management System. To go along with its best-in-class user interface, we have loaded it with features that every website needs, but with nothing it doesn't. GetSimple is truly the simplest way to manage a small-business website.
LifeType supports multiple blogs and users, media management, generation of standard content, clean URLs and support for subdomains. LifeType is released under the GPL license, and requires PHP and MySQL to work.
Habari has over other blogging packages, a major component of what makes Habari different is its community participation model. Users who demonstrate a level of quality contributions to the project are granted more privileges within the project.
Use Drupal to build everything from personal blogs to enterprise applications. Thousands of add-on modules and designs let you build any site you can imagine. Drupal is free, flexible, robust and constantly being improved by hundreds of thousands of passionate people from all over the world.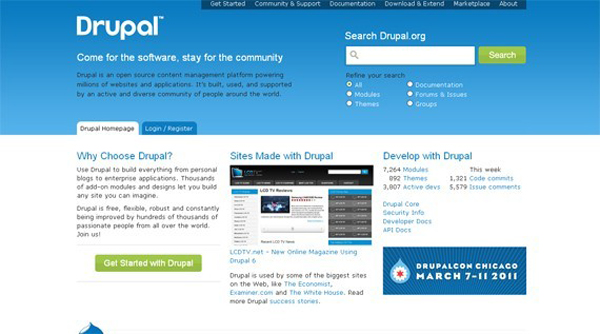 Some of the best websites in the world are powered by ExpressionEngine. It's a testament to the trust that we've earned among so many web professionals and the power and flexibility of ExpressionEngine. Take a look at their showcase and see for yourself.
FlatPress is an open-source standard-compliant multi-lingual extensible blogging engine which does not require a DataBase Management System to work. You don't need MySQL because FlatPress stores all of its content on text files. All you need is some web space supporting PHP4 (or later).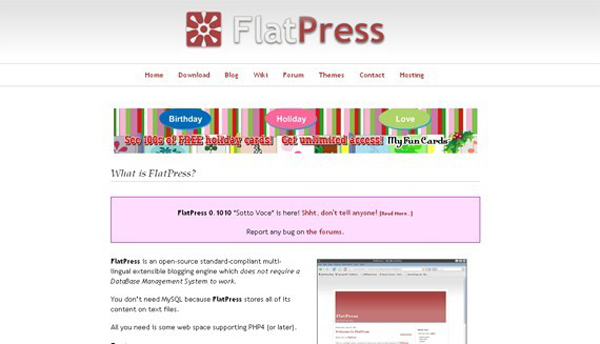 Frog CMS simplifies content management by offering an elegant user interface, flexible templating per page, simple user management and permissions, as well as the tools necessary for file management. Born as phpRadiant in January 2007, Frog CMS is aPHP version of Radiant CMS, a well known Ruby on Rails application. Although the two applications still share a family resemblance, Frog is charting its own development path.
Textpattern is an elegant content management system that is free, open source software. Web designers, developers, publishers and bloggers love its flexibility and extensibility. It has a powerful, sophisticated engine that can be infinitely tuned to suit whatever type of web site you can imagine.

Contao is an open source content management system (CMS) for people who want a professional internet presence that is easy to maintain. The state-of-the-art structure of the system offers a high security standard and allows you to develop search engine friendly websites that are also accessible for people with disabilities. Furthermore, the system can be expanded flexibly and inexpensively.
XOOPS is a web application platform written in PHP for the MySQL database. Its object orientation makes it an ideal tool for developing small or large community websites, intra company and corporate portals, weblogs and much more.
MODX gives you total freedom to build sites like you want, and there's typically 3-4 ways to get to the same end result. It's embraces flexibility and bucks conventional website management software patterns.
SilverStripe CMS is an open source web content management system used by governments, businesses, and non-profit organisations around the world. It is a power tool for professional web development teams, and web content authors rave about how easy it is to use.
PyroCMS is a simple, flexible, community driven Content Management System built with the PHP framework CodeIgniter. The CMS was originaly developed by Phil Sturgeon in 2008 for various personal and commercial freelance projects and over the coarse of a few years got to be a very useful system for quickly making simple sites. In 2009 this CMS was released open-source under the name PyroCMS, taken from Phil's handle at the time "thepyromaniac".
GetSimple is an XML based lite Content Management System. To go along with its best-in-class user interface, we have loaded it with features that every website needs, but with nothing it doesn't. GetSimple is truly the simplest way to manage a small-business website.
An easy, flexible, empowering Content Management System for rapid development that transforms your CodeIgniter projects into client manageable brilliance.