24HourPrint Review – Printing Simplified in Quick Turnaround
What if you are in a rush, have to get a banner printed for a marketing campaign that is scheduled for tomorrow. It would be your luck, if any printing company could be able to deliver you the banner within 24 hours or less. Well, in such case what would you do?? Would you still stick to physical print shops or opt for some reliable online printing stores.
I have been through such situations a lot many times, where my digital printing service provider denied delivering the prints on time. It's quite difficult to manage the designing and printing part of the marketing products on your own. As we all know that we have some of the online printing solutions to help us ease our tasks, but the problem is to find out which one is the best/suitable for as per your requirements.  Definitely these online printing service providers would give you a great deal that even conventional printing services cant… that is value for money prints in fast turnaround time, what else you would require?
Finding the suitable printing solution is the thing you need to finalize as quick prints without compromising on the quality is something that you cannot expect from everyone. I discovered an online printing service named 24hourprint and found them really promising in terms of quick and quality prints. 24hourprint is a leading online printing company offering high quality prints in fast turnaround time. All you need to do is choose a template or upload your design, customize it and place your order. This is it! They have expertise in offering overnight prints in 24 Hour business cards for business needs.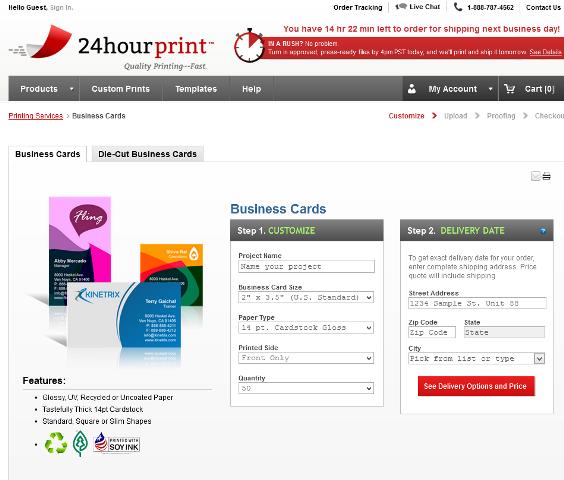 24hourprint is just amazing solution to all your time-pressing printing requirements. They have categorized the services into four divisions, just to suit any niche in their field and as per the personal needs.
As the name suggests, this division caters to all the print mediums that are used to be displayed publicly. These can range from flyers, brochures, posters, bookmarks, cards, business cards, menus, invitation cards, etc. All these can be customized according to personal needs.
This section is especially dedicated to franchises and businesses to gear up their visibility in the market. They include banners, business cards, posters, stickers, flyers, labels, yard signs and custom prints to be used as indicators to put on road side and others to increase presence of the business all around.
This section includes canvasses, mounted posters, large format posters, counter cards, vinyl banners, window clings and everything that includes a service of photo enlargement. The size and layouts can be customized or you can go with the standards that have already been defined in the order form.
This section is more for non-commercial purpose and daily requirements. Here is where you want to get an exclusive invitation card for a birthday party or a greeting for loved ones or a poster for your bedroom… the list just goes on, so our personal requirements!
It is just amazing to have an outstanding online printing service provider to serve all our professional as well as personal needs in quick turnaround. Some of the highlights why to choose 24hourprint are:
On-time delivery guaranteed
Fast & high-quality production
24/7 customer support
To conclude, I have used their services several times now, and would recommend everybody out there too. You can get business cards, greetings, calendars, posters and a lot more! At least give them a try, their services are just amazing and you would love it. I certainly do!