Top 10 code free website builders for designers
Were there not countless moments when you wanted to have your own site? But you didn't have time to learn the code, and you never actually got to hire a specialist. I assure you that you are not alone. With websites multiplying exponentially on the web, it can hardly be that so many people have learned to code. What is the solution? The code-free web builders. That's right, it is possible to create sites just as easy as designing in a graphic editor, which makes designers happy, as they don't need programmers anymore. With this new type of software, anyone can make their own website and the best part is that it can take merely a few minutes. With many versions and types of web builders on the market, it might hard to pick one when you want to start fast. Here we have twenty of the best code-free builders today.
After long debates and testing we came to a conclusion: IMCreator.com is the solution which we loved the most, even if it's a strong competition.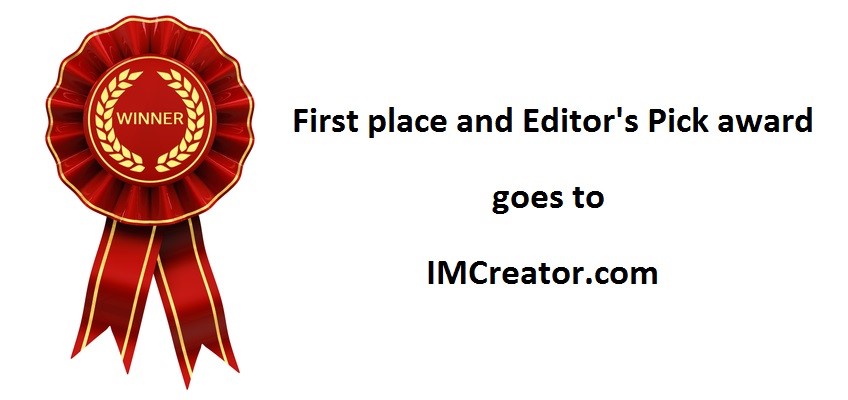 Now, let's see the top: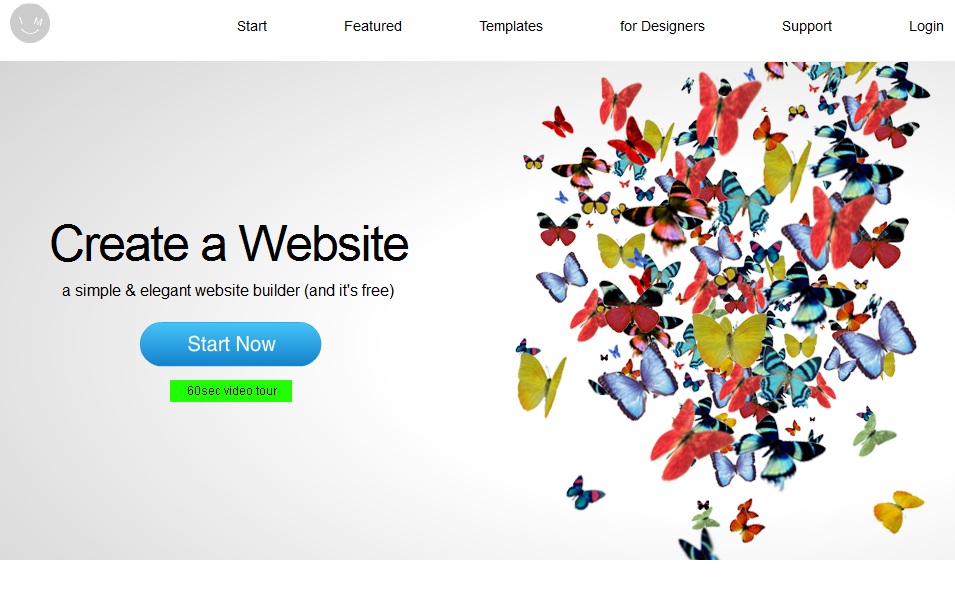 The first tested web builder is IM Creator. With its user-friendly interface you don't need to register and can get right into the middle of the creation process. The top bar menu gives you everything you need to build your site: opacity, size, shape, colors, fonts, they all come as bricks in a Tetris game, you only need to drag them on the work board. Pictures can be easily grouped in galleries and slideshows, and if like to dive into a bit of HTML for extra finesse, there is a widget for that. After dragging the element on the dashboard, all you need to do is type the code inside the small frame and it takes effect instantly.
Customer support is quite professional, the whole team being made of web designers, so you can contact them with any type of issue. A comprehensive video tutorial and a pdf guide are also available.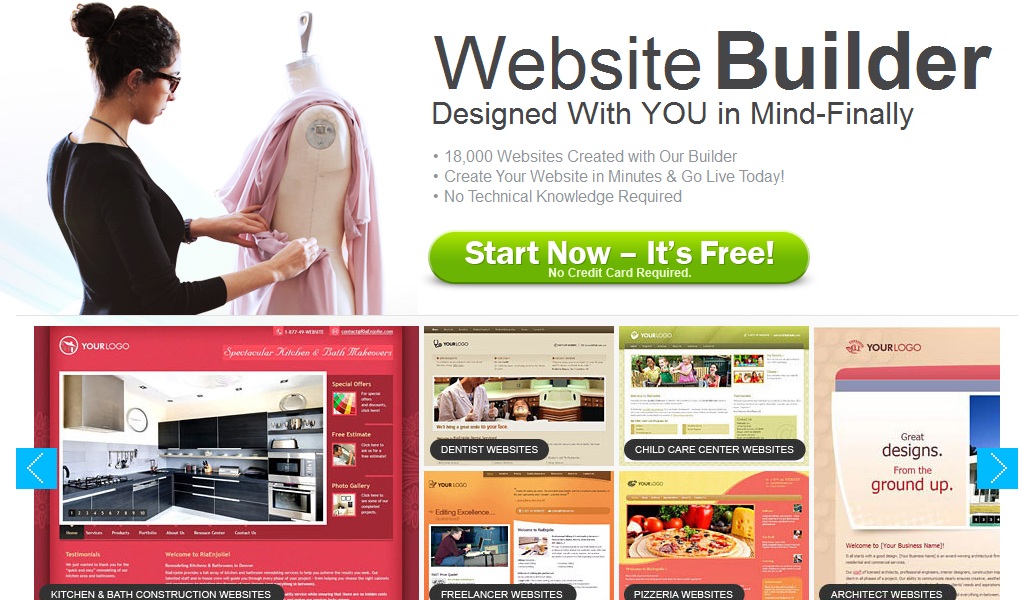 WebStartToday is a cloud-infrastructure web builder specialized in the niche of business websites and personal pages. More than 1000 templates are included to match the most varied fields of work: law, real estate, cleaning, arts, cuisine and many more. The templates are not rigid, so no two branches will have sites that look the same. You can easily change the colors with a single click. Your personal data and contact information is all that is missing, the template contains the texts in all the places it needs to be, all you need to do is replace it with your own. SEO service Google Analytics are included as well as unlimited storage. Besides, customer support is available 24/7.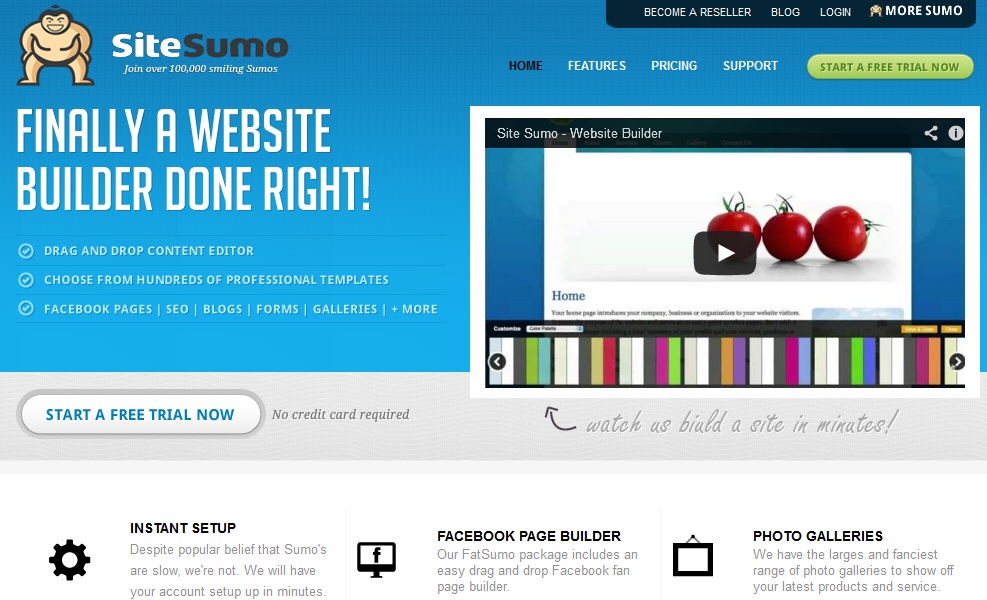 Sitesumo is a premium service, but is does have an advantage: it includes hosting. You get a 14 days trial in which you can decide if their standards are up to the market level. We say they are. The service includes SEO optimization, an easy to use editor, customer support and a plethora of templates. The packages are not costly at all, especially when considering the benefits. They start at $20 per month.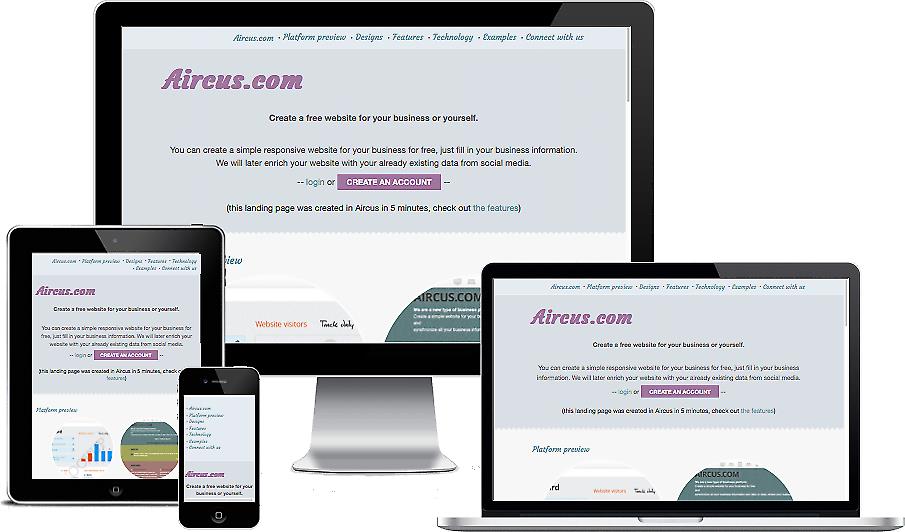 The creed of Aircus comprises of two words: simplicity and elegance. It focuses on simplicity, using two main colors in mostly all the templates spiced with wide simple modern text fonts that catch the eye quickly and never bore with intricate handwritings. It is a great solution for hurried business men who want to create a site "yesterday". Not only is it ready in minutes, but it can all be done from a phone or tablet during the lunch break. To that, Aircus gave up countless lists of templates and focuses on simple solutions. Cloud hosting and regular back-ups are included.

Webydo is a what-you-see-is-what-you-get type of builder, meaning that changes result in real time on the dashboard. Its original feature is that it differentiates between designer and content writer. With two separate tabs for each of the two branches, it has never been easier to have a writer and a designer work at your site at the same time. Another advantage of the service is that designers can actually decide on a forum what features will be implemented in the following versions. It offers both free and premium packages, and the latter can be acquired per month or per year with hosting service included. The yearly plan also brings a 15% discount.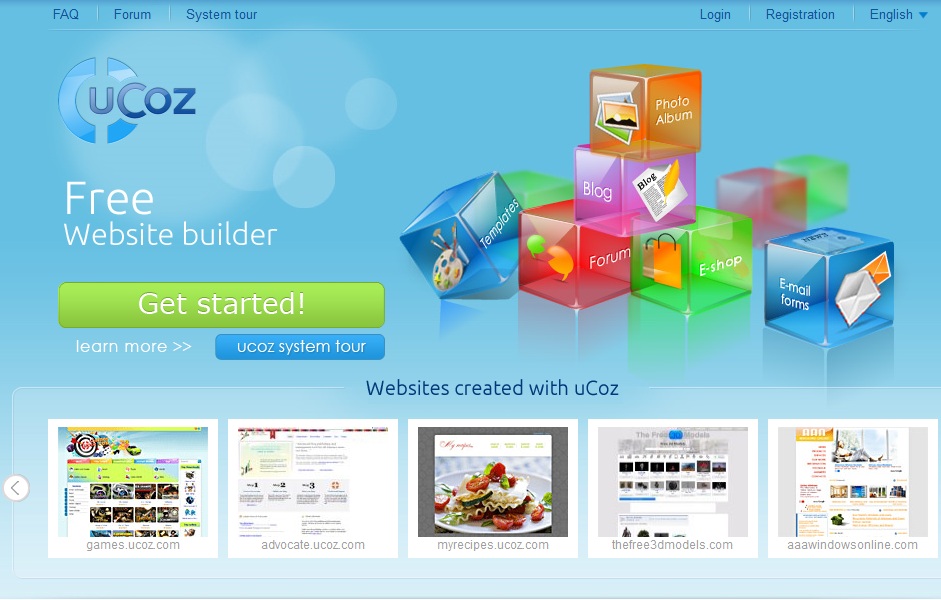 If you'd like to try your strength in webmastering without any obligations, contracts and hidden fees, uCoz is just what you need. Not only does this website builder help you build your web presence without writing a single line of code, but it also lets you expand and optimize your website limitlessly as your business grows.
Their free plan is amazing (saying nothing about paid options): on uCoz you can attach your own domain name and generate a custom email at no charge, get extended statistics of your website and switch on user group management function. uCoz stands out among other similar services due to its handy modular system: you can add, edit and delete different modules (Chat, Blog, Forum, Polls, Publisher) to expand your website functionality seamlessly.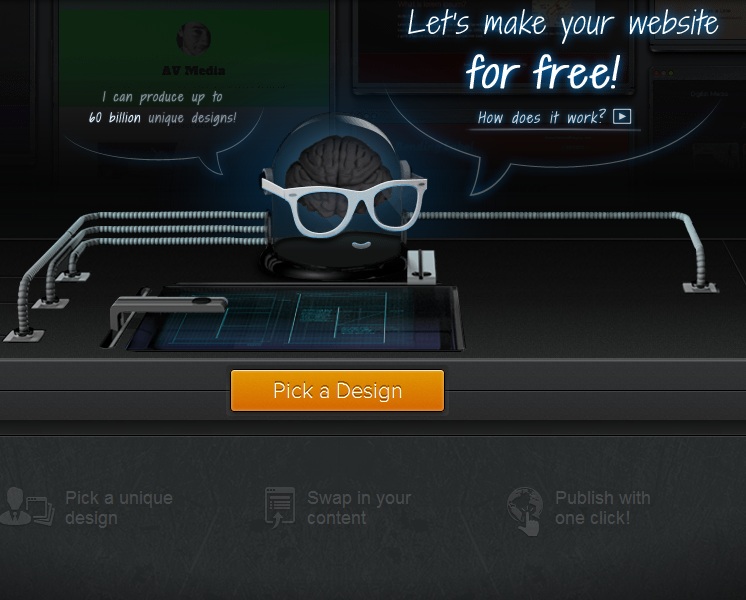 Breezi is another original web builder in that the homepage has a small search engine of its own. Fashioned in the look of a brain, it first asks you about your tastes and then goes on to finding your matches. They number in the billions, and if the results are not pleasing, you can further filter them out or modify them. A very easy and user friendly method of determining what kind of website you want to have.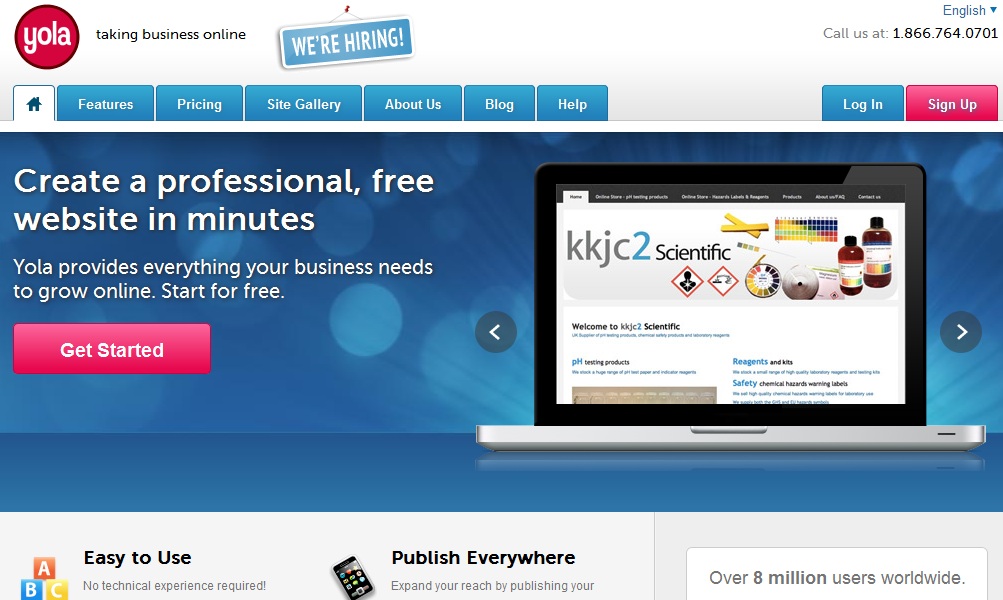 Yola is very versatile and easy to use. After registering, you choose the type of site you want and before you know it the suggested templates emerge. All editable, of course. The top menu contains elements and widgets of the most diverse (video, slideshows, galleries, HTML) and are easily customizable with drag and drop. The service offers free and premium packages. The free one is limited though to only one site and three pages.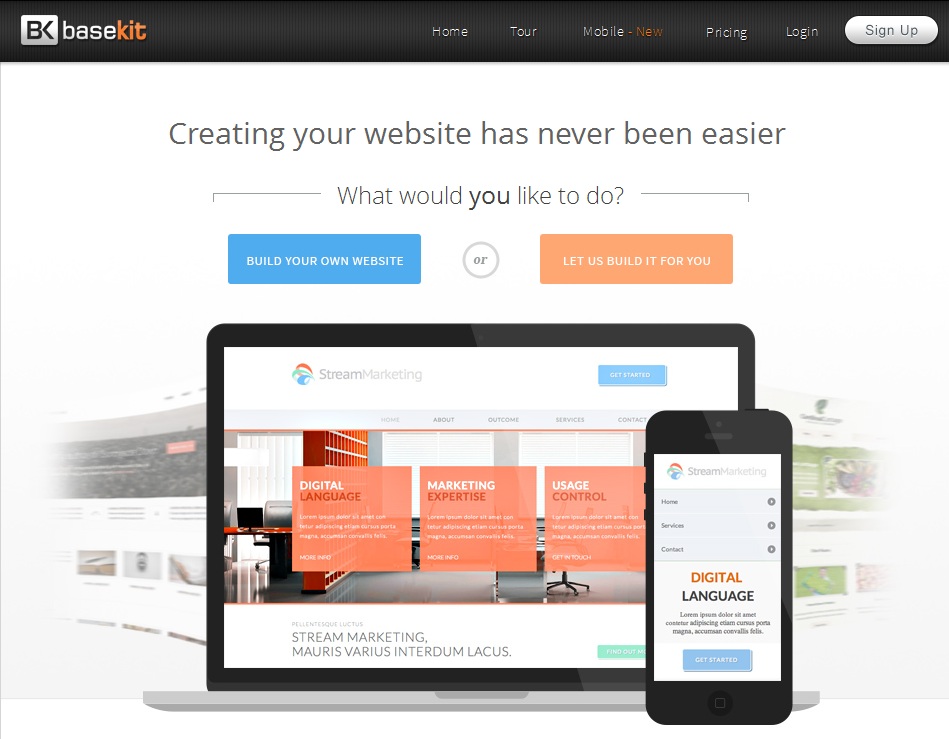 BaseKit is a service that has you first choose between making your own site or having your site made by their experts, should you not have the time or mood for it. The first choice includes a wide variety of options and customization features, and the second is as simple as filling a form. Customer support includes tutorials and live chat and e-mail from 9 a.m. to 7 p.m.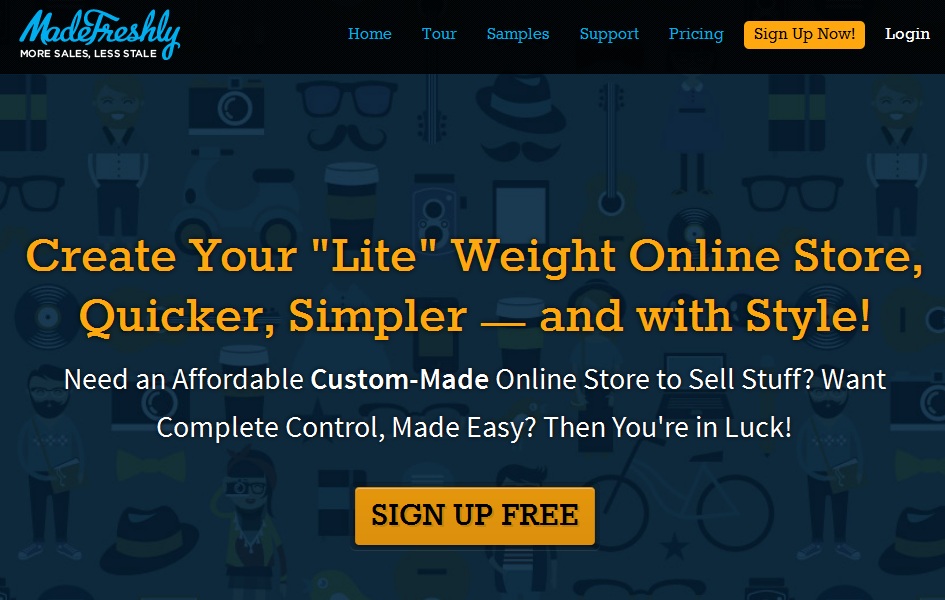 MadeFreshly's specialization is online businesses and stores. The interface is simple and on point, and it all begins with adding your products in the store. There is no need to log in for that, and the customization step comes afterwards. Its templates don't come in the lists, but the ones that are offered are free of charge. Besides, the "forever free miniplan" allow you to upgrade when you feel like it, not after you have half your site done. The premium goods include promotion, more templates, Google Analytics and the option to add more pictures of products on your virtual shelves.