The Best Top 20 Mobile App Builders
With the advance in technology, creating a business app has never been easier. Business apps are becoming more and more common as they make the running of a business a lot easy. With the available ways of creating a business app, which one tops the list as the best? There is the option of creating an app using app builder like ohlalapps. There is also the alternative of people creating the app themselves or using a programmer. It demands on personal preference and what one really requires and needs. With the highly developed technology it is possible for anyone to with little technical knowledge to create a web or a mobile application easily. Some of the most common application development platforms available are: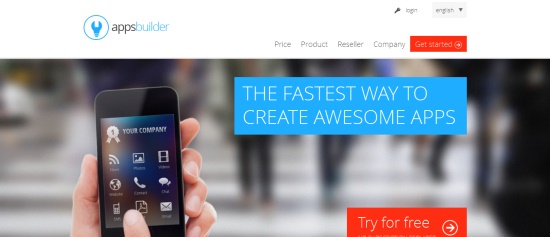 The incredible Appsbuilder– this is a common app builder and very straightforward to use. No coding is necessary which makes it very easy. It has a cloud system where all your contents are stored safely. You have the advantage of using only one panel to create a perfectly functioning indigenous app for android, windows, chrome, HTML as well as apples' iphone and ipad. One can also update and refresh or reload the contents enabling one to view modifications as it happens. Go ahead and connect your audience with the top and professional marketing techniques and enjoy great reviews and increased revenues with mobile advertisements coupons that are geolocalised and in-app subscriptions among others.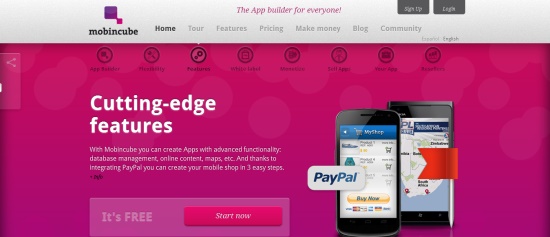 This is a great online application builder that is easy to use created by mobimento mobile. It permits businesses and individuals who have little or no knowledge or skills to create high-tech apps for smart phones and even tablets. Mobincube applications are customized depending on ones needs and are enjoyable to create and use.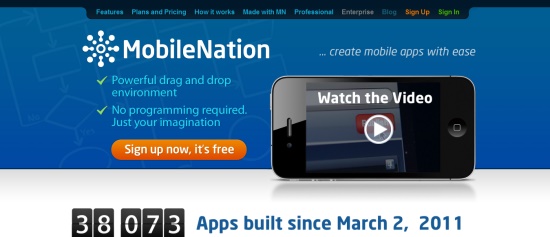 it uses the drag and drop techniques for designing mobile applications. It provides simple guidelines for designing, building and publishing mobile applications. It gives an option for viewing your contents on androids web browser or in IOS. It is definitely not a cookie cutter and has the benefit of providing people with the freedom of defining how the app appears and functions.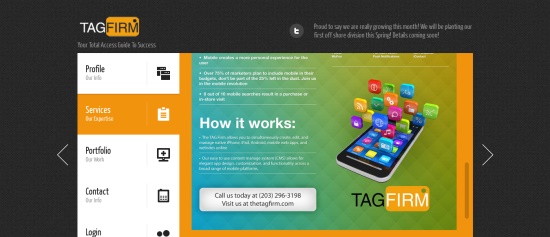 It is an app builder that aims at solving businesses problems using creative and innovative technology and using business principles to find solutions.tag which stands for total access guide has over 13 years experience and delights in guiding customers and offering best services. It is the ideal business solution app builder.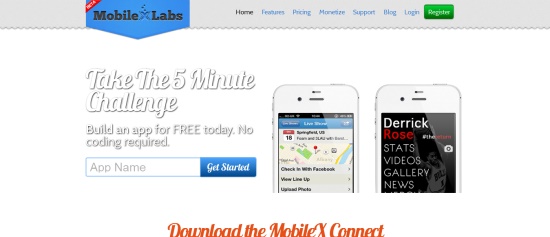 It is an app builder that aims at building engaging application that users will be interested in. Their apps software developer is easy to use with other technologies they have or that have been produced by other developers. This gives them an great advantage.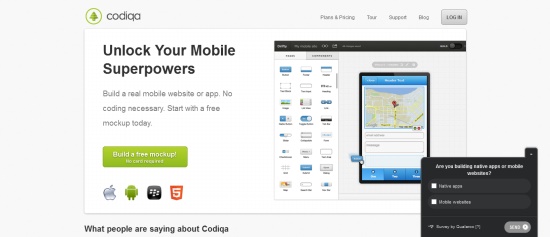 Easy to app builder. It is a HTML5 with Jquery mobile that builds with 100% html5 factors. It does not require a code after you have made a prototype, you just need to take your design, create a prototype, output real and use a code, just that once. It is very easy and straightforward to use and create. It does not require absolutely positioned boxes and no black-box code needed. The drag and drop feature allows ease and fast prototype creation and users can test it at any time live. This is one app to look out for as no coding is needed and users can share their contents anywhere with team members and other designers and there is the option of getting live feedback from shareholders when making a presentation.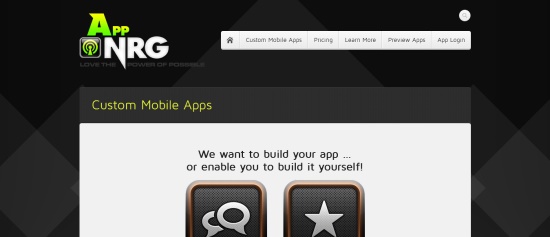 It caters for all markets from the easy and quick pro app solutions to the more comprehensive venture app solutions. Their apps allow users to build an app that will enable them to engage with their target audience in the community. Businesses can app is mainly to communicate with people and help promote and improve their brands. APPnrg apps are of the highest quality, they are easy to create and use and affordable.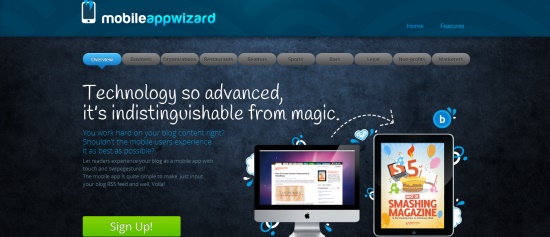 It's an easy and magical way of creating a business app. It is easy to create and users can do it in less than 10 minutes. One just needs to create an account and choose the type of app they want and publish it. Payment will only be requested when one want to publish the app. It does everything for you making things easy, so go ahead and add contents in your business app edit and customize it. You can even integrate it with website for easy monitoring and access.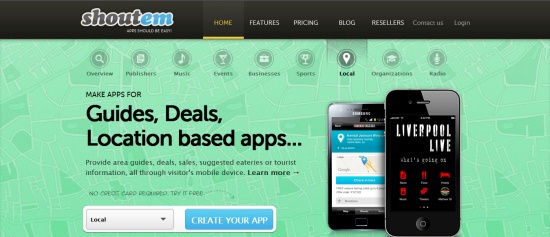 This is the perfect app builder for top smart phones and tablets. It uses Medias where users engage or use apps frequently and allows them to share their experience on social media networks like twitter and facebook.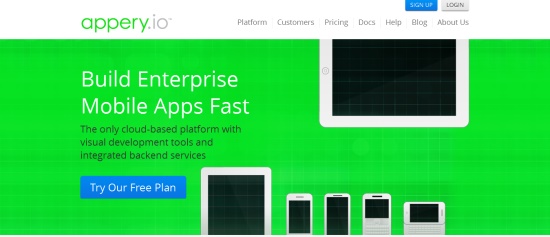 This is a great business app builder. It is actually the only cloud-based platform with incredible visual development tools and integrated backend services. It uses the drag and drop feature with very high speed. Users can also easily connect 3rd party REST APIs and contains pre-built plug-ins.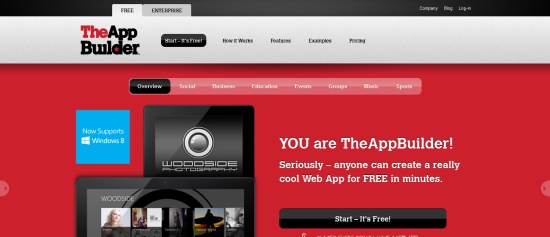 It's easy and fast to use it and any one can create a functional good app in just a few minutes. Users can add their own images, contents, addresses, maps and other functions. It can then be linked to the main website or social network sites.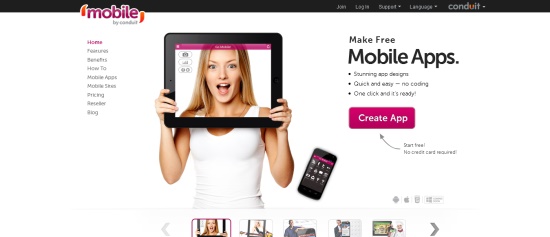 No matter what industry you are in, their wide range of attributes allows you to create a business app easily. They apps can be used by businesses for promotional purposes and monitor your sites using the control panel. it allows one to create an app for mobile devices and to submit to mobile marketplaces. It does not require any coding! One can use a free plan or a premium one.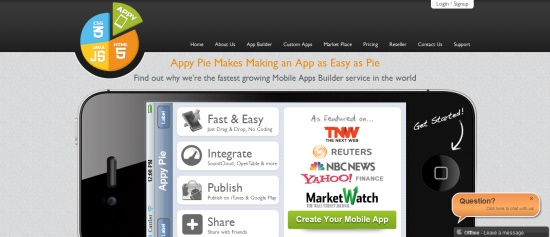 It is one of the youngest app builders but also the fastest growing one. After its beta was released in January this year in India, it sort publicity immediately and is rising to be one of the best. It uses the drag and drop feature. It allows users to create app for windows 8, iphones, androids and Smartphone. One does not need to download anything HTML5hybrid that enables one to build mobile app online for most smart phones.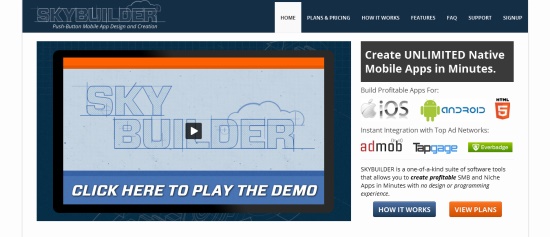 This is a free app builder that allows users to design, create and have 100%ownership of the app at no costs. One can create profitable SMB and niche apps with little or no experience. The upgraded push notification allows for users to send unlimited notifications. Go ahead and build a business app for free.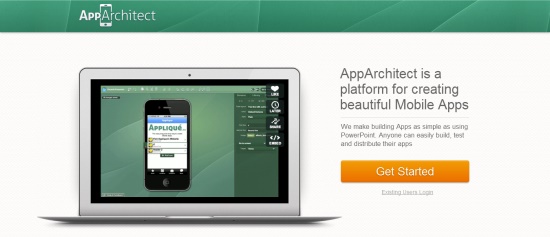 Using applique.me is as easy using PowerPoint. It creates beautiful apps, with no coding required and inexperienced users can create apps with beautiful features. It allows one to create, preview and publish to multiple stores. It uses drag and drop feature.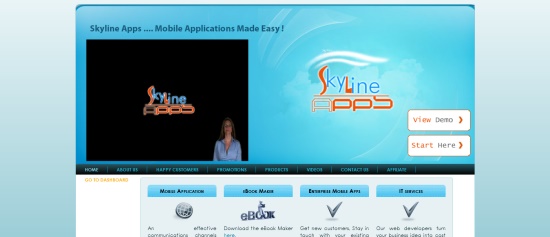 This is an mobile app builder that uses a cloud system in collaboration with Google. The cloud system allows users to make, edit and manage their apps. Their Patent Pending (CMS), Content Management System, allows programmers to build smart phones for iphone, android, blackberry and others. They also offer mobile app domain and mobile web app hosting services to users.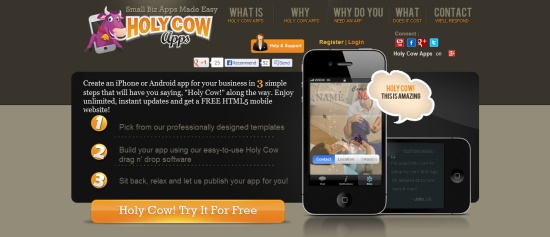 This is one top builder that will want to make you say "holy cow". It allows users to create mobile apps for iphone and android in just 3 simple steps. It allows unlimited, instant updates and gives a HTML5 mobile website for free. It uses a drag-and-drop feature.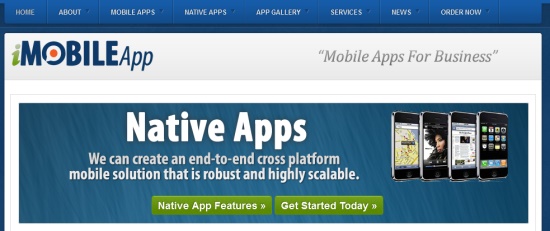 This is a great builder for small and mid-size businesses. It is easy to use and the apps can be managed from any mobile phone. It's a great app builder.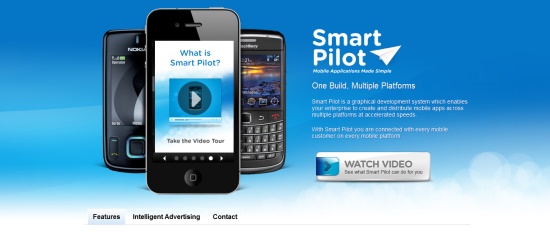 This is one of the most effective ways of building and managing mobile apps. It can be accessed anywhere as long as one has an internet connection. Just log in to their site and register and create your app or you can have them create one for you.

We saved the best for last ; this is one app builder that offers a completely customized package. It offers a complete set of tools and services to create a great experience for both small businesses and large enterprises. It optimizes any website contents to a mobile website which works with major smart phones and tablets. This is one of the mobile app builders to look out for.