Best responsive wordpress themes 2013 edition
Our article on the 25 best responsive wordpress themes for 2012 got a lot of love from the community. I thought it is about time to update that article with a newer version for 2013. This year, efforts have been taken to further segment the theme categories.  We understand that wordpress theme users come from many industries. From music to photography to even restaurants and real estates. By segmenting the themes into these broad categories, users will have an easier time picking the responsive themes that suit their needs. Currently, there aren't that many free good quality responsive themes in the market. This is why I have chosen to showcase paid themes. Don't worry though. Most of them cost under USD40. This makes them very affordable and should impose no problems for anyone who wants to buy them.
With further a due here are the top responsive wordpress themes for 2013
---
Best responsive wordpress business themes 2013
Point business responsive wordpress theme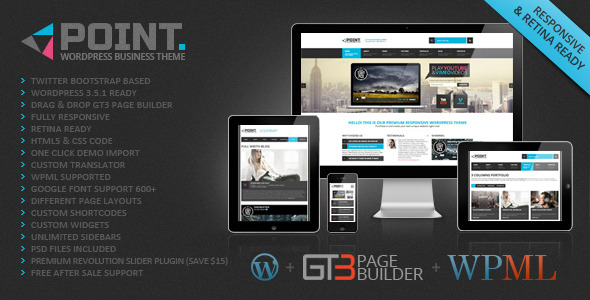 A good looking responsive wp theme that has literally tonnes of features. It has multi language support and multi color selection, and is retina ready and seo friendly. Everything you need from a business theme can be found in this theme.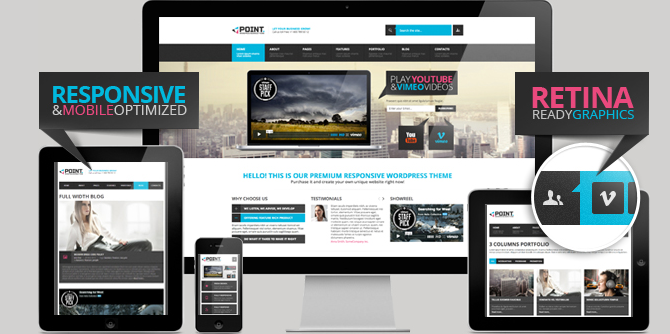 Finesse responsive wordpress business theme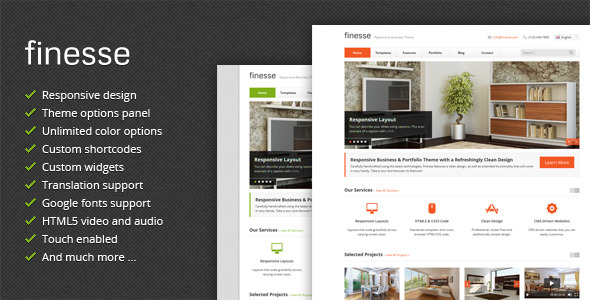 A beautiful business theme that is great for showcasing your business and products. Comes with some very handy features such as a language translator and a newsletter manager for managing your customer subscription.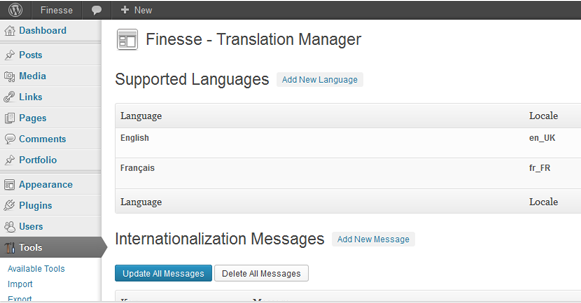 Smartbox responsive theme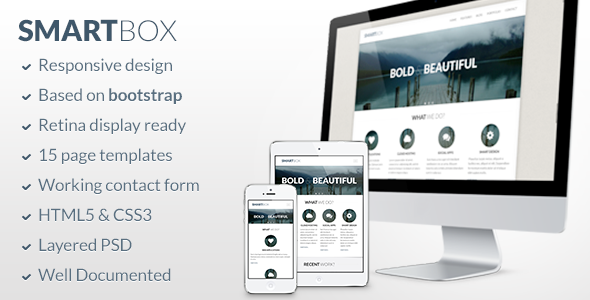 One of the cheapest responsive business themes. It costs only USD16. If you are looking for a responsive business theme that looks elegant, and is affordable, this is the theme for you.
---
Best responsive wordpress church themes 2013
The Church responsive theme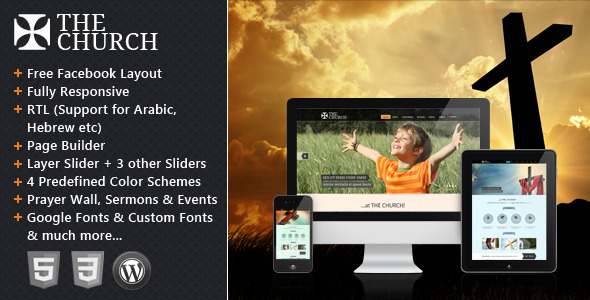 A very well made responsive Church theme that was developed in 2013. Comes with tonnes of features such as Font selection, color choices, slider etc. The Church relevant features include:
A facebook page template that matches with your church wordpress theme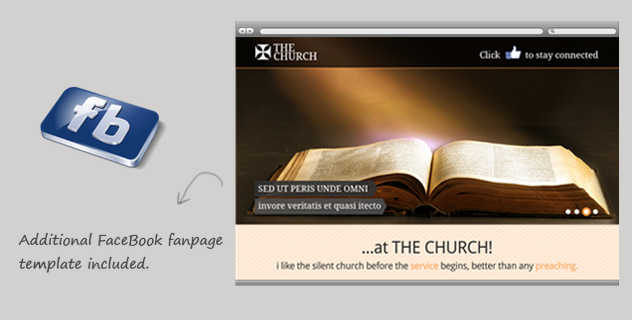 A prayer request wall that your church members can post to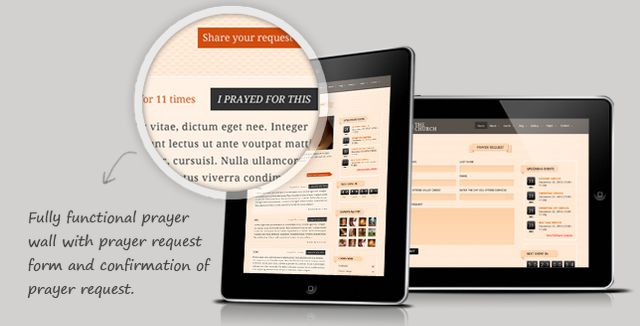 Realchurch responsive theme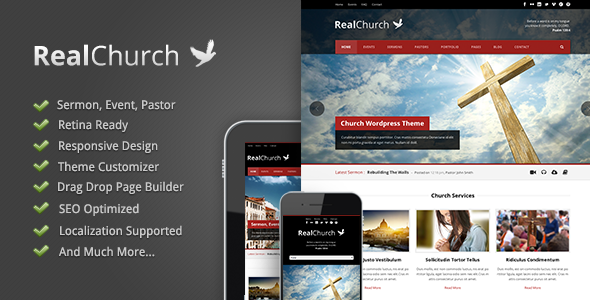 One of the only responsive wordpress church theme that is also retina ready. For those who are not aware. Apple has been using retina screen in their latest iPadss who gives greater clarity to the images. Hence, if you are using a retina wordpress themes such as realchurch, your website will look much better when viewed in iPads.
Grace responsive church theme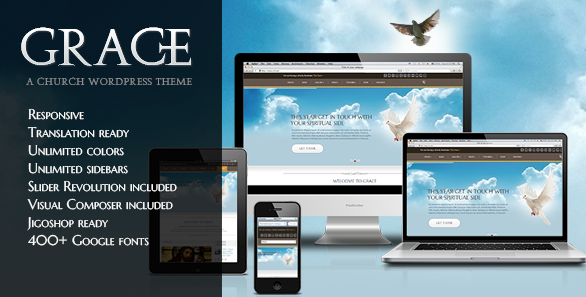 Beautiful design with lots of useful features such as advanced options for setting up gallery, layouts etc. However, two of the more relevant ones for a responsive church theme includes:
Setting up your own store to raise funds for community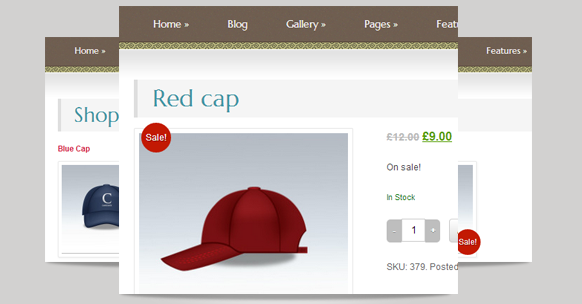 A donation page for your church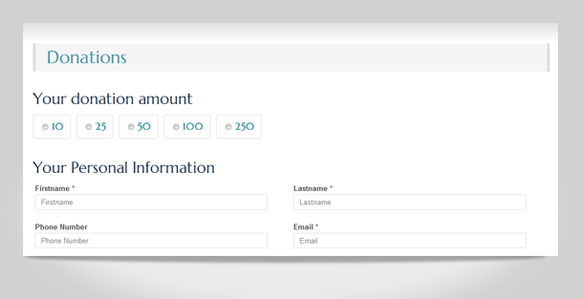 ---
Best responsive wordpress ecommerce themes 2013
Iceberg ecommerce responsive wordpress theme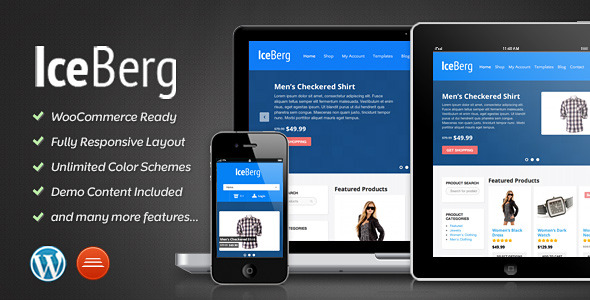 I cheated a bit on this theme. It was released in Dec 2012 so technically it is not a 2013 responsive wp theme. However, this is such a great ecommerce theme that I need to put it here. Receiving 4.5 stars out of 5 in the reviews, iceberg wp theme has everything you need to run a successful ecommerce site.  Fully compatible with WooCommerce and coming with features that most stores would need, there is nothing really to dislike about this theme.
SelfTitled responsive ecommerce wordpress theme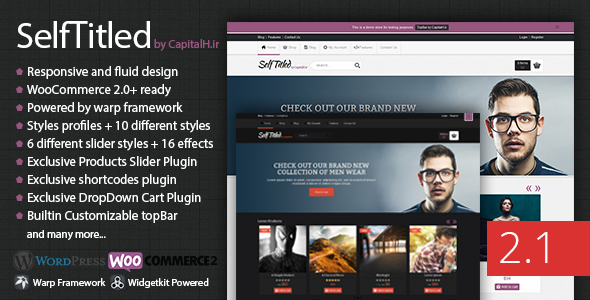 One of the most flexible responsive ecommerce themes for 2013. There are enough features to let you do lots of customization to your online shop. The best feature is that you can create DIFFERENT look on different product page! That is right. No longer do you have to see the same design on every category or product pages. With SelfTitled, you can do lots more design customisation
Impulse responsive ecommerce wp theme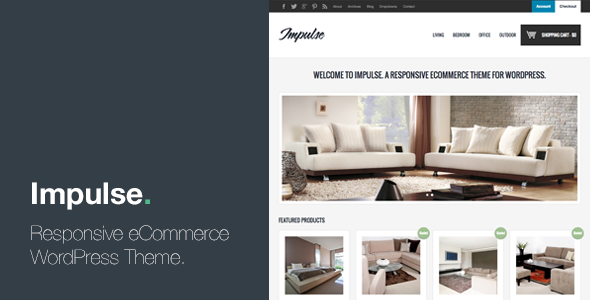 Impulse is a beautiful and elegant ecommerce theme that is particularly suited to sell luxury or beautiful designed items.  This theme is compatible with woocommerce 2.0 so if you are running that on your site, impulse can work perfectly well with that.
---
Best responsive wordpress magazine themes 2013
Nerea responsive wordpress magazine theme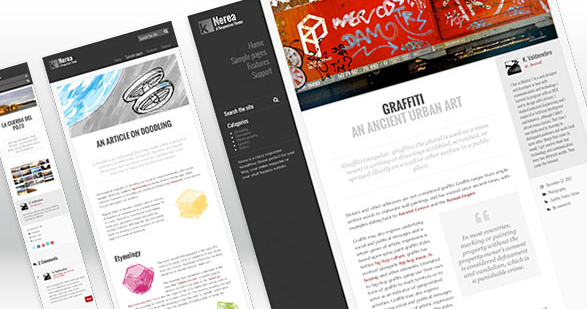 A very modern and unique take on the wp magazine theme. Featuring a couple of really nice touches such as
An option to have fixed or scrolling sidebar
An easy to use theme customizer to allow you to really change whatever you want
A gallery that can support image, audio or video
LitePress responsive wp magazine theme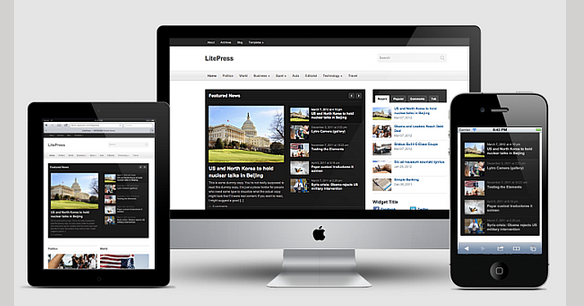 A more tradition but still highly stylish responsive wp theme for magazines created in 2013.  The homepage has a nice display of major categories' recent posts, thus creating a very newspaper or online magazine feel.
Pacific responsive magazine wordpress theme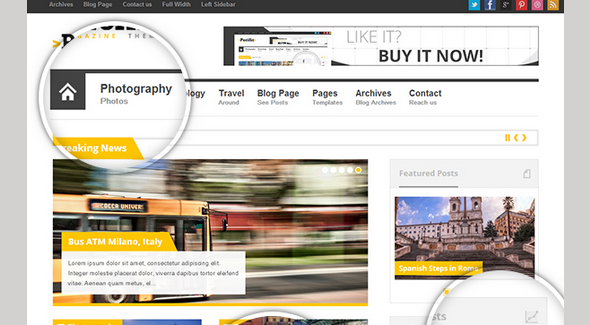 With a fully configurable homepage, it is the ideal responsive magazine theme for those who like to customize the look of their site.  The theme comes with a fully functionally user rating system in case you like to see how your readers response to the content that you are putting out.
---
Best responsive wordpress restaurant themes 2013
Eatery responsive wordpress restaurant theme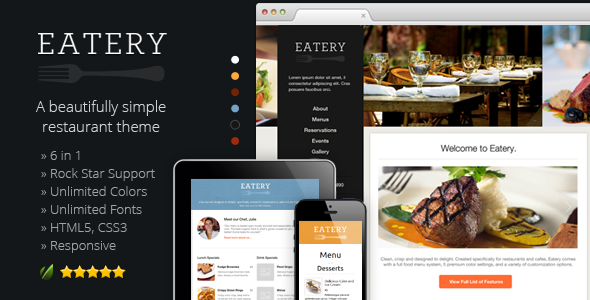 A gorgeous looking responsive restaurant theme that features all the things you need to start a restaurant website
Food menu functionality to display all the information you want about your menu
Reservation form for your restaurant to take in online booking
Easy customisation of the design and colors
Simply one of the best new restaurant wp themes for 2013.
BBQ responsive wp restaurant theme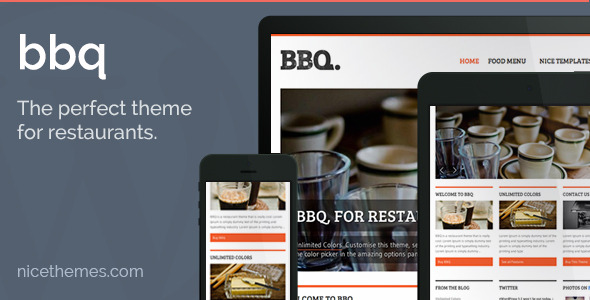 Another nice looking restaurant theme. Comes with all the features you will want for a restaurant website. See the image below for more of such features.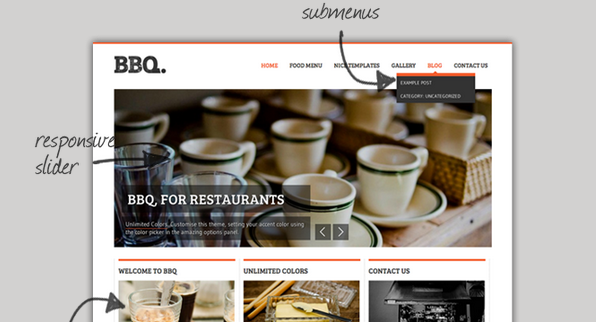 Bistro responsive wordpress restaurant theme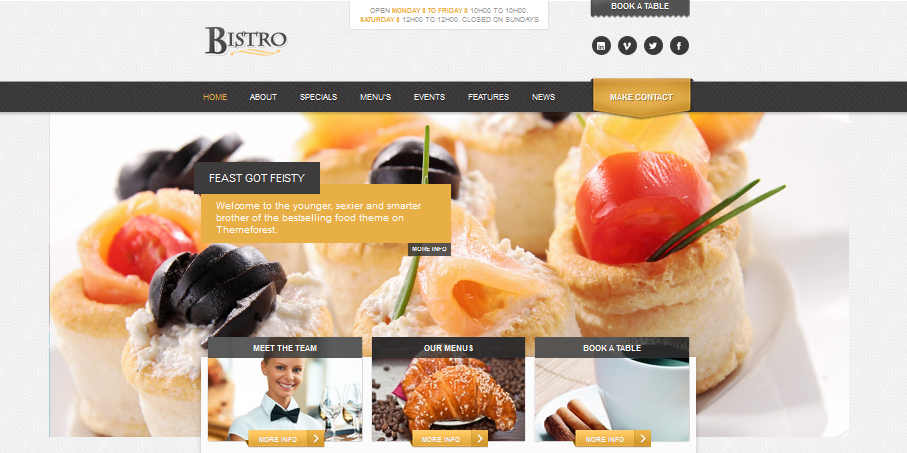 Bistro comes with a powerful booking app that has already received lots of positive reviews. There is also a nice feature that lets you run marketing campaigns such as specials and promotions. This is really useful when it comes to getting more business for your restaurant.
---
Best responsive wordpress themes for photographers 2013
Skylab responsive wp theme for photographers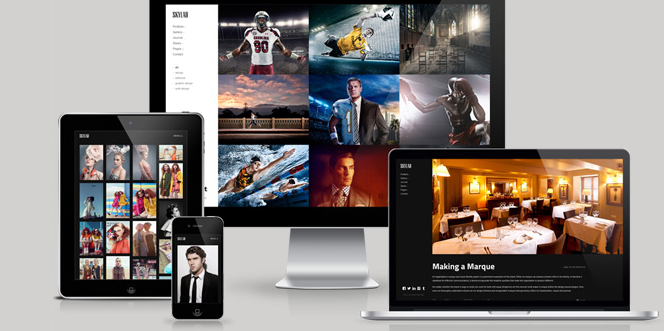 A simply gorgeous responsive wp theme for photographers. Achieving almost 5 stars our of 5 from customers, this is a theme that has been used extensively by people who needs to showcase their pictures. Combining a powerful gallery function with magazine like editorial space, this is one of the best photography responsive theme for 2013.
Exposure responsive wordpress photography theme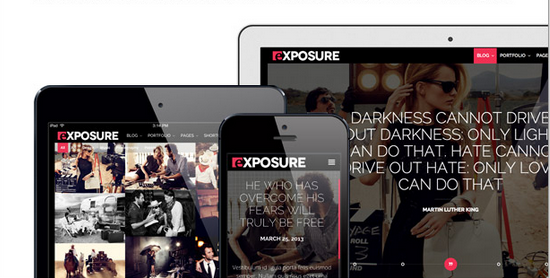 For photography wp themes, you want your pictures to look sharp and gorgeous. This is what this theme has in abundance. Looking at the above, you know your photos will turn out great, whether they are viewed on computers or mobile devices.  There is also a gallery function that lets you create different galleries or portfolios easily so that you can create different showcase for your work.
 Sniper photography responsive theme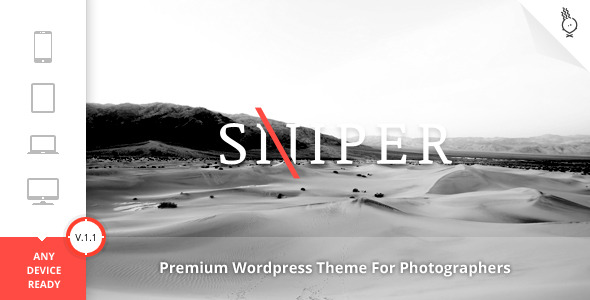 A minimal responsive theme for photographers. Perfect for those who like clean designs that just focuses on the images. Lots of positive reviews for this theme as well. Worth a look.
Hope you enjoy this showcase of the best responsive wp themes in 2013!