The 10 Best Things about Chit Chat for Facebook Web Messenger
When Chit Chat for Facebook first came out it was a smash hit, but it was only for Windows PCs. The developer quickly produced versions for BlackBerry and iPhone, but Mac and Linux users still had to suffer without streamlined, dedicated Facebook chatting functionality. That is no longer the case with the introduction of Chit Chat for Facebook Web Messenger. The newest version of Chit Chat is leaner, faster, and simpler than ever before.
1. It is cross-platform Facebook web messaging tool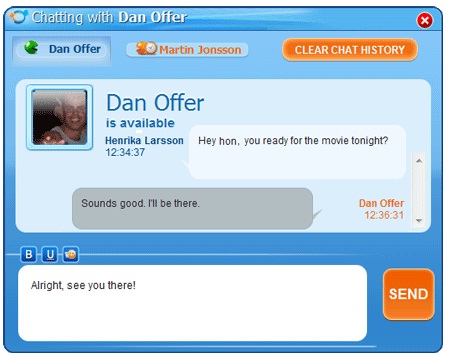 The most important feature of the browser version of Chit Chat is that it works in Mozilla Firefox, Google Chrome, Opera, and Chromium. This makes it a truly cross-platform application that can now run on any device that can accommodate one of these browsers. The cross browser, cross platform compatibility means that it is much easier for a user to sign on and chat from anywhere at any time.
You'll note a very conspicuous absence from the list of compatible browsers, namely Internet Explorer. Chit Chat doesn't currently support IE and while some may consider than a drawback, anyone who has ever tried to develop for the quirky IE knows just why it is absent from the Chit Chat repertoire. Besides that, IE has been rapidly losing market share to Chrome and Firefox. If you don't use one of those browsers already, this is a perfect time and reason to start.
2. Instant Messaging tabs are back in the form of buttons!
If you ask anyone who uses Chit Chat what they like about it, there are two responses that will be at the top of everyone's list. It is customizable and tabs. The Chit Chat tab interface has been a hit from day one, but it was the BlackBerry version of the application that took tabs to a whole new level. Tabs are simply buttons that list a buddy's name and are interactive. They blink when a friend sends you a message, change color if the friend goes offline, and open the chat window when clicked. You can even close a conversation by simply closing the tab. Keeping track of multiple conversations in Chit Chat is a breeze with tabs. The user interface is so simple that is just blends into the background, leaving you to focus on chatting.
3. Facebook chat customization has been streamlined and simplified
Chit Chat has always been known for its customization features and this version is no exception. In this version there are fewer options, but they are easier to access. You can set visual and audio alerts, hide status messages, enable transition effects, and customize the look of the buddy list. All of these are great customization options, but it would be nice if this version, like previous versions, allowed users to set font sizes and colors. It may not be the most practical feature, but it certainly made the experience personal and fun.
4. There is nothing to install – it's a portable Facebook chat web app
Chit Chat for Facebook Web Messenger runs in the browser, so there is nothing to download and nothing to install. This has two advantages, the first of which is that it keeps your hard drive clean. The second advantage is that you can use Chit Chat anywhere that you can access a browser. So you can use it at the library, at a coffee shop, or on a friend's computer without needing administrative access or asking for permission to install a file.
5. All you need is a Facebook account
If you have used other browser Facebook Chat applications like Meebo, you know that you have to sign up to their website before they let you use their software. It is irritating and somehow detracts from the concept of "free." With Chit Chat, all you need is a Facebook account. You sign in to Chit Chat the same way you would sign in to Facebook and it then it takes care of the rest. Clean, simple, and hassle-free.
6. You can clear the Facebook chat history easily
Clearing chat history on previous versions of Chit Chat was impossible. If you needed to clear it for some reason, you had to go to Facebook and navigate through its clunky chat application. The web version of Chit Chat has a simple button in the top right corner that lets you quickly clear your chat history.
7. It is only for Facebook
While some may take the more is better approach, with most of the world's population on Facebook it seems redundant and overly complicated to include multiple chat clients in a single interface. Digsby even lets you integrate your email into its interface. The clutter gets overwhelming and, as we said, everyone is one Facebook anyway, so why make life more complicated than it needs to be?
8. You can set your Facebook status online or offline from the interface
This may not seem like a big deal, but previous versions of Chit Chat lacked this feature. If you wanted to be "away," your only option was to sign out completely. Having the ability to click a button to change your online status is a nicety that goes a long way.
9. Emoticons are already incorporated

A range of emoticons is already included in the new version of Chit Chat, so you have everything you need for quick, effortless chatting. There is no need to download or install emoticon packages.
10. Friend groups are incorporated
Chit Chat for Facebook Web Messenger imports your friends list automatically, including friend groups. This may seem trivial, but having friend groups in the buddy list makes it easier to navigate and find friends. Previous versions of Chit Chat are known for their attention to details that make life a little easier, the Web version proudly carries on that tradition.
The new version of Chit Chat is a solid addition to the Chit Chat family. Despite a few missing customization options, it still ranks at the top of the list in usability, simplicity, and seamless functionality. Its cross-platform compatibility makes it the perfect solution for avid, on the go Facebook Chat aficionado.