Netflix Vs Hulu Vs Amazon Prime – which one is better?
Ever since there has been cord cutting Revolution which means decrease in number of TV subscriptions and increase in online streaming services, users has been in dilemma as to which one is more better. There are fairly good things in each of the streaming websites but widely three of the most popular streaming services at present is Amazon Prime, Hulu and Netflix. All 3 have various things in common like some of the media content, high quality videos, paid subscription with zero ads etc.
Even though there are various similarities in the catalogues, virtual experience, subscription fees etc differs in each of them. Viewers can chose among any of them based upon various criterias. To make your choice much more easier we bring up to you the detailed analyses of what is good and bad in each and which among the three is best.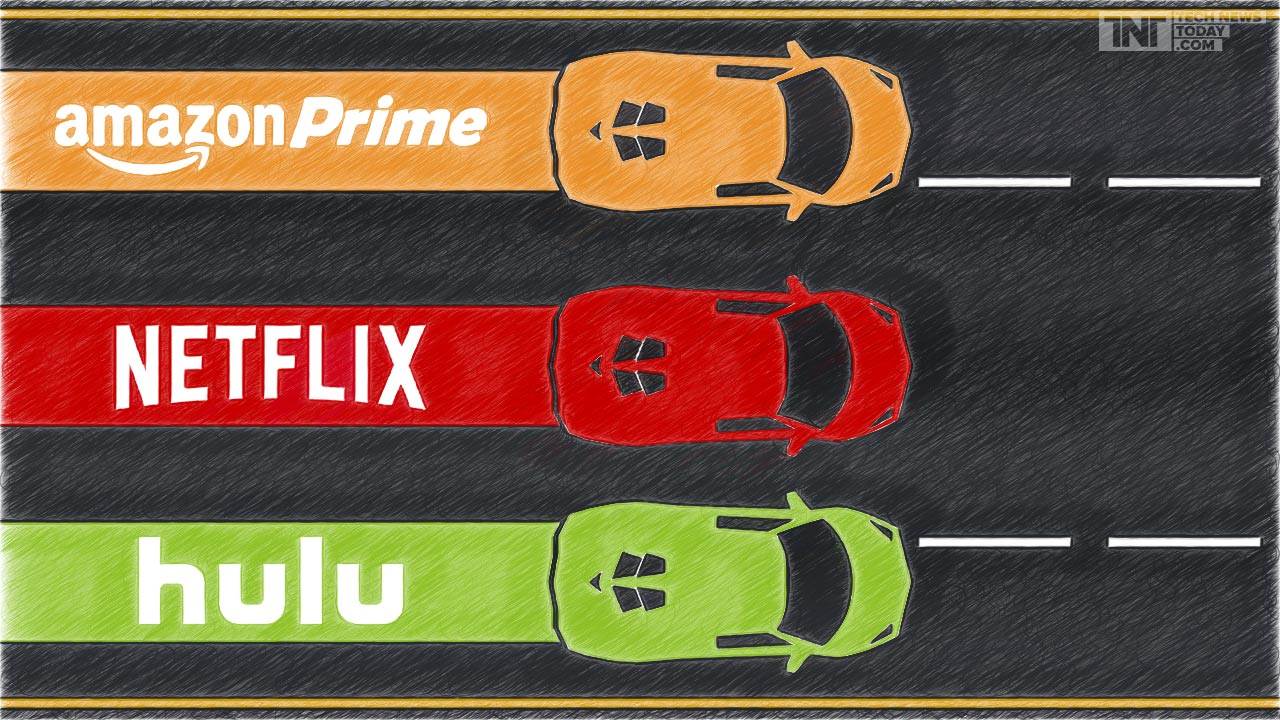 Netflix is among the pioneers of online steaming services present all over the world. With so many titles, High quality videos and original shows and programs, Netflix has garnered huge popularity among its viewers. Netflix does offer three plans for its viewers which starts from $7.99 per month to $11.99 per month based on the devices you want to simultaneously streamline and the video quality.  Users can view their shows and movies on all devices like laptop, mobile phones, Smart TVs, tablets etc.
Goods
Netflix offers users variety of Original programs which user can find nowhere else.
There are descriptions in most of the shows so that if you skip any word or sentence you are sorted.
Being compatible with Android, IOs and Windows the steaming is rather smooth.
Bads
The ongoing shows seasons on Netflix are not the latest one.
The media content is changed quite frequently making it difficult to watch them at our own time.
Watch for: – Do watch Netflix for all the genres and titles and getting the best and biggest Media content.
The best alternative to Netflix a user can get is Hulu. While Netflix focuses more on media titles across each genre but provides a year back seasons, Hulu focuses more on recent episodes and seasons. Hulu provides a week free trial to users to know about its services as compared to one-month free trial by Netflix.  The subscription plan starts with $7.99 with ads and if users want no ads can have subscription plan of $11.99. As compared to Netflix which can stream up to 4 devices, Hulu let you stream on only 1 device at a time.
Goods
Hulu provides latest/recent episodes of currently popular TV shows along with the older seasons as well.
The media content offers wide variety of genres and categories and language to choose from.
The episodes are very much recent where some of them are available after the day they come on air (On television.)
Bads
There are no audio descriptions of the shows available on Hulu.
Hulu at present is only available to users residing in U.S.; outside U.S users cannot view it.
Watch for: – US Viewers who are diehard fans of their popular TV shows can watch them on Hulu as soon as they release on TV.
Being an E Commerce Player to online streaming Services, Amazon has surely made itself a niche in this industry. With lots of curated media available for the users, Amazon Prime is getting wide acceptance all over the world. With 30 days of Trial premium plan, users can get benefit of all the additional features. Amazon Prime offers two plans – Monthly Subscription at $10.99 and Annual subscription at $99 making it to $8.99 per month. With certain addition fees, users can get hold to channels like HBO and Showtime.
Goods
Users having Amazon Prime subscription get to access the Prime videos for free.
There is two days shipping free on the items purchased on Amazon.
Users can download and save the Shows and Movies to watch on later purpose.
Bads
Users get confused as to which content is free to watch and which costs extra to them.
If you are travelling outside U.S, you would not be able to view all the content.
Watch For: – Users having Prime membership can get the maximum benefit.
Which one is best among Netflix, Amazon Prime and Hulu?
All the three have their own advantages and disadvantages and they excel in some of them.
Netflix wins hands down for their curated movie collection. It is best for original content and wide array of genres and categories to choose from.
Hulu wins in terms of being great alternative to cable TV as it brings don all the latest episodes as soon as they get air.
Amazon prime wins if you are an avid Amazon shopper. Also its integration with IMDb is very useful.
Bottomline
Being the pioneer, Netflix is still preferred by many. But Hulu and Amazon Prime provide several amazing features which the users have attracted. It definitely depends on user's choice as to what they want to watch. All 3 provide best of media library but differ upon the original programming and content.