Racing into the future: autonomous cars and what drives them
The race to bring self-driving cars to our streets is a combination of motor manufacturing know-how and artificial intelligence. Google, Tesla, Ford, Audi, Uber, and Didi Chuxing are leading the race, butwhich company will win?
Clogged urban streets during rush-hour have created an urgency to reduce the volume of cars and the emissions they produce. While Elon Musk has changed the world's opinion on electric vehicles with the various Tesla models – driving other manufacturers to follow suit, thus reducing some of the carbon footprint – there are still too many cars on the road. This trendis set to increase unless things change drastically, that said…enter the autonomous vehicle.
The concept of a self-driving car is not new, companies like Chrysler experimented with the idea in the 1950s,but what was missing from the mix was the technology to mobilize it. Now, with a combination of artificial intelligence and machine learning, various autopilot models are being developed and refined. They vary from Google's very effective, but expensive use of Lidar, to Tesla's use of Nvidia's on-board Drive PX computer system and its powerful chipset.
It's Not Just about the Car
Also involved in this race are the cities which need to improve mobility. Smarter cities are using Internet of Things (IOT) capabilities to facilitate navigation for cars and citizens. One of the key disruptors is a traffic management system that depends on connected cars, called  VANET (vehicular ad-hoc network). The cars relay information to each other and to a central control, advising of current conditions which enables optimal traffic flow. Detroit received $36 million in funding to install 350 miles of sensors for a VANET, of which roughly 50% is currently in place. They monitor and gather information about driver speed and behavior as well as location, among other data. As the traditional home of the motor industry and subject to weather extremes, Detroit is an obvious site to carry out experimentation and tests. Ford, GM and Toyota, among others, have been using a special 32-acre test site in Ann Arbor called "MCity" for testing their vehicles.
Other applications inform citizens of bus scheduling and when the next bus will arrive at their stop. There are also parking systems that minimise wait time and driving around to find a parking spot. Most of these systems are tailored to the needs of the city in question, and custom software development is required for the platforms and applications that support these activities, from vendors with a good background in IoT.
Catching up with the Rest of the World: the DOT's Challenge
At the close of 2015, the US Department of Transportation (DOT) announced a grand prize of $40 million in the Smart City Challenge, an initiative to improve mobility in America's cities and around the country. Faced with a decaying road infrastructure that is unaffordable to maintain, the DOT is looking for answers from the private sector. In their research paper, 'The Blue Paper' they portray a bleak scenario in the US by 2045, mainly because warning signs have been ignored and action has not been taken, unlike in Asia and Europe. It is predicted that the US population will be 390 million by 2045. This growth in population is echoed by a concomitant growth in road traffic, as shown in the graphic below.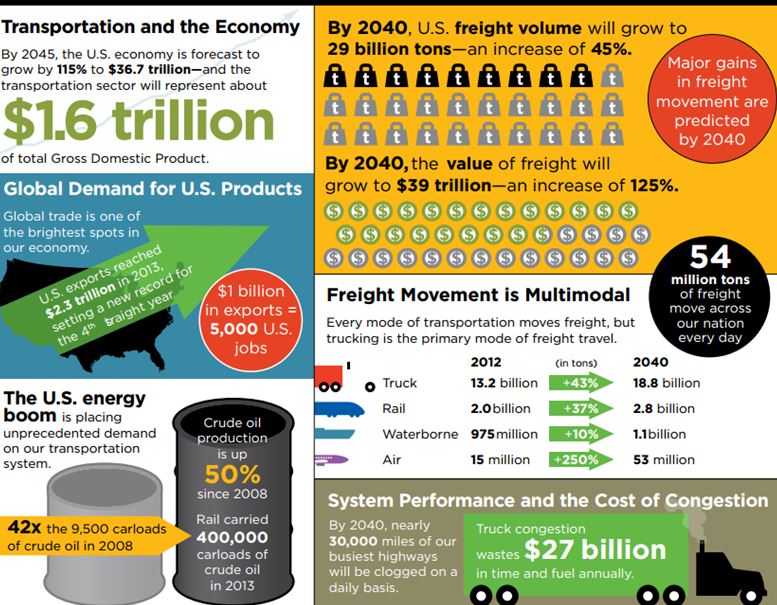 Predicted freight volume in 2045, based on current practices – extract from 'The Blue Paper',(America's transportation system is a fossil in 2045), US Department of Transportation, 2015, p26) .
The 7 finalists in the competition which spanned 78 US cities were: Austin, Texas, Columbus, Ohio, Denver, Colorado, Kansas City, Missouri, Pittsburgh, Pennsylvania, Portland, Oregon and San Francisco. The outright winner was Columbus, and although the other finalists did not win the big pot, they were each given $100,000 to take their ideas further. Additional prizes were awarded by other stakeholders, such as Mobileye, the company that developed Tesla's Autopilot (but have recently had a fallout with Elon Musk, following the fatal accident that occurred in a Tesla on Autopilot).
Some of the car companies have teamed up with the cities, like Uber and Pittsburgh.  Citizens of Austin have seen a Waymo (Google's self-drive car) take to the roads. The driver,  SteveMahan,is legally blind and described the exhilarating feeling of independence and the possibilities the car offered for citizens with poor or no vision.
How Far are we from Reality?
The approach to developing the technology varies among the competitors. Some companies, are focused on perfection; Tesla is already ahead of the pack, as it focuses oneducating its software. The Autopilot, developed by Mobileye, is installed in Teslas that are already owned and driven by their owners. What the Autopilots are doing is learning and relaying what they have learnt throughout the network. This is deep learning at its best, being done in the field.
Are we going to be sitting in driverless cars any day now? Well…maybe not. Will Knight, writing for MIT, describes his experience behind the wheel of a Google car in Pittsburgh. While sitting in traffic on a bridge, he noticed the engineer next to him getting nervous. Suddenly the car started turning into the oncoming lane, and the engineer yelled at him to take control of the wheel.
Looks like we are not quite there yet, but there are many contenders trying to beat the rest.
The Main Contenders
With all the hype surrounding the new entrants to the autonomous car market, you would suppose that the leaders in this space would be Uber, Google and possibly DidiChuxing, which has Apple's backing and a billion-dollar investment. This is where journalism can be misleading. Most of the reporting is about these businesses because they are the companies that provoke the most interest. With more digging, you'll soon find that reality is quite different. Navigant, a research company that focuses on Energy, utilities and the built environment, also has a transportation section. In their Q2 2017 Leaderboard Report, they reveal that the leaders and main contenders for the autonomous driving crown are mainly motor manufacturers. The top six organizations are:
Ford
GM
Renault-Nissan Alliance
Daimler
Volkswagen Group
BMW
Followed by Google's autonomous car brand:
Waymo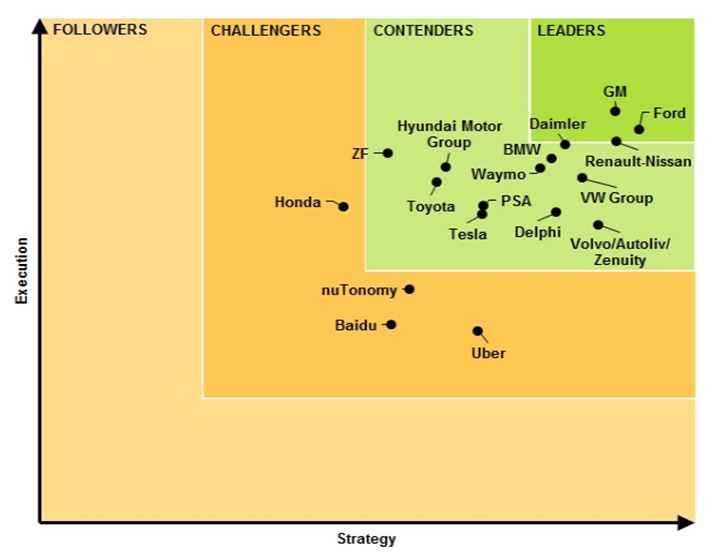 Navigant Leaderboard for Automated Driving, extract from "Navigant Research Leaderboard Report: Automated Driving", issued Q2 2017
The autonomous vehicle race does not show any signs of slowing down. While all the media is awash with articles on self-driving cars, the real work is probably happening around self-driving trucks. Industry 4.0 is driving this change. Expect to see logging companies, mines and large plants adopting self-drive trucks very soon. However, the need for long-haul vehicles is also keen. Daimler have a long-haul vehicle on the road already. There is also great demand for self-drive buses and vans in urban environments, but the complexity of navigating around a city centre may be a bit beyond the current generation of vehicles. What is certain is that in five to ten years' time, self-drive vehicles will become common and unremarkable occurrences in our daily lives.