30 Free Business Themes for WordPress
Being online is the new and thing and whether you are a professional, a student or a work-at-home guy, you need to have internet. The thing about internet these days is that there are various ways for you to express yourself and that is all the more better if you are a professional and trying to establish your business. Things have become so easy for you; that's how interactive internet is. Most of us here, we have our personal blogs or some kind of presence in form a website.
Building a website requires a lot of knowledge but things are becoming really easy. You don't need to be a professional website developer in order to play with the templates that we have in store for you if you read this list. This particular list is especially useful if you are actually running a small business or are planning to start one. Saving you the trouble of lurking online, we came up with a list of 30 free business themes for wordpress that you can try. Enjoy the read and let us know what you think.
ZENSHOP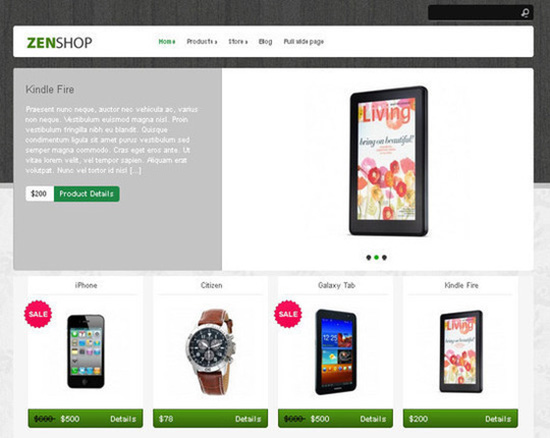 This is another minimalistic theme but it still has a lot to offer. Minimal design is the new thing these days and it is easy on the eyes and looks professional as well. It supports WP 3 features and it has many options for the page etc. The theme is best if you are selling specific products.
TOOMMOREL LITE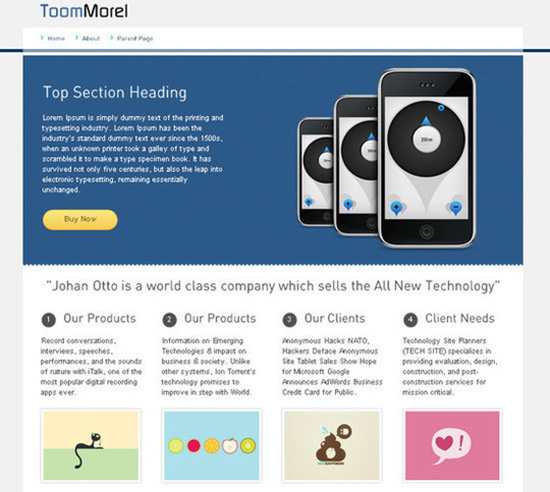 If you are looking for a theme that is easy to use and customize look no further. This is just the theme for you. It is easy to use and set up and it is minimal desing with the minimum use of colors. It looks highly professional and  you can ready your website in a few clicks.
HERO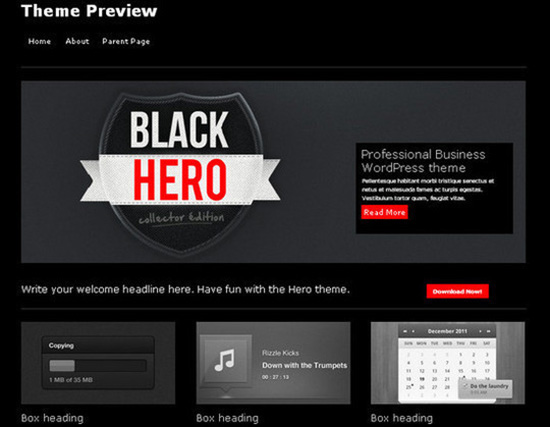 While many wouldn't go for a black theme, few would and for those of you we present the theme called Hero. It has blacks and gray as the main theme with touches of red. All these colors complement each other perfectly and you have various theme options to customize the site as per your wishes.
GOLDEN EAGLE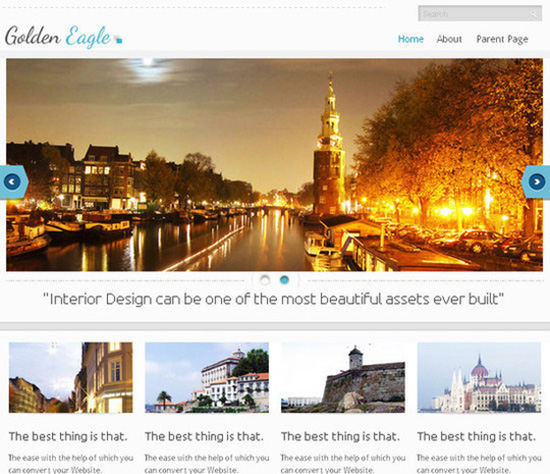 This is a very simple looking theme yet at the same it time it is quite classy and eye-catching. You have many customization options available to you that you can play around with including changing the background and intro texts etc. The theme is very easy to you use and set up. You shouldn't have any problems.
UNSTANDARD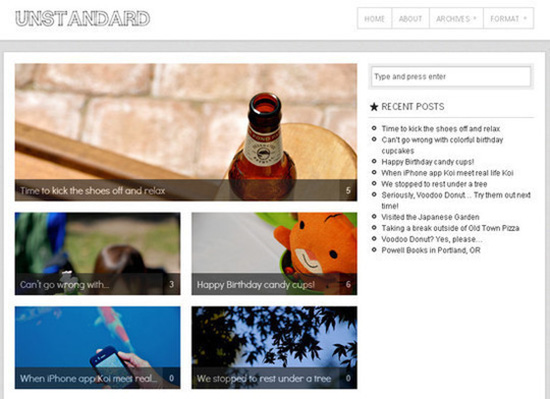 This is a two-column wordpress theme which has three different zones for widgets. The current version is at 2.0 and it is compatible with the latest wordpress. You have various customization options and the setup is fairly easy too. The theme itself is very neat and clean looking; highly professional.
COLOURISE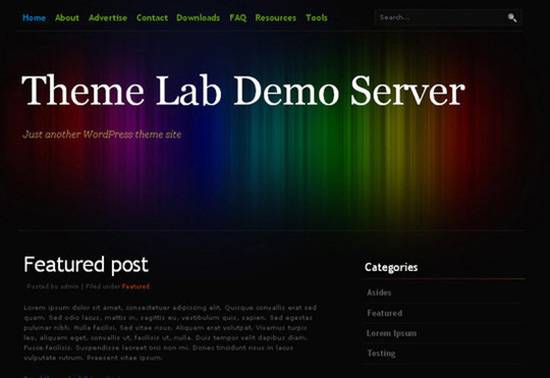 This is a dark-ish theme even though the title says colourise. You have two columns and many customization options. Nonetheless, the theme does look very professional and neat. You should be able to find many variants of this on the internet but to get you started, try clicking on the above links.
DESIGNUM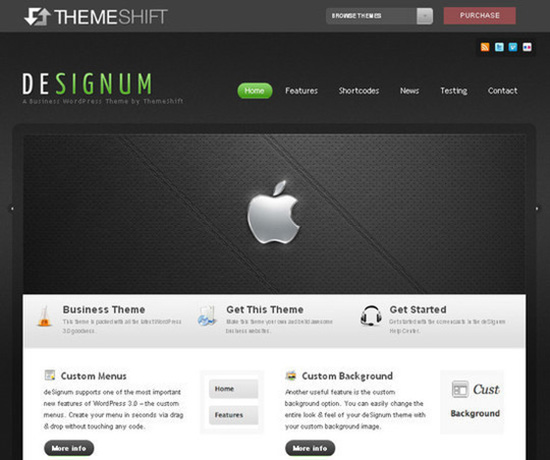 This is one of the more complex wordpress themes. It is easy to set up but it will take a little getting used to for you to be quick around this theme. It comes compatible with the WordPress 3. It has four different color schemes and many different shortcodes to help you out along the way. There are many features on this template waiting to be explored.
CHAMELEON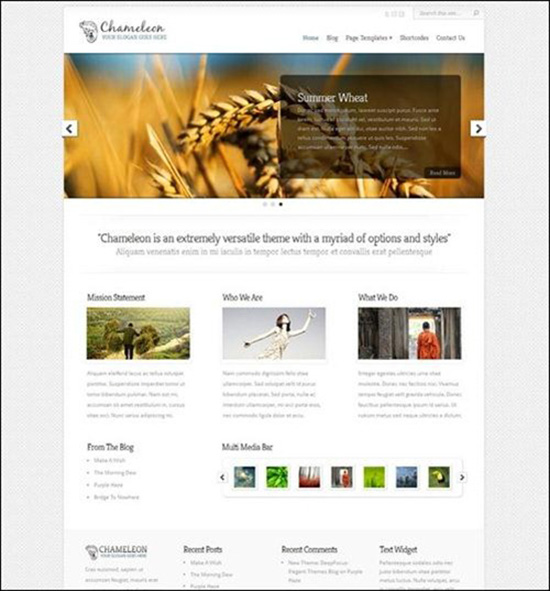 There are many patterns and color combinations for this theme that you can apply and that is exactly why it is called Chameleon. It is not complicated and the theme looks very professional with loads of customization options. You do not need to be a web expert in order to work around this template; definitely one of the better choices for a business theme.
ZEESYNERGIE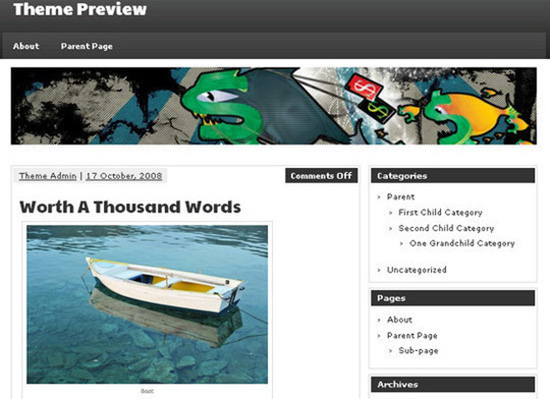 This theme has two columns. It is elegant and a very simple template. If you are running a small blog or a business website, this theme should fit in quite nicely. You have a very comprehensive theme options panel to play with and it comes with nine different color schemes.
TARGET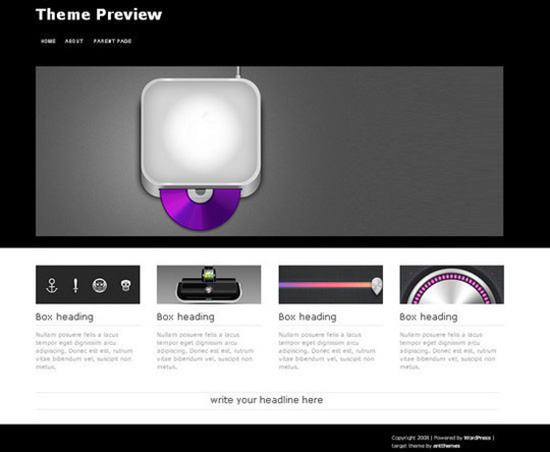 This is another theme with the main colors as black and white. It is very neat and simple looking theme. It supports various different widgets and you have a lot of theme options to play around with. You have multi-level drop down menus that you can implement on top of which the font selections are pretty tidy.
SQUIRREL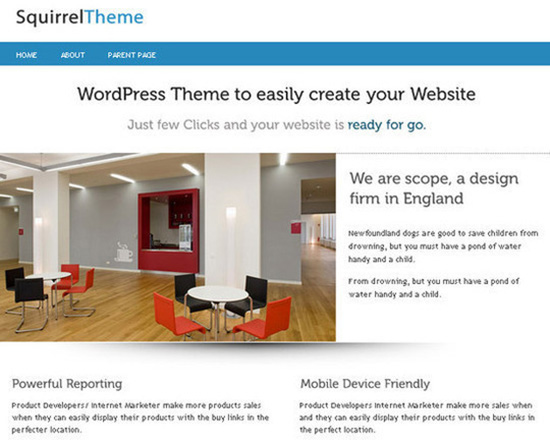 This particular template was built using the Squirrel theme. It is very easy to build upon and very simple in design too. The content stands out which is exactly what one expects from a theme generally. You have many theme options to play around with. You can literally change the entire look of theme in a matter of minutes.
BLUE DIAMOND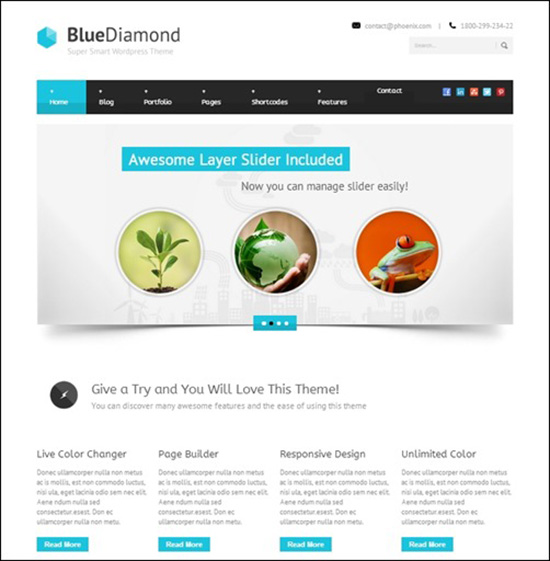 This is a premium wordpress theme. It is very clean and the style is minimalistic. The overall design looks very modern. The theme comes with a feature called 'layer slider' using which you should be able to manage slider elements by simply dragging and dropping. There are many elements of theme that you can control to give it a personal touch.
ONE TOUCH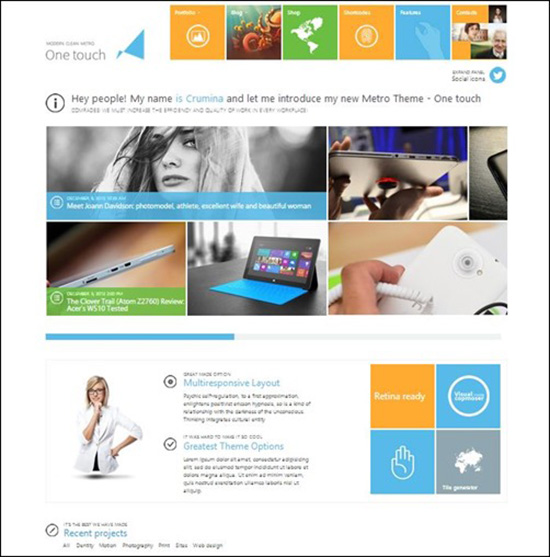 You must be familiar with the Metro UI. This particular template is based on the Metro UI and it comes with three different layout options. It should work for any business website which is exactly the beauty of a Metro UI. You have a lot of shortcodes to play with and a lot of theme options to customize the theme all you want.
VULCAN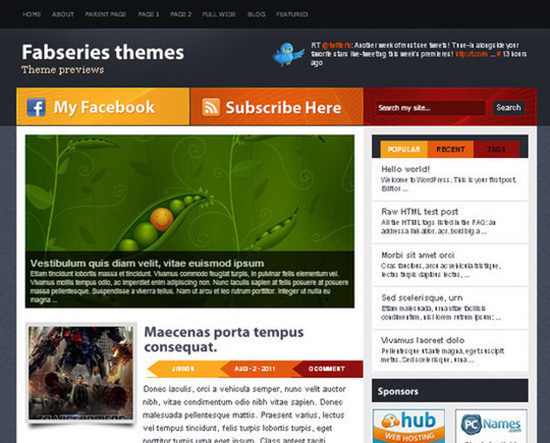 This particular theme is from Fabseries as can be seen in the screenshot. The theme is very colorful and the combinations go along with each other really well. The theme comes with a jQuery slider and WP 3 features incorporated. It also offers plenty of customization offers.
WESTERN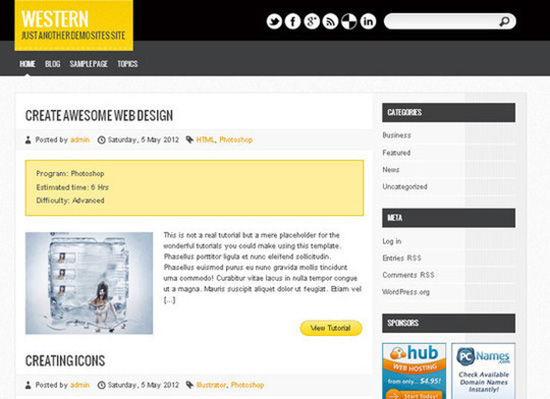 This is a premium theme which is most suitable if you are operating a website that has tutorials. This particular theme is pretty much all you need if you own a website like that and are looking for a slightly professional theme. It has many customization options and it comes with features like custom posts, menus, taxonomy, metaboxes and various theme options.
YASMIN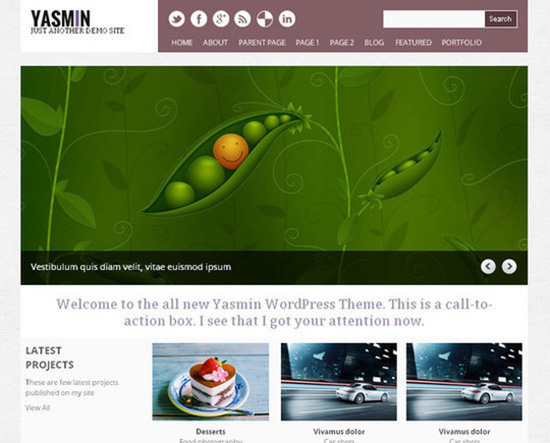 This is responsive wordpress theme which means that the theme will adjust itself depending on what screen size the website is opened on but we are certain you are already familiar with the concept. The theme itself is very simple and light on top of which it is easy to use and set up too.
POLITICA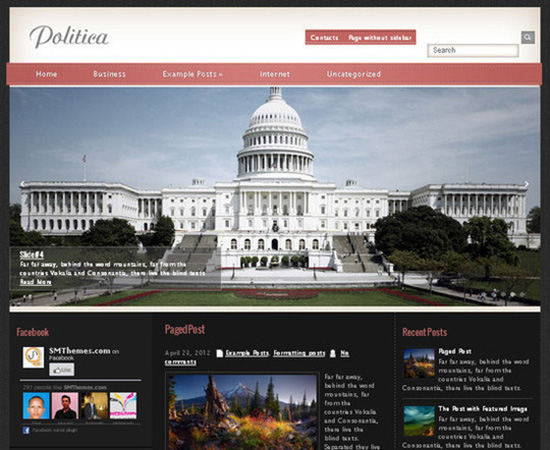 This is one powerful theme and one of the more awesome choices if you are looking to posts news and stuff like that. The interface is very clean and easy to work your way around. The admin options are very easy to use and there are many custom widgets that you can use as well.
PITCH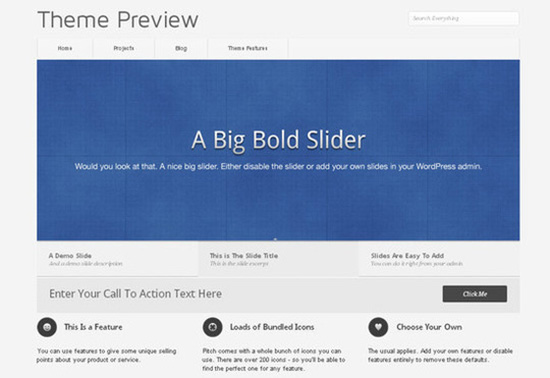 This is one of the more simple themes available out there. It is neat, clean, minimalistic and at the same time it ends up being quite professional-looking as well. It uses custom posts too and that makes the addition of content very easy for writers. You also a have a bold slider if you are looking to focus on a particular post.
HELIUMIFIED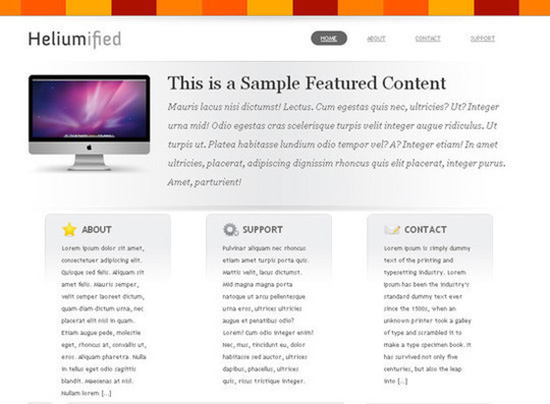 This is a very clean design. You have many features that you can play around with. It is compatible with WordPress 3.0. The theme offers to choose from five different color schemes that are available to you at all times. You have custom colors too if you are looking for something different and tons of other features.
BUSINESS LITE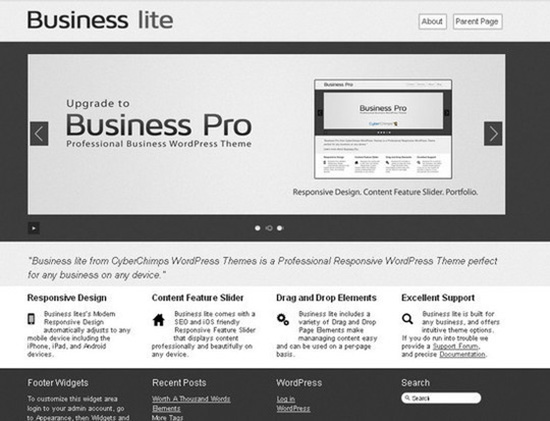 This is a very light theme which makes it way here from CyberChimps WordPress Themes. It is very professional and as with most themes these days, this one too is responsive. It is perfect if you are looking for light and simple business theme and perhaps very appropriate if you are running a small business.
COMPOSITE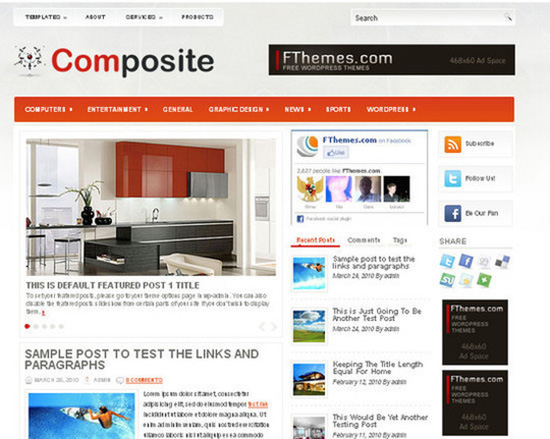 If you are operating or looking to operate a news or magazine blog, this particular theme is more than just perfect with the option of featured content and everything. You can also post thumbnails with the posts and it comes with many other options as well.
ONLINE MARKETER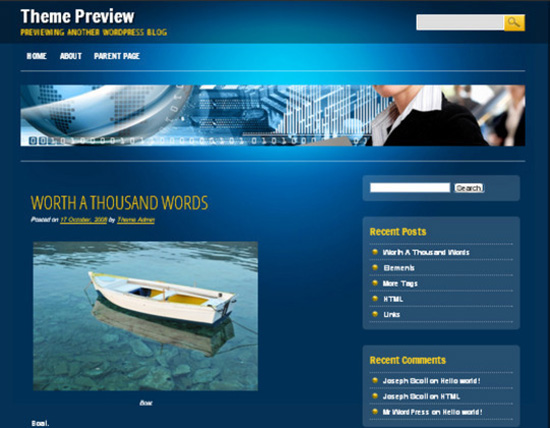 If you are looking for a highly business-oriented WordPress theme then this one should be perfect for you. The design is very simple and neat looking. It comes with a full-width template which is included for static content pages.
CREATIVIX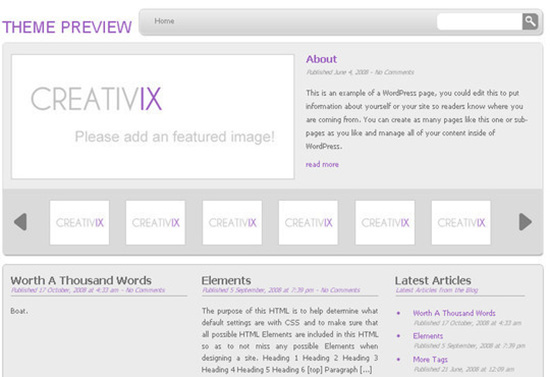 This particular template is very modern looking with very neat typography as well. This is a business and portfolio theme offering a high number of options for you to customize the theme according to your on needs.
ZEEBIZZCARD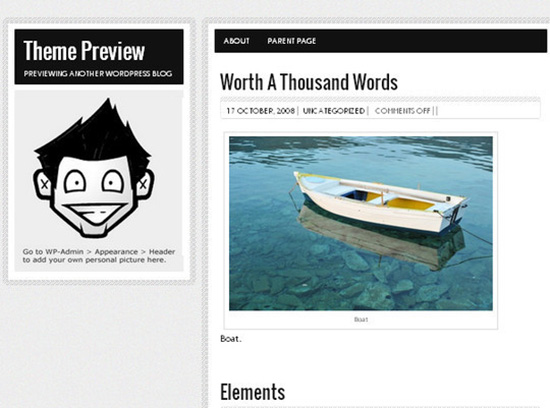 The template might look funny if you look at the picture but it is actually really good. One of the more clean and elegant designs that I have comes across. If you are a freelancer, entrepreneur or are running a small business then click on the demo above.
D5 BUSINESS LINE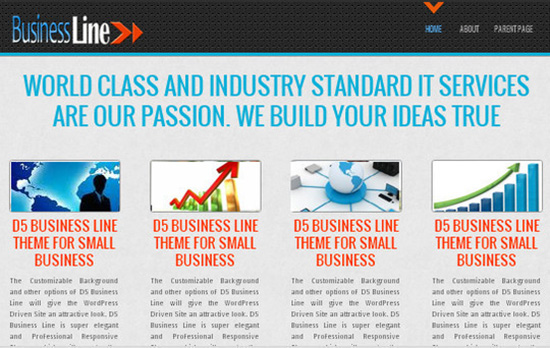 If you are running a small business or planning to start a small venture then look no further. Try this theme out because chances are it will fit your needs perfectly. You can customize the background and a lot of other customizations are available a mouse-click away.
SMARTBIZ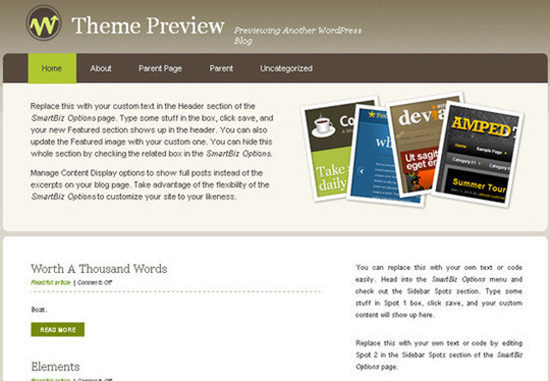 This is one of the more professional themes out there and it comes from GetBusinessBlog. It is highly appropriate for corporate business websites and blogs. The website is already optimized for search engines and is widget-ready. You can customize the theme in minutes and get working.
FIGERO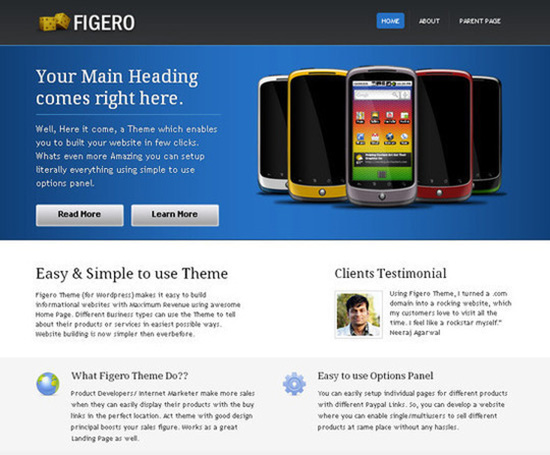 If you have a small business or a service-related business this website is appropriate for you. You have many simple and easy to use theme options allowing you customize the website according to your needs. You can configure pretty much everything on the website. The design is fairly modern too.
RESPONSIVE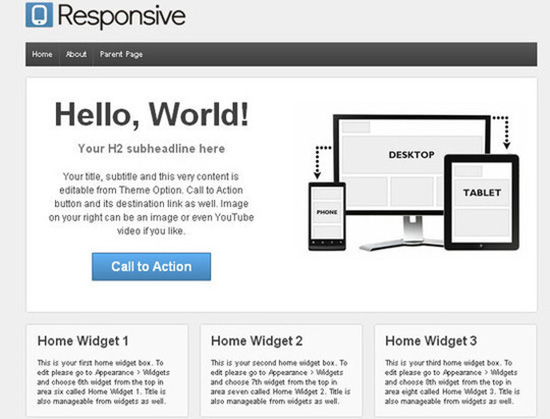 According to the website, 'Responsive Theme is a flexible foundation with fluid grid system that adapts your website to mobile devices and the desktop or any other viewing environment. Theme features 9 Page Templates, 11 Widget Areas, 6 Template Layouts, 4 Menu Positions and more. Powerful but simple Theme Options for full CMS control with easy Logo Upload, Social Networking and Webmaster Tools etc.'
MENDELEVIUMOID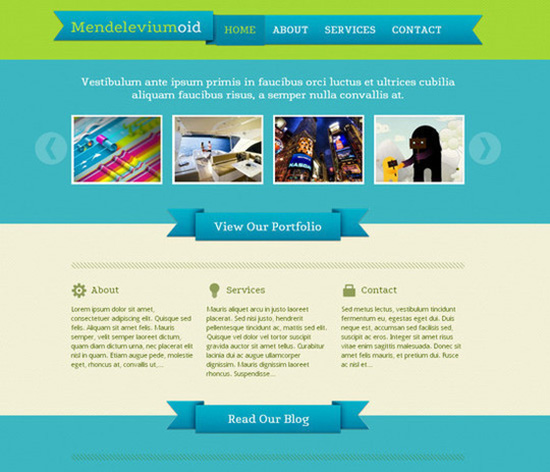 As you can see this theme boasts striking and vibrant colors. The best part is the colors complement each other very nicely and they are easy on the eyes too. You have stylish header menus, subtle textures and custom typography too which makes the theme really pretty and actually really professional too.
FINANCEMAG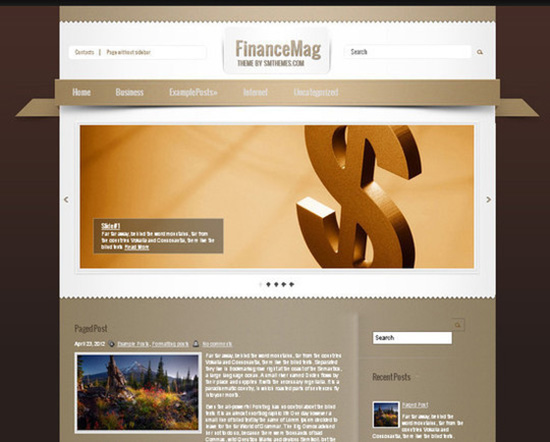 This is another clean wordpress theme. The main colors of this theme are shades of brown which actually look quite brilliant. You have many built-in features in order to set the website up according to your needs. If you are running a business, this one should do very well.