Top 15 Web Design Trends of 2012
Internet technology and design industry have seen constant evolution ever since their inception. By the year 2011, we all have seen positive growth in the design industry; not only this, learning web designing has also become a lot easier thanks to all the information available over the internet and in libraries. Today, we will be discussing a few designs which have gained popularity in 2011 and are becoming the trendiest web designs of 2012. These trends have introduced and include some great new design techniques and they have been playing a great role in designing trendiest websites. Also, implementing these features is not a big deal because they are easy to understand with less complex coding.
Top 15 Web Design Trends of 2012
Responsive User interface designs
The most important thing to consider while designing is a comfortable user's experience. When you are designing a website, you definitely want elements in your website to respond quickly to user's action. Apart from this, nowadays, websites contains pop-up windows, notification boxes, drop down boxes and a lot of other stuff like this. Thanks to the latest trends and introduction of new technology, including JavaScript libraries is not a difficult task and implementing these animated features has become a lot easier and quicker. The best thing is that all latest and famous browsers support this coding. Apart from this they demean on unavailability of the scripts. At the end of the day, your ultimate goal should be to make the user comfortable while using your website.
Apart from this registration process has been made a lot easier. Earlier, you had to submit entire content to find out if there is an issue in submitting. Nowadays, automated checking is being implemented for important fields so there are no fake email addresses, replica names and incorrect passwords. This actually saves a lot of time on user's end.
Smartphones and touchscreen mobile devices
It has been some time now that smartphones are being used as an alternate to desktop and people prefer browsing over the internet. By the year 2011, designers realized that it is important to have a separate mobile interface and this is exactly why 2011 and 2012 have been flooded with mobile sites. Apart from smartphones, we all know how popular iPhone and Android has become. This has obviously increased the 'touch command' interaction. You can either go for responsive designing and convert your current web design into a mobile one or you can create a separate mobile design altogether which is normally suggested because it gives the best results. Make sure with your design, users are able to tap, drag, flick, pinch, spread, press and what not.
We all love free downloads don't we? It has been years since web designers have been sharing their  content for others to benefit from it but according to the latest trend, digital artists have been doing the same. They have been providing wonderful freebies for web designers to benefit from. Websites such as Download PSD are updated almost daily with amazing freebies for web designers. You can get free interfaces, logos, banners a lot of other relevant stuff.
HTML5 & CSS3
These archetypes have gained a lot of popularity in 2011 and it is still increasing. I can also predict that these archetypes are here to stay. HTML5 and CSS3 will have an enormous future in the web development world. In order to learn these more, you should experiment daily instead of following the same trends set already. These new standard will also ease up things with JaveScript and JQuery.
Usage of Ribbons and Banners
This trend has been around for quite some time now but it has gained popularity recently. We all see ribbon designed banners, badges and ribbon navigation bars. You can find plenty of tutorials over the internet to learn how to design these ribbons. Since blogging is the latest trend, designers can actually benefit from these designs and make their blog look great.
Premium WordPress Themes
The final version of WordPress 3.0 included some great and much awaited features. You can have customized post types and a lot of other stuff but the best thing WordPress has offered is Premium WordPress Themes. All you have to do is purchase your favorite theme and install it. Installation is not at all difficult. In 2012 we have seen immense improvement in WordPress and things have become a lot easier. Apart from getting a Premium theme, you can include customized plug-in functionality, menus and a lot of other stuff.
This has been one of the most popular trends on 2011 and still continues to gain popularity in 2012. These online magazines are somewhat similar to the blogs of Wrodpress but the layout is a little different. It would not be wrong to say that we have seen a lot more online magazine being launched recently in comparison to print magazines. This trend is going to go a long way and a lot of writers can benefit from it as well.
Popular drop shadows
Thanks to CSS3, implementing drop shadows has become much easier. The box styles have prominent shadow effects and they look great. The text shadow syntax is not at all difficult to memorize. You can also find the coding online and such styles can be implemented into your website.
Fonts play an important role in web designing and since ever, we have been seeing typical times new roman, Arial, Georgia and other fonts alike. Although they are still very popular but now there is a lot of variety available as far as fonts is concerned. Typekit is very helpful because it only requires a few lines of coding included in your document head. Once you are done with coding, you can select a few fonts names and include them into CSS.
Slideshows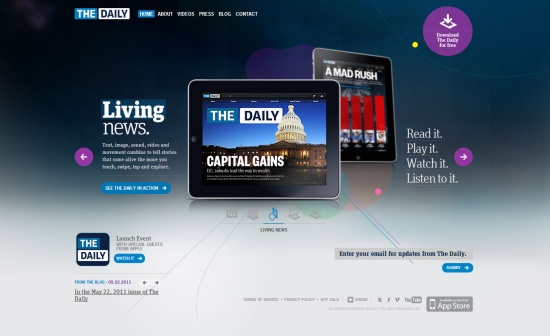 Lately, I have seen a lot of famous websites following the trend of image slideshows. Viewing images was never that easy and the best part is that constructing these slideshows is a lot easier as well. I am pretty confident that this trend is just going to takeover in 2012.
Pop-up boxes
Model pop-up boxes have existed is desktop softwares and mobile apps since a lot number of years yet they can considered somewhat new when it comes to the internet world. These boxes are basically used for login functionality where you can login from these boxes and you will not have to load a separate new page.
Collection of lists
This feature has been present ever since the inception of web designing but it has become a lot of popular in recent days. They are being used on frequent basis and in 2012 we expect a lot of creativity in inspirational lists.
Image thumbnails
We all know and it has been said many times that content is the most important thing for any website. However, plain content get very boring due to which images are added. Proper incorporation of images into your web page can definitely add that missing spice. If you do not want to use big images on your page you can simple use image thumbnails. Blogs and many popular websites are following this trend
We can definitely give some credit to Mac for making gigantic icons popular. After Mac, this trend is seen in iOS as well which is helping in increasing popularity. Up till now, this has been one of the most favorite trends but let' see if it remains popular or not.
Hyperlinks
Anchor links are an important part of any website. Their popularity is always growing with the passage of time. They still continue to be one of the most favorite trends in 2012.
Conclusion
These are not all the popular trends of 2012 but only a few. I am sure we have a lot more to see in the coming months.