Breathtaking Visions of Earth Photos From National Geographic
National Geographic take some of most amazing photography related to vision of Earth. Editor picked photos and added in vision of Earth collection; this showcase consists of the best nature images from around the world and collected top 30 picks from last few years of Vision of Earth.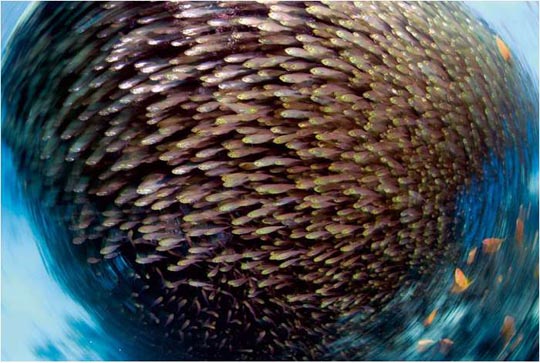 Gulf of Aqaba – Surrounded by thousands of golden sweepers, photographer Magnus Lundgren spun his camera to capture this shifting school off Elat, Israel. After 200 tries he got it: a whirlpool of four-inch fish. (Magnus Lundgren)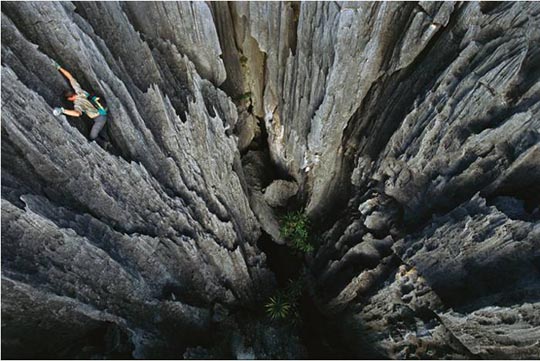 Bemaraha National Park, Madagascar – Rocks turned to razors, eroded limestone pinnacles rise 300-plus feet (91.4 meters) from the forest floor of this park—challenging researchers who study the island's rare and endangered species. (Olivier Grunewald)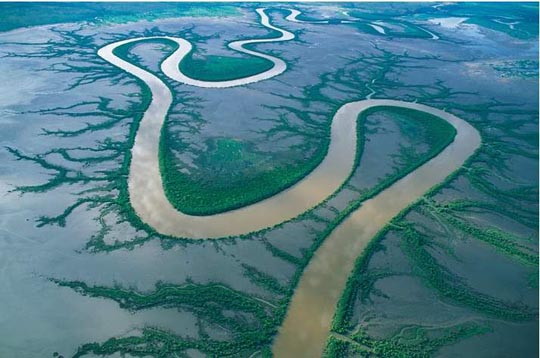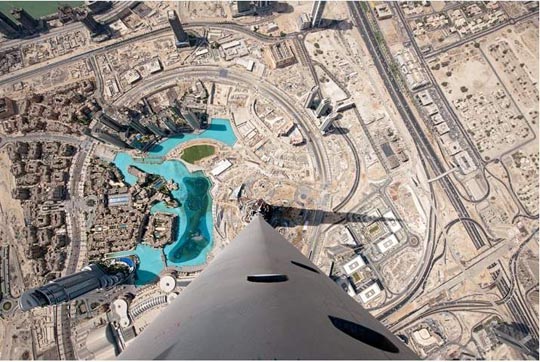 United Arab Emirates—From the top of the world's tallest building—the 164-story, 2,717-foot Burj Khalifa—an economic history of Dubai is visible. Dense development reflects the recent boom; open spaces are remnants of an earlier era.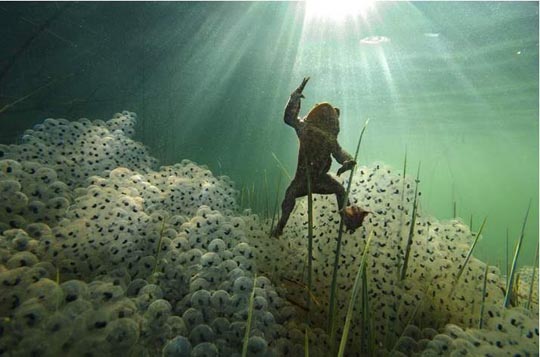 Late afternoon finds the shallows of Lac de la Motte awash in amphibian life. As a mature common toad ascends to the sunlit surface, a clutch of frog eggs—set to hatch in a few days—piles the reed-lined bottom.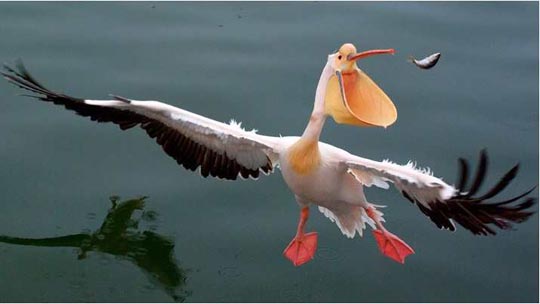 Its bright pouch agape and two-tone wings spanning perhaps ten feet, a great white pelican in Walvis Bay sets its sights on a fish breakfast. These migratory birds are found in Africa, Asia, and Europe.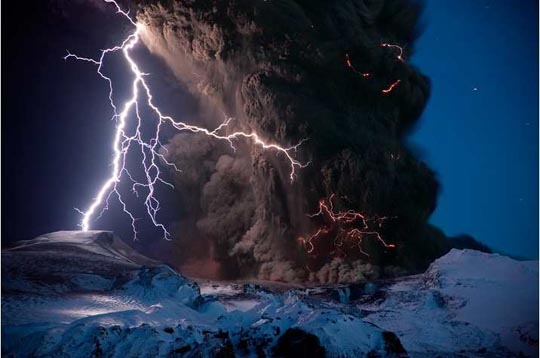 Lightning veins the Eyjafjallajökull volcano's ash plume, which roiled air travel this spring. Such "dirty thunderstorms" may occur when rock and ice particles loosed by exploding magma collide in the atmosphere.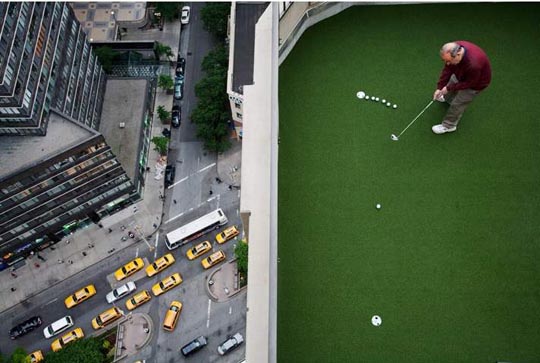 Big city, short game: Resident Charlie Bernhaut works on his stroke 34 stories above 63rd and Broadway, on his condominium's 18-by-32-foot putting green—one of several now lining rooftops in Manhattan.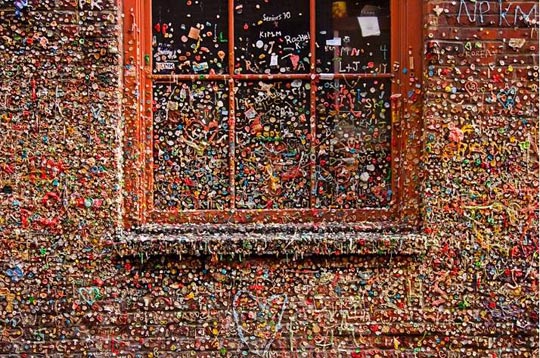 Over the past 17 years a decidedly sticky situation has developed in Seattle's Post Alley, where countless colorful wads—pressed down with coins or used to spell out names and places—form the "gum wall."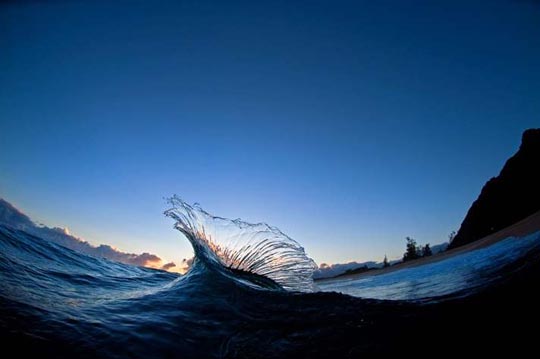 Like a glass sculpture forged in the Pacific's eternal churn, a four-foot-tall backwash splash—the result of two waves colliding in the shallows near Kaena Point on Oahu, Hawaii—refracts the saturated glow of dawn.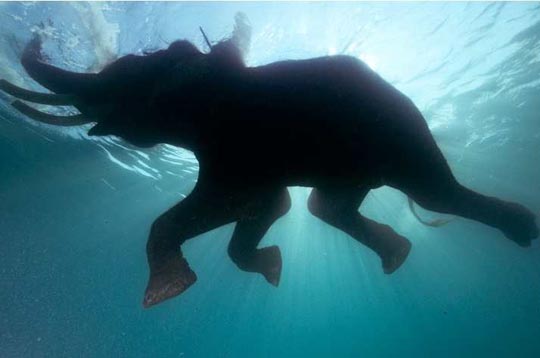 Silhouetted in the Andaman Sea, a 60-year-old elephant named Rajan—here with his handler, Nasru—takes a morning dip in the warm waters. The now retired pachyderm hauled timber in the Andaman Islands for 30 years.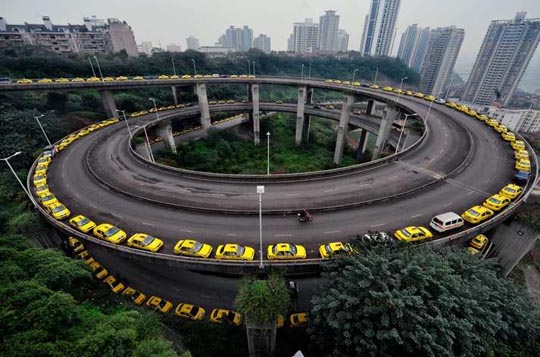 Vehicles form a line for natural gas on a spiral bridge in Chongqing. Supplies of the fuel were diverted to snowed-in northern China last November, sparking a shortage in the central and eastern provinces.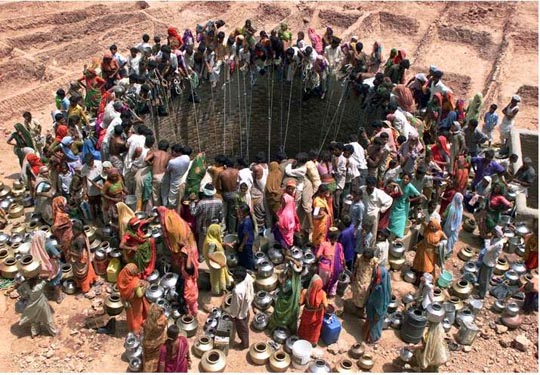 Parched people mob a vast well in the village of Natwargadh, Gujarat. In this drought-prone western state, yearly monsoon rains can total less than eight inches, and summer temperatures have topped 115°F.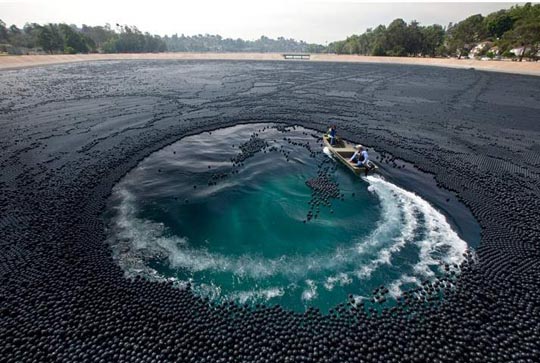 In 2007 high levels of bromate—a carcinogen formed when bromide and chlorine react with sunlight—were found in Los Angeles's Ivanhoe Reservoir. Today three million black plastic balls help deflect UV rays.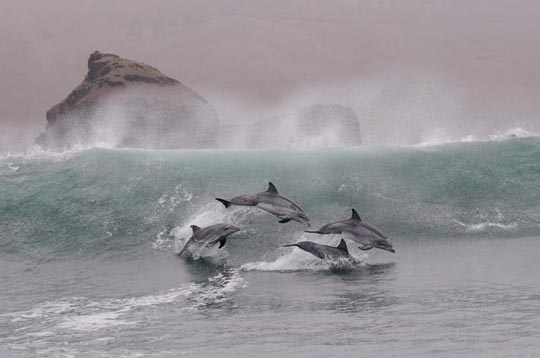 Forty miles southeast of Lima, against a winter tableau of wave, rock, and sky, four bottlenose dolphins vault in sync through the shallows. Fed by the nutrient-rich Peru Current, these coastal waters teem with marine life.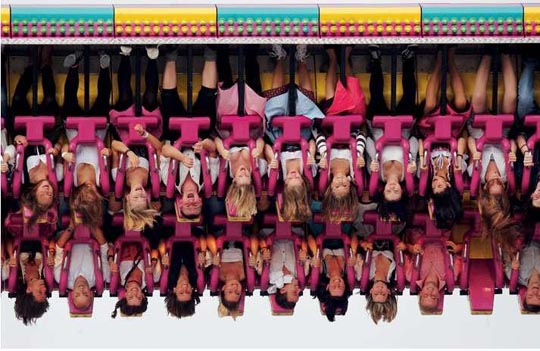 Upside-down thrill seekers ride the Top Spin at Munich's 176th Oktoberfest. Despite terrorist threats, the 16-day beer festival—the largest fair in the world—drew 5.7 million people last year.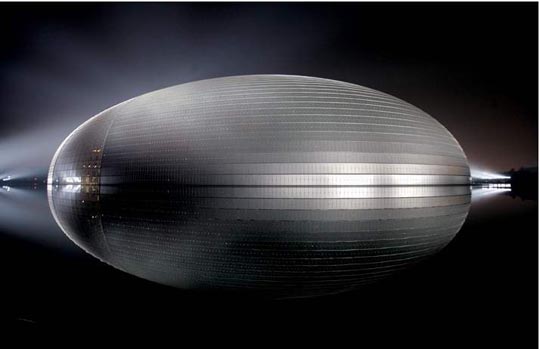 Like a gleaming egg adrift in ink, Beijing's glass-and-titanium National Center for the Performing Arts is reflected in the pool that surrounds it. The two-year-old, $336-million dome seats 5,452 people in three halls.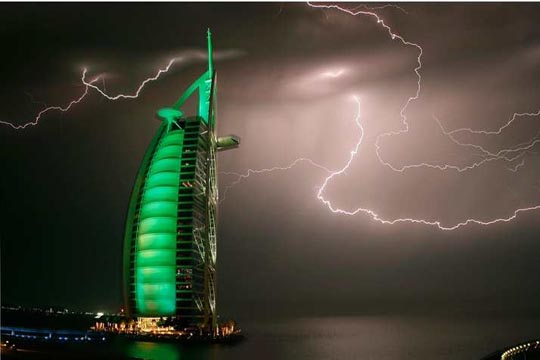 In Dubai natural and man-made electricity illuminate the night. As jagged needles of lightning darn an overcast sky, the sail-shaped, 1,053-foot-tall Burj al Arab hotel glows green on the edge of the Persian Gulf.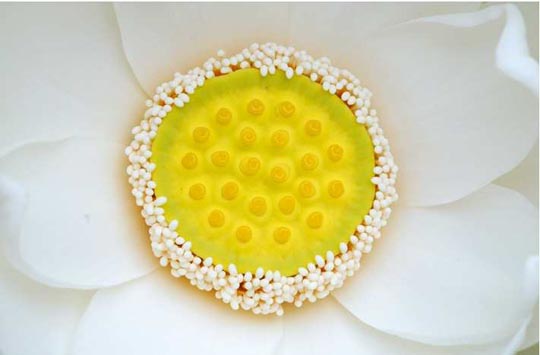 Looking like a lemon torte on a plate of petals, a lotus blooms in a Maryland garden pool. The chartreuse circle, three inches in diameter, is dotted with 23 seed holders and ringed by immature pollen sacs.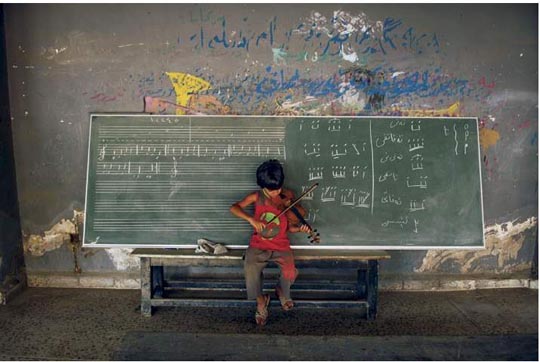 Some 160 miles northeast of Baghdad, in a Sulaymaniyah music hall ravaged by war, looting, and neglect, a violin-playing boy sounds a note of hope. His teacher, Azad Maaruf, lives there, instructing scores of students.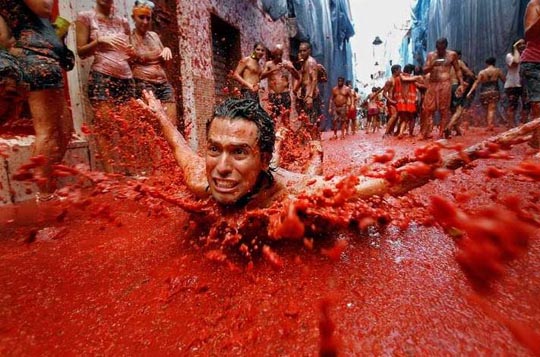 Sliding headlong through a tomato-juice torrent, a young man celebrates La Tomatina in Buñol on August 26, 2009. The event is a one-hour food fight that last year used 275,000 pounds of tomatoes.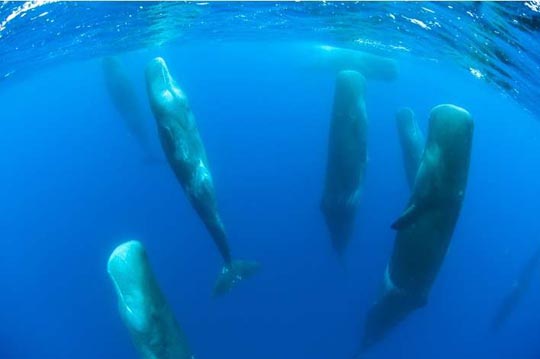 Near the Azores, just below the sunlit Atlantic surface, sperm whales float in vertical repose. Scientists think "drift dives" are a form of communal slumber. This species may sleep the least of any mammal.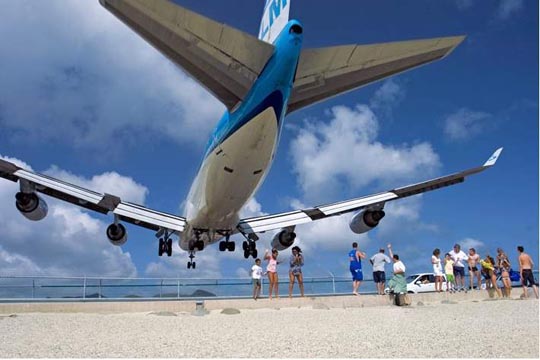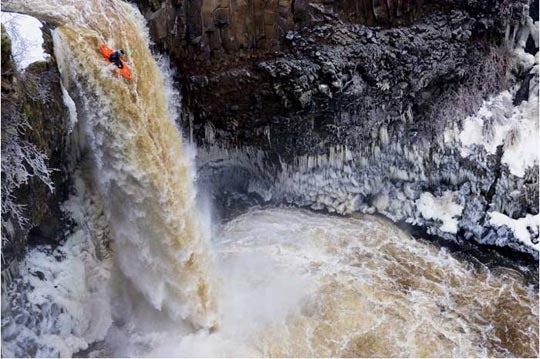 United States – A kayaker plunges 70 feet into winter water at Washington State's Outlet Falls. (Jed Weingarten)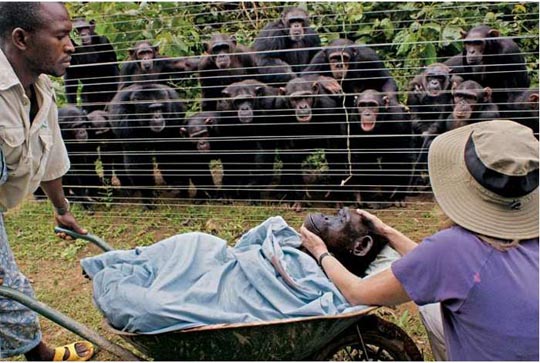 Cameroon – At the Sanaga-Yong Chimpanzee Rescue Center, more than a dozen residents form a gallery of grief, looking on as Dorothy—a beloved female felled in her late 40s by heart failure—is borne to her burial. (Monica Szczupider)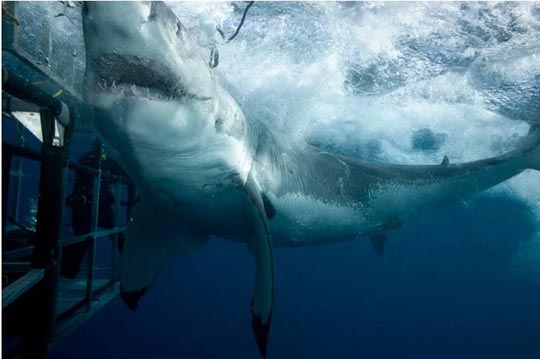 Mexico – Thirteen feet and a thousand-plus pounds of great white shark bump a diver's cage and roil the waters off Guadalupe Island. The region, rich in seal and sea lion rookeries, is a hot spot for the powerful predators. (Brandon Cole)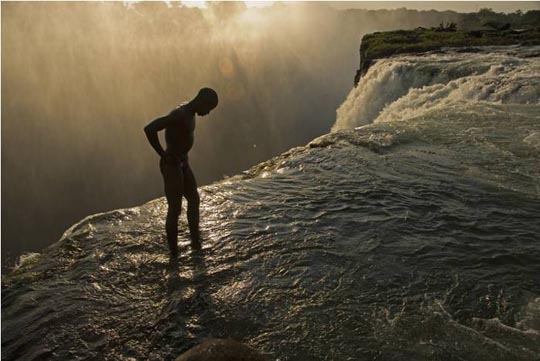 Zambia – The 355-foot (108 meter) drop of Victoria Falls just inches away, a swimmer stands at the lip of a hidden pool—an eight-foot-deep (2 meter) divot in the riverbed rock—accessible only when the Zambezi River runs low. (Annie Griffiths Belt)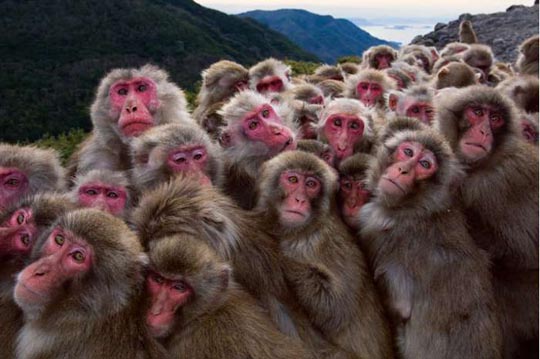 Shodo Shima, Japan – Huddled for warmth, macaques press their bodies into a vast ball of fur. The monkeys' relaxed social hierarchy allows high- and low-ranking individuals to share the same tight space. (Yushiro Fukuda)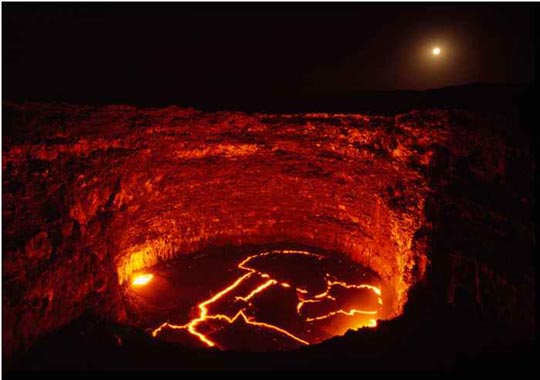 Ethiopia – The infernal glow of a lava lake in the Ertale volcano rivals moonrise over the Danakil Desert. Molten surface temperatures range from 550°F (260° Celsius) near the 262-foot-high (80 meters) walls to nearly 1000°F (538° Celsius) at the center of the pit. (Olivier Grunewald)