Best practices for workstation protection
The desktop workstations of today have to be configured and utilized in a proper manner because of 2 things: There could be sensitive and confidential information which may cause liabilities if an unauthorized person was able to access it. The other reason is the system's integrity is important and applications have to operate as how they are supposed to. The date stored in the workstation should always be complete and precise. If the system's integrity has been tampered with, it could lead to false information and wrong decisions.
If the system is malware-infested, hours could be wasted trying to detect and clean the workstation from all types of malware. It could be easy to opt for a clean install, but everything will be erased and replaced. This is not a convenient option because information will be lost if you did not save them somewhere else. To prevent this from happening, here are tips that will help you:
The security suite should always be active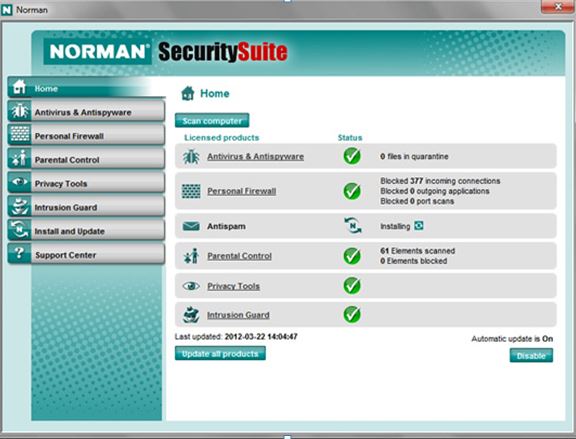 Image source: http://www.comparedandreviewed.com/total-security-software/norman-security-suite-pro/review
Having a security suite can guarantee protection agains spyware, malware, viruses, and attacks on the network. A product that only has an anti-virus is not enough protection and viruses are not always found in malicious programs. Some act as useful programs, but are in fact spyware. For instance, a program offering to give you alerts about discounts and deals, but it also monitors all of the online activities you have. The security suite should be able to find and disable it.
If the system you use is owned by the company, the IT personnel are most likely going to give you a security suite. The security software you own should be running and active all the time. If this is not the case, run it right away and scan your entire system.
The laptop or desktop you use should have a minimum standard of security
Your desktop, laptop, and server should follow the minumum standards when it comes to device security linked to the campus network. The windowns operating system should always be updated using software patches. You need to have an anti-virus installed, an anti-spyware, enable the firewall software, use complicated passwords, uninstall unnecessary services, and secure the system settings.
Do not accept all files being shared
You should never allow file sharing to your workstation without any authorized user security. Set-up access control points for certain objects, files, and devices to prevent anything suspicious. Having an anit-virus can also help with this because updates are available for regular installation. New virus updates are normally come up every week and it is to have your anti-virus sofware configured to an automatic update and scan your hard drive weekly. In addition, your virus sofware can be set to scan everything that is incoming for early detection of any virus.
Leave it locked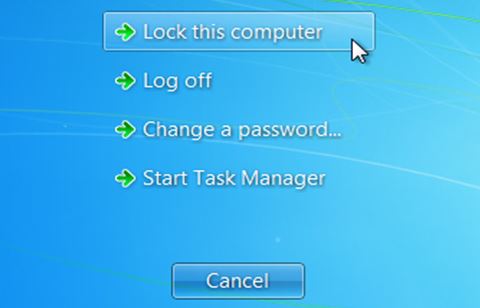 Image source: https://www.dysart.org/Sites/Default.aspx?pgID=226
You should never leave your workstation with your system logged in. Never do this in your office, at home, and just about anywhere. If your device is not within eyesight, always lock it. You can set your system to automatically logout after a few minutes of inactivity. If you are in a place where you do not trust everyone around you, always lock your system. Doing this is better than having regrets later on. If anyone visits an unknown domain with a virus, this is why you need to have internet security.
Change your password
If you are the administrator of the system, make sure the password is often changed. You can set the expiration number of the password and it will ask you to provide a new password when it has been changed. This is an option to consider because your system can store histories, including the password. When this happens, after a password change, they have to choose a unique one again.
Your data should have a back up
There are important data you might want to keep so make sure to do a back up. There is no need to back up the applications or operating system because the IT can replace and easily update them. You cannnot replace your data, which is why spreadsheets, audio, video, presentation, and image files need to have a back up.
These are what you need to do to keep your workstation secure and prevent anything suspicious from affecting your system.