5 Ways to Make Your Social Videos Instantly Memorable
If you're a video content creator on the internet, you'll have noticed Instagram's recent shift to emphasizing video post formats. They're the latest platform to do so, but they were also the final holdout – Facebook, YouTube, TikTok, and even Pinterest have all been inexorably moving towards short-form video content for years. Even on Twitter, which is predominantly text-based, content with videos receives more engagement than content without.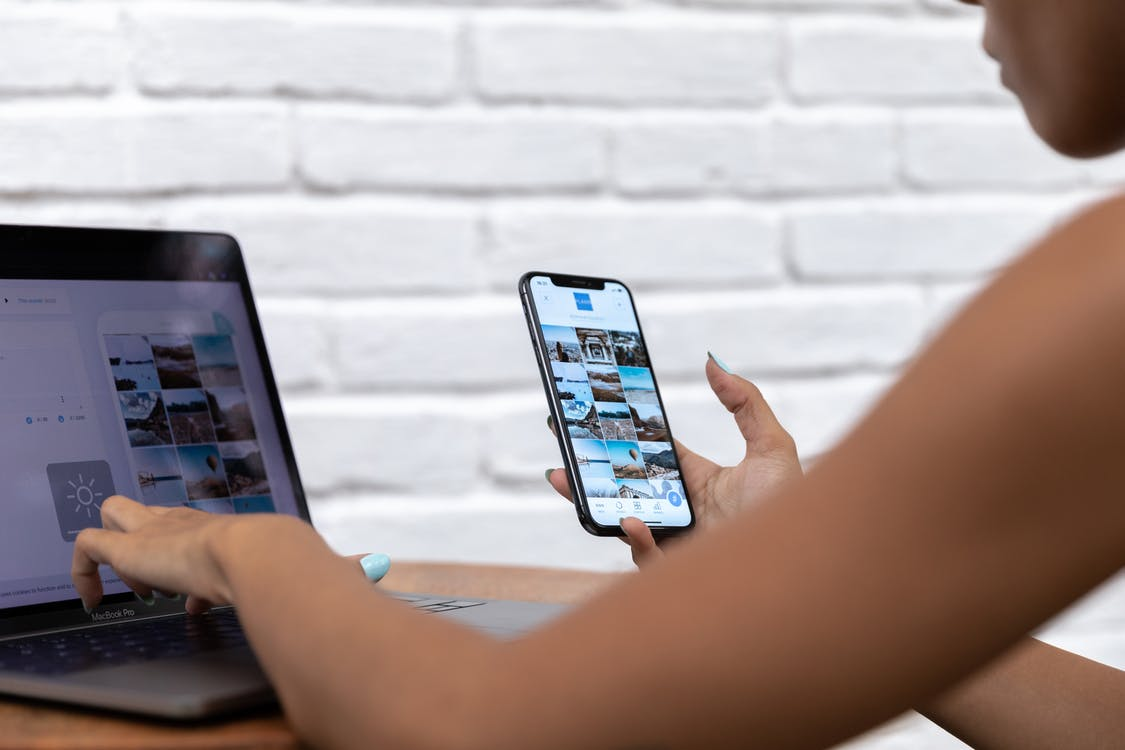 Image source: https://www.pexels.com/photo/person-using-laptop-and-smartphone-4549413/ 
The issue is that algorithms prioritize content discovery over profile discovery. Nearly all the platforms' newsfeeds are made to encourage infinite scrolling, meaning a viewer can see your awesome video, forget to follow, keep scrolling, and never see you again.
If you want to be a successful video creator, no matter if you're an individual or a small business trying to make valuable content, it's vital to make your video content memorable. You want viewers to enjoy your content, engage with it, and come back for more. The trick is to reel them in, no pun intended.
Here are five ways to make your videos memorable, no matter what platform you're using.
1. Include a call-to-action
If you're a seasoned video creator, you already know how important it is to get viewers to watch till the end. If they've made it that far, there are some super easy ways to capitalize on their attention and stand out in their memory.
As a bonus, if viewers engage with your video once, most algorithms take that as a sign that they enjoyed that content and will be more likely to surface your videos to them in the future. Instagram themselves released statistics saying that brands using a call-to-action outperform brands that don't use them by 89%.
Most video creators don't want to feel "pushy" by asking viewers to do something specific, but the truth is simply asking them to engage with your content in some way can boost your video's performance. Plus, if they like your content, why wouldn't they like to follow you or comment their opinions on your work? The more confident you are in your awesome content, the easier it is to add a CTA.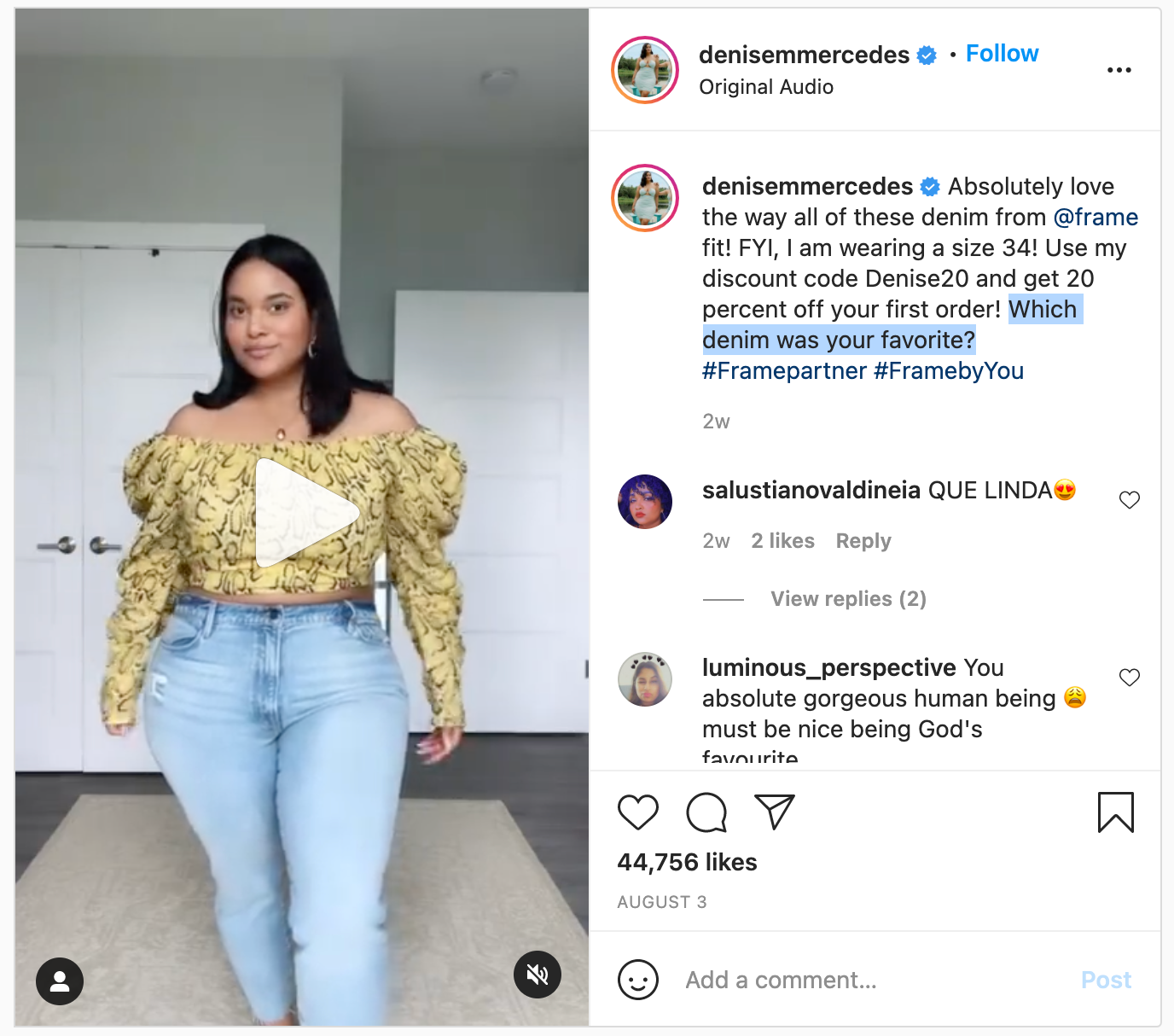 Source: Denise Mercedes Instagram
Some options include asking them to leave a comment, to follow you on that platform, or look at a link on your bio or video description. The act of engaging with you creates a stronger relationship bond between you and your viewer than if they just watched your video and scrolled away without doing anything. You can place your CTA in the description, or as text on the video itself.
The more natural this request is, the more likely they are to follow your suggestions and remember your content in future scrolling sessions.
2. Make your video stand out visually
One great option to make your content stand out in the video treadmill of Instagram, Facebook and TikTok is by using visual tricks. In the old days, people had to use expensive and frankly complex software to do anything fancy with their footage, but happily those days are over.
Nowadays most platforms have native filter options, like Snapchat's famous dog filter. Plus, there are some excellent apps that make video enhancement easy. One especially useful app is Filtertune, which actually lets you apply a filter to a specific part of your moving video. For example, if you're filming a picnic scene, you can make the clouds turn colors, like red or purple, as they scud across the sky.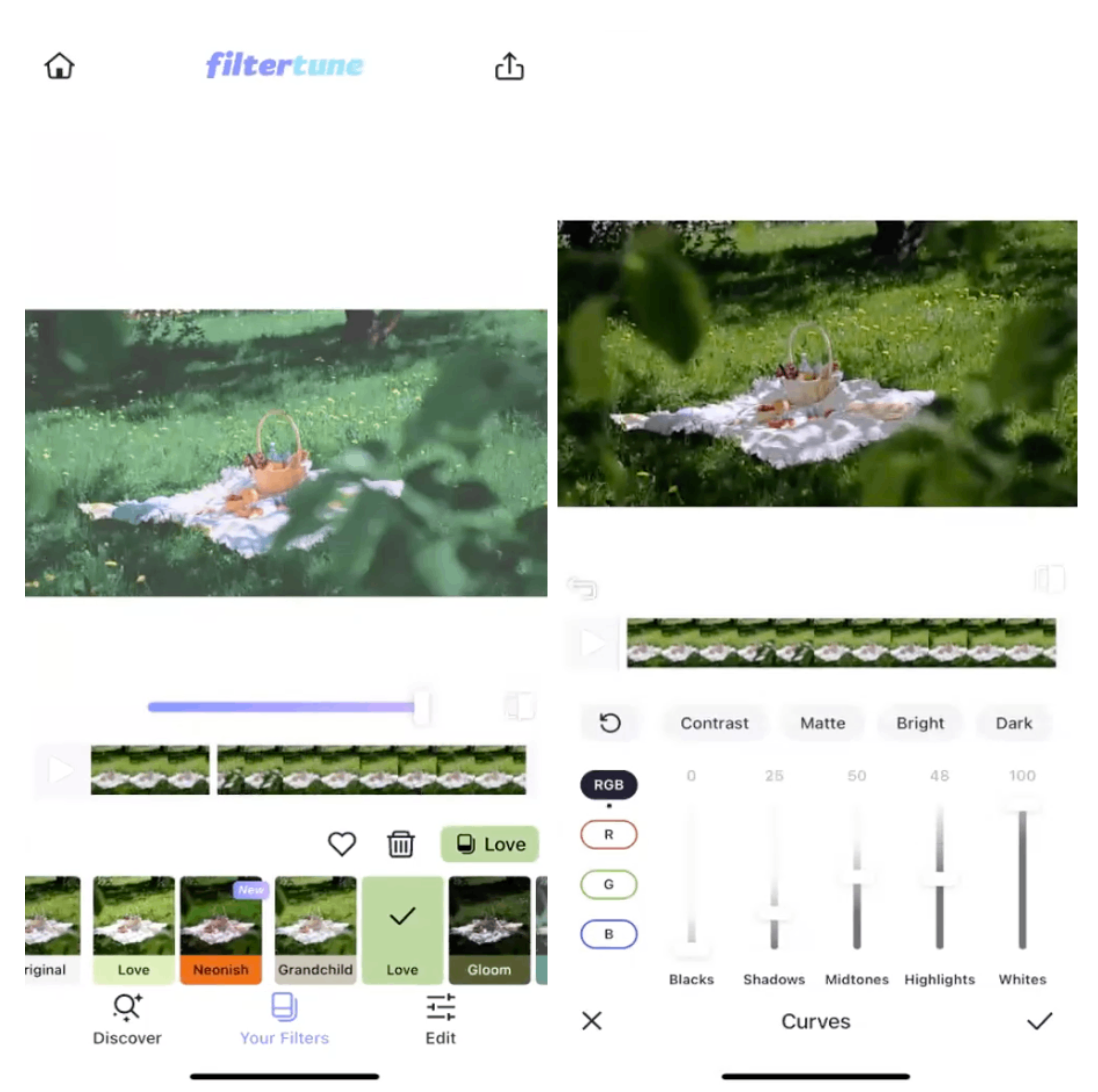 Source: Filtertune
It's really straightforward to take any of your videos, upload them to the app, and apply filters and effects to make them extraordinary. What's more, you can save any edits you make as a custom filter, so you can go back to it and apply a similar look to subsequent videos.
3. Use native interactivity like polls and quizzes
One thing a lot of video creators forget is that you and the apps you post content on have the same goal in mind. Both you and the algorithm want to help you find dedicated viewers who love what you post. To that end, plenty of platforms have added their own tools to help you make your videos memorable to viewers, building relationships and engagement along the way.
For example, Instagram has multiple widgets you can add to your videos to encourage viewers to interact with your content. One fashion account called @americanstyle, frequently posts polls on which of two outfits the viewer likes in their stories.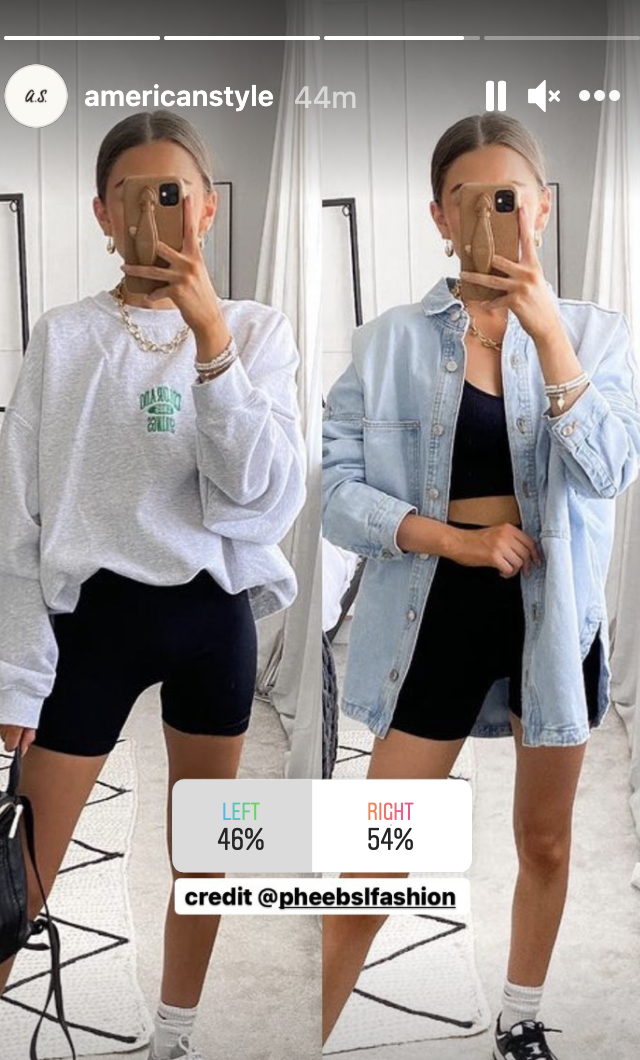 Source: American Style Instagram Stories
This is an easy way to boost engagement, which makes the viewer more likely to remember who you are.
It also has the added benefit of getting users to engage with each other. When I click an option in the poll, I often do so because I'm interested to see what the rest of the fashion community thought of the options. That helps make your video more memorable as well.
4. Find a consistent branding
Sometimes, a miracle happens and a viewer who didn't follow or engage with you upon seeing one of your videos manages to see another. This is great news, because it means that even if they didn't recall your content the first time, the platform believes they enjoy your style and topic. Make the most of that opportunity.
One way to beat the constant scroll is to make sure your videos are all aligned on the same "branding." I use the term branding pretty loosely here – all it means is that your videos can be grouped in some way. You can use the format, the color scheme, or even the same introduction.
The key here is to make your viewers think, "Huh, I think I've seen this before and I liked it the first time." Even if the content of the first video wasn't so memorable, you want to strike a cord here and get them to associate you with a specific style.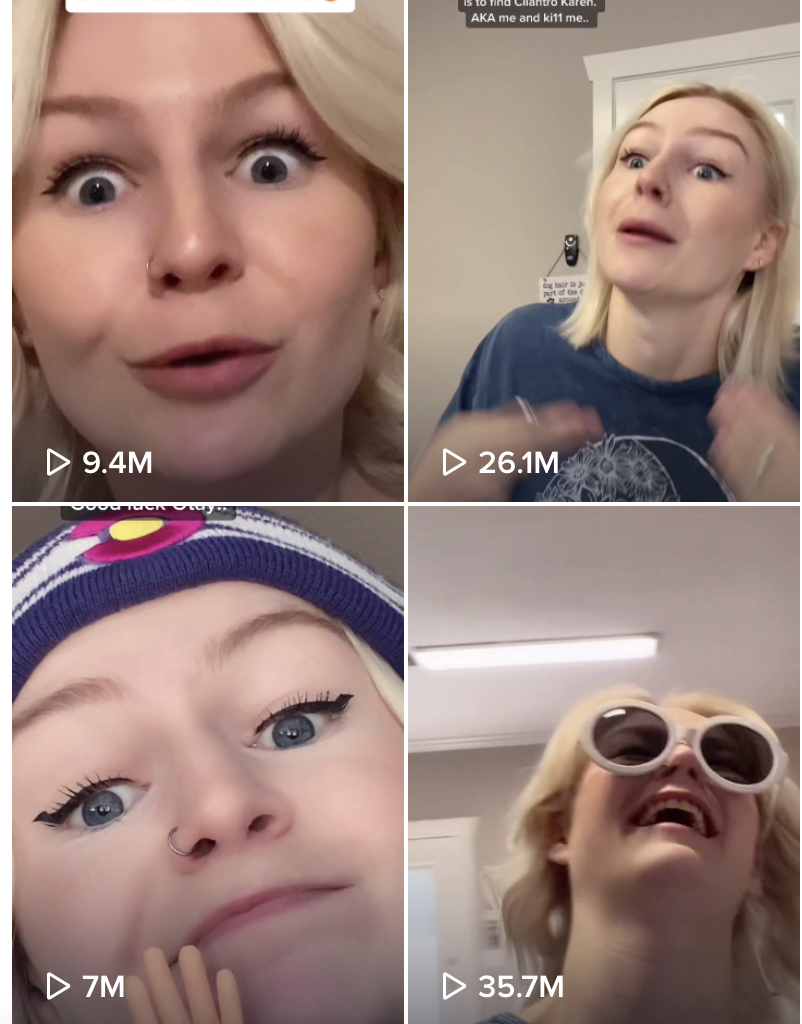 Source: KallMeKris on TikTok
One great example is@KallMeKris on TikTok. I saw one or two of her videos when I was brand new to the platform and got caught up in all the noise of the new videos I was being recommended. The third time I ran into her content, though, I remembered her and followed her instantly because I thought she was hilarious.
You can see from the thumbnails above that she has a very specific style of facial expression that shows up in every single one of her videos. You can do this any number of ways, though – with music, filters, catchphrases and more.
5. Create content made for remixing
The last tip to make your videos more memorable is by giving a figurative bookmark to your viewers – collaboration-ready content. There are a few options for this, but the most popular ones are audio and filters.
On both Instagram Reels and TikTok, you can upload or use your own custom audio. If it's catchy, multipurpose, or interesting enough, users can use that audio to apply to their own content. Nowadays, pretty much everyone is posting videos to platforms – on TikTok, for example, 68% of users are there to watch, but 55% of them are creators, uploading their own videos, according to GWI. It's safe to say any casual viewer might be up for re-using your awesome audio.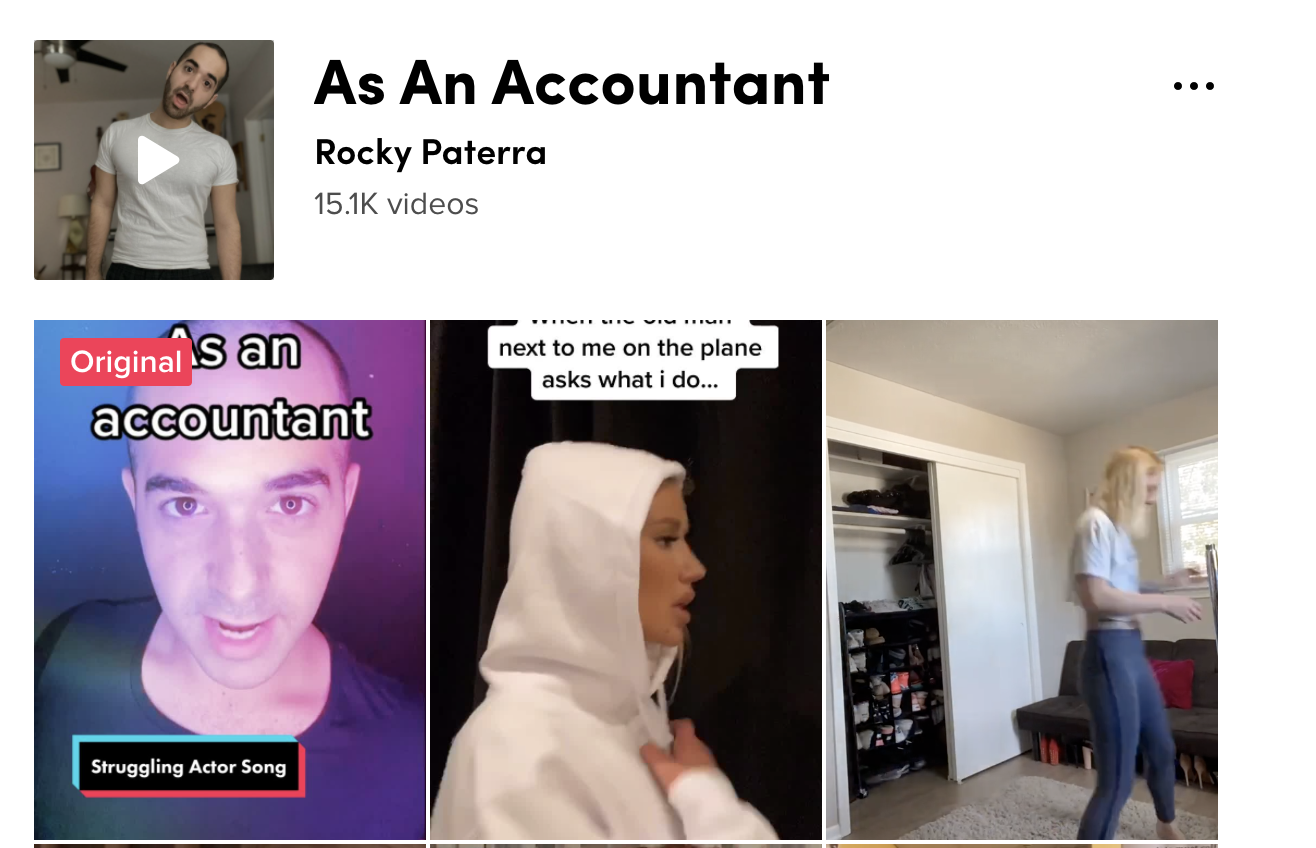 Source: The TikTok page for the As An Accountant sound
For example, one of the most popular trends on TikTok a while back was user @rockysroad, who made a song about how hard it was to answer questions about being an actor.
His song was picked up and shared by anyone who had an awkward job they didn't want to answer questions about. The reason I remember his original video is because it was reused over 15,000 times by other creators.
Get your videos stuck in viewers' heads.
With all video platforms prioritizing discoverability over repeat content, it's critical to make the most of any chance you get to make your viewers remember you and your content specifically.
These five tips can help your video stand out, create engagement in your community, and make them think of you next time they come onto any video-sharing platform. Mix and match using any of these methods and reap the rewards of a highly engaged, devoted viewership.