5 Rich snippet formats ecommerce stores should use today
Since 2009 rich snippets (aka structured data markup) have been successfully performing as a 'sneak-peak' for an eCommerce website in search engine results.
Basically, markup tags let you provide Google with some extra information about your website (e.g. price and reviews, search box, stock availability, navigational breadcrumbs, etc.).

That serves 2 purposes:
using structured data markup search engines can better understand and display your content
rich snippets increase site CTR as they are more attractive/clear/informative to potential customers.
Even more, Google states that rich snippets can be an important ranking factor. So implementing structured data markup is much worth it.
What are the most popular or little-known markup tags and how eCommerce merchants can benefit from them? This article will shed the light on these site optimization aspects.
Bonus tip: Exclusively for Magento and Magento 2 users, we'll provide some insights on how rich snippets work on this platform and tell about Magento SEO extension that can automate markup data optimization routine.
Let's roll in!
Adding Data Markup to Site Pages
To quip your pages with structured data markup tags, you need to utilize Schema.Org elements. Basically, this resource offers a set of extensible schemas that enables eCommerce store owners to embed structured data on any product or category page.
#1. Price/ Stock/ Ratings 
Price, stock availability, reviews and ratings are the most popular and widely used markup tags. The reason is simple — these are the first things people want to know when buying a product.

Good ratings give a trustworthy look to the product. Showing a price reduces time spent on product evaluation and increases the chances of getting more targeted traffic. As for the stock availability data, it's also one of the key factors most shoppers want to know and which helps them make a faster buying decisions.
#2. A Price Range
Using this type of markup tags, one can equip site search results with the price range block and display the lowest and highest prices in Google.

Providing shoppers with the price range options raises your chances to catch ready-to-buy customers. People, in their turn, get more variants to select from and get the full price picture.
#3. Navigation Breadcrumbs
 Breadcrumbs are used to improve website navigation and give shoppers a clear picture of the site hierarchy. With this little, yet very useful markup tag, you let customers jump to the necessary product category or right to the store homepage.

Complex and large websites can only benefit from implementing a breadcrumb trail. Users can navigate the sites with shorter click paths, get better engagement and interest in categories that stand higher in the hierarchy.
#4. Sitelinks Search Box
Sitelinks search box provides shoppers with the ability to find necessary product information being on the search page. Again, this lets online merchants get more qualified traffic and lower bounce rate.

Numerous research have proven that people, who use onsite search or a search box usually have a higher buying intend. Even more, you drastically improve your site UX, as shoppers don't need to browse lots of pages – people get quick and relevant search results just in a few clicks.
#5. Social Media Markups
The power of social media is huge. Want to affect conversions and increase click-throughs?
Twitter Cards, Opengraph for Facebook, Linkedin and Google+ and Rich Pins is a sure-fire way to make your social media posts informative and eye-catching. With social media markups you can attach a product photo, short description, price, size or availability and engage interest towards your offers.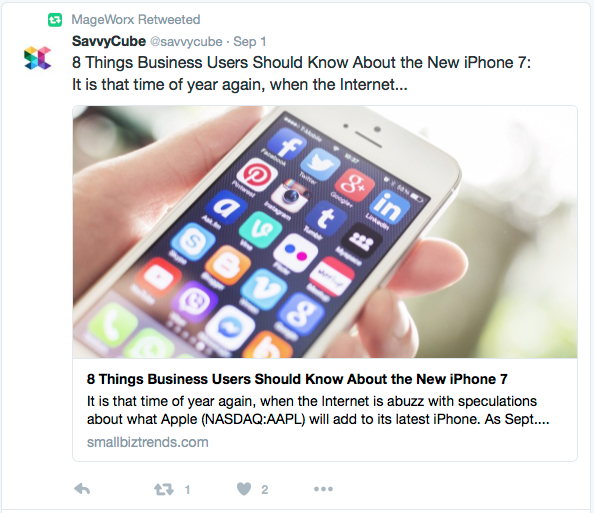 ****
When it comers to eCommerce, a number of platforms allows optimizing some structured data elements by default. For example, in comparison with the first version of the platform Magento 2 allows displaying price, product name, SKU, product image or reviews in a few clicks.
In order to implement rich snippets for stock availability, navigation breadcrumbs, search box, social media tags, business information you need to use third-party Magentoextensions like SEO Suite Ultimate or Extended Rich Snippets.
BIO
Natalie Pavlovskaya is a Marketing Executive at MageWorx.Com, developer of Magento extensions. A passionate marketer by day and a copywriter by night, she is here to speak all things ecommerce, UX, digital marketing and social media. The Rolling Stones addict. Follow her on Twitter.