3 spy gadgets if you are a James Bond wannabe
You know James Bond, that preening, womanising alcoholic and gambling addict who seems too irresponsible to own a licence to kill? Well, if there's one extremely cool thing about him, it's his ace gadgets.
For the real anoraks, those amazing pieces of kit that Q brandishes near the start of every Bond film are enough to get any wannabe spy's heart racing more than a Tex Avery cartoon.
But these technological wonders aren't just for dapper secret agents with more style than the London Fashion Week. With a quick browse online, you could be the proud owner of a ton of devices that would put Bond to shame.
So, what should you buy to become a master spy in your home?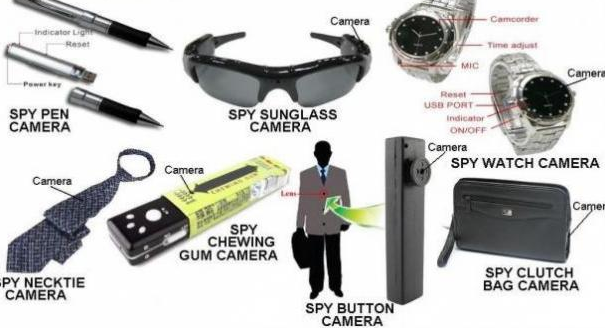 Stay on record
If you're meeting with an ex-KGB operative, a shady snitch or just want to prove to your girlfriend that you did say to meet at eight o'clock last night, not quarter-past, then you might want to record your conversations for posterity.
And there's little better way than with a digital recording pen. Simply stick the device in your top pocket or on a table, and you can record your chats without anyone else noticing.
With the minuscule size of hard drives nowadays, the best of these nifty pens can capture anything up to 18 hours of audio, and simply be uploaded to your computer when you get home.
Keep an eye out
Gone are the days when cameras were bigger than your torso and required a seemingly endless stream of wires. Now, they can be small enough to fit inside a pen, a lighter or any other discreet object.
If you need to keep an eye on your kids while you're away, make sure the babysitter isn't nicking your booze or want discreet surveillance outside your home, you can be sure you'll find a camera to fit every occasion.
There are even cameras inside fully functional devices, like a DAB radio or Blu-ray player. So you don't have to worry about anyone finding your device – you can keep an eye on your home with no one the wiser.
Google – the ultimate spy wear
Google Glass, those spectacles that let you record, browse the internet and do countless other things no matter where you are, must surely be the next gadget you'll see in a Bond movie.
It's got a ton of amazing features, like the ability to look at restaurant reviews online just before you enter it, or take photos with the literal blink of an eye.
Indeed, Q must be kicking himself for not coming up with the idea – it's surely ideal for secret agents.
Have you got any spy kit recommendations? Then let us know in the comments below!