Best 15 psd To html conversion services you should use
When giving the choice, web designers much prefer focusing on the look and feel of the website they are designing. Although when finished, a website must not only look good but also be user-friendly, semantic, fast loading and compatible across multiple browsers.
In order to accomplish this, many web designers choose to design their websites in Photoshop. However, unless you prefer to dive into the code yourself, it is a good idea to convert your Photoshop mockup to HTML by using one of many conversion services available. There are many services available to accomplish this goal. Below you will find our list of the best services to convert your PSD file to HTML.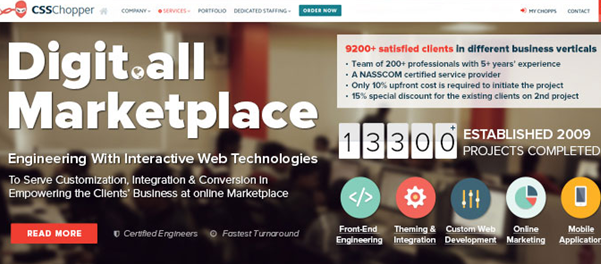 Hands down CSS Chopper is the leader in the PSD to HTML business and for good reason. CSS Chopper is NASSCOM certified and is available in 90 countries. They are a full web design company that can offer you much more than simple conversion so no matter what your design needs are, they can help you accomplish your goals. In five years of business, they have handled over 9200 customers and over 13,300 projects to date.
Their state of the art infrastructure and the ability to handle all aspects of web design make CSS Chopper stand out from the crowd. Pricing for your services is quite competitive requiring only 10% down to get things started. CSS Chopper values your satisfaction and success and will work with you to make your project perfect before you are invoiced again.
They offer a 10% birthday discount to all their clients and a full 15% discount on projects for returning customers making CSS Chopper the perfect partner to have as you roll out various web projects based on your PSD designs. With communication over multiple, diverse networks, they will keep you informed of their progress every step of the way and work with you to create the perfect website for your needs.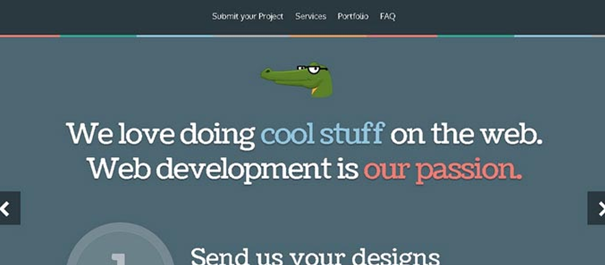 Coming in second on our list, PSDGator will quickly convert your file into W3C valid HTML/CSS code in no time flat. Their programmers and friendly and professional and will allow you to contact them at any time during your project by email, phone and even Skype.
PSDGator takes great pride in creating some of the fastest and cleanest code in the business and guarantees that it will be compatible in all the major browsers such as Safari, Google Chrome, Firefox and Internet Explorer. In addition, all the code is put through major testing in these browsers on both PCs and Macs to ensure the best compatibility in the market.
Many projects can be done for as little as $99 and as your project grows more and more discounts can be found. If you are a returning customer, you can expect to receive an additional 10% discount on any of your future projects as well making them one of the most competitive in the business.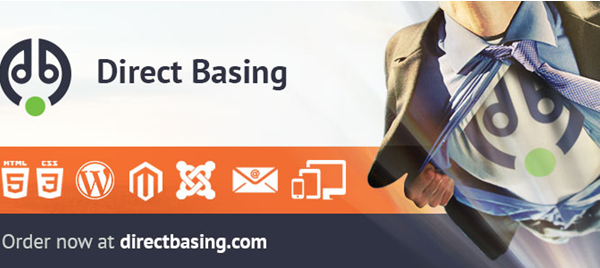 If you are looking for the true leaders of the market, Direct Basing is one of the top three. With clients such as Volvo, KLM, Media Market, and Rabobank, you can rest assured that they have the experience and knowledge to provide you with the perfect conversion of your PSD file.
This is one of the fastest services on the market, which is able to deliver your project within 12 hours so you can get your conversion done when you need it. Direct Basing is simple one of the best web design firms out there and they offer a wide range of services and will deliver the cleanest, most compatible, and fastest running code for your website in no time flat.
Pricing is competitive and you won't be surprised about any costs as you move forward. If you want one of the leaders in the industry, you can't go wrong with Direct Basing.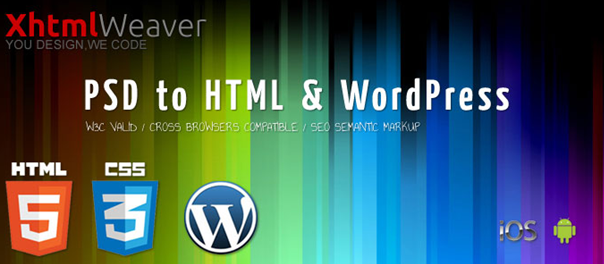 Hailing from Sydney, Australia, this little company from down under has never missed a deadline no matter how short the turn around time was. How do they do this? Dedication, pure and simple.
They strive to meet the needs and wants of each and every single one of their clients and guarantee that you will be satisfied with their work. They specialize in HTML5 and CSS markup and even have experience with jQuery.
They also offer many solutions for integration into the WordPress platform so you can create a WordPress based site that is fast, platform and browser independent, and easy to update and edit down the road. In addition, their QA team tests each and every one of their projects to ensure everything is working perfectly before they hand it over to you.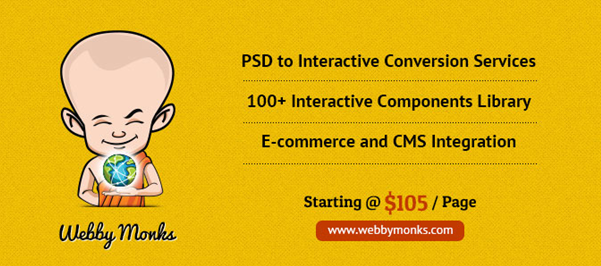 The PSD conversion landscape changed when Webby Monks came around and they are quite proud of that fact. With a new and inventive interactive gallery, you can easily select different components for your conversion that will improve the functionality, look and feel of your site.
Prices for these services begin at $105 for your homepage. The Webby Monks staff is fully versed and experienced with the Bootstrap framework and can even incorporate your designs into various web platforms such as WordPress, Joomla, Drupal, Magento, Virtumart and much more. These platforms offer a much user friendly interface as you go forward with your website making the inclusion of these platforms quite an asset for you.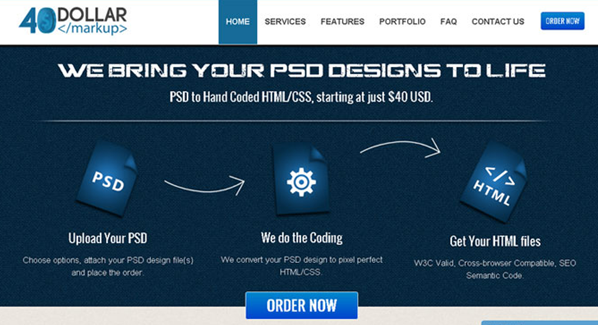 With over 7 years in the business, 40 Dollar Markup offers some of the best prices in the business. Starting at $40 for a homepage and $25 for inner pages, converting your PSD file to code has never been cheaper.
Your website will be based on the Twitter bootstrap and is guaranteed to be compatible across multiple browsers and multiple platforms. If you aren't 100% satisfied with their service, they will refund your all your money so you can convert your PSD worry free.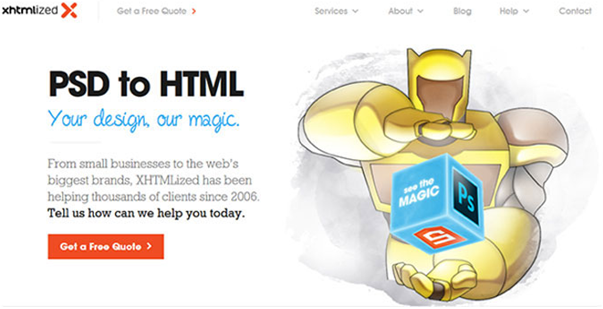 If you are looking for a company that has worked with the big boys, you should know that XHTMLized has worked with Twitter and still does. They strive to be sure you are 100% satisfied, and to that end insist on full disclosure.
With rates varying from hourly billing or flat rate pricing, you can easily obtain a quote from XHTMLized or watch the hourly billing so there are no surprises along the way.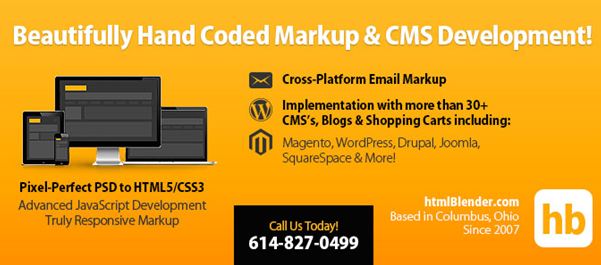 HTML Blender has been in business since 2007 and offers many services that go well above and beyond the standard code conversion services.
With project managers, SEO experts, business analysts, and more, you will have access to services from a full web design company that will help you through your project every step of the way.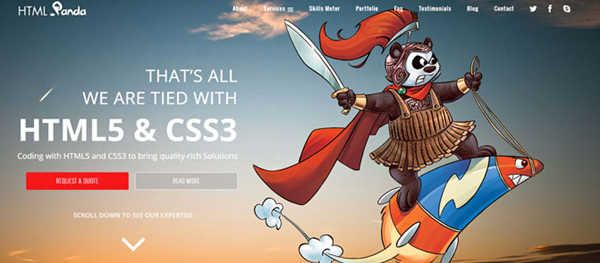 One of the fastest growing companies in the PSD conversion market, HTML Panda, has over one thousand clients and over two thousand projects completed.
With a collaborative workflow infrastructure, you will be able to convert your PSD file quickly into a website with optimized code that is cross platform compatible and fast. They are dedicated to your satisfaction and offer a satisfaction guarantee so you can rest easy while they convert your project for you.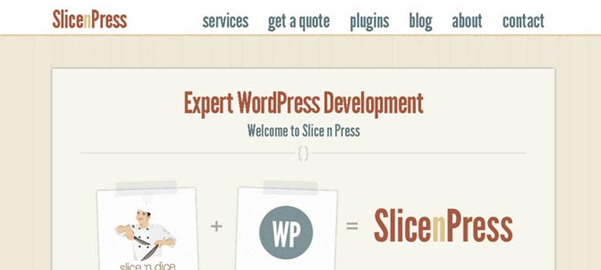 If you are looking for a long term partnership for multiple website rollouts, SlicenPress is the choice for you. They go above and beyond to ensure your website looks and functions perfectly. Pricing is based on your desired turn around time: $449 for 2 business days, $349 for 3 business days, $299 for 6 business days.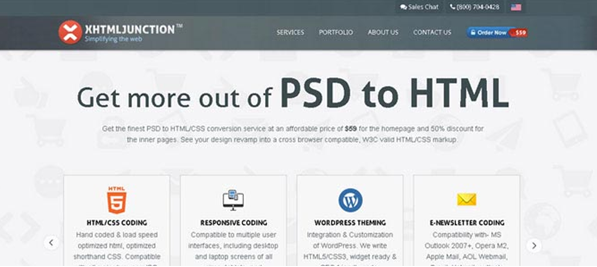 With some of the most competitive prices around, you will be able to convert your PSD for only $59 for your homepage with a 50% discount on inner pages. If you are created a responsive website, prices begin at $99 for the homepage and $48 for inner pages. Every line of code is checked and rechecked to ensure maximum compatibility and functionality of your site.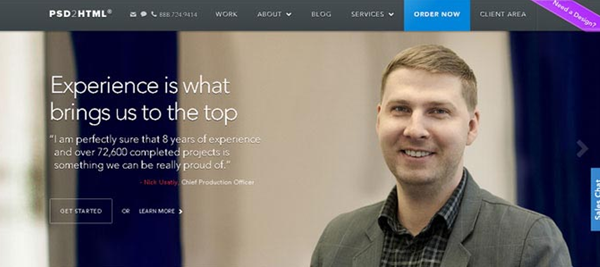 Search engine optimization is almost as important as the look of your website. PSD2HTML generates code that is SEO optimized so your site can easily be found by the search engines. In addition, all code is optimized to load as quickly as possible so you can provide the best user experience. PSD2HTML invests heavily in research of new technologies and has years of experience in these types of conversions. They guarantee you will be satisfied and will refund your money if you aren't no questions asked.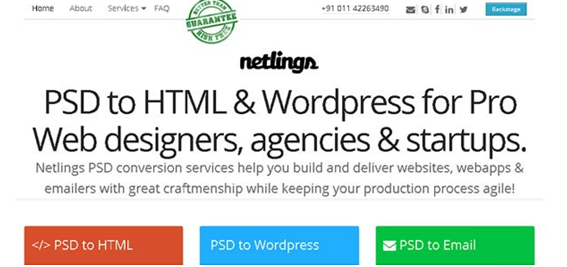 If you are looking for fast turn around, this is the service for you. At only 16 hours, they offer some of the quickest turn around times of anyone in the business. Their prices are quite competitive as well with homepages going for $80 and inner pages for only $40. If you are going for a responsive design, the price does go up at $105 for homepages and $55 for inner pages. Turn around time increases as well to around 24 hours. This is still some of the fastest in the business with many reporting they delivered well ahead of schedule.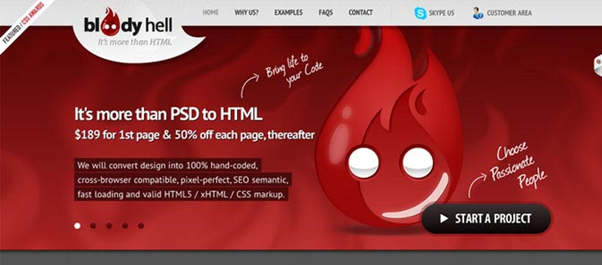 This is a team of experts hailing from Poland known as Bloody Hell. One of the best perks when using Bloody Hell is the fact they offer free support for already developed products. Bloody Hell offers a non disclosure agreement and a 100% money back guarantee if you are not satisfied with the final product. Prices begin at $189 for the homepage and they offer 50% off for all inner pages of the site you are designing.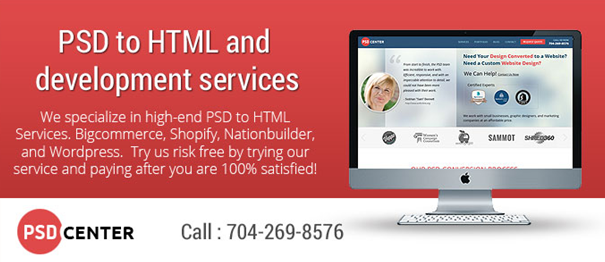 For those of you designing a responsive website, PSDCenter makes a perfect choice as they have internationally recognized as a BigCommerce Partner, Shopify Expert, and Nationbuilder Architect.
They offer free quotes for all projects with some of the best responsive design in the business. No money is required up front and there are no hidden fees and almost any project can be started with only $250. If that doesn't sound good enough, no invoice will be sent to you until you are 100% satisfied.