Sendvid review: best video sharing platform?
Sendvid is a new video hosting platform from Shared Media, the software company behind two critically acclaimed image hosting service; Imgbox and ImageBam.
When first using Sendvid there is no denying the easy of use, it is user friendly enough for even the most hopeless of technophobes. An added bonus is that with an option to login or connect with facebook, twitter or google or to sign up with email address, there is no lengthy registration procedure making it super quick and easy to use from the first step.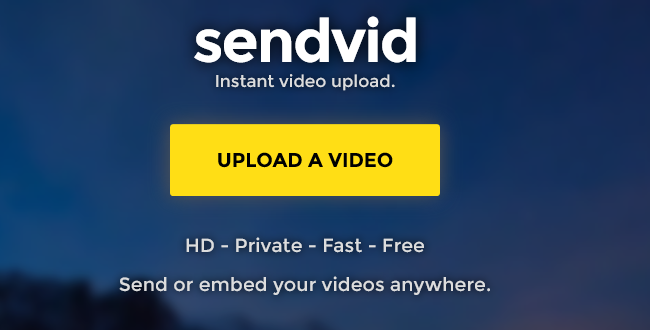 The landing page is a simple but effective one, with an upload now button right in the middle. Simply click, choose your video and within seconds it is uploaded, you then have the option to generate a link to embed it, or to share it straight onto any social media platforms. The whole layout of the site and the usability is so simple making it much quicker, significantly simpler, and more user friendly than the current alternatives.
With the expanse of particular social media sites (Facebook, Twitter etc.) there is more call than ever for a simple way to integrate uploading media. Whether a company looking to develop it's social marketing message or an individual wanting to quickly and efficiently upload a video to multiple networks, there is no doubt that Sendvid fulfils this function. In particular, Twitter and Facebook lack video editing, so unless you want to upload raw footage, you have to use another app to do any kind of editing (cutting, adding music/filters etc), Sendvid makes it much quicker to upload to several platforms at once, rather than individually.
Part of this user friendly focus on simplicity means a social function has been left out entirely, so there is no option to view other related videos or comment but then there are already several other well established platforms for this type of interaction. Sendvid.com has been developed for one very clear purpose, to share videos, not to compete with social video sharing websites, and it does this very well. By removing unnecessary functions and focusing on usability and speed it is, in my opinion, a strong contender for the top spot of best video sharing platform.