10 best practices for text marketing
When it comes to text message marketing there are a number of rules and regulations that everyone must adhere to. Understanding these 10 best practices for text marketing, most of which are set forth by the Mobile Marketing Association – one of the governing bodies that regulates the rules and practices of SMS marketing – will ensure that you are staying within the legal guidelines for short code messaging. Following these best practices will not only cover you legally, it will also help ensure you are marketing to the right audience, at the right time, to get the best return on investment (ROI) for your marketing dollars.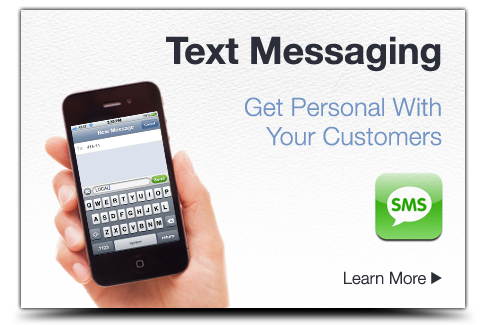 Clearly Communicate Your Intent
Every advertisement inviting clients to opt-in to your mobile marketing campaign must include a program sponsor name, declaration of what the user will receive, message frequency, help and stop options, and a privacy policy or information on where one can be found (e.g., a website URL).  This can be as simple as: "Text Joes (keyword) to 12345 (short code number) to get coupons from Joe's Pizzeria. Up to 6 messages per month. Text HELP for help or STOP  to cancel. Msg & Data rates may apply. See our privacy policy at www.url.com".
This lets the subscriber know exactly what he/she can expect from the text messages that will be sent from that particular keyword. A school or organization might specify that users will get "schedule updates" or  "important event reminders".  A church or religious organization might specify intent to send out "meeting schedules and prayer requests" or something similar.
"Msg & data rates may apply" is sometimes confusing because people may interpret that to mean that they will be charged a fee for receiving these messages, that isn't the case. This phrase simply means that if the subscriber doesn't have a text messaging plan with their cell phone provider they will be charged the regular rate set forth by the provider for stand text messaging.
Permission
Explicit written permission is required for every individual number that opts to receive messages through a short code service. This means you cannot buy a list of phone numbers and send them a text asking if they'd like to learn more about your business or service. It also means you cannot import a list of phone numbers of your current customers, even if they signed something that mentioned contacting them through a mobile phone. It also means you cannot take all the contacts from your personal cell phone and import them, even if you have been texting them on a regular basis from your phone. The preferred, and very best, method for receiving this permission is to have each person text the keyword to the short code. This takes the burden of proof off of you and prevents a lot of leg work on your part.
When the subscriber texts the keyword to the short code the system receiving the message will automatically capture the phone number and add it to your contact data base. If for some reason this simply is not possible and you have to have clients write their phone number down for you to enter later, they have to read all of the above mentioned information required for advertising and sign the form, along with listing their phone number. These phone numbers would then have to be entered into the system within 48 hours of receiving that permission AND they would have to reply YES to a confirmation message that will be sent from the system upon import. This ensures that they did, in fact, give you a legitimate phone number and that they are in possession of the device that will be receiving the text communication.
Frequency
It is required that you disclose the number of messages that you anticipate sending in a month. The frequency isn't limiting, meaning if you say six but send more or less than that it isn't necessarily a problem, as long as your approximation is close to what you will actually send (don't say you'll send six per month if you know you will be sending a message every day). Giving an honest idea of how many messages you will be sending will reduce the chance that you will have a lot of opt-outs (customers that unsubscribe from your campaign) because they feeling like you are sending too many messages.
Disclaimer
It is required that every opt-in receive a disclaimer message. This message re-states most of the information from your advertising. It must include your name (company, organization, etc.), frequency, stop and help instructions, and msg & data rates may apply. You shouldn't have to worry about this message much because any text marketing service provider that is following industry rules and regulations will send this legal disclaimer, along with your auto-responder message – if desired, to every contact immediately upon opt-in. If you try a provider and they are not sending this message be very cautious. Failure to adhere to all text marketing regulations can result in the entire short code being shut down and up to a $500 per text message fine – billed to you.
Clear Opt-out Instructions
Subscribers must be provided with clear instructions on how to opt-out, stop receiving messages, from a campaign.  Most companies accomplish this by adding "Stop to Cancel" at the end of every message. But the system should be designed so that synonyms such as quit, unsubscribe, cancel, or end will also automatically remove the number from the text list and return a confirmation message letting the subscriber know that their number has been removed from the sms text campaign.
Help Options
The help option is another required element that is included in the default text message. When a subscriber sends the word "help" a return message should give the name of the company the offers are coming from, a url or phone number that the subscriber can call or visit to get more information, and the frequency, opt-out, and msg & data rates may apply verbiage.
Be Considerate of Time
The timing of a message is crucial.  Although there is no specific regulation as to what time a message can or cannot be sent, research shows the most active time for users to be engaged in SMS, MMS, (Multi-media Services) and email is roughly between 10 a.m. and 8 p.m. It is a good idea to stick pretty close to these recommended hours to prevent customers from opting out. Most clients will be mad if they get a text at 6 a.m. and it wakes them up. There are exceptions, of course, if your subscribers opted into your campaign knowing you would send a daily prayer at 6 a.m. they will be expecting the text and not be bothered by it. It is very important to know your audience and what is going to be valuable to them.
Provide Value
This is probably the most critical part of any text marketing campaign. There is no easy answer as to what will provide value. An initial offering may be for the subscriber to get something free, a free drink, free dessert with the purchase of a meal, etc. This type of offer is often very enticing and effective in getting people to initiate the first text and "opt-in" to your campaign. Some companies offer a chance to win a free iPod or iPad, again something of value. After the initial opt-in you've got to determine what will continue to be valuable to your contact list. Are they interested in knowing about your weekly special? Would they like a discount coupon once a month? This is where it is really crucial that you understand your client base and what they perceive as being valuable.
Use Common Language
Because a standard sms message is limited to 160 characters (this includes spaces and punctuation) it can sometimes be challenging to get in everything you need/want to say. But remember you are representing a professional organization, in most cases, and using slang or texting jargon can be confusing or a turn off to some of your clients. As much as possible, it is recommended that you refrain from using unfamiliar terminology or letter/number combinations to represent words (e.g., b4) in your text messages.
Advertising Locations
Be creative in advertising your invitation to subscribe to your campaign. Reach out to your current client base through email, a newsletter, your website, or social networking accounts like Instagram or Facebook. To reach potential new clients you may want to add your keyword and short code to mailers, business cards, billboards or marquee signs, printed or online newspaper advertisements, or any other medium where the advertisement will be seen by numerous people on a regular basis. To entice current customers, you may want to advertise within your business and offer an immediate discount for opting in. This can be done with a flyer near the register or signs throughout the store; be sure your employees are educated on how it works and can answer questions. Encourage them to invite customers to opt-in.