Mockplus review: best mockup tool for 2016?
Mockplus is a design tool for creating page mockups and is also bundled with numerous usability tools, which help ensure the particular mockup matches all design best practices. So is it worth buying Mockplus? I will try to answer this question via the following independent review of all features available: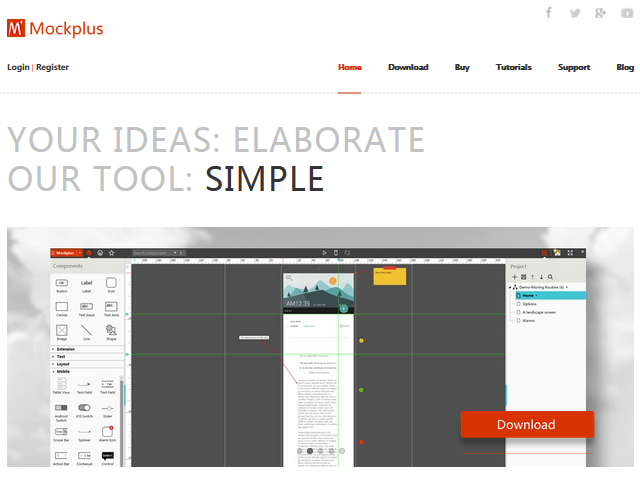 Ease of Use

While there are many UX tools out there and many of them offer really powerful features, it's safe to say that these that are actually easy to use by inexperienced users.  Mockplus doesn't require you to possess any previous knowledge of coding, programming or undergo extensive training before you are able to use it. Instead, Mockplus makes it incredibly easy for virtually everyone to create page design mockups within less than few minutes.
What seems to make Mockplus different from the numerous tools available today is that the focus here is actually only on the page design rather than figuring out what the tool have to offer. The simple style and clean interfaces are the two factors that greatly contribute to that. Furthermore, the drag and drop building interface is quite intuitive as well.
Platform Support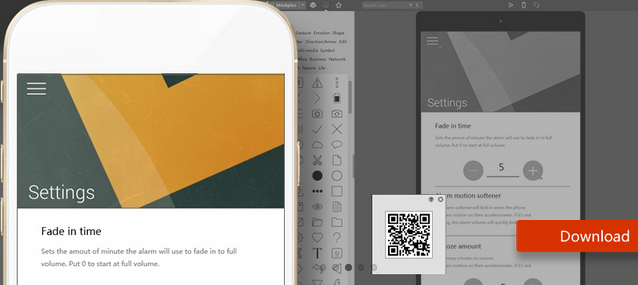 With the number of mobile users rapidly growing every year, as well as the wide variety of devices and platforms used by users, make platform support one of the most important requirement for website owners. You must be able to provide the best user experience to everyone, who visits your page, no matter what platform or device they use and there is no shortcut around this.
Mockplus offers extensive support for all mobile platforms, as well as online applications, so its design functions are not limited only to page mockups, but to pretty much any IT product out there. Furthermore, the mobile preview is simplified through the use of QR codes and you can test how your design looks on any platform in real time. All web, mobile and desktop platforms are supported by Mockplus.
Design Components
There is no way to create a suitable mockup if there are not enough design components in the tool you use. With more than 200 components, Mockplus is definitely armed with everything you need to create working designs fast and effectively, no matter how many features you need to include.
In addition to the components, there are around 400 beautiful icons contained in Mockplus. No matter whether it's a web or app page, you have everything you need to create design exactly as per your requirements. In addition to the predesigned components, there are numerous markup add-ons, which greatly help implementation at later stages.
New Features Promised with V 2.1
There is a new version of Mockplus on the way and its creators promise a lot of new features, which will greatly improve the user experience with the particular tool. Some of these new functionalities to be released include increase functionality of interaction components such as slider images, context switching interface and popup windows. These are known as very important elements not only of effective user experience, but also conversion optimization, so this is yet another way to use Mockplus.
How Does Mockplus Compare to Other UX Tools on the Market?
As already mentioned, probably two of the main reasons why Mockplus is a really good choice for users at any level of experience are the ease of use and the clean interface. As an experienced shopper, I know that one of the most important things to do before buying anything online (and also offline) is to see how the particular product compares with its competitors.
One of the leading UX prototyping tools Axure comes with tons of features, which all require serious of amount of time to master. While advanced users may find this quite attractive, beginners and regular website owners can easily get lost in the lengthy menus and numerous options.
When we compare Mockplus and Balsamiq, yet another quite popular UX tool, the feature set offered by Mockplus is much more powerful, especially when it comes to the wide variety of mobile features available in the tool.
One of the main factors that affect our buying decisions is the price of the product and this is another area, where Mockplus seems to be gaining edge over its competitors as it's known as the cheapest UX tool on the market.
 Conclusion
Mockplus is a tool of choice, especially for small business owners and pretty much every user, who doesn't want to waste their precious time trying to figure out how to complete simple design actions. With affordable price, clean interface and powerful features, Mockplus will definitely make designing pages far more pleasant.