3D Doodling comes of age
Three-dimensional printing has enjoyed a great deal of publicity in recent years due to the sheer scope of objects that can be created. However, there are some limitations to these methods. With printers being quite expensive and large, which can in turn be creatively restrictive. All of these concerns have been done away with thanks to the invention of the three-dimensional doodling pen. So, freedom is now literally in the hands of the artist. How does this technology work and why have professional artisans such as Rachel Goldsmith begun to employ this method into their art practice?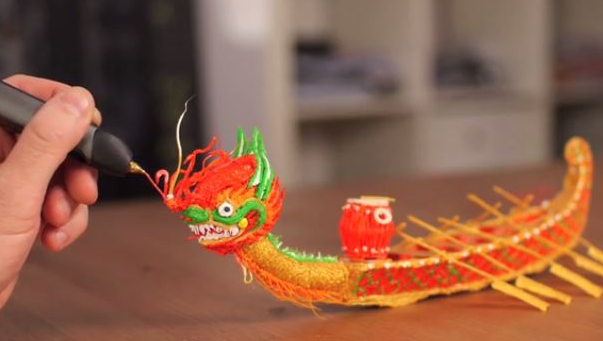 The Concept of 3D Doodling
Essentially, this pen "builds" off of some of the same technology employed by three-dimensional printers. A type of hot plastic known as thermoplastic is extruded from its tip and dries very quickly. Once it is hardened, the formed object is actually very durable. Also, various colours are achievable by loading cartridges  into the reverse side of the pen. They can be used in combination to create pieces of art that provide an entirely new sensation to the viewer. Pens are ergonomically designed to fit comfortably within the hand and unlike most printers, they are extremely cheap to purchase.
Taking Art to the Next Level
The creators of this concept may not have imagined how their idea would have influence the art world. One individual who has learned to employ 3D doodling within her repertoire is Rachel Goldsmith. In fact, she actually met former president Bill Clinton and presented him with a sunflower that was created entirely with a 3D pen. He went on to explain to her that his presidential library is home to a handful of 3D printers. Needless to say, the two had a great deal to talk about!
Growing Fame
Three-dimensional doodling is slowly making its way into many artistic circles.  Artist Rachel Goldsmith recently hosted an event in New York where she distributed a few pens amongst her guests and allowed them to experiment with the technology and its possibilities. Her main goal is to see three-dimensional creations to become more recognised within the art community. While not everyone may be able to create some of the masterpieces that she has made without a bit of practice, the truth of the matter is that the options are nearly endless!
It should be noted that the concept of 3D doodling was only first created in 2013. Therefore, it will be very interesting to see how this new medium continues to develop especially within art practices.
Tim Aldiss writes for Spectrum Photographic – professional photographic & giclée printing