Bring your Idea to Life with the Best Website Builders
The most difficult part of any task is to start it and building your website so as to establish your online presence is no exception. In your mind, you have a distinct idea and vision whereby you can visualize the website in your mind.
Thus, you will need the services of the best website builders to ensure that your online presence meets the current industry standards and is in accordance with your vision while fulfilling the basic needs like easy maintenance etc. Apart from these aspects, you also need to take into account other factors such as inclusion of various tools to your website that can add to the functionality and popularity of your site. These, and other factors, make choosing the best website builder quite a daunting task. You not only need to consider the cost and budget allocation but also need to ensure that you do not compromise on quality of the website.
Since a solid foundation for a website is ensured by premium quality and superior elements, thus,you should focus on the following aspects as you look for good website builder.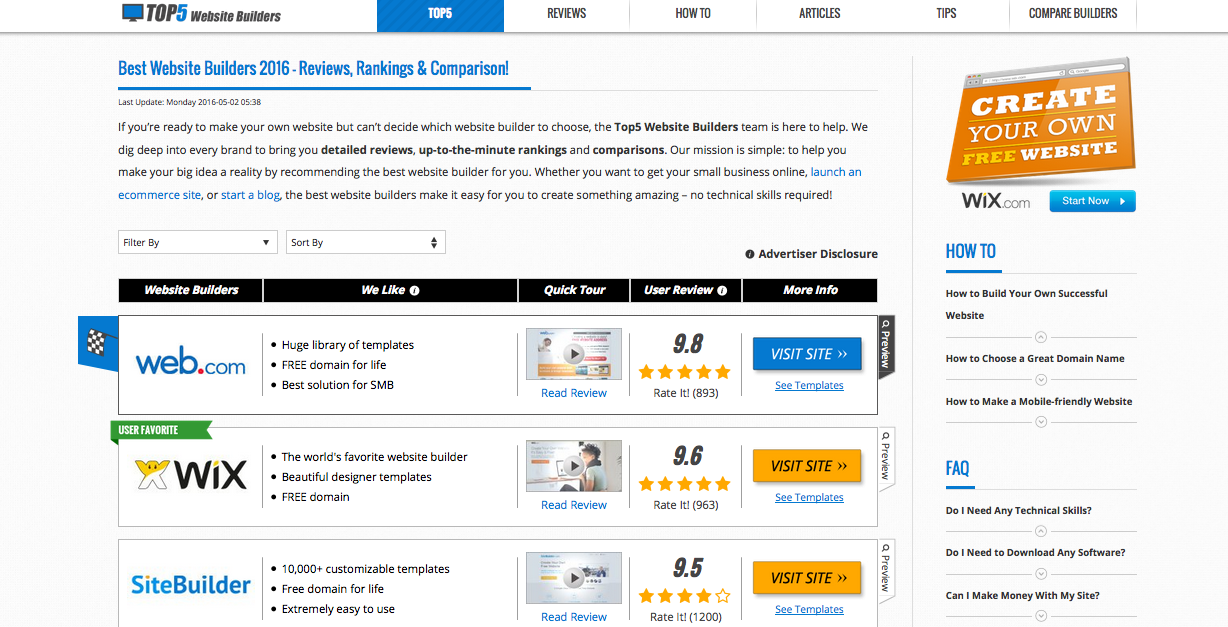 Affordability
The first and the foremost aspect of web development project is the budget. The potential website builders should consider this factor as it dictates the various features that can be included in the site, while remaining within the budget constraints.
Today, hundreds of paid as well as free website building services are readily available online. All you need to do is to make a good comparison to pick the best one. However, keep in mind that there is a huge difference in the benefits and functionality offered by the paid services as compared to the free ones.
Look for the Hosting options
Once you are done with the design of an interesting, eye-catching and well-designed website, the next step is to park it with a host so as to make it available over the web. Thus it is crucial to consider the hosting options as you decide upon the best website builder for your future website. Whichever website builder you select, you will have to opt for some kind of website hosting.
Quite a few site builders, especially the top website builders, offer their users a free plan with a free of cost domain such as Weebly.  However, it is not a very good option for commercial websites. The good way is to buy the domain name and have an address of your choice. In addition, also check the bandwidth; inadequate bandwidth will not be able to sustain the load of too many visitors and will crash which will create a negative impression on your potential customers.
Ease of Use
Ease of use the most important element to consider from the user experience perspective while selecting the best website builder for your site. Almost all services today, claim to offer exceptionally easy techniques of developing a website. However, make sure to test the product first in order to analyze everything for yourself.
If you find it cumbersome to navigate your way through the site, your users will feel the same way. So, try to analyze every aspect from the perspective of the user. The studies have revealed that a user friendly site layout can boost the sales and site visitation up to 20%.
Customization Options
A good website builder is the one that offers customization options to the clients. Look for the product that bids custom backgrounds, numerous font and formatting choices as well as previewing options so that you can have an excellent, well-designed website. Business Insider is well-known for its effective use of various customization possibilities.
Does it Fit Your Needs?
Before selecting a website builder, list your own reasons for developing a website. Look for the product that best suits your particular set of requirements.
Variety in Designs
Variety is the spice of life. Make sure to opt for a website builder that offers you variety of design and feature choices. For that you need to assess the layout structure along with content arrangement, design and other elements such as navigation menu and buttons to ensure that your site has a compact layout. Have a look at Mashables to see the use of designs and inclusion of user-friendly features.
SEO Functionality is the MUST
Look for the website builder that allows you to include Meta tags, keywords and Meta descriptions. In addition, it should also capable of generating a sitemap. Without adequate SEO support for website, your website will not even get a chance to pop up in the top Google searches.
The Top 5 Website Builders aims to simplify and streamline the website building process by offering you a holistic overview of the available web developer services and allows you to compare all these features efficiently. In addition, the featured reviews by the experts as well as general audience will also help you make a wise decision. Never settle for anything but the best website developers as you plan to make you online presence a reality.