Best 15 responsive wordpress themes for 2014
The Internet has grown to be a constant presence in our lives and we have to admit it would be quite difficult to do without it during these hustle and bustle days. It has evolved in such a way that we don't use it just because it's fun, but also because it's practical and it oftentimes makes things easier for us – we use the Internet to access information, communicate via social media, learn, have fun, shop online and so on. It's the quickest way to search for a product you need or to read reviews about it, which is why every company, organization, event planning firm or small business should have a website. Having a web presence means that users can easily find information about your business, so you'll gain new customers and business opportunities; clients can get in touch with you really easily; you can create an online portfolio to showcase your products or talk about upcoming projects and invite people to get involved, and you'll also save money by relying on your website for marketing and branding instead of investing in costly advertising.
Once you have decided to take the plunge and ensure an online presence for your business, there is one crucial element you should keep in mind– your website has to have a responsive design. What does this mean exactly? It means that your website will always look flawless irrespective of the device used to access it – laptop, tablet or mobile phone. This guarantees your viewers a good navigating experience, which means they will want to come back a second time and you will have an advantage over your competitors.
What's the easiest way to create such a website? By using one of the themes listed down below, more specifically the best responsive WordPress themes.
#1: MegaResponsive Lite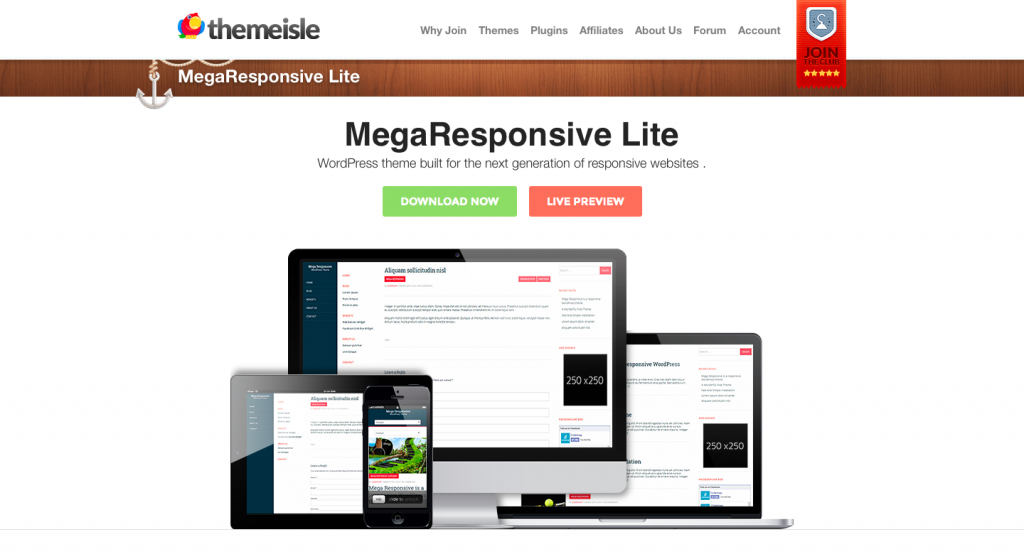 The MegaResponsive Lite is a WordPress theme that keeps up with the latest trends in responsive websites. The clean and polished design of this theme makes the MegaResponsive Lite features really stand out: the beautiful colours, the modern layout and the nice logo. Thanks to the user-friendly interface, you can easily customize all these elements from the Theme Options Panel without encountering any problems. However, you needn't worry about any consequences that might arise from making changes – the comprehensive browser compatibility and custom theme widgets will help your website look impeccable on any device.
#2: Lawyeria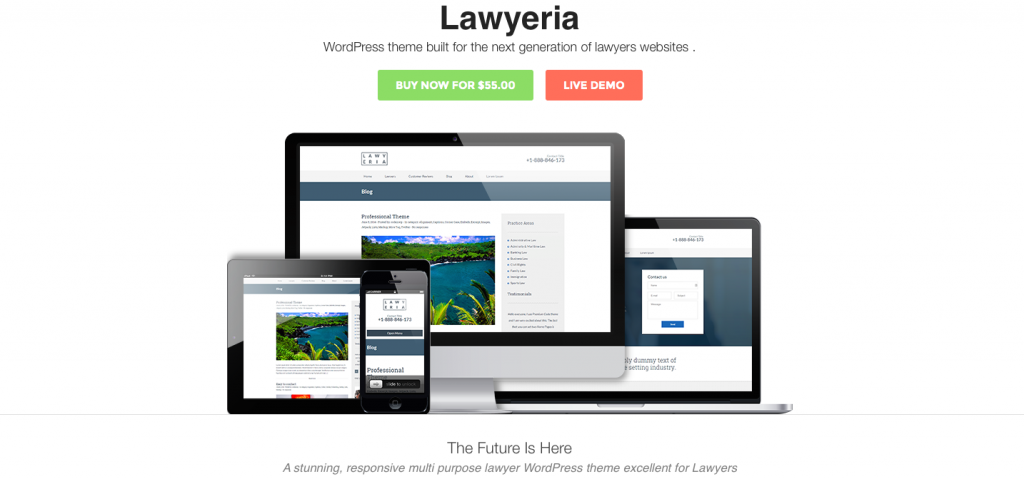 If you are a lawyer planning to have your own personal blog or website, you have to make sure you pick the very best theme that matches your style but also instills a sense of reliability in your visitors. This is where Lawyeria comes into play – it's a widget-ready theme with an elegant and professional design that hits the nail on the head when it comes to the aforementioned type of website. It comes with features such as a contact field on the homepage to put users in touch with you, a clean and validated code that's easily editable by any person with just enough HTML/PHP knowledge and an unlimited choice of colours to choose from in the theme options. A testimonials widget is also included, so don't hesitate to use it and take pride in your best reviews.
#3: Caresland PRO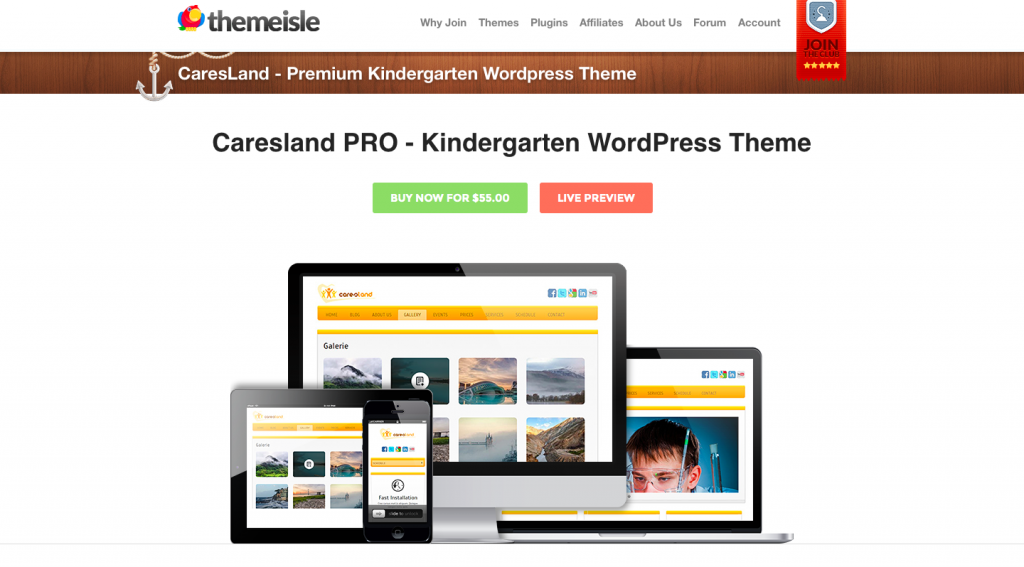 Themeisle has accustomed its clients to the very best, and Caresland PRO is another one of their excellent themes for WordPress. Caresland was created for kindergarden websites and blogs, so the choice of colours for the design is vibrant and cheerful, focusing on tones of orange and yellow. Unlike with other WordPress themes, you won't need a plugin to add custom events, because those are directly supported within the theme itself. You can create as many events as you want, each of them with a custom date, map and location. The theme comes with a slider installed as well, and the slides can be easily customized to suit your needs. In fact, the theme abounds in customizable widgets, so you won't have to spend any additional money to make sure your website works smoothly.
#4: Reviewgine Pro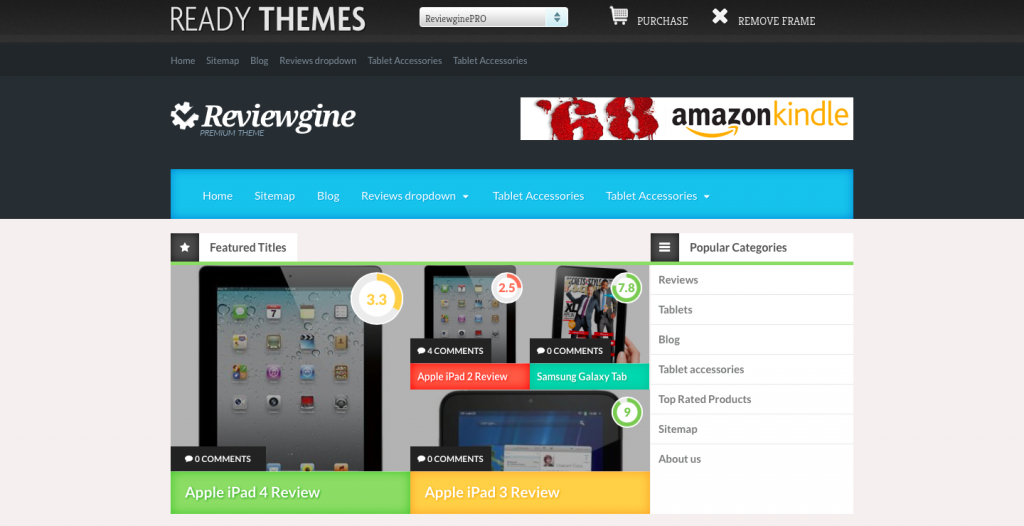 Reviewgine Pro combines a clean and professionally coded theme with powerful built-in plugins in order to help you set up the best review website for your product or niche of choice. In fact, this theme is also a great investment – for the small amount of money you have to pay, you will receive VIP support plus three awesome plugins that are worth alone more than theme price itself. Slider Revolution Plugin, Visio ShortCode plugin and CSS3 Pricing Table Plugin are additionally included and you can of course customize Reviewgine however you want with the custom options panel and also organize the websites' navigation menu thanks to the WordPress custom menu feature. This is an amazing offer, isn't it?
#5: Onesie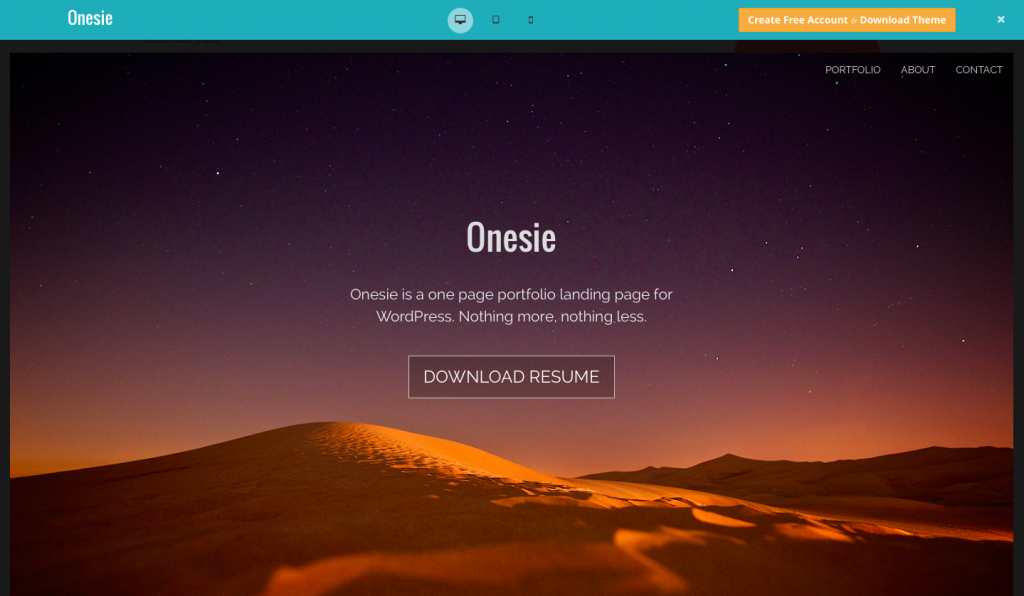 If you worry about being a newbie without much experience in putting together a website, you should check out Onesie, the best responsive landing page theme for your portfolio, event or business website. This one-page theme is incredibly easy to customize – you can add your preferred logo, favicon, header image, background image, background color and you can additionally create custom menus, pick custom fonts and add widgets. Building a website with Onesie is truly a walk in the park.
#6: Fruitful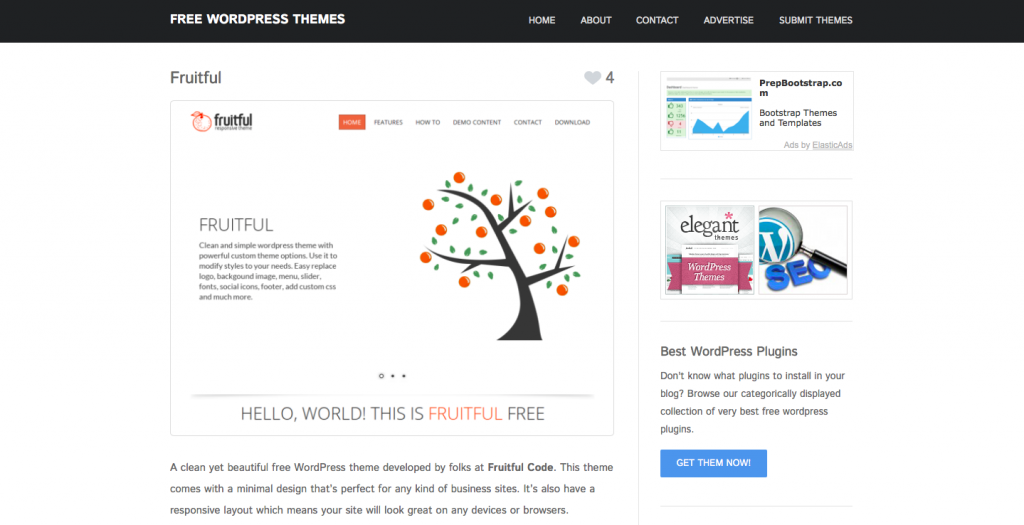 Another easily configurable theme is Fruitful, made for business websites. The minimalistic design will put your content in the spotlight, while the responsive layout will make sure it looks great on any device or browser. Fruitful offers a wide range of options for logos, background images, menus, social icons, footer and slider; the CSS can be customized as well. This is a WooCommerce-ready theme, so you can turn your website into a user friendly eCommerce destination and reap the fruits of your labour.
#7: Adament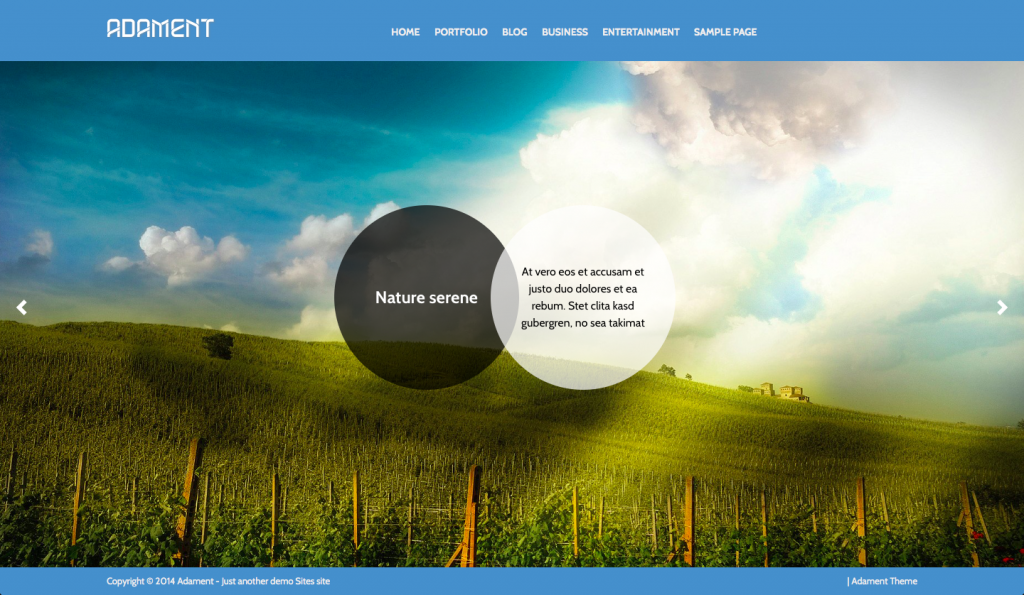 Adament is the theme you need if you have a passion for photography and you would like an online space of your own to showcase your amazing photos. This theme is built on the Bootstrap 3 framework and offers users a good variety of options to choose from when they create their website, such as the number of slides for the homepage, the custom page set for the photography portfolio and the look of the sidebar banners. The design is naturally of great importance for this type of website, so the colours can be modified as well – you can use the colour selector to adjust the main colour scheme, accent colour, link colour, and link hover colour so that they go hand in hand with your photographs instead of encumbering them.
#8: Asteria Lite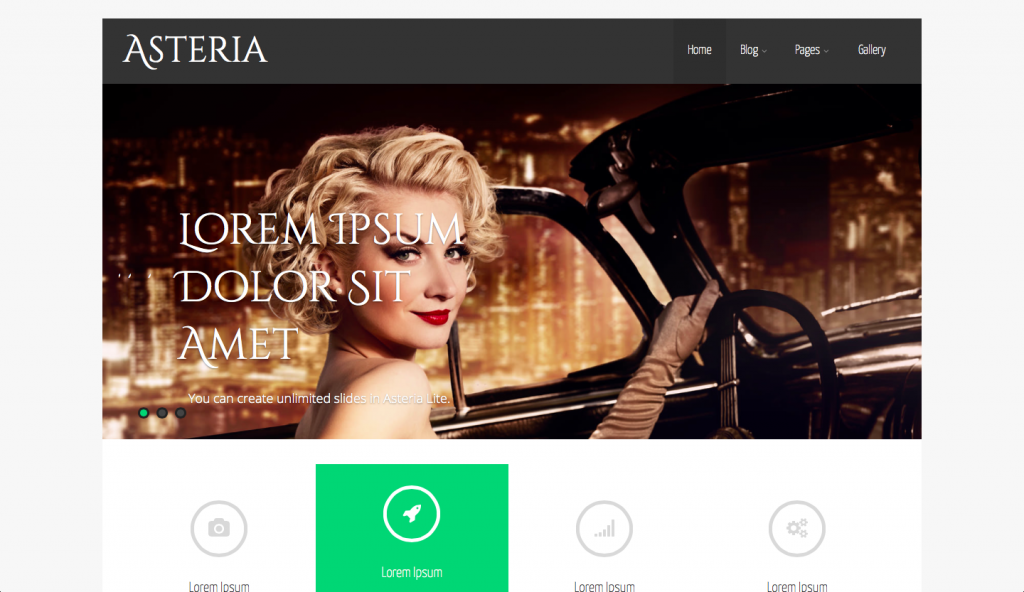 One of the most versatile responsive themes you'll encounter is Asteria Lite. Not only will you get three page templates – full width page, left sidebar page and a blog page template, but you can also design your very own logo with the 600+ available fonts and choose between a narrow or wide layout for your website. You can even go international with Asteria, as it is translation ready and fully translated into French, Italian, German, Spanish, and Chinese. The Ajax pagination feature will allow you to navigate through posts without page refresh. Other memorable features of this theme are the custom CSS feature, the Maintenance Mode and its full compatibility with WooCommerce and Contact Form 7 plugin.
#9: StanleyWP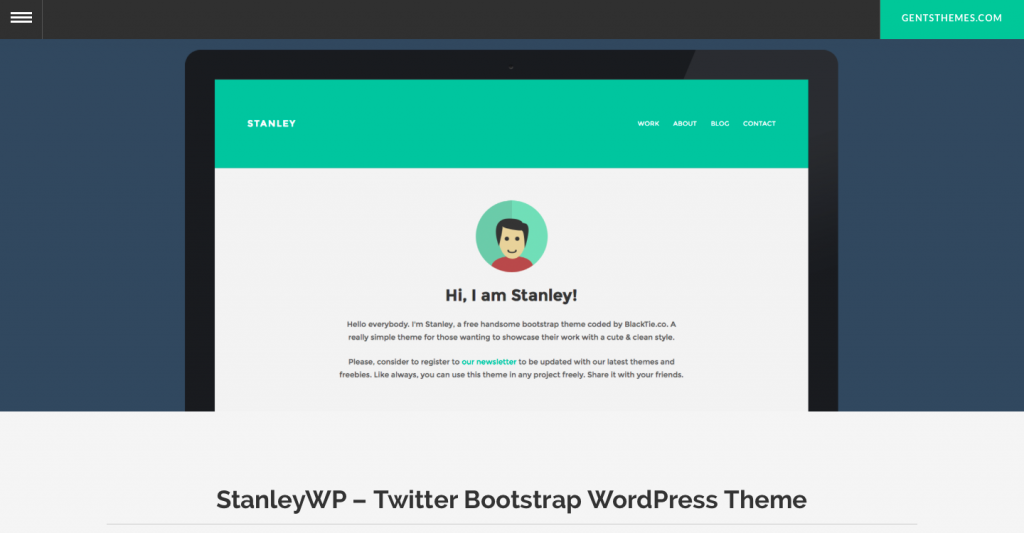 The recently launched StanleyWP is a Twitter Bootstrap WordPress theme that bloggers will absolutely love. Being compatible with WordPress 3+, it sports a modern design with a beautiful turquoise header that will showcase your amazing posts written with Font Awesome 4.0.3. You can also opt for portfolio post types to add variety to your content and customize the homepage with the drag-and-drop homepage builder. This may be a free-of-charge theme, but it includes three pages of templates, Bootstrap goodies, custom options and custom widgets that attest you'll have the best blogging experience possible. Get ready, set and start blogging.
#10: Interface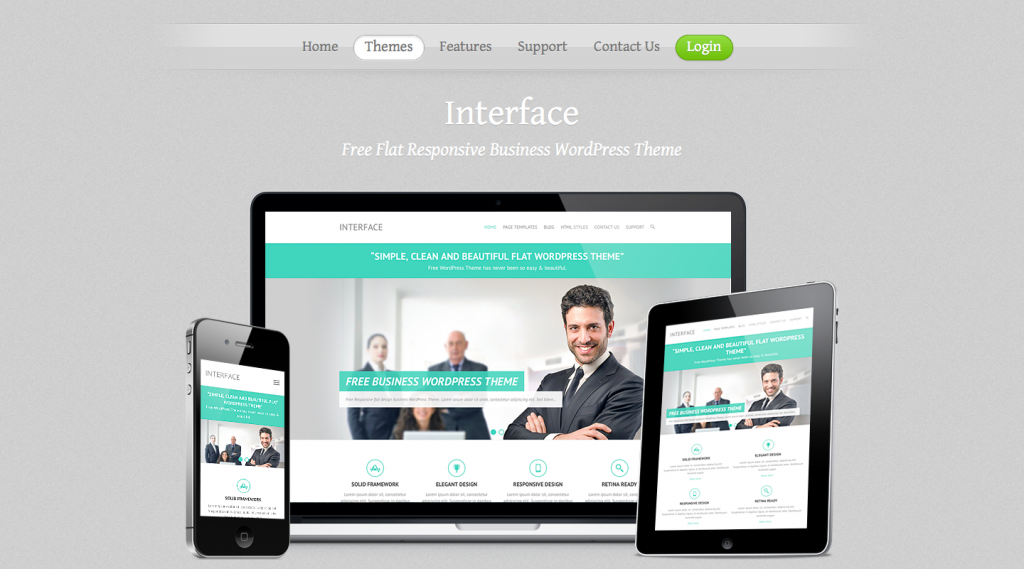 Interface is a business theme designed in 978 Grid that, with its unique features, will stand out from the crowd of plain and sobre-looking websites dedicated to the corporate world. The design settings of the theme options panel allow you to choose between a narrow or wide layout, as well as change the background, header, content and footer colour. In fact, there are five different layouts and five page templates available, namely Blog Full Content, Blog Image Large, Blog Image Medium and Contact page template. However, the good news doesn't end here: the interface additionally supports popular plugins like Breadcrumb NavXT, WP-PageNavi and Contact Form 7.
#11: Wilson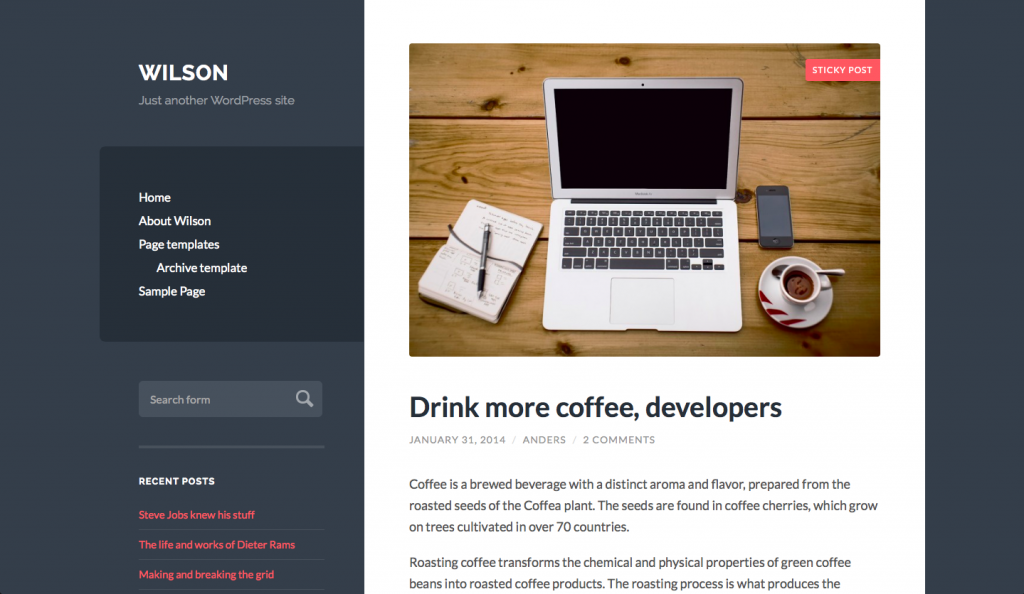 A good theme for personal blogs and websites can be quite hard to find, given that it has to cater for an immense number of personalities and preferences. The Wilson theme is one of the very few that can successfully satisfy even the most picky persons. It supports 4 different post formats: standard, video, aside and quote; this means that you can upload varied content on your website and each of those content types will be styled differently. The design of the theme is particularly appealing due to the wonderful contrast between the dark left sidebar and the white right side of the page, both sides however benefitting from beautiful bold typography. Did we also mention that Wilson is responsive, Retina-ready and has a few custom widgets for videos, flicker photos and Dribbble?
#12: Revera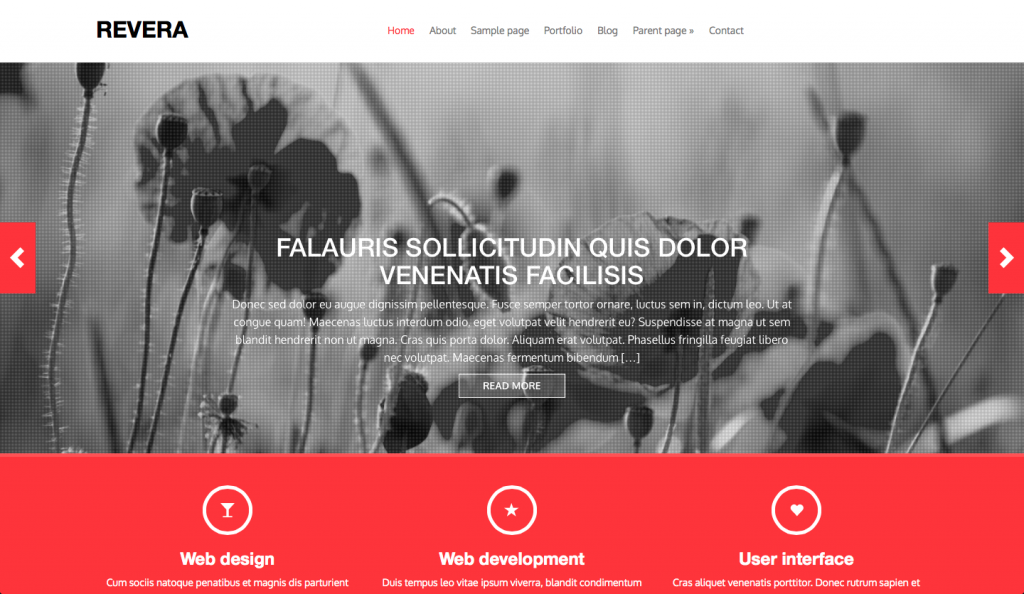 Revera will gain your appreciation with its impressive homepage slider that brings your posts to the center stage. Below the slider, you can show off your four latest articles or four latest projects. As the theme is WordPress 3.6 ready, it has features such as a custom menu, featured images, a custom homepage template, a portfolio page template (you get to choose the number of portfolio items per page) and widgetized sidebar and footer. Moreover, Revera has a perfectly balanced structure and a clean, polished design that you simply cannot go wrong with.
#13: Arcade Basic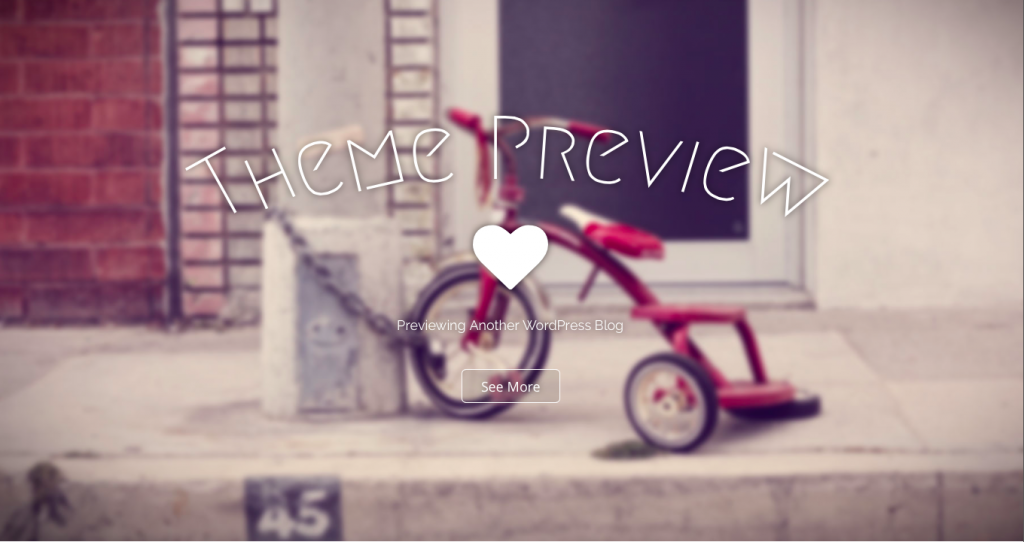 Arcade Basic is a highly customizable theme that will enable you to create a truly unique design for any website. You have eight supported post formats at your disposal: Video, Image, Aside, Status, Audio, Quote, Link and Gallery. Then, if you want to take your website to the next level, you can install JetPack to display each of your galleries through a tiled view and jQuery carousel. Put the theme customizer to good use and add your own header image, page layout and side width. Have no worries about the integrity of your work, though – Arcade is a lightweight and fully responsive theme, so it will look fantastic on any device.
#14: Merris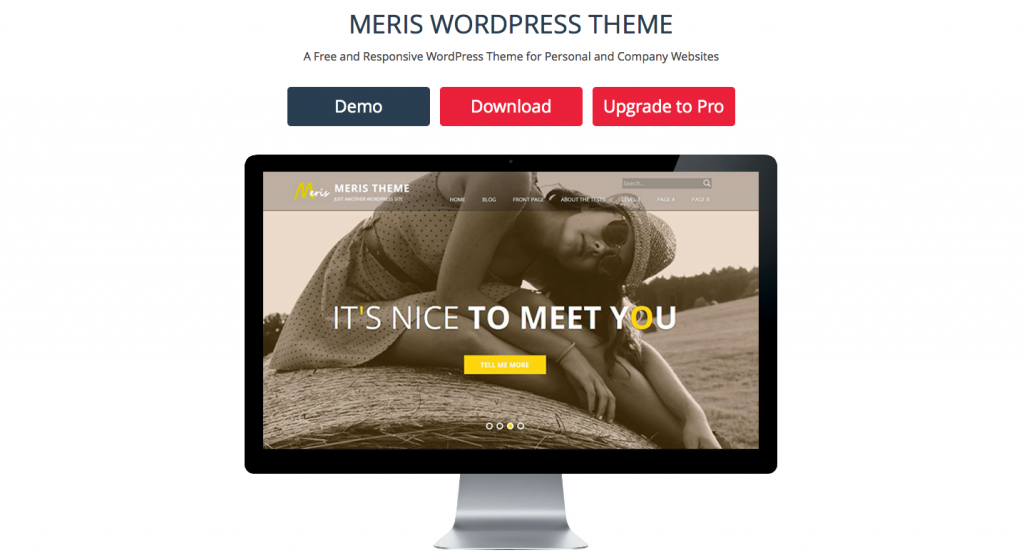 Be it a personal or a company website, there is one theme to fit all purposes: the Merris WordPress theme. You can add sections to the homepage and customize them by changing their colours and layout. For example, if you want to link to your featured product pages, place a portfolio area on the homepage. As a matter of fact, Meris allows you to add unlimited sections to the homepage and change the global colour with one simple click. Furthermore, this is a SEO-friendly theme, thanks to its clean structure and codebase. Lastly, it doesn't matter from what corner of the world you're using Merris – it's translation ready, so you will be working with your native language.
#15: Pieces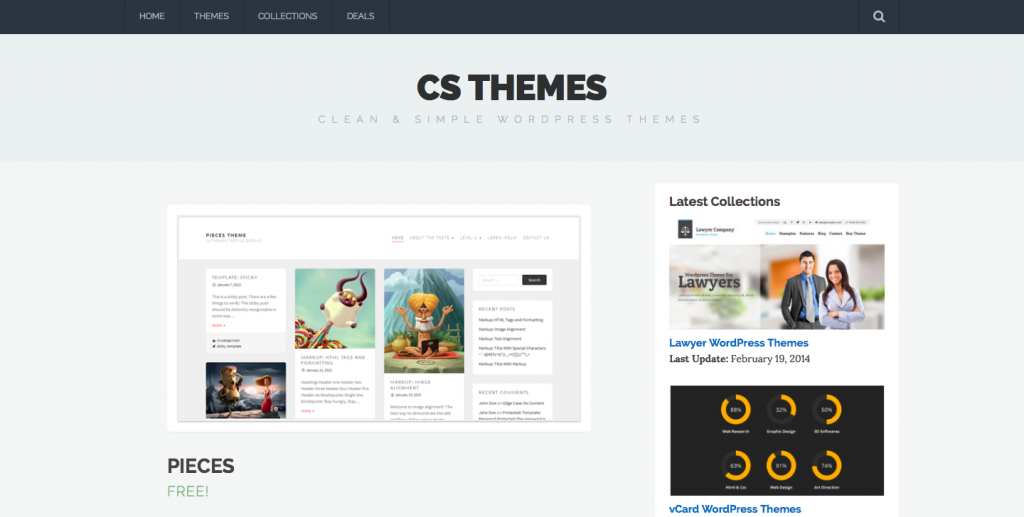 We couldn't have created a top of the best responsive themes without including one created especially for those who are artistically inclined. Enter Pieces, a grid-based clean and minimalist theme designed to showcase artwork. The design revolves around basic colours with just an occasional pop of red; this means that your viewers will be focusing entirely on the works you upload. This is a user-friendly theme that you can customize with ease and have the certainty that it will look impeccable under any circumstances, as it supports various devices from smartphone and tablet to desktop.
All in all, it's safe to conclude that having your own website got a lot easier with these aforementioned WordPress themes. The only thing to do is customize them to suit your preferences and then enjoy the online experience.