Benefits of using employee monitoring software
For working professionals, there are no boundaries anymore between technologies they use for business and the ones they use for pleasure. Alsobusinesses large and small nowadays have to watch their bottom lines and no one wants to suffer a huge financial loss. For management it is vital for them to make suretheir employees are productive. No one wants to walk by their employees and see them on the company computer looking at Facebook or other social media on their dime. Or worse, having disgruntled employees send out information to the competitors. Another risk is that corporate reputation could be on the line when it comes to what employees post on their social media. Other problem areas in a business are organization compliance and auditing as well as protecting health information in compliance with HIPPA. One such way of making sure is using monitoring software.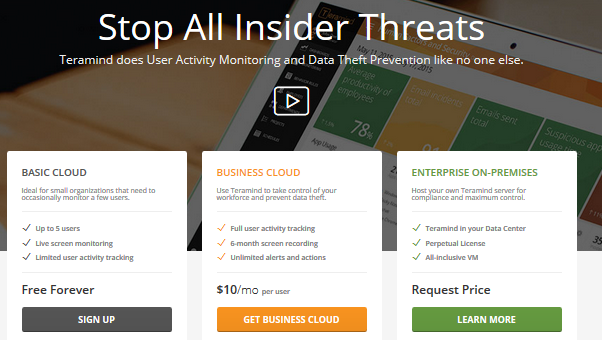 Teramind is software that can do all that and so much more. They can determine if employee theft, conflict of interest, and abuse of company -owned devices are taking place under your noses.  This monitoring software can;
-Visual screen recordings
-Email capture
-Smart automated alerts
-Can monitor website and applications that employees are using
-File transfer tracking
-Does productivity analysis
-Charts work schedules to show when employees are most needed
-Task tracking and analysis
Emails, chats, and telephone transcripts can be analyzed to determine if employees are trying to collude or conceal intentions Taremind can help the employer by overtaking a desktop by blocking a user's ability to input commands. Manual overrides can be performed entirely through the dashboard and from any device. Teramind software is able to gain vital insight and can highlight productivity levels of departments and individual employees. Teramind's dashboard has been designed with insider threats in mind. It sorts invaluable information into widgets that display data through textual and visual means. Everything from productivity to application usage can be directly viewed from the dashboard. The monitoring software shows visually through easy to understand, simplified charts and logs as well as data theft prevention. The data helps businesses refine and predict patterns of behavior. The payoff for this kind of workplace monitoring can be significant.
Teramind is a company that is dedicated providing up to date monitoring software. Founded in 2014, it has already established itself as an asset for small and large companies. Teramind has been responsible for assisting in audit compliance, data protection, and productivity increases for is client roster, which includes Orange S.A and Azteca, among others. Teramind offers three different packages.  Basic cloud is great for small businesses that have at least 5 employees. Teramind knows the struggle small businesses have in keeping competitive and having a tight budget. So this package is free. The next package is Business Cloud. This package gives you 6 months screen recording and full user activity tracking for only 25 dollars a month. The third package caters to your needs in a big business prices very depending on the need. You can visit the website: https://www.teramind.com