30 Inventive Gadget-Tools for Your Kitchen
You can tell a lot about a person by seeing into his or her kitchen. Whether tidy or messy, whether full of exotic herbs or stinking of weird smells, the kitchen's universe is descriptive of the owner's personality! But more important than the herbs, are the actual knives, scissors, forks and helpful tools you'll find! The more passionate chefs will have an arsenal of them in their work-space.
Even if you just a cuisine enthusiast, you'll actually find it useful to browse through these inventive gadget-tools. If you're just looking to send a message, emulate some great chef like Gordon Ramsay, maybe find a gift for a friend, or just have a few laughs, take a look at these unique tools/gadgets which can actually be found in some kitchens!
You can almost feel the wind in your hair with the convertible garlic-mincing sports car!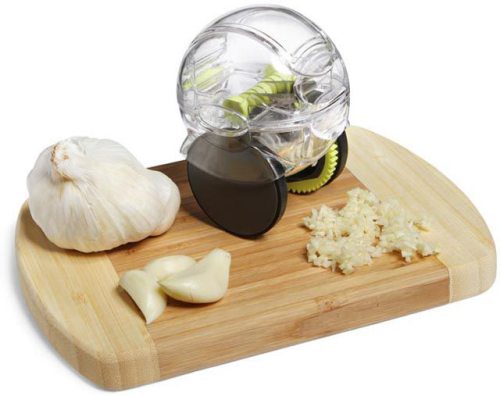 You've got to crack a few eggs in order to make an omelette! Do it correctly with the Ez Cracker!
Go back to your childhood with this awesome gift/gadget for your kitchen!
Everybody loves a good dish of carbonara spaghetti. But we all know how frustrating it is to try and twirl spaghetti, just to find yourself breaking it. No more of that with this mecanic twirling tool!
Fruits are great for your health. This tool will surely come in handy for those in Central Mexico, from where the alligator pea (avocado) comes.
Makes cooking several hamburgers, chicken pieces, sausage, bacon, or pancakes easy and convenient
You'll be the envy of all the barbeque chefs in town!
How about not spending 5 minutes to peel your morning juice? Yes you can!
What a great gift for your husband. This great mug will keep your beer forever fresh!
This is a new one. How about a baked banana? Yap, you heard me right. Try this one out, a banana baker!
Do you love eating your toast with butter on it? Well, this will make for a handy tool in those lovely Sunday mornings!
This will make for a great banana sharing contest with your friends. And you won't have to bite after they did, you can just slice it in equal parts!
Pineapples have a really hard outer shell. Not anymore, they don't!
This is most useful for making french fries. No longer will you spend time peeling your potates. This will make it a click, click process!
I always hated how, when I opened a bag of chips, I had to finish it quickly, otherwise it would catch a nasty taste. How I wished I had this funky gadget!
Hey, no more nasty strawberry leaves for you when the friends come over! Really worth $8 dollars!
What a useful invention for you you're following Jamie Oliver's latest book, step by step!
18. Plastic Egg Mold, Rabbit and Bear$3.84
Your kids will love eating eggs in the morning, seeing as how they'll be shaped as a rabbit or a bear!
This awesome invention combines the functionality of the fork with the awesomeness of the chopstick!
No matter how big the Thanksgiving turkey will be, you'll handle it right!
Shave those kernels off the cob, and you'll be ready to make an epic salad with them!
For those hot summer days, you'll love it! Cool off with this awesome gadget!
Fame awaits you in your neighborhood if you'll get this one! You'll be the envy of all the neighbors!
Friendly sushi makes for a better meal. Use these panda faces to lighten up your daily meal!
Herbs are an essential part of any cuisine. So these scissors should be in any kitchen in the world!
Yet another pineapple slicer, this time with a unique twist. It's the swirly thing that gives this slicer a different perspective.
Your cherry pie will be happy you bought the Cherry-it Multiple Cherry Pitter!
This will complete the fruit torturing arsenal from your kitchen!
Well, this will surely come in handy for tomato soup! Be gentle with it!
I can't really tell you how often I wish I owned one of these beauties!