Free Project Management Tool for Freelancers and designers – Apptivo Projects Tool
No matter what the size of a business, every business needs a tool where the business has the ability to manage their workflow, collaborate with clients/customers and closely track the various milestones on their projects.
If you are a big company you can get your software custom built or buy expensive software, but what should you do if you area freelancer with a limited budget? Well then you have to look for free tools. Today we are going to discuss a great free web-based app that will take care of all your project management needs. This tool is the Apptivo Projects App.
Apptivo web based project management tool is absolutely free that it can be used as a substitute for paid apps like BasecampHQ.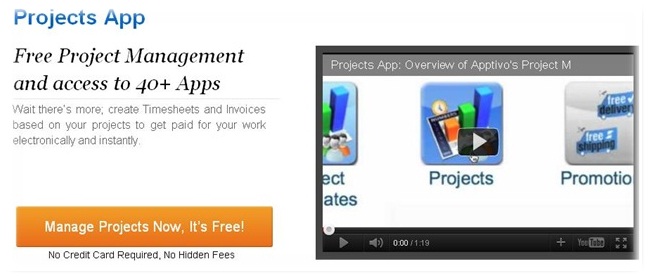 ---
Should You Choose Apptivo? 
---
Choosing Apptivo is the most obvious answer because Apptivo provides all the features which are available to you in other paid tools and more importantly provides these features for free. With Apptivo you can save anywhere from $24/mo to $149/mo. More importantly, just because Apptivo is free it does not have any usage restrictions. You get unlimited user accounts, unlimited projects etc. Everything is truly unlimited.
To get started, creating an account is fast, and I like that. Also, because you don't need a credit card and there are no hidden fees, everything is even more secure and transparent.
A really cool feature with Apptivo is that you can invite your clients to view the project inside apptivo. This way your clients are going to feel that they are dealing with a very professional company.
---
Some Important Features of Apptivo
---
Customer/Client collaboration – Like mentioned earlier this one of our favorite features. We can invite our clients to view the status of the project live and never again have to worry about the client getting disappointed about the lack of progress on their projects.
Milestone tracking using tasks – You can setup milestones and define the various tasks which are required to be completed to achieve these milestones. As you complete the tasks the milestone is automatically reached. This is a very nifty feature and useful for your employees as well as the clients.
Document Storage – You can store all your project related documents in a project and this helps you avoid all the confusion which takes place on projects with multiple client requirements.
Sub-projects – For every project you can define sub-projects. This helps you deal with the really big projects by breaking them into smaller manageable projects.
Project Templates – If you are new to project management, Apptivo already has a bunch of project templates in place which can help you get started quickly without having to worry about creating a project from scratch.
Project Invoicing – Once you have finished your project, you can directly create an invoice from the project without having to manually enter all the tasks which were completed for the project.
These were some of the features which we thought were interesting. What do you guys think? Would you try Apptivo SaaS Project Management tool instead of the paid options available in the market? Let us know in the comments below.