25 Trendy business cards designs for 2013
Here are 25 trendy business card designs for 2013. Business card designs are important in projecting the image of the company. A good name card design can help to open up businesses and be used as a conversation starter. Currently, the trend for business cards is to be unique. In fact, most companies are willing to go the extra mile to design a card that is different and has a strong personality. This is why we are seeing card designing marketplaces such as 99designs doing so well.
If you need some inspirations for trendy business card designs, here are 25 of them for 2013.
#1:Burro by Charlie Isslander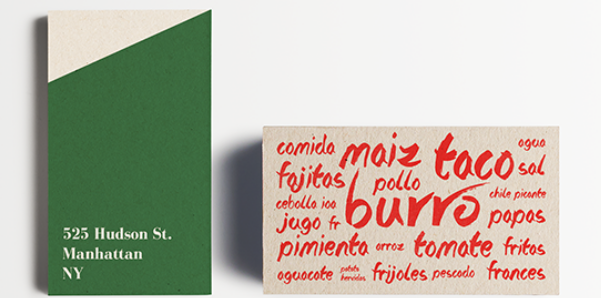 This is for a Mexican restaurant in NYC. I loved the hand written style. It conveys authenticity which is important for a restaurant. The colors, if you noticed, represent the colors of the Mexico flag.
#2: Teapot by Nadir Balcikli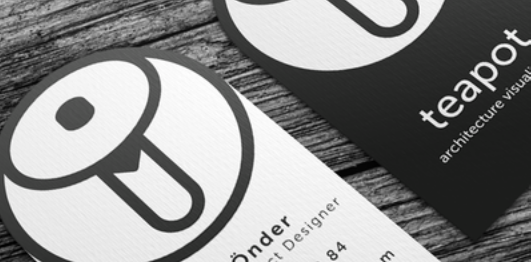 A trendy business card that has a unique oval shape at the top.  It is a nice twist on conventional card design and the rounded interior arts make full use of the oval shape.
#3:Victoria Holguín Business Cards by Liliana Ospina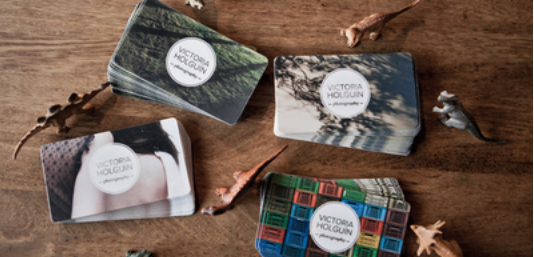 Another easy way to create trendy business cards is to use powerful images such the example above. As long as the images are relevant to your brand, it is a good way to design a card.
#4:Binario Visual ID by Liliana Ospina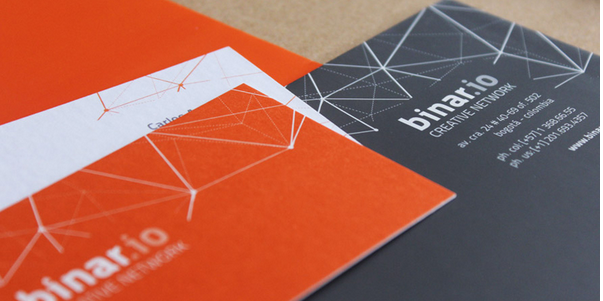 I liked the use of bold single colors to highlight the words being written in white. The light use of some design elements around the top adds a nice touch to the overall look and feel.
#5: Edamame Cards by Brian Miller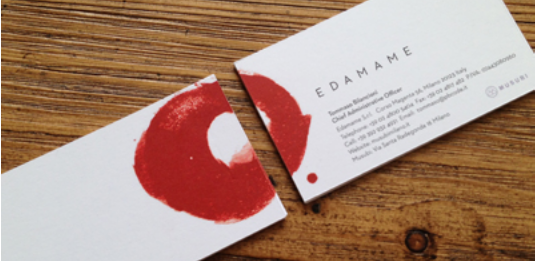 The concept of using an image that joins the front and back cover of the business card is an interesting one. Best of all, it is easy to execute for any designer.
#6: Our business cards by Neil Corcoran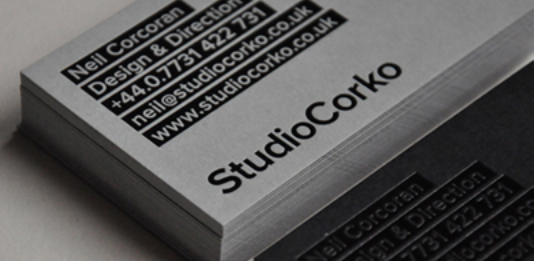 The use of foil materials makes the texture of the cards a bit different from the rest. The texture also affect the look of the card, giving it a more 3D feel.
#7:  Createful Business Cards by Toby James Pestridge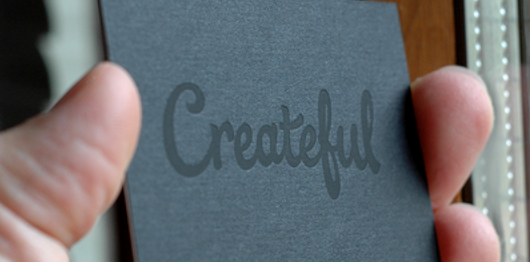 Createful business cards use a very thick card stock for making the cards. This makes the card especially outstanding, especially when used dark colors to create a sophisticated look.
#8: Symmetri Business Cards by Lassi Vehviläinen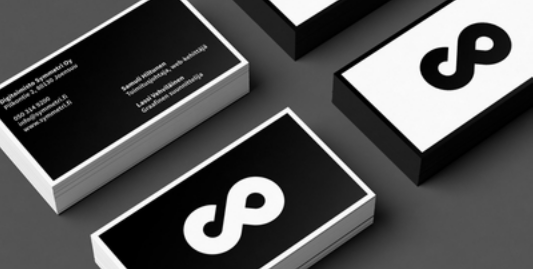 Sometimes, all you need to make a trendy business card is to create a good logo. This is what the symmetri business card is all about. The logo + the color scheme = trendy.
#9: Cosmopollen by Louise Twizell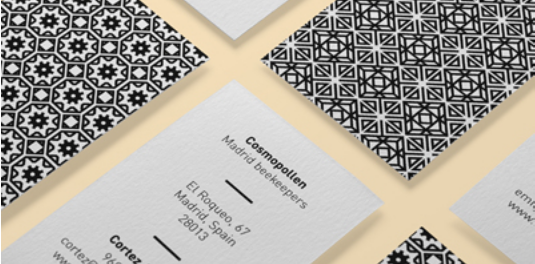 A good pattern design goes a long way in creating cool business card. You can follow the example above by using tasteful patterns to create your design.
#10: Nick Edlin Design business cards by Nick Edlin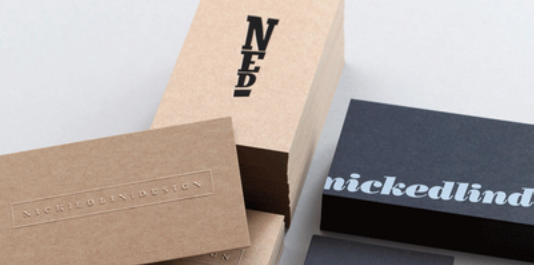 Nice use of typography to create an impactful and trendy business card. The playful use of the differing letter fonts make this one a unique design.
 #11: Rubber Stamping by Joseph Alessio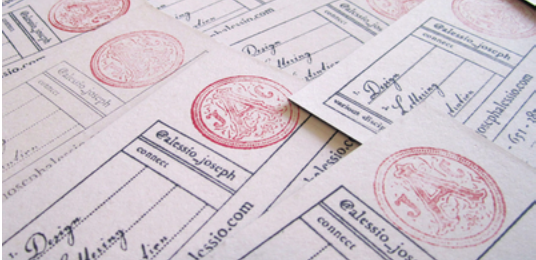 It is business card that uses rubber stamp as a signature style. This is rather unique and is seldom seen. The different ink used by the rubber stamp also creates  a different form of texture for the card.
#12: Personal Letterpress Business Cards by Abi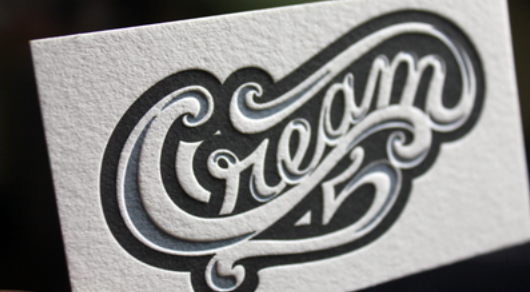 Using letterpress to create trendy effects in business card is a solid concept. As long as the letterpress design is cool, the overall look of the card should turn out great.
#13: Lavene & Co. laser etched business cards by Jasmine Byers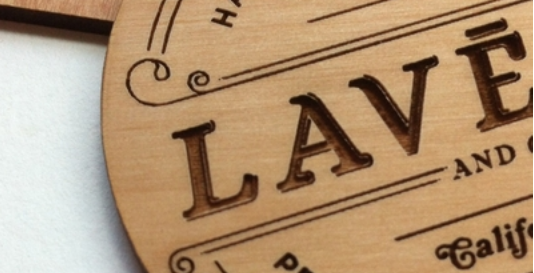 This is hand crafted business card and it shows. The use of the material plus the unique shape of the card makes this one truly trendy and outstanding.
#14: Blackwire Card by Alen Type08 Pavlovic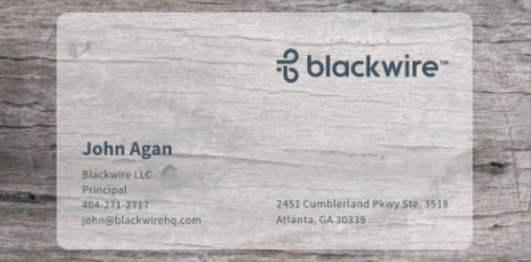 Transparent business cards are always going to be trendy looking. Here is another example using plastic to create a very modern look for the card.
#15: O2A Business Card by Ala Dadan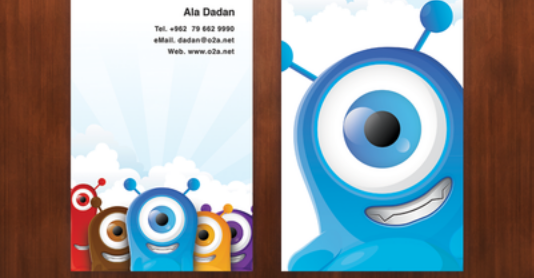 Another tip to creating trendy business cards is to use some cool or cute character designs. This will always get people to sit up and notice your card.
#16: Personal Business Card 2 by Lassi Vehviläinen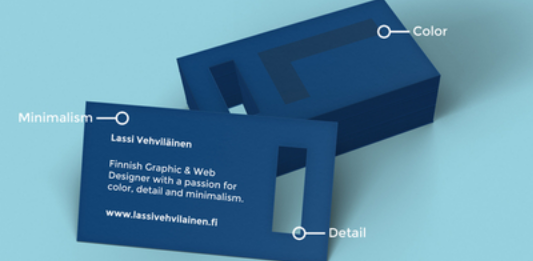 Using some cut outs in your business card design can make your overall creation looks more trendy and sleek. The example above uses a simple rectangle cut off and it makes the whole card more impressive looking.
#17: My business card by Fabian Landa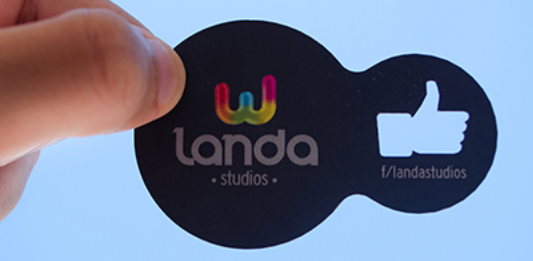 This card combines a couple of different techniques that have already been mentioned. It uses cut out + a unique shape + a miniature design. All these makes this design very special and trendy.
#18: Photographer Business Card Design by Indezoo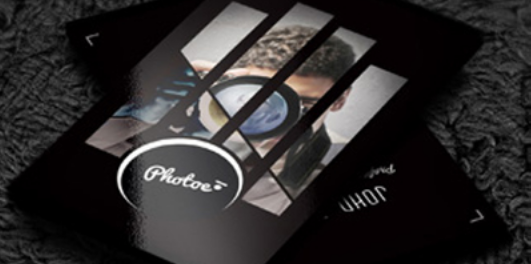 This card proves that just using cool graphic design in your business card is enough to make it look trendy.
#19:  Business card by Aliz Buzas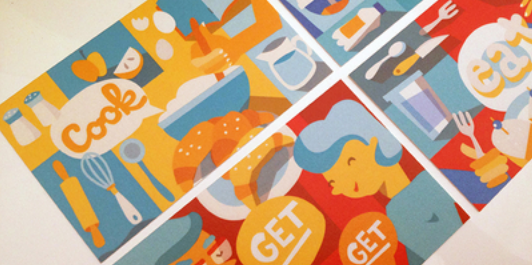 A very colorful and retro looking design. Interesting that retro actually make the business card look more trendy. I guess modern retro can be look cool as well.
#20: Business Cards by R A D I O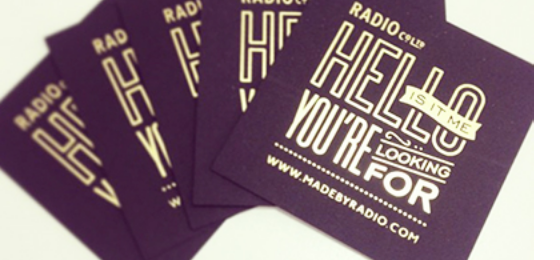 This is a good example to show that just a bit of difference in the shape of the card can go a long way to differentiating it from the rest of the pack.
#21: Remote Business Card by Hertzel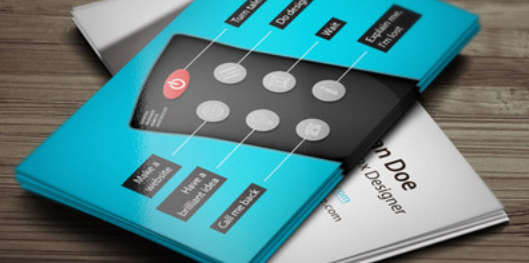 A rather fun concept which combines an instruction manual along with a business card. Can be a good way to show your partners or customers how to use your product.
#22: Business card by n0dk4nE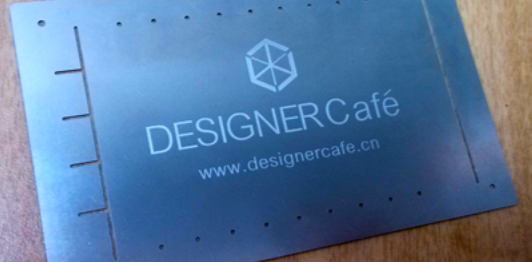 Want to get notice? This metallic business card design can surely do the job. Not sure how much it will cost but it will probably set a new trend.
#23: Dj Identity by Therese Ottem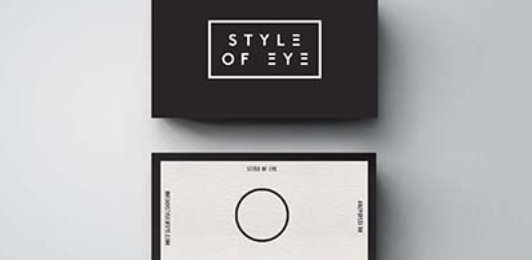 Although very simple on the surface, the use of graphic design is strongly evident in this business card. The color scheme of black and white adds to the sophistication conveyed by the design.
#24: New business cards by Nicole Östman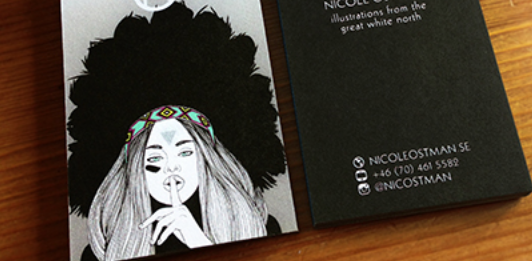 I love comics and I love the way this business card use comic graphics as part of its design. If done well, it can really make the card look trendy and cool.
#25:  Shape Business Card by Pixeden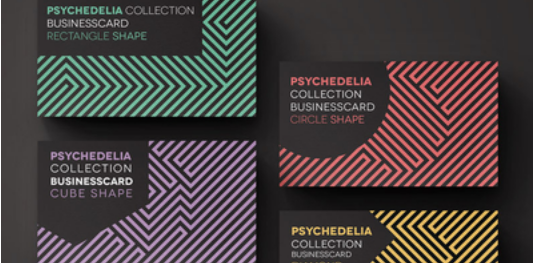 Another example of a business card being made modern through the use of simple patterns. The different colors and layout create a unique set with a unifying theme.