20 Best Ecommerce Web Designs
Selling products online is a great way of making money now a days. But some of the websites are designed so badly that they rarely succeed in seeling their products. A good design is a great way to communicate and get your point across and so it is definitely very important. There are also many good e-commerce websites, that are designed amazingly — and that obviously makes it easy for them to sell more products. If you are planning to launch an e-commerce website then you should definitely check out this list of '20 Awesome E-Commerce Websites Worth Checking out' for inspiration.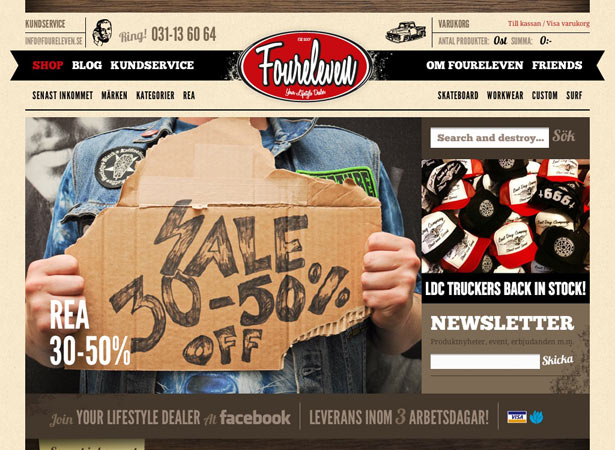 Foureleven has a really awesome layout. The website looks neat and clean and boasts some good amount of content on its home page.
2. Custom Bags HQ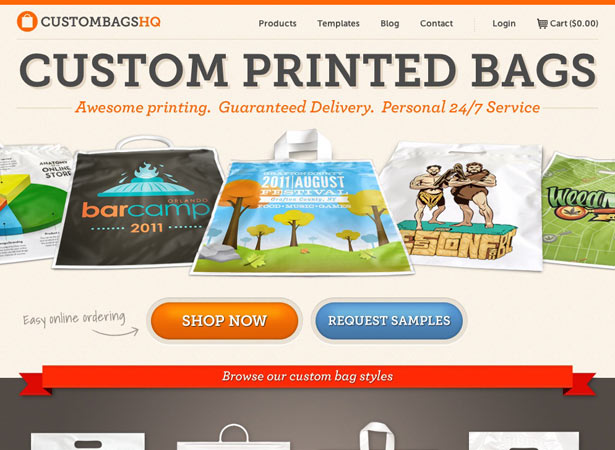 Custom Bags HQ has a really good interface to get you started creating your own custom bags. The header graphic is really eye-catching and has some solid call to action buttons. Below that, you can begin browsing bag styles.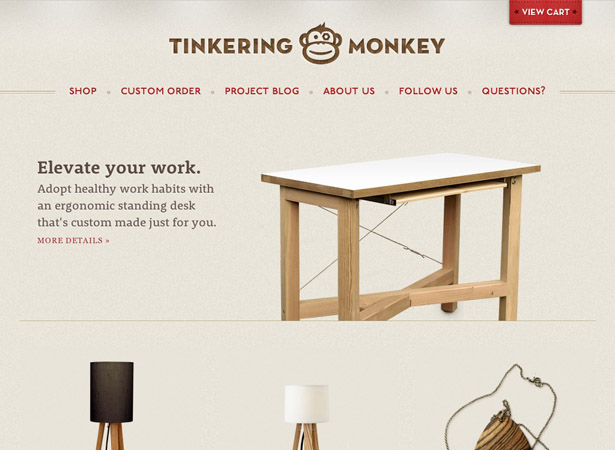 Tinkering Monkey has a very neat and clean interface. The thumbnails and product pictures blend beautifully into the website's background. They have paid great attention to details, and this thing makes this site really nice.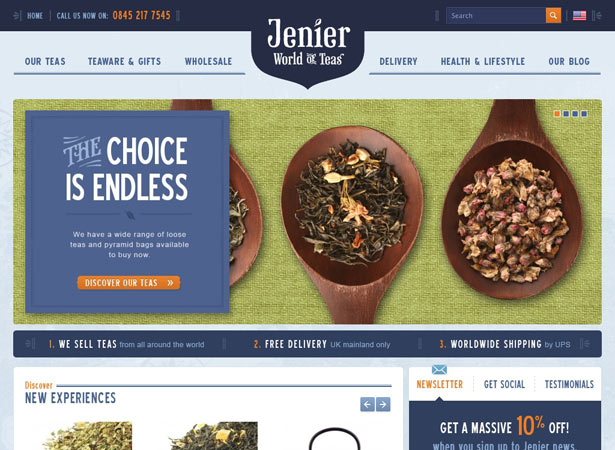 This website is a blend of both, a modern look and a rustic look. This is not an out-standing website but still it looks great and does its job.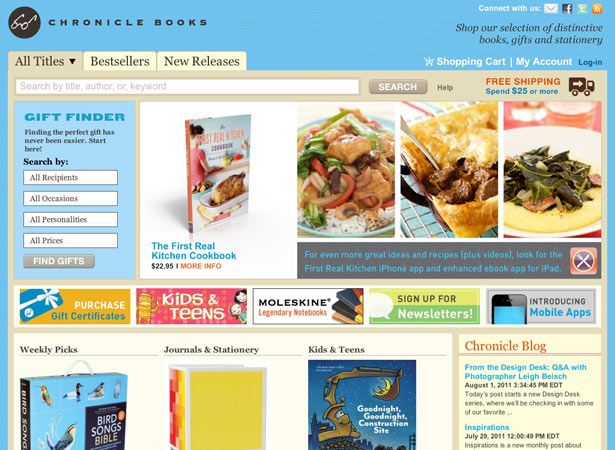 Chronicle Books boasts a lot of content on a single page but still it does not look cluttered. Its design will definitely excite you regarding different books.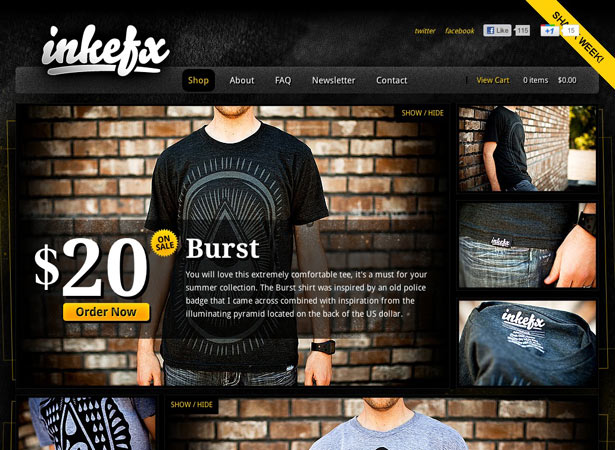 Inkefx has a really awesome layout. If your e-shop only has a few products, then you should definitely check out this site as it is a great example of such a site. Every product is provided with its different shots and information about it. One great feature of this website is that when you order a shirt, a smart size availability bar graph is also shown.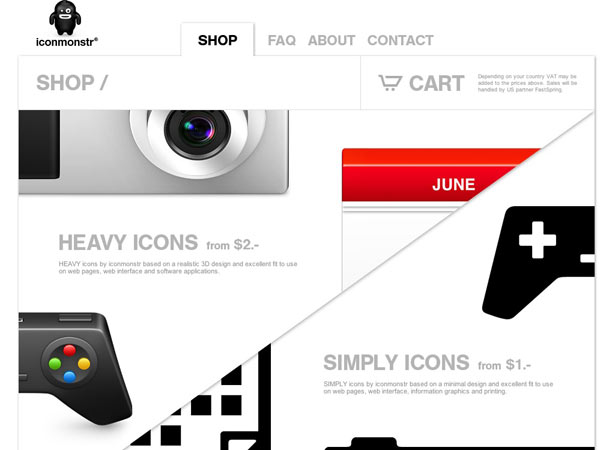 IconMonstr sells its icons in a very nice way. They have kept this website very neat and clean. Purchasing an item is actually a breeze.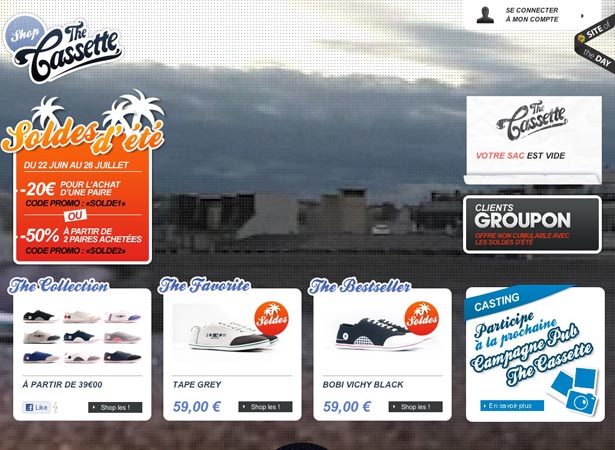 The Cassette is a website that should definitely be praised for the way they have used flash. It sells shoes by showing people how folks use them. This idea is really very creative and unique and goes really nicely with the layout. A very entertaining website indeed.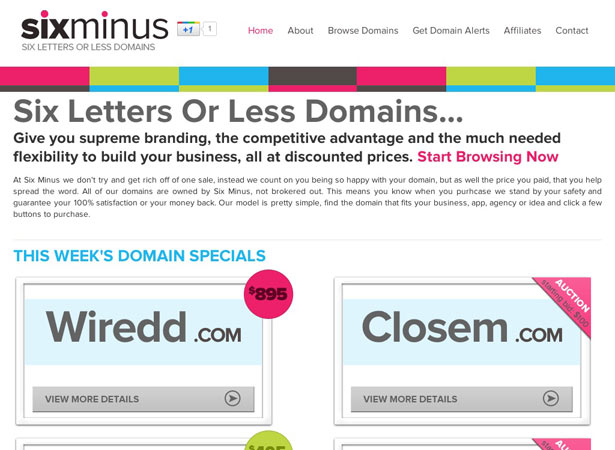 Six Minus has an attractive color scheme that is very eye-catching. Its concept is also quite interesting. This site simply has a good design and domain selling.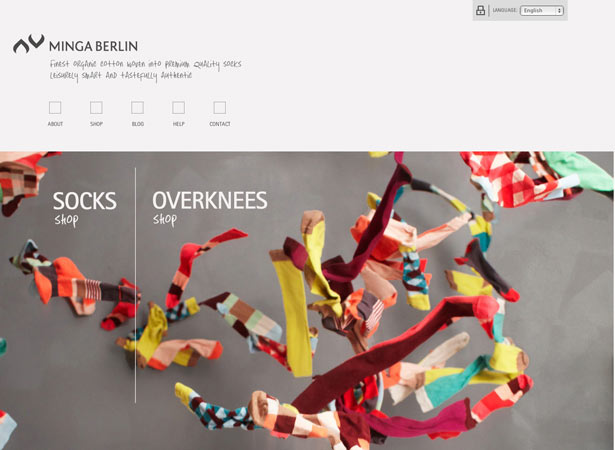 This site sells socks. Yes, Socks! And they do it very nicely too. This site makes buying socks a lot of fun and this 'fun' part will convince you into buying socks for yourself.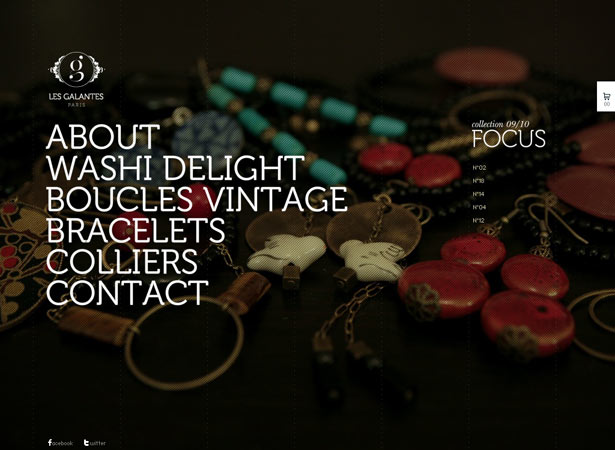 This is another website that has used flash awesomely. The effects on the website are extremely attractive and its design is amazing too. Definitely a very good looking website.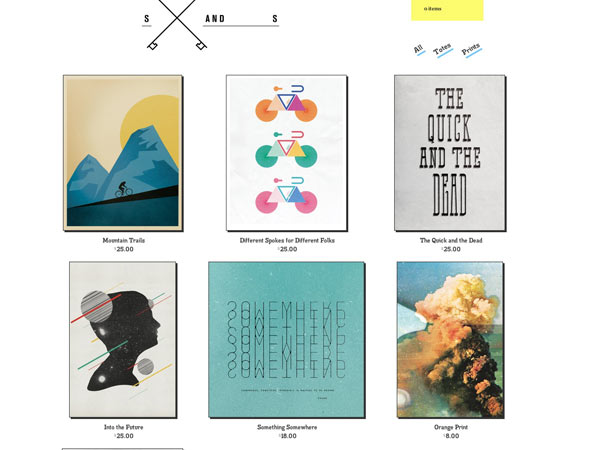 Script and Seal is very much 'to the point' website that is very handy. Every print has a great looking border and drop shadow around it which makes it look really good.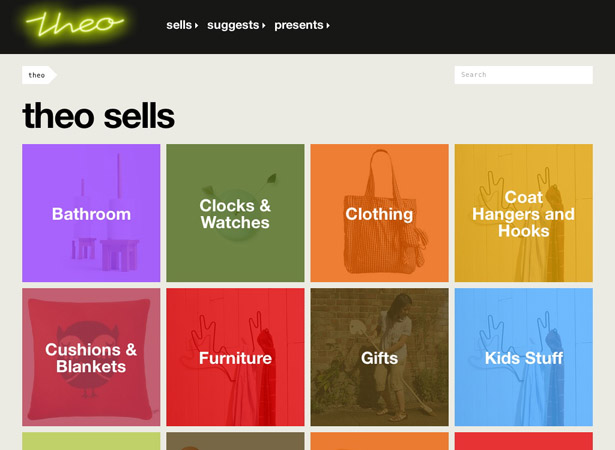 The interface of this website is really nice. Its functionality is also very handy. This website sells its products in a brilliant way and its ability to relay design messages is quite cool.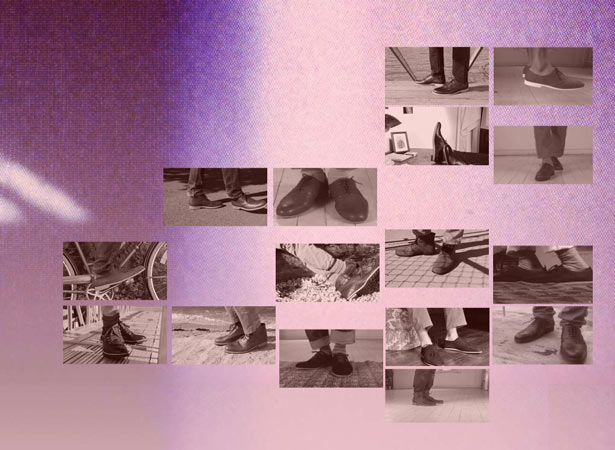 Rachel Comey Men is yet another website that has used flash really brilliantly. They use the animation for every single photo, thus making them look awesome. A really pretty looking website!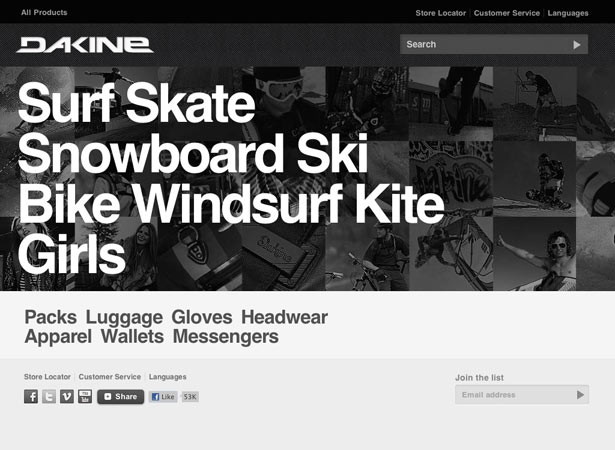 This website makes good use of pictures and typography. It boasts active images in the back with typography overlaid on it. It navigates and explains the content.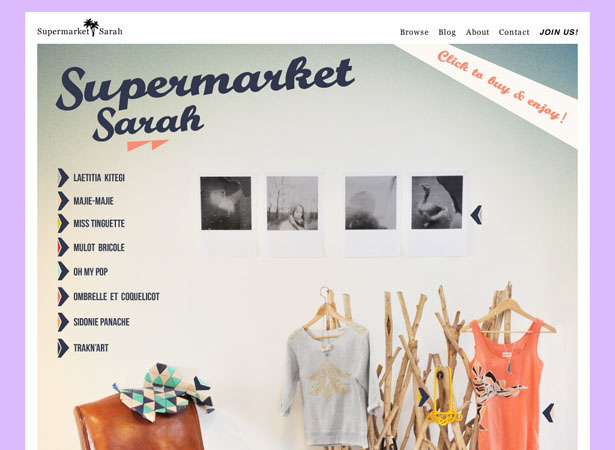 Supermarket Sarah displays its products in a really innovative way. It is a really fun idea. The support design is quite basic and simple.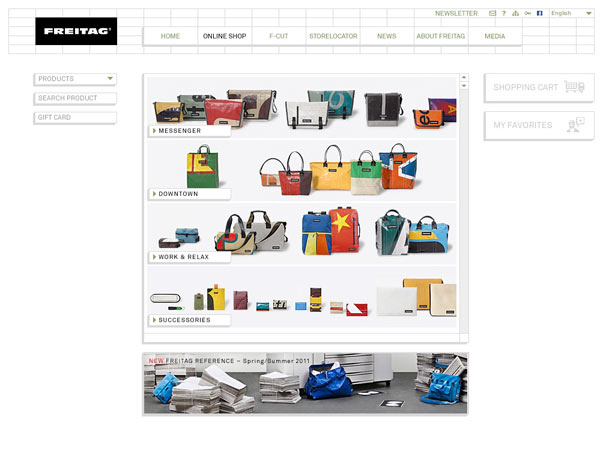 Freitag is a website with good interactivity. Clicking on the product will display info about it. It also uses flash quite nicely, making this site even more pretty.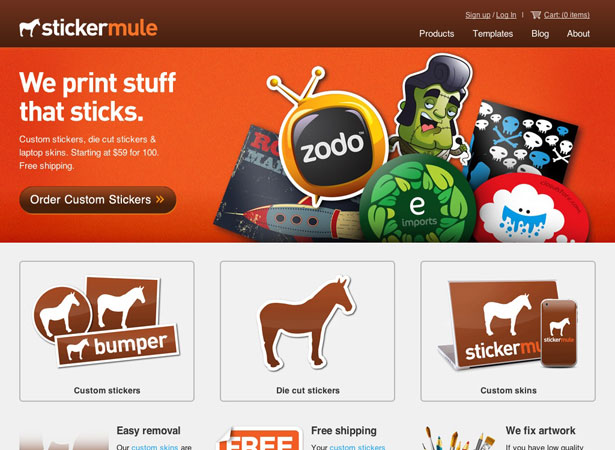 Sticker Mule is an extremely easy to use website. It looks really good too. This website is an awesome tool for designers. It is definitely worth checking out.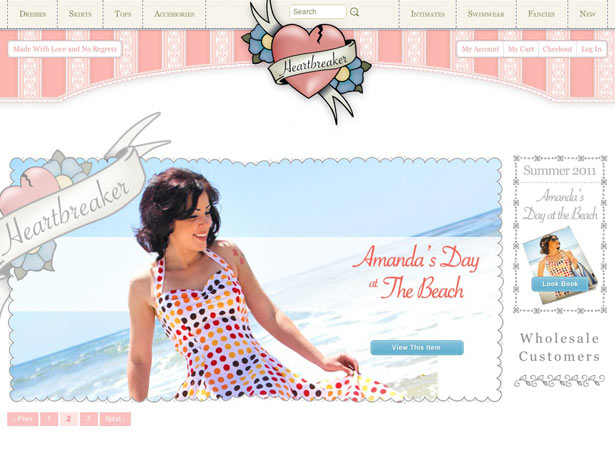 The theme of this website is vintage and retro. A retro theme is always very trendy but most of the sites don't apply it. Heartbreaker Fashion has executed a retro theme really nicely.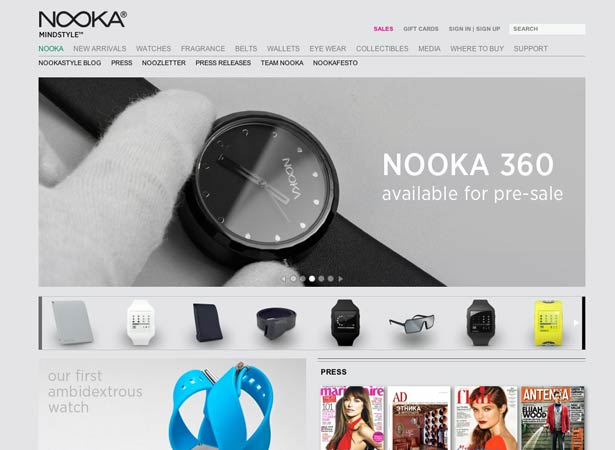 Nooka boasts a lot of content on a single page, and while its design is not that awesome it still has some really amazing individual elements like the watches etc. These elements are really creative and inspiring.
One of the most important part of creating a good e-commerce website is making sure its design is good and creative. Doing this will send the right message to your potential customers, and thus bringing in more sales. Plan and create nicely!