25 Powerful Examples of Masonry jQuery Web Design
jQuery is a powerful tool for animation, image galleries, tooltips, dynamic forms, real time updates and a variety of other techniques that we've featured jQuery tutorials on before. It is purely used on many cased either in web design or development. However, jQuery web design effects can be hard to implement in designs properly, because you have to know how to use them to enhance usability and not detract from the design or user experience.
Today Gallery is purely based on the concepts of Masonry. This layout plugin is developed by David DeSandro. You can see the difference of before and after effects of Masonry below diagram.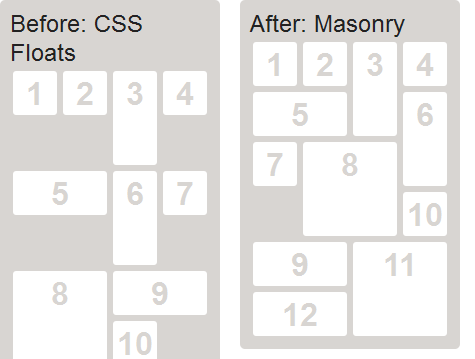 Think of it as the flip side of CSS floats. Whereas floating arranges elements horizontally then vertically, Masonry arranges elements vertically then horizontally according to a grid. The result minimizes vertical gaps between elements of varying height, just like a mason fitting stones in a wall.
25 Powerful Examples of Masonry jQuery Web Design