10 Green Design Trends
Environmentally-conscious, or "green," design has become an increasingly popular aesthetic on the web.  While it makes sense that natural elements would provide the backdrop for green companies and programs that explore the outdoors, green design doesn't necessarily only apply to eco-friendly or eco-focused companies.  Organic, grassroots, and growth-inspired visuals have become a trend unto themselves, used for a wide range of purposes and appearing on websites belonging to everything from real estate companies to web designers.  Getting to know the signs, symbols, and design elements to look for will open your eyes to the many ways the trend can be used and, possibly, will help inspire you to incorporate some green into your own website.
1. Green Means Green
Yes, it's true: environmentally "green" website topics display preference for – and, indeed, a preponderance of – the color green in their website design.  In fact, it is the overwhelming favorite of designers, whether applied to the web page background color, font, or animated images.  Grass, trees, leaves, and plants all feature this color and, since they are also a staple of these websites, the effect is only compounded.  Follow-up choices are often calming blue hues, such as seen in sky or water, and other colors in the subdued and natural spectrum: browns, yellows, and burnt oranges.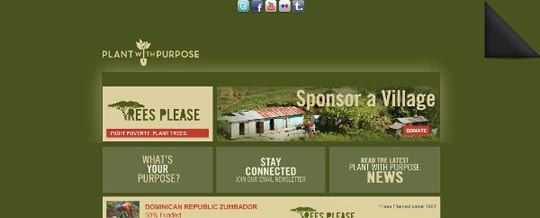 2. Nature Rules
Just as a green website's colors mimic the natural environment, so too do its graphics and web page background images.  Along with the aforementioned grass, trees, leaves, and plants, you can also expect to find flowers and, perhaps surprisingly, dirt.  Richly hued earth makes frequent appearances across green websites.  The soil portrayed is healthy and hearty, alluding to themes of growth, renewal, and a down-to-earth attitude.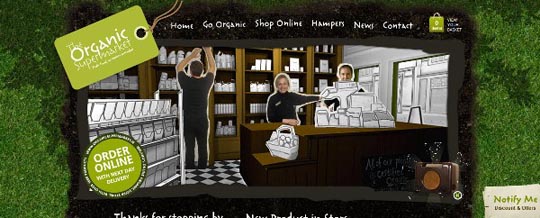 3. Let the Sun Shine In
Light, in its many forms, is also a constant presence.  Whether portrayed as a smiling sun or the backdrop to a bright day, it sends a message of warmth, cheeriness, and positivity that helps to activate and inspire visitors.  A lack of dark colors is generally evident here and light is sometimes used in more subtle capacities, such as simple emanating rays.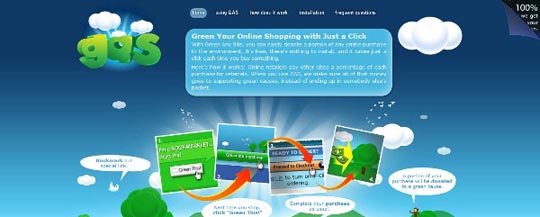 4. All Creatures, Large and Small
Animals, being part of the natural setting, also appear frequently in green website design.  The most commonly occurring are the smallest of the pack, showcasing butterflies, birds, or bumblebees.   However, there are also plenty of examples of larger jungle cats, gorillas, and bears.
Another natural element that has come to stand for environmentalism is the seed, seedling, or pod.  It's a particularly powerful symbol of growth, hope, health and renewal, as well as an allusion to start-up businesses and the beginning of new, grassroots initiatives that can be seen as operating "from the ground up."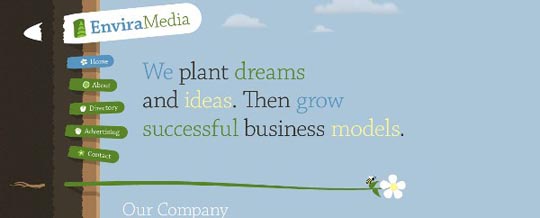 6. Wood and Paper
Wood, paper, and hemp-like fabric make a frequent appearance throughout green website design, once again adding a more natural and less artificial look to these pages.  Wood can most often be seen used as a web page background; crinkled paper or cloth can also be employed in this manner, while another trend is that of sticky notes, reminders, and to-do lists.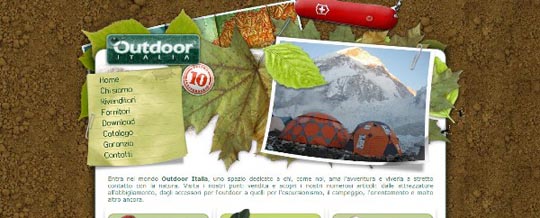 7. Handwritten Notes
To continue the theme, handwriting is another element that lends a sense of the organic, the homey, and the personal to these environmental websites.  While it's not necessary for an entire web page to be designed with handwritten script, you'll notice many instances where it has been incorporated, giving a texture to the design and counterbalancing any more formal or corporate elements.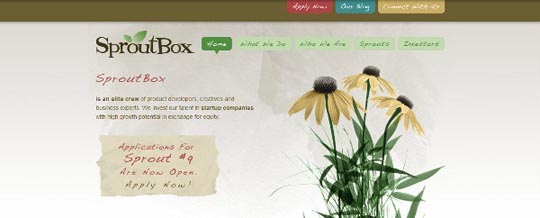 8. Animated Life
What's especially noticeable across these websites is the prevalent use of animation, graphics, and hand-drawn images.  Although photographs are incorporated as well, it is just as likely to see computer-generated trees on these pages as it is to see snapshots of live ones.  This is an interesting choice, one which serves to create a virtual utopia, showing an idyllic world – clean, cheery, and pristine – that is only possible through the adoption of environmental initiatives.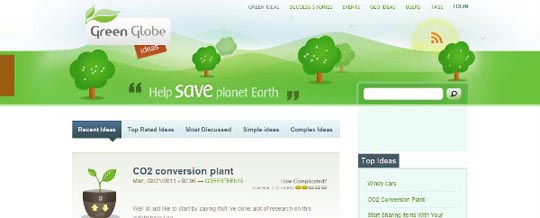 http://www.greenglobeideas.com/
9. Planet Earth
As cliché as it may seem, the image of planet earth – as a whole – is an indisputable reminder of how we all must work together.  Designers use globes to give visitors a big picture effect and remind us of our responsibility, showing that we are very small in comparison with our planet.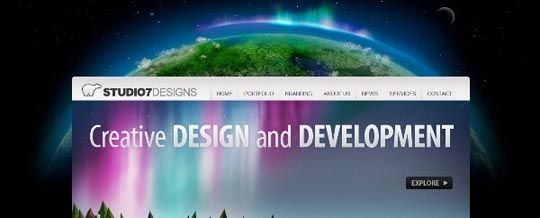 10. Eco-Hosting
While not necessarily a design element, the most credible way to be considered a truly "green" website is to choose a green web host.  These environmentally-minded providers are capable of powering sites with 100% renewable energy.  Making the choice to practice what you preach is a noble decision and, yes, also one that can be incorporated into the fabric of your design: make a note on your website that you are powered by renewable energy and encourage other users to follow suit.