10 Best Minimal iPhone Weather Apps
Weather refers to the atmospheric conditions that comprise the state of the atmosphere in terms of temperature, wind, clouds, humidity and precipitation etc. These all aspects of weather have a great influence on our lives and our daily activities. Weather can sometimes be totally unpredictable, so it is always wise to pre-check what type of weather you should expect on a certain day.
Thanks to the advancements in technology, smartphones have now enabled us to get apps that will provide us with weather forecasts and quick updates. iPhone also has some really cool and minimalistic weather apps. Travelers also should have these apps in their smartphones to allow them to know what type of weather to expect in the city they travel to so their work and plans would not be effected.
The default weather app of iPhone only provides rough averages, and if you wish to get exact, precise and crisp information on the weather conditions then you should check out some minimalistic alternatives available in the App Store. So to help you find the best apps of this kind, below we present a list of 10 Best Minimal iPhone Weather Apps. These apps are minimal and have a simple user-interface, but provide you with accurate information. So check them out and pick the ones you like the best!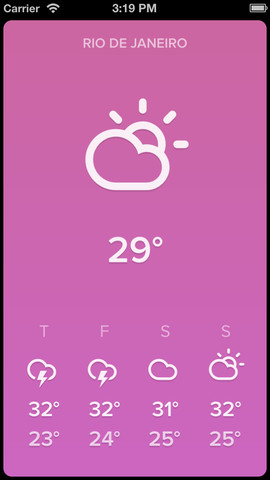 This one is a tidy and nicely designed minimalistic app has some really beautiful colored background according to the temperature of the city – blue for cold and red for hot, while the intensity or darkness of the color describes the intensity of the temperature. So with just a glance you will know what type of temperature you are experiencing today.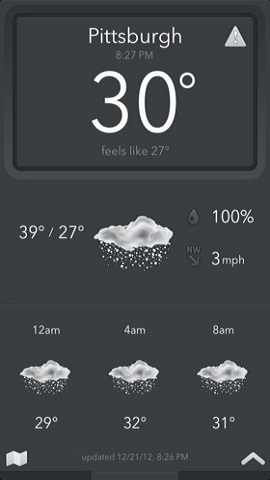 Today Weather is yet another awesome app that provides crisp weather data. It provides a 7-day forecast and you can add cities from around the planet. It is simple to use and you can also get more detailed information.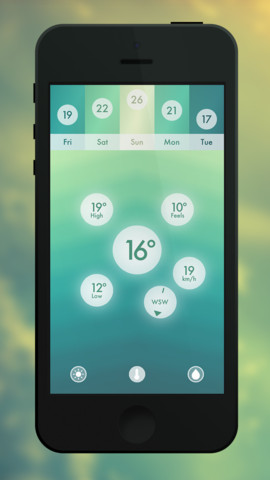 It is one of the most popular minimalistic weather apps for iOS. It provides you with all the information you need regarding the weather conditions in just a single glance. If also provides details, if you want. It offers 5 day forecasts too. On the whole it is a great app and costs $2.99, which is totally worth it.
This app is not available in the app store as it is a free web app for iOS Safari and not a proper App Store app. It runs in both portrait and landscape on iPhone/iPod touch/iPad. To try this app out, simply navigate to this page
through mobile Safari. Then by tapping on the share button at the bottom of the screen, and choosing Add to Home Screen will make a bookmark to the web app. It is as simple as that!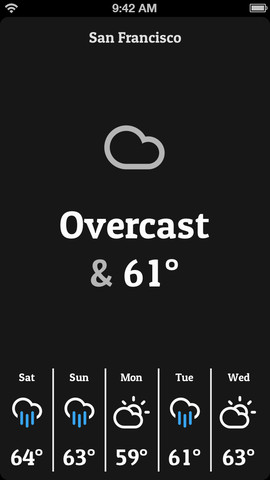 Conditions is a really cool minimalistic app, which is not as colorful as some others in the list, but provides weather data in a big bold way and offers 5 day forecasts. It is simple and minimalistic and shows only the most important information about the weather wherever you are in the world.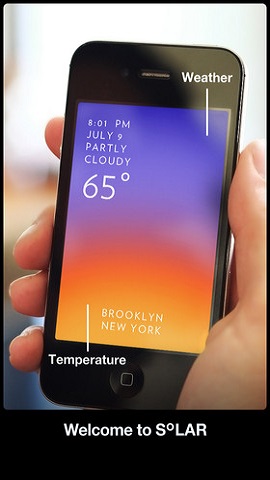 This one is a great app with a beautiful interface. It offers a 24 hours scrolling feature. The data for U.S. current conditions if obtained from more than 42,000 weather stations from all over the country, while international data is obtained from 29,000 plus weather stations present all around the world. So with the amount of data received from so many sources, you can trust the accuracy of it.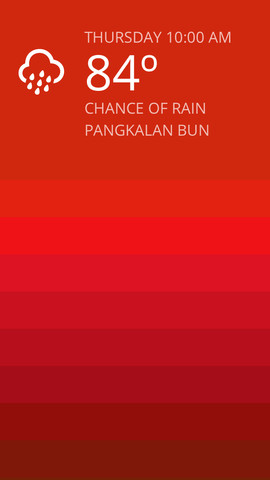 This fun app offers 36-hour weather forecasts and all you have to do to view it is to simply swipe up to see each hour shown in an amazing gradient visual. The hourly colors are representing the temperature, humidity, and sunrise/sunset times according to your current location.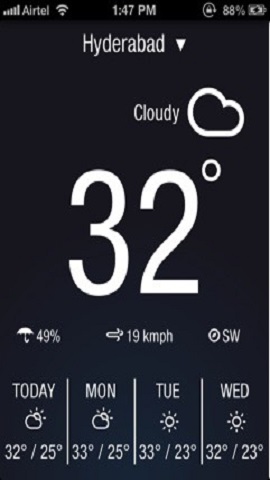 It provides you with crisp and to the point information. Tapping on the city name will launch the settings. You can choose the unit of measurement — Celsius or Fahrenheit – according to your choice. It offers multiple themes and shaking the device allows updating weather manually.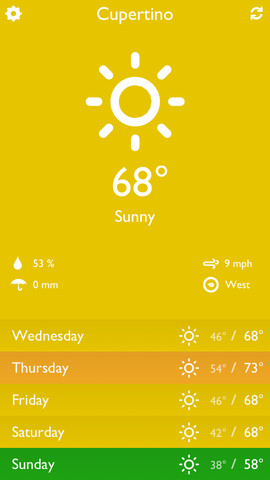 This one is a very beautifully designed app that offers weekly weather forecasts. It provides all the useful information like high and low temperatures, and wind speed and direction. This colorful app is quite good at providing all the useful basic information about the weather conditions of your location.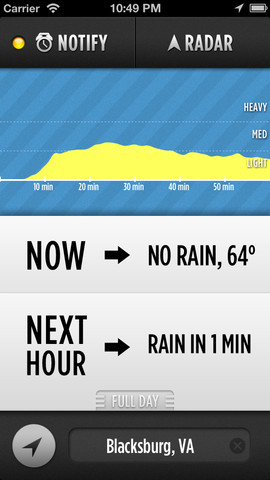 This app will help you keep dry all the time as it tells you when to expect rain or snow an hour in advance! It provides you with minute-to-minute predictions, so it is a really cool app.