Top-5 HTML/CSS Editors
The advent of various code editors has been ever so closely knit with the programming languages that have emerged onto the tech scene for so many years. The emphasis of a good, user-friendly and option-packed code editor cannot be overlooked. Especially given the fact that how extensive and multi-layered the codes have evolved these days, a simple, convenient and sophisticated code editor is nothing but a blessing in disguise for developers around the planet. Undoubtedly, a well-designed and skillfully programmed code editing software smoothens the workflow for developers and enables them to be more productive and ultimately less bug-prone than ever.
You May like These Too :
1. Astyle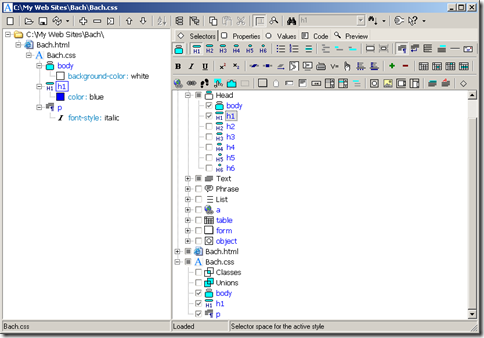 Artistic Style or AStyle as it is commonly known is a nice and simple free of cost source code formatter, indenter and beautifier for popular programming languages including Java, C and C++. AStyle is a graphically apt and user friendly code editor that helps developers become more productive by providing then a visual tree-type view of the entire CSS organization and various groups within. AStyle provides developers with the most commonly used editing options such as cut, copy, paste, drag and drop etc. AStyle also supports automatic selection of CSS selectors and groups the like items together. AStyle has been successfully tested on various platforms such as Internet Explorer and FireFox. With AStyle, editor can have the option to highlight the desired code.
2. PSPad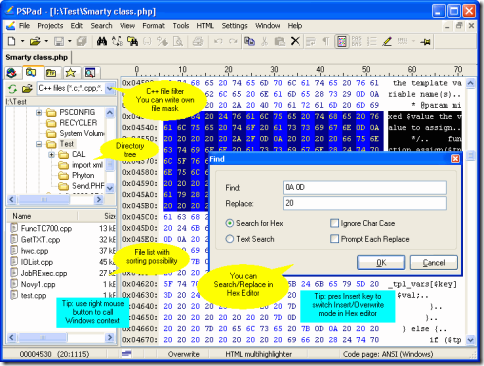 PSPad is a MS Windows supported CSS editor that is absolutely free to use. PSPad comes with multi-lingual support and a relatively user friendly interface which makes code modification for the editors fairly simpler and easier to interpret. With PSPad, editors can save their desktop sessions and later retrieve them in order to make necessary modifications. Advanced options like searching and replacing of files, multi-colored syntax highlight, HEX editor, macro-recording, line-sorting, reformation and compression of HTML code and code re-correction make PSPad quite a handy tool and something that is hard to overlook when it comes to code editing. With the ever-evolving advancements in the current releases, PSPad certainly has plenty of utility features to offer in the upcoming versions.
3. WeBuilder ($69.85)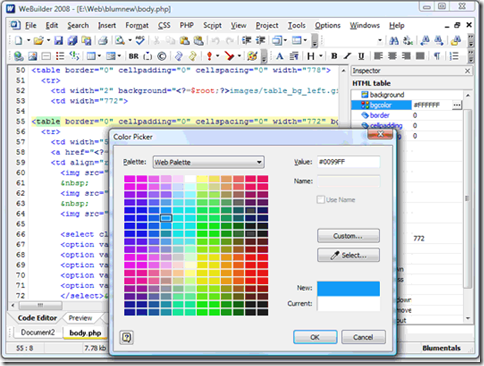 A BlueMantle presentation, WeBuilder is a utility web code editor that is packed with numerous basic and advanced editing options that are a developer's vital tools. WeBulider comes with support for most demanding of programming languages including Ruby, HTML, CSS, VBScript, Javascript, SSI, Perl, ASP and PHP. It has a very subtle and wide-spaced interface that makes editing easier and convenient for beginners and professionals alike. The speedy program loading and processing is a blessing for any editor while tag highlighting and multi-itemed code are exceptional features that are rare in different editors around.  Further key features include  real-time PHP Syntax checking, customizable in-biult options, support for SVN, built-in code tempelates, connectivity support for SQL database, code collapser, debugging option with xDebug, FTP publishing and project management support are a few among many others. WeBuilder is ready to be owned at a fairly easy-on-pocket price and can be ordered online via credit card.
4. SublimeText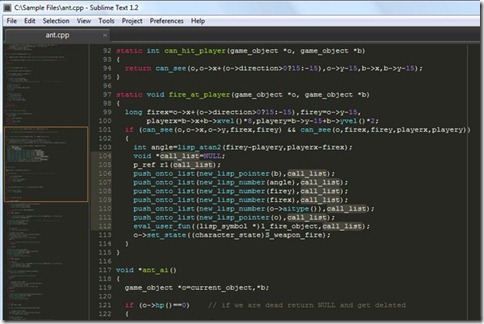 SublimeText is a free source code editor for web developers which is fully compatible with TextMate. Unlike other code editors that are available for use, SublimeText is relatively easier to operate and a fairly simpler user interface. The quick document view option means that as a developer you can easily keep a track of your work. Thus minimizing the probability of errors and bugs in the long, lengthy and intimidating codes. The light murky black interface has been designed to keep the whole feel of developing somewhat calm and easy on sight. Quick and effective editing is helped generously by side-by-side option pane. While the min-map option means that you get a good comprehensive look of your entire code and can quickly scroll to the concerned area you want to. In case of editing remote files through FTP and SCP, there is an option of WinSCP integration. In a nutshell, SublimeText is made to make a web developer's life very comfortable yet enabling him with the ultimate powers of source code editing that can be only dreamt of.
5. E-Text Editor ($46.95)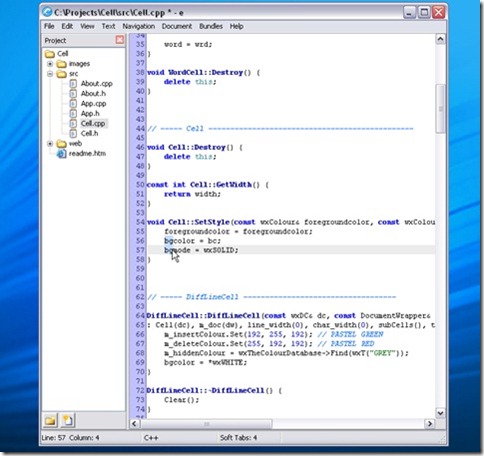 Free to try and not too much to buy, E-Text Editor is a fresh and must-try open source code editor that is ably supported by Windows, UNIX and MacOS. This award-winning editor has all the vital options embedded into it ranging from a user-friendly interface to more complex issues such as personal revision control option. E-Text Editor has support for TextMate command and snippets and cygwin integration means that any developer can now get their skills polished at the level of UNIX. E-Text Editor also has numerous other useful tools integrated containing comments/label option, customization of keyboard shortcuts, automated snippets, multi-color syntax highlighting, bundle commands and an online order facility to name the least.
Before continuing reading this post did you already join our Twitter and subscribe to our RSS feed?
If not, rush and join us now to receive updates of new posts and free resources.