SLA 3D Printing: Everything you need to know (in only 10 minutes)
SLA printing is known as the first 3D printing process, and it's still a popular way to create realistic prototypes and customized products. Whether you're an industry expert or a designer looking for the best way to build your parts, read on to learn the ins and outs of SLA 3D printing.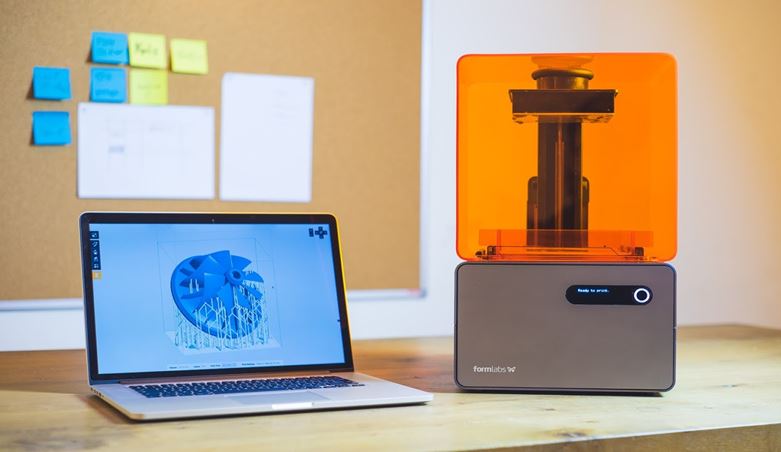 What is SLA printing?
Stereolithography, or SLA, is a vat polymerization process. Each product is created from a vat of liquid polymer resin. Ultraviolet light is used to selectively harden layers of resin into the desired shape.
Direct light processing, or DLP, uses a similar polymerization technology. Both SLA and DLP create products with fine details, smooth finishes, and high levels of customization.
SLA 3D printing is best used for products where appearance is more important than structural integrity. SLA printing can create intricate structures and complex geometric shapes without increasing the price per unit. Resins are available in different colors, and clear resin can also be used. However, the products made with SLA printing aren't nearly as strong as those made with FDM or another printing method. Durable, heat-resistant, and rubber-like resin materials are available.
SLA printing is typically used to create visual prototypes. SLA parts have a smooth surface finish and often look identical to the final product. SLA printing is also used to make custom end-use products in different colors or with slight visual differences.
Mastering SLA 3D printing
To learn more about SLA printing, check out 3D Hubs new YouTube series, How to Master 3D Printing. The second episode, "How to Master SLA 3D Printing", covers everything you might want to know about SLA printers and the objects made with them. In this episode, you'll find out:
The difference between SLA and DLP
SLA post-processing methods
Best practices for SLA design
Jump straight into the episode for more information, or watch the entire video series to explore other popular 3D printing processes.
Get the most from our 3D printing service
To learn more about SLA printing and other printing methods, check out 3D Hubs 3D Printing Guide. You'll find a list of processes and materials, best-use scenarios, and detailed design guides for your projects.
The How to Master 3D Printing series is based off the best-selling guide The 3D Printing Handbook. Grab a copy for practical 3D design advice and decision making tools. If you want a free copy, keep an eye on the channel; ten winners are selected whenever a new video is posted.
The easiest way to create custom parts is with 3D Hubs' on-demand 3D printing service. Upload any CAD file to our online manufacturing tool to generate an instant quote and a Design for Manufacturing analysis. You can compare services and materials, see estimated delivery times, and check any file for compatibility with the chosen manufacturing process. Whether you select SLA or another printing method, 3D Hubs has the best prices and shortest lead times on the market.