SohoOS Business Management Tool Every Entrepreneur Should Know
There are many large and successful corporations out there that make millions of dollars every day. Those corporations are now successful because of hundreds of people and thousands of resources that have helped them run and manage their business. Because of these large corporations, it is quite difficult for a small or medium business to make their place in the ever growing market. So if you are the owner of such a business and want an easy to use, safe and comprehensive business management solution, then use SohoOS. And the best part is that it is free!
SohoOS Core Services
SohoOS is actually working to establish a new global micro-economy by providing the small and medium businesses a comprehensive solution of business management for free.
SohoOS is the ultimate business management service using which you have the ability of handling many daily tasks of your running business. It boasts many services that will take care of all the requirements for running your business and streamlining your daily tasks.
Some of the core services are:
Communications and Contact Management
Inventory
Marketing Services
Invoicing and Billing
Project Management
All you have to do is to create a free account on SohoOS, and then you can take advantage of all these amazing services.
Communications and Contact Management
Communication is one of the most important parts of any business. Thus SohoOS offers simple and fast solutions of communication with colleagues, partners and clients, like local and international calls, ability to send fax, SMS (to single/multi destinations), email campaigns, and video and audio conference calls.
SohoOS also boasts an amazing 'Mass Email Distribution' feature that allows designing your own messages, getting destination addresses from your contacts and distributing promotional Mass Emails within minutes.
Contact Management is another very important part of running a business. SohoOS comes in handy here too as it allows maintaining contacts of your clients, vendors and colleagues via a handy contact management feature.
Inventory
Managing inventory is a significant part in product-based or manufacturing business. SohoOS allows you managing your business inventory in the most easy and handy way. You have the ability of accessing your inventory details, importing old inventory list into SohoOS and can getting instant alerts when running low on a specific product. You can take advantage of this great inventory feature simply by signing up to SohoOS.
Marketing Services

Marketing is a must thing for any free business tools. SohoOS understands all your business marketing needs and boasts a full service marketing feature, which allows launching a campaign, monitoring the marketing activities, assigning a budget and managing your marketing campaigns on the whole. SohoOS Marketing and Sales feature makes marketing your product or service extremely simple and easy.
Invoicing and Billing
Billing is a significant but complicated task. Here SohoOS again come to help as it allows creating, managing and keeping tabs on your billing and invoices. Sending direct payment requests without a merchant account is possible. SohoOS has made getting paid easier than ever!
Project Management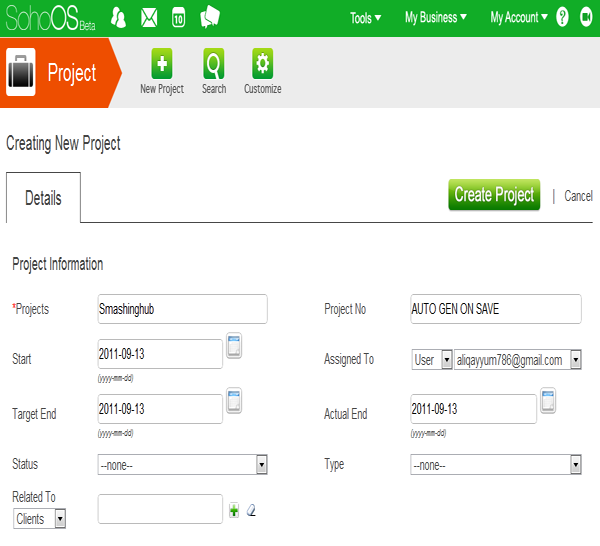 No business can run without a proper project management. As we know, SohoOS is a a comprehensive business management solution, in addition to all that has been mentioned so far, it also boasts another great feature of Project Management using which you will have the ability of creating, managing and supervising your business projects. Features of SohoOS Project Management offers budget allocation and management, milestone management, maintaining deadlines and keeping tabs on the performance of the projects.
Start manage your business for free with SohoOS